Latté Locator helps you find Starbucks on your Windows Phone, pulls data right from Seattle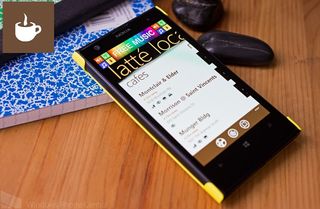 Latté Locator is a simple, nicely laid out Starbucks finder app for Windows Phone. Latté Locator will not only discern the closest Starbucks but also map out directions to get you to that next cup of joe and pull up contact information for that particular café.
What makes the app unique though is where it gets its data. It's not scrapping it from Google or Bing like other apps, but rather it is connecting directly to the Starbucks server via their private API. Think of how 6tag and Instance work with Instagram, and you have the same model for Latté Locator. The result? Highly accurate information and no "noise". Throw in a nice UI with some cool features and we like what we see.
Features
Latté Locator has the ability to pin locations to your Windows Phone Start Screen and share locations over social networks, email or messaging. The clean user interface gives the app a comfortable feel and if you need to track down a Starbuck's, Latté Locator is an attractive option to consider. (Having said that, the wide Tile could use some graphic help, as the image is off-center and not very appealing).
The main pages for Latté Locator are brief but to the point. The opening page lists the Starbuck's Cafes in your area detailing the distance from your location, the address of the Starbucks and features the café offers. It uses your phone's geolocation to pinpoint location, though you can of course disable that and do it manually.
You also have a "More" page that will send you to the help section, the About page, and an in-app purchase option to remove the ads ($.99).
Settings are accessible through a control button at the bottom of the main page. Settings include options for your search radius and the number of Starbucks listed on the main page. You also have options to update your social network and view a map view of the Starbuck locations from the control buttons on the main pages.
Pulling up an individual Starbucks location will display more information on the café (address, phone number, etc.), a thumbnail map of the address, and information on available services at the location.
You also have the options to:
Invite a friend to join you at the location
Share the location
Call the Starbucks
Add the location in your Windows Phone contacts
Pin the location to your Start Screen
Generate driving directions through Bing
Map the location on Bing maps.
A recent update brought Latté Locator to our attention and it comes across as a very capable, appealing Starbucks location finder. Speaking of which, if you've already tried Latté Locator and had issues getting the app to run correctly, the latest update (version 1.2.312.0) fixes those issues.
The Takeaway
Although Latté Locator doesn't have Starbucks card support, since it's the only app we know of for US residents pulling pure Starbucks data, the app is a worthy download for hunting down your favorite java spot. It's unique, cleanly designed and free. Sounds good.
Latté Locator is a free, ad-supported app that is available for Windows Phone 8. You can remove the ads through an in-app purchase of $.99.
You can find your copy of Latté Locator here in the Windows Phone Store.
Windows Central Newsletter
Get the best of Windows Central in in your inbox, every day!
George is the Reviews Editor at Windows Central, concentrating on Windows 10 PC and Mobile apps. He's been a supporter of the platform since the days of Windows CE and uses his current Windows 10 Mobile phone daily to keep up with life and enjoy a game during down time.
Whoa I didn't expect this to work for me since I don't live in the US, but it does! Coolio

Phew! I hope this is finally a Starbucks locator that I can trust! I've wasted so much time Starbucks hunting by following the directions from the other popular third party Sbux app, Yelp and Here Maps.

Yes because it is so hard to find a starbux at Every corner of every street.. Or just find your local mom and pop coffee shop with great coffee, and wait for starbux to come in and steal business in a month!

So you're now officially complaining about a free app you don't need to download or use, but others mind find useful. Awesome. When downvoting of comments arrives on our site (next few months), it's going to be a glorious day.

This is why we love you Daniel... And comment rating system? Love it!

Daniel. Are you going with Disqus for the comments section? (btw they have a very nice WP app)

Not Disqus, because we have a single login system for all of our Mobile Nations sites called "Passport". It ties directly into all of our site forums too, which is way more powerful for us than Disqus.

Well the comment section does exist so we can voice our opinions, right?

Your comments is still here, yes? So I guess your hunch is correct. Doesn't mean I can't comment on your opinion, as this is an open forum.

Up/downvoting? YUUUSSS.
Weed out the morons. Edit: perhaps a stupid question, but will the WP app be updated to take advantage?

I heard today that Starbucks will update their app to allow for tips to be added to mobile payments. I hope this might act as an incentive for Starbucks partners (i.e., employees) to push for an official WP Starbucks app.

The new "official" Starbucks iPhone app will have a feature to allow users to shake the phone to call up the bar code of their Starbucks card. I laughed out loud when I read that because now all the iPhone users will be shaking their phones as I wait patiently behind them with my bar code pinned to my start screen. I guess it's time for another of my official complaints to the company's HQ, although I doubt it'll make much difference.

Nice little app, and I'm grateful to pull the info right from "the source." However, the method for getting directions to the nearest Starbucks is a bit messy. Here's hoping that an update would include an easy button to tap that would link directly to either Bing directions or (better for all of Lumia owners) Nokia's HERE Drive.

I will add this feature in tonight, the update will be available sometime tomorrow.

Starbucks are everywhere in downtown Chicago. How about an app that helps me to avoid walking past one?

I considered adding this feature, but you would need to have the app running in the background. Location tracking apps that run in the background consume a lot of battery. If Windows Phone adds geofencing support, I will absolutely add this feature.

How does this compare in accuracy with hungrynow http://www.windowsphone.com/s?appid=e1bca141-85cb-4a8f-9293-ced9d3462927 I have found that its very accurate here in the UK. It provides directions as well as shows store times along with a visual indicator which ones are closed at the time. Additionally I can use to locate other food joints as well

Starbucks need to release an official app for UK & US

So, tell me again why we don't have an official Starbucks app?

Because, obviously, everyone who goes to Starbucks has an iPhone.

Honestly I see this app as unnecessary. All of us true caffeine addicts already have this feature built in to our brains and can zero in on the good stuff. ;-)

I know this is not the place or post for this question but I always want to know, why are people so in love with Starbucks, I work at one in Mexico and is nothing from another world, it is good but thats it. I even drink coffee from other coffee shops.

Not sure. I think it has some hip cultural things to it. Personally, I'm a D&D guy.

I know, right? The iPhone of coffee shops, perhaps?

Nice app until SB publishes an official one.

Brilliant. I just paid to get rid of the ads. (Not a fan) Man, I cannot believe how SMOOOOOOOTH these apps are becoming of late. This app is smooth.

I'd be more interested in an app that finds coffee shops but filters out Starbucks locations.

This! I know I wouldn't use it, but I know many people out there who despise going to Starbucks because of it being a large chain, and I can just imagine more people would want it as well. It would also help local cafes too.

Shout out to Starbux Card that I have been using for ages. Can pin your Starbucks card as a live tile and has locator as well as more functionality

Well, I share the OPs disdain for Starbucks so can I give him half a thumbs up?...

I wish this tracked down all coffee shops and not just Starbucks. I prefer mom and pop shops.

Why would you want to locate the worlds worse coffee?

Holy crap...launched the app and my entire map set to 100ft scale was filled with pins for Starbucks! :D

For the record, I made one complaint about a corporation that I do not like, and I am ostracized. People currently complaining about flappy birds return, and no peeps. Equality!

Thank you for your feedback. I have published an update (v1.3) and it is now live in the store! Same day awesomeness thanks to WPCentral :) What is in the update? Nokia Drive, Walk and Transit navigation support! All tiles (pinned tiles and main tiles) are high resolution and centered for WP8 Settings are now stored in memory Fixed issue when no stores were found Fixed issue when some stores were still left on the map after refreshing Changed "subcountry region" to display "country" instead Added more space to the main area in the Store details page Added a fail-safe in case the phone's location setting is disabled Thanks for your patience as I worked to fix these issue today. If you have left a negative review, please consider updating it after you try the update.

Hey good job with the app! Don't think me immodest for my earlier comments! They aren't towards your app!!

I've installed it and I think you did a nice job with this app. My wife is a Starbucks junkie so this helps a good deal when in an unfamiliar town.
Windows Central Newsletter
Thank you for signing up to Windows Central. You will receive a verification email shortly.
There was a problem. Please refresh the page and try again.