Lazyworm Apps and Seles Games teaming up to bring Weave to Windows 8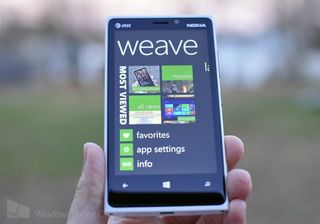 Windows Phone and Windows 8 have always had passionate developers with equally motivated fans (you). Two of your favorites are teaming up. Lazyworm Apps is teaming up with Seles Games to bring the popular RSS newsreader Weave to Windows 8.
Weave has been around since the beginning of Windows Phone, becoming better with each and every update. The most significant update came out at the tail end of last year bringing with it support for Windows Phone 8. Besides getting praise from us here at Windows Phone Central, Weave has near universal acclaim in its Store ratings from all you out there. It's a fast, fluid and beautiful application that should be at the top of your list of news readers.
Lazyworm is taking on the design and development of a Windows 8 version of Weave. They're the masterminds behind Metrotube on Windows Phone 8 and Tweetro+ on Windows 8. One an amazing YouTube application and the other a solid Twitter app. Here's a choice quote from Atta Elayyan, managing director at Lazyworm Applications, in their press release:
Personally, I can't wait to see what the team comes up with. But we'll all have to wait, the app is expected to be available for download until June. It will also still be published under Seles Games.
Excited?
In the meantime you can download Weave for Windows Phone. There is a free version and a paid version ($9.99) that removes all the ads. If you're hesitant about that price, just download the free version and check it out first. QR codes below, free on the left and paid on the right.
How about you update metrotube lazy??

That's what I was wondering, I have no problems with it. Perhaps it hasn't been updated SAYSteez because it does not require an update

the live hasn't been working correctly for quite some time now... ive emailed the developer, never heard back. The live tile just went dead. tried unistalling and reinstalling. just doesnt flip. and i have the paid version.

Try emailing the dev more than just once lol that won't do much.

yea, i never stayed on it... this post just reminded to try again...

This is mainly due to YouTube's 'top-rated' and 'featured' feeds not updating for some time.

Top-rated feeds seem to be working again now though so hopefully the live tiles are updating again.

Haivng said that, the phone version of Metrotube hasn't seen any updates for some time now so we do deserve some flack! In our defense, we've been hard at work on the Windows 8 version ;)


Was talking more about the battery drain, heat issues, authors videos not loading, and some random errors here and there..
I have a Lumia 920 btw

I think the heat issues and battery drain are just aspects unique to every processor intensive app. My Lumia gets hot too when I watch videos for a long time.

thanks, it actually is working now, I had it as a small tile cuz I wasn't, I do appreciate such a quality app period, so thanks, those are rare...

Awesome. I am desperately waiting for the win 8 version. Any time frame at all ;)

The article mentions JUne

My subscription list stopped working recently. Any updates?

My tile flips. Works great on my Lumia 810.

it works now, I have a Lumia 810 also, it wasn't working for the longest

Something tells me they mean 99¢

There is a free version available which is the exact same thing. If you really hate ads, you can pay the 9.99 to get rid of them. I use it every day so I opted to do so but otherwise the free and paid version are equally great. Just a matter of preference.

The free version can be ad free simply by clicking 1 ad then backing out of the browser back to the app. Ad free for the session. Done and done.

+1 If we want devs to come and stay on the platform we have to support them.

I bought it when I had my Focus, but have not installed in on my 920 yet. But as others have said, the functionality in the trial is exactly the same. the $$$ is for support and to help keep things running smoothly.

I bought it when it was .99$.

I think that the developers deserve support by the paid app. Weave is one of the most solid applications out there. It's the best newsreader of any platform for me.

Exactly what I was thinking, been waiting forever for an update and live tile fix.

Awesome!! Its my favorite app on WP8...other then WPCentral of course

+1 It quickly became my fav news app.

I second your thoughts exactly!

if anyone is alarmed at the high price of $9.99 it's because that in order to compress and make the articles reading-friendly to save you data and time, Seles Games has to rent separate servers so the extra $ is for bandwidth.

Why would we be alarmed? If a dev wants more than one dollar for an app he/she put a lot of work into they can.

Well the current version is $9.99 so I don't see the deal if there is a free version with ads. I would buy it as well like I do for most dev but I will say that price is pushing it...

My thoughts as well. Weave is quality and one of the first apps I bought (it used to be priced at $3.50), but $10 is a bit steep in the mobile world. If I had to guess, there probably wasn't a huge audience who opted for paid over ad-supported so Seles just priced it high to get what they could.

Idk about others but mine load feeds slow compared to other app(ahem.. Fuse.. Ahem). WP 7.8 Lumia 710.

No sluggishness for me on Nokia Lumia 900 WP7.8.

I can't wait. Weave is the best Windows Phone RSS feed app, and I've been pushing for SelesGames to get a Windows 8 app for us.

I love the app since the news sources I use arnt on WP (cough ign cough cough) so I love the feed. Also disqus is good as well.

Weave is very nice looking but never worked for my local news. It always sends me to IE anyway.

Weave one of the best reader app on ANY platform, glad its coming to Win 8

Weave runs fine for me on the Ativ S and i love it live tile works too.

Love weave. It was the first app I ever downloaded.

Only 100 feeds? Why !!!! ??
We need to use the program with more feeds please.

Overpriced at $0.00. "Politics" gets you nothing but the right wing lunacy of Breitbart.com. "Science" = Popular Science only. Buh-bye, junkware.

5 months have passed and the app is not ready yet :/
Windows Central Newsletter
Get the best of Windows Central in in your inbox, every day!
Thank you for signing up to Windows Central. You will receive a verification email shortly.
There was a problem. Please refresh the page and try again.