Learn on the Go - take free online courses with this unofficial Coursera.org app for Windows Phone 8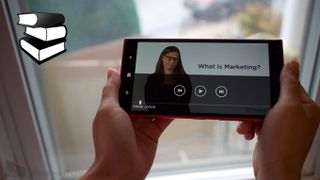 Heard of Coursera? It's an education company that partners with the top universities and organizations in the world to offer courses online for anyone to take, for free. They have over 5 million students from 190 countries taking free online courses in Humanities, Medicine, Biology, Social Sciences, Mathematics, Business, Computer Science, and more. Feel like taking a free class or two? There's an unofficial Coursera app for Windows Phone 8 called Learn on the Go.
You can watch lecture videos and read course notes from your phone. Head past the break to watch our walkthrough video.
You need a free Coursera (opens in new tab) account to use the app. There's no option within the app to sign up, so you need to do that from the browser. There's also no option to sign up for courses within the app. What is this app good for? It lets you pre-download the lecture videos, so you can then watch them later on the train or the bus.
There are over 500 courses available from over 100 institutions on Coursera. Classes you are currently enrolled in show up in the main page of Learn on the Go. Swiping left shows upcoming courses. Swipe again to see courses you already completed.
Click on a course to show the materials for the week. The topics are listed with lecture notes and video. You can download each video for the week individually or click the option to download all at the bottom.
Learn on the Go is a great app for Windows Phone users who are taking free classes at Coursera. There are a couple of things we'd like to see in the future, though. We would like an option to stream videos instead of pre-downloading them. It would also be nice to have a split view of video with lecture notes. That would be awesome on larger screens like the Nokia Lumia 1520. We also think the app icon could be better.
Learn on the Go is a free app at the Windows Phone Store (opens in new tab). Go learn something new and let us know what you think of this app in the comments!
Windows Central Newsletter
Get the best of Windows Central in in your inbox, every day!
Tried one of their courses and it was much better than I expected. Even better than some of the courses I've paid for at community college. Wish you could get credit for them though

Aww I miss going to college :(

Khan Academy is another such app, but its on W8. The website is great as well.

Speaking of learning, I'd love to see someone tackle a Duolingo app (since they don't seem to want to).

I'll look into this. I'm an economics nerd and miss studying it. I'd also LOVE if they offered some programming. One day, someone will devise a way to get credits or at least unaccredited certificates for these types of education. All learning is good.

They offered a Python class earlier this year

Does it included closed caption?

Hi, I'm the author. The current published version, 2.5, allows to stream videos in addition to pre-downloading them. There's currently no closed captions support.

Thank you so much. It is very useful app. Please keep improving it :)

Hi was just wondering to ask if there is any similar version/software etc with same function for offiline study in laptop. I understand videos can be downloaded but the best feature of this app is it gives a same effect as online page with exact name, sequenciing of the videos etc. Thank you for enlightening. Sam

I'll eventually do a Windows 8 version of the app, but it's not going to be soon...

Hi Ovatsus, can I know why I am unable to download this? I am using a L1020 with Cyan, upgraded to WP8.1.1 DP. I'm from Singapore

The app stopped working again for the third time in a single month. Coursera seems to be actively trying to detect unofficial apps and prevent them from working, so I unpublished the app, don't have enough time to keep up

Thank you for the reply and effort.

Thank You ! I needed this ! I always had to get my laptop to watch those lectures.
Windows Central Newsletter
Thank you for signing up to Windows Central. You will receive a verification email shortly.
There was a problem. Please refresh the page and try again.