India's legendary comics, Amar Chitra Katha arrive on Windows 8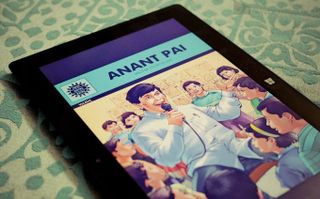 Amar Chitra Katha has played an important part in the childhoods of millions of readers in India. A legendary household name in India, Amar Chitra Katha is India's leading storyteller and largest comics publisher, and synonymous with Indian fables from the great epics, mythology, history, literature, and oral folktales.
Now you can enjoy Amar Chitra Katha comic titles on Windows 8 devices with the launch of their official app – ACK Comics. Developed by Ninestars' App9 Digital Studio, consumers can now instantly browse, buy, download, and read hundreds of old favorites as well as the latest titles from Amar Chitra Katha.
The digital storefront offers over 200 Amar Chitra Katha titles in in a downloadable, easy-to-read format. This app provides an enhanced reading experience with digitally remastered comics displayed in a panel-by-panel view mode for ease of reading on smaller devices, or the standard flipbook mode.
I quite liked the fact that the app specifically states while signing in that they do not advertise to or collect any information of children. The Spotlight section will keep you informed of the new releases as well as titles relevant to the season or month. The Recommendations section suggests titles which are on best-reads list of the editors.
The ACK Comics app will be available exclusively on the Windows 8 platform for the first month, and can be downloaded from the Windows Store (opens in new tab). Also, an Editor's Pick of five comics will be available free of cost to Windows 8 users.
The ACK Comics app is a must have if you are a comics enthusiast or have a growing kid at home. Explore the colorful realm of stories that will entertain and inform through the best of Indian mythology, literature, and history.
Windows Central Newsletter
Get the best of Windows Central in in your inbox, every day!
Much Amar
Such Chitra
Very Katha
Wow

Such Comment Much Fan Very funny WOW

What about Windows phone 8? :O

I hope that was a joke :P

OMG as someone who has never read Amar Chitra Katha, I'm really looking forward to this :D

Awesome. Downloaded it. Kids will love it. We need Windows Phone version, just port it guys, also add PayPal or us credit card option, don't have India cc :(

When will it come to WP ???

Any idea when will devs release WP version??

Another legendary comics. Chacha & Sabu to the rescue.

Will be there dancing and singing and strange men with big moustache fighting?

No :P, I am afraid the film industry has an exclusive copyright on that..


I've been using the app on Windows 8 since the past few months. Its a good app. Hope they make a WP version.

Can we get Chacha Chaudhary, Nagraj, Suppandi, Pinky also.....
Windows Central Newsletter
Thank you for signing up to Windows Central. You will receive a verification email shortly.
There was a problem. Please refresh the page and try again.