Lennox icomfort app coming to Windows Phone 8 in February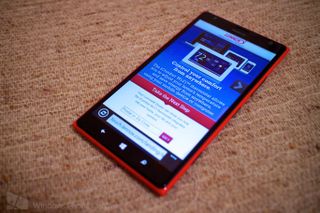 If you own an icomfort Wi-Fi thermostat, we have good news for you. Lennox, the makers of icomfort, plan to release a Windows Phone 8 application in February. The Android and iOS apps are already available, but we're glad to hear Windows Phone users won't be missing out much longer.
The icomfort Wi-Fi thermostat lets you set your home's temperature and save energy from anywhere in the world, using a smartphone, tablet or laptop. It also provides live weather forecast and automatic updates.
This great news comes directly from Lennox Consumer Affairs on Twitter:
We'll keep our eyes open and let you know when the app shows up at the Windows Phone Store. Are you looking forward to the icomfort app? Let us know in the comments!
Source: Lennox; Thanks for the tip, fourbadcats!
As more of these types of third party appliance and service apps come to market, the overall ecosystem will benefit.

I agree with you but I will never get this app or the thermostat for one thing. The whole (i) branding. Makes me sick.

Awesome, not sure how many people understand what this means for home comfort. But its great to see! Hopefully we get more brands throwing some apps down. Just make sure your thermostat has the control or "c" wire before installing a smart thermostat.

some honeywells and the ecobee have a separate control board that allow you to attach several devices and then you just need 4 or less wires to the thermostat

Man I hope Nexia comes out with an app for my Trane setup. The web works but it's not mobile.

Lennox should be fully compatible with any new furnace/ac setup. As long as you have a "c"wire direct to the unit. If you don't, its not that hard to run one, just make sure the power's off when you hook it up.

I'm currently using 2 Trane Z-wave thermostats in my house, along with other Z-wave devices, through the InControl software. It's not perfect (a hiccup here and there), but works pretty well. Oh, and it doesn't cost me the Nexia monthly fee, either.

I hear icomfort has a lot of WiFi issues. This app is welcome nevertheless but if the product itself is a problem, the controller/app won't matter.

Nest also has its fair share of WiFi issues...especially with any Netgear wireless products. I would consider getting rid of my nest for something that is fully supported on WP.

Except I'm not willing to pay for yet another thermostat. I also don't have wifi issues with my Nest. I just wish we had an app or that Nest would make their web browser work on Windows Phone so I could control it from there. I'm hoping Nest gets their thumbs back on the keyboard by the end of this year or I certainly won't be looking at any more of their products. My wife's HTC One and our tablets can still control it, so it's not the end of the world for me.

Isn't there a third party app that you could use. Or is that view only with no controls.

digitalicecream, have you tried the Nest website recently on Windows Phone? It's no proper app, but much improved... most control scenarios are possible now.

Wellnezted works great for my nest themostat.

Mine too. In fact WellNezted is an awesome App from a talented Dev. He had to pull it for a while due to copyright complaint from Nest (who should burn in hell with the thermostat remotely controlled by the Dev since they have made no attempt to service their WP customers needs) but its been back for months and is a great controller. No need to be frustrated with your Nest now.

I've been using wellnezted for a while now and it has been working well. They actually just did an app update this week that improved it by indicating when the fan is on and what the relative humidity is. It also now has what the current temp is in the house on the lock screen. I've also used the Nest website for mobile and it actually works very well too on my Lumia 920. They updated it a month or so ago and it works finally. Previously the mobile web experience was atrocious.

Seals the deal for me. sholokov I'd rather have WiFi issues than issues w the nest. 3 contractors have told me it does odd things to your system. All recommended Lennox etc. They have to install but nest gals short on its ability to automatically adapt to your system

Just need one for Honeywell.

Agreed, were just lucky the website works well. Ive already bugged them about wp8 apps. They are @honeywell_home on twitter

This is awesome. I'm always disappointed when I go to places like Lowes and find nothing with WP support. Hopefully we'll see alot more support for WP this year with other gadgets as well.

ecobee you can access from any browser. I do this on my Lumia all the time.

Isn't this already in the store?

No. They have iConfort for Windows 8 but no WP yet.

I could have sworn I saw it in the windows phone store when I posted that, but it isn't there now.

Does anyone know if this will work with variable fan systems such as carrier infinity?

Being in the market for a programmable thermostat I'd now rather get the iconfort vs nest ect. As it will have an official app vs the others who either have crappy 3rd party ones or none at all

For those saying you just need a 'c' wire, double check and make sure that the icomfort is compatible with your setup. Just got a Lennox furnace installed a few weeks ago. The brochure says that the icomfort thermostat is only compatible with the top end furnaces (not ours), and is also $350. Wasn't worth the extra ~$1000 when we already have a programmable Honeywell, only intend to live here two more years, and there wasn't a WP app at time of purchase.

I'm working on a Windows phone app for ecobee thermostats. It should be available in February as well. Third party though.

Having an official app like this come to WP is great. I'm on the fence about getting remote thermostat, so question to those you who can read and adjust your home thermostat from across the world: was the extra expense truly worth it? Or was it mostly about the cool geek factor?

It has a lot of value for me. Last time I went out of the country for extended time, I had a friend checking up on the house, making sure everything was okay.

the access from across the world isnt worth it but the data they provide sure is. ive been tweaking my system and my home feels much nicer while running less. it also warns you of problems to your equiptment further saving time, energy, and money.

So is this compatible with Trane systems?

What I'd like to know, but haven't been able to find anywhere, is how much does this Lennox iComfort cost? I've been to their website and looked around. If it's there, then I've missed it. What does it cost?
Windows Central Newsletter
Get the best of Windows Central in in your inbox, every day!
Thank you for signing up to Windows Central. You will receive a verification email shortly.
There was a problem. Please refresh the page and try again.