The Lenovo Miix 510 is an excellent Surface clone — and excellent
By Derek Kessler last updated
There's nothing wrong with making a so-called "Surface clone", so long as it's also good PC.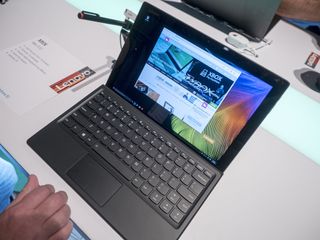 Lost in the mix between the announcement of the Lenovo Yoga 910 convertible and the conceptually awesome Lenovo Yoga Book was the Lenovo Miix 510. It was barely a footnote in the presentation and in subsequent hands-on presentations, overshadowed by the showy Yoga 910 sharing the same tables and by an entire 2000-square-foot section deservedly dedicated to the Yoga Book. But just because the expensive and ground-breaking touch devices are impressive doesn't mean Miix 510 isn't deserving of attention, because it is.
Let's get this out of the way right now: yes, this is a Surface clone, and no, that doesn't matter. Surface helped to define a category, but it doesn't get to own the "2-in-1 category." There are some differences between the Miix 510 and Microsoft's Surface line, like the fact that their keyboard cover has a leather-like underside or that they took a truncated version of the signature watchband hinge and used that for the kickstand or that Lenovo will offer an LTE version while Microsoft currently does not (though previous Surface editions did).
But by-and-large, it's a Lenovo-styled 2-in-1 made in the mold of the Surface. And that's not even a new thing for Lenovo — most recent entries in the Miix line have been more direct apings of the Surface instead of the different and less effective 2-in-1 designs Lenovo experimented with before.
And, as you'd expect given the quality of Lenovo's recent hardware, it's a great piece of engineering. It's thin, it's light, it feels like it's machined out of a single piece of aluminum when it's actually made from several parts. In fact, I'd say that the smoothly bending watchband hinges feel better than the hinge on the Surface Pro 4, and that's a fine hinge to begin with. The two hinges are made from 280 individual stainless steel bits and can kick all the way back to 150 degrees. The only really hardware point that disappointed was the pen — it felt a little cheaply made and not like a fully-formed thought, though it's still serviceable.
Inside the Miix 510, you'll find a 6th-generation Intel Core i5 or i7 processor and a battery that's good for up to 7.5 hours of work, along with a PCIe SSD up to 1TB. That screen is a 12.2-inch Full HD number with a 16:10 aspect ratio, which frankly is just an ungainly size and shape to use as a handheld tablet in any orientation.
Lenovo Miix 510 Specifications
| Category | Specs |
| --- | --- |
| Processor | Up to 6th Generation Intel Core i7 |
| OS | Windows 10 Home |
| Graphics | Intel HD Integrated Graphics 520 |
| Camera & Microphone | MP Fixed-Focus Front, 5MP Auto-Focus Rear, Dual-Array Microphone |
| Memory | Up to 8GB LPDDR4 |
| Storage | Up to 1 TB PCIe SSD |
| Audio | Integrated Dolby Enabled Stereo Speakers |
| Battery | 29 Whr, up to 7.5 hours |
| Connectivity | 4G LTE Category 4, WiFi 802.11 ac, Bluetooth 4.0 |
| Connectors | 1 x USB 3.0 Type-C, 1x USB 3.0 (Always-On Charging), microSD, Audio Combo Jack |
| Display | 12.2 inch FHD+ (1920x1200), 320 nits with Gorilla Glass |
| Dimensions | (W x D x H with keyboard) 11.81 inches x 8.07 inches x 0.62 inches |
| Weight | Starting at 2.76 lbs with keyboard, 1.94 lbs without |
| In the box | Keyboard and Lenovo Active Pen included |
Despite those relatively minor nitpicks, the Lenovo Miix 510 looks to be a great 2-in-1 tablet. It's coming in October 2016 with a starting price of $599.99, well under the $900 of the Core m3-powered Surface Pro 4 (which doesn't include a keyboard like Lenovo).
That's where the next Surface comparison comes in: Lenovo unveiled the Miix 510 roughly 10 months after the launch of the Surface Pro 4 and it's a perfectly competent competitor to Microsoft's 2-in-1. But the Miix will be hitting store shelves right about the same time as we expect the next generation of Surface tablets to be announced, and those will more than likely come with a chipsets a whole generation newer. In the meantime, though, it's looks to be a great option for those looking for a competent and affordable 2-in-1 Windows tablet.
Derek Kessler is Special Projects Manager for Mobile Nations. He's been writing about tech since 2009, has far more phones than is considered humane, still carries a torch for Palm, and got a Tesla because it was the biggest gadget he could find. You can follow him on Twitter at @derekakessler.
I want one, when will it be out?

after several years, the OEMs have finally figured out how to stick an i5/i7 in there instead of a Core M. Still thicker and heavier than the surface + keyboard but for the price it seems like a great option in the market. I'm also glad the device has a more unique design than the blatant zerox copy Miixx 700

Soooo... Releasing a new 2-in-1 in October, and putting a 6th gen Intel Core CPU? Fail.

6th gen core series is more than enough, especially for that sweet sweet price.

How to tell when someone hasn't read the freaking article, jeez

The price is sweet! Though the 16:9 screen is awkward when doing stuff other than viewing HD videos.

Indeed. One of the great things about the Surface Pro is the 3:2 aspect ratio. Not only is that better for a tablet, I would say it's MUCH better for doing work on it in landscape mode, where your document size (or % of document you can see if it scrolls off the top and bottom) is ruled by the height of the screen. The ONLY thing 16:9 is better for is watching a movie, and even then it's only better if you really hate knowing that you paid for pixels at the top and bottom of the screen that you're not using. EDIT: It's actually a 16:10, not 16:9. That does make a big difference. 16:10 is much better. Still not as good as 3:2, but much better than 16:9.

1920 x 1200 is not 16:9 Posted from my Nexus 5X

You're right, it is 16:10 (better than 16:9 for a tablet, although I'd still prefer the Surface Pro 3 or 4's 3:2 ratio). Article should be corrected.

Oh, I missed the resolution and just focused on the 16:9 reference, which I think is a common but terrible aspect ratio for a computer. 16:10 is quite a bit better.

I am shocked how anyone can expect more than this for $599. If you want more, pay more simple.

Ok list the upto specs but only the starting price? Wonder what the price will be for a maxed model??? Also what are the min specs?

I also want to know what the specs are foe the 599 version?

Based on what is currently on the market, at around that price, an i3 with 4GB and 128GB SSD? Acer Switch Alpha starts at that price/config.

I personally have no respect or interest in the clone concept. MS allows this and I understand why but to me this is just lame. I'll stick with the Surface.

Well, MS allows it because it's kinda hard to get the Surface outside the US and some European countries. And even if you get one you're left with no official warranty in case something is wrong with such an expensive device. But I'm sure that won't be the case with Lenovo and other OEMs who sell there products globally.

I hope Lenovo doesn't clone the ridiculous high price of the surface line.

Looks like a good deal, that's not much more than I paid for my Galaxy Note 10.1, back in 2013. If it ever craps out, I will definitely be looking at this over the Surface. Hopefully they offer some improved pens by the time I get one, but still seems like a good deal, and probably better than my Note.

I wan't one. When in India?
Windows Central Newsletter
Get the best of Windows Central in in your inbox, every day!
Thank you for signing up to Windows Central. You will receive a verification email shortly.
There was a problem. Please refresh the page and try again.