The Lenovo Yoga Book with 'Halo' digital keyboard and pen stylus is the craziest PC yet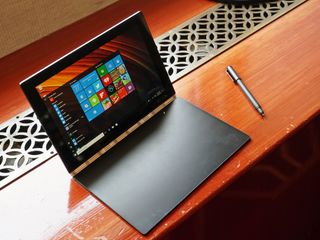 Lenovo today announced what may be considered one of the most innovative two-in-one Windows 10 PCs to date: Yoga Book. Blink twice and you may think this is Microsoft's canceled 'Courier Project' from years ago brought back to life in a modified form, but now rocking technology from late 2016.
What makes the Yoga Book so intriguing is Lenovo has ditched the traditional physical keyboard for a digital multi-purpose slate that can act as a keyboard or as a sketchpad for the Wacom real-pen. Oh, and real-pen is not some fancy marketing name, it literally is a real pen for ink that can also act as a stylus.
Watch our hands-on video and get your mind blown. Then read on for the full specifications, pricing, and availability!
Hands-on Video
Lenovo Yoga Book
Swipe to scroll horizontally
Category
Specs
OS
Windows 10 Home or Windows 10 Pro
Dimensions
256.6 x 9.6 x 170.8 mm
10.1 x 0.38 x 6.72 inches
Weight
690 g (1.52 lbs)
Processor
Intel Atom x5-Z8550 Processor
2M Cache
Quad-Core
Up to 2.4 GHz
Display
10.1" FHD IPS (1920 x 1200)
Color Depth : 16.7 Million
Color Gamut : 70%
Brightness : 400 nits
Memory
4 GB LPDDR3
Storage
64GB
Expansion
microSD
Audio
Sound Dolby Audio Premium
Sensors
Haptic-vibrate
G-Sensor
Ambient Light Sensor
Hall Sensor
GPS
Camera
Rear 8 MP Auto-Focus
Front 2 MP Fixed-Focus
Battery
8500 mAh
Up to 13 hrs
Connectivity
WiFi: 802.11 a/b/g/n/ac (DC 2.4 + 5 GHz)
Optional: FDD-LTE, TDD-LTE DC-HSPA+, TD-SCDMA, EDGE
Slots
Nano SIM Card
Material & Color
Magnesium and aluminum alloys
Carbon Black
Price & Availability
$549
October 2016
Folks, this is one crazy machine. I am not sure how I feel about the Atom processor, but certainly, that kept the price down. At just $549 (just $50 more than the Android variant) the Yoga Book is definitely within reach of most consumers.
Even better, that price point justifies having it as an accessory PC instead of your central workstation. Lenovo touts the Yoga Book as being as thin as "three pennies" (9.6mm) and it only weighs 1.52 pounds (690 grams) making this something you can easily throw in your bag. Toss in some LTE through the Nano SIM slot and now you have a mini PC wherever you are in the world.
Press Images
Image 1 of 13
Halo Keyboard? Great name
Lenovo's unique keyboard half of the Yoga Book is certainly a first. Virtual keyboards have been experimented with in the past but this the first time we see something hit the mainstream. For those curious, there is a haptic feedback engine in the slate half so that when you type you can "feel" the keys.
Lenovo also boasts that the keyboard "constantly 'learns about and adapts to' the typing habits of its user, with built-in prediction and artificial learning software. This software also allows for continuous optimization." Of course, we'll need to test it out to see how good it is compared to physical keys.
I will say Lenovo is fair about expectations for the Halo keyboard. They say it's better than what traditional tablets offer (no doubt), but fall short of saying it trumps a physical keyboard instead saying that it is "comparable."
What makes the Halo keyboard neat, though, is how it can hide the illuminated keyboard and instead, you can use it as a surface for taking notes, drawing, doodling and more. I have to admit, while drawing on the display is neat, it is not always ideal.
That stylus
Lenovo is making a big deal about the pen, and I think it's with good reason. Here is what they say it is capable of and what inspired it from their press release:
The pen is no slouch either with 2,048 pressure levels and 100-degree angle detection. Lenovo also states that the pen does not require batteries and the ink tips are user replaceable (you get three in the box for good measure).
Promo Video
Let's test it
No doubt Lenovo may have stolen the show here at IFA with the Yoga Book. It's priced right and looks like nothing we have seen on the market yet. They did some serious innovation here, and I think this solves some legit real-world problems. Of course, we have to see how well it works in real life before we give it any serious accolades. Nonetheless, this is by far the most intriguing device I have seen, and it could actually bridge the pen-computing gap for the regular consumer.
What do you think of the Lenovo Yoga Book? Let me know in comments.
Related Announcements
Windows Central Newsletter
Get the best of Windows Central in in your inbox, every day!
Daniel Rubino is the Editor-in-chief of Windows Central, head reviewer, podcast co-host, and analyst. He has been covering Microsoft since 2007 when this site was called WMExperts (and later Windows Phone Central). His interests include Windows, laptops, next-gen computing, and for some reason, watches. Before all this tech stuff, he worked on a Ph.D. in linguistics, watched people sleep (for medical purposes!), and ran the projectors at movie theaters because it was fun.
I really can't wait for this device. Seems like the perfect couch/train/commuter companion PC. Just all sorts of cool stuff can be done with it. I just hope the Atom x5 can push its weight. At 2.4 GHz and quad-core it should be alright.

Oh let it go already. Look at the rest of the package and creativity here for once.

The keyboard part is awesome no doubt. If it was removable it would have been even cooler. Surface needs a keyboard cover similar to this.

They had something like this, just without haptic feedback, for SP1 and SP2 I think. Called the touch cover.

And the Dell XPS 11 had the same style keyboard too. Universally hated so remains to be seen if Lenovo fares better.

Not universally. I wish I could get a touch cover for my SP4. Once you get used to you can actually type much faster since their is no key travel and much less finger movement.

Yeah, there's a learning curve to everything. I have never used one, so I can only comment from my beliefs on what it would be like. And from my experience with touchscreen keyboards which I deplore.
I can imagine that it wouldn't be too bad once you got used to keeping your fingers in the air, which I believe is what you're supposed to do for good practice anyway, especially since there's a spot for your wrists.
As someone who types all day every day for school and coding, I am slightly worried about constantly slamming your fingers into an immovable object, rather than with normal keys, and my giant mechanical keyboard, where there is a lot of travel to help distribute the impact over time and distance.

yes, touch cover is what I have for my SP2 pro. not very good and its hard to go from physical keys with feedback to the touch cover. i also have a type cover for my SP3. prefer the type cover over the touch when typing due to the feedback and lack of feedback on the touch cover.

I have the type cover for my SP4 and I love it, glad I waited because it's much better than the cover for the 3. But I still use my mechanical keyboard whenever I can, because it beats everything for feeling. I wouldn't like a touch cover I feel, because I type constantly for school and programming classes, and because I really like to rest my fingers on the keyboard a lot, which you can't do with capacitive devices.

I have type cover for my SP2. Like it a lot. Pretty easy to type lots, fast, and accurately.

Agreed, Lenovo made a great tech innovation here and the best is that this is not like the Courier which was a demo, this is a device in production so they have made multiple tests to make sure this tech will work. I wonder what are the medical/physical implications for a virtual keyboard like this. Maybe for users that have never used a keyboard (like my kids) it will be good since they will learn to type with very small force, but for the rest of us who have been using keyboards for more than 20 years this change in technology can damage our fingers since we're used to type strongly, I would like a specialist in finger (physician) to talk more about this new tech.

I think this is a great example of where we moved as a society in regards to technology, and not in a good way. I came into technology in the very early 90's. When new things came out and innovation happened, we were all just stoked for the tech itself. Amazed by what we are seeing. (ZDTV Days). Now when something like this pops up, it is always; It doesn't do this, it doesn't have this. etc. I miss the 90s :( Or maybe I am just reminiscing and it wasn't as magical as I thought.

I still have that feeling :P Ticks me off when people don't appreciate how we have laptops that are 10mm thin, 4K display, and biometric. Just awesome stuff and it's moving so much faster. We do have a very spoiled tech society, unfortunately. Everyone is a critic, but barely any are contributing.

I do too, but maybe that is just our age showing :/

I'm with you. I still get giddy about new tech toys. As I type this on my Toshiba Portege Z20t, I think back to my very first laptop, A DEC HiNote (the original), with it's 486 CPU and up to 4 hour battery life! My current machine probably runs more CPU instructions in sleep mode than my DEC did running flat out. I have FIFTY TIMES as much RAM as the HiNote had HDD and I have 3 times the battery life! Plus my Toshiba is half as thick and, oh yeah, seperates in to a crazy-awesome pen-enabled tablet. I HATE when people whine "that new phone ONLY has full HD" or "That laptop only runs Overwatch at 30 FPS in high-quality". WTF, people! Your PHONE has more pixels than most TVs a decade ago! That laptop runs a game that looks better than most animated MOVIES at the same frame rate as TV! Be happy for what we have an excited for whats's new!

Battery Life complaints are my button. I'm not only amazed every morning when I find out what they invented last night, But I'm blown away this stuff works without being tethered to anything. I7 processing power, 16 GIGS of nanosecond memory, Terabytes of storage, gorgeous high resolution displays, and you can WALK AROUND with it? Ok, so you gotta plug it in every few hours to charge It's onboard power plant. But you can still use it while your doing that too.

I have to agree with you, I started out using the BBC Micro so I've seen technology steadily improve over the years and I'm still left in awe at some of the tech we have today.

I agree, I remeber when sound cards were optional, and the synthesizer sound they would make. Then came VGA graphics, then the dial up internet. Everything was new and exciting, now it is just blah so what. Too bad, it was a lot of fun.

I remeber my first REAL graphics accelerator, the Legendary ATI Mach64 Pro Turbo! I still recall being amazed by 56K modems and optical drives too! Back before 3D graphics and Gigabit internet.

Those were fun times, I remember when downloading one MP3 file used to take days rather than minutes or even seconds with todays connections.

I was fairly lucky in that sense. My cable company offered cable internet through @home in the md 90s. I am actually moving to an area that offers 10Mb max right now. Will be like going back in time.

IMHO, the only practical side of this device is to digitize hand-drawing sketches. From all other aspects such hardware decision is a downgrade

Downgrade from what? I don't have any 10-inch PCs around. You want to talk downgrade? I have an XPS 15 4K with 32 GB of 2400 MHz RAM and 1TB of SSD storage. I'm pretty sure anything you own is a downgrade compared to that lol Or how about my Core i7 desktop? Or my MSI 15-inch with a GTX 1060. You have to think of the Yoga Book as a companion device, not something to replace your main device or even laptop.

Well my surface pro 2 is 10.6 inches with a core i5. So yeah, downgrade.

That's exactly how I think of my Surface 3, not as a replacement for my desktop but as a companion device to get work done on the move.

Ever tried to hold a tablet without bezels?

This isn't a tablet though...

Umm, do you not know that all Yoga laptops are convertibles? The "keyboard" folds 360° for tablet mode. So yes, it IS a tablet.

My desktop PC has a Tablet mode... (mindblown) do i have a tablet?

I have a sony tablet and they tried these capacitive keyboard keys and it did not work well. Accidental key registries and such.

Seems to work fine on most people's smartphones /s PKB for the win, but this is just cool. It'd be cooler still if it had a 2nd lcd. It would be the rebirth of the Microsoft Courier that never hit the market...

No. completely different.

How would it be different if this Lenovo Yoga Book had indeed had a dual screen (which I am aware it does not)?

I am talking about typing on a phone display verse a keyboard.

It looks beautiful, but I'd kill for an extra 1.5" of screen on this guy. The step from the 11.6" to 10.1" is, to me, the step where a little laptop becomes signficiantly less useful.

I know netbooks are no longer in vouge and 10.1 isn't for everyone, but I am a HUGE fan of this size/form factor.

Drop an i5+ processor into that and it could be an artist/photographer's dream. It's like having one big Wacom tablet connected to the display!

That would be sweet, but it would need to be a lot bigger/thicker to deal with the CPU heat/cooling system

It's just as gimmicky as the LG BL40!

I like how bezels are still huge -_-"

I love the concept, but as we learned from touch cover, will anyone enjoy using it as a full time laptop? I didn't mind touch cover, but without that tactile feedback of moveable keys, how will the experience really be? Interesting for sure.

That's a huge Change with the capital 'C'. Ppl would have to make a difficult decision if they're considering this. Lenovo took a bold choice to do this for sure...

will anyone enjoy using it as a full time laptop?

I stressed that at $549 and at 10-inches I don't see many using this as a primary PC, but rather a secondary one.

Fair enough. And with LTE, nice travel/ companion device.

Exactly. Would be fun for a morning commute or doing light work on the couch. That's why "desktop" is dying, we just have more screens around us for different jobs, etc. I think what makes this compelling is the $549 pricepoint instead of like $1100 or something.

honestly, 549 is a lot imho for a secondary device but of course too "cheap" to replace a main pc. This is probably a very personal opinion also but I have a Surface Pro 3 i5 8gb that does the work as desktop via the dock also. When I would commute or sit in the couch (as I'm doing as I type :)), it is also awesome, size really fits me. If I need something smaller, I'll take my 950XL. So I'm not really seeing this fit somewhere in between FOR ME... Nevertheless, I like this concept and the keyboard just looks cool for starters :)

It had similar specs as a Surface 3, yet it includes the accessories you'd want in the box (at least according to this post), and it's only $50 more. That seems EXTREMELY reasonably priced for a new and interesting idea being implemented into a new convertible. It's not overpriced at all.

I still have a Surface RT with a touch cover. I rarely ever use it, but I never expected to. I have a Yoga 11e, and the non-touch version as well. I like it, but for the power, I wish it was a little smaller. This fits the bill. If I were doing serious work, I doubt I'd do it on this. I'd rather have the pen for note-taking while in class and dock it to a keyboard and trackball when at home.

Now THAT is serious innovation. Let's see how Apple will create the magical iPad (DS?) to compete against the Halo Keyboard

They will make a new hinge that will attach two iPad Pros together. BOOM, there's your Hellno Keyboard.

Wait....that's actually not a bad idea at all. Expensive and kinda of overkill, yes. But dual-screen device is still a territory that hasn't been much explored on but holds so much potential. I think its really the software and UX that is designed to take advantage of that can bring its full potential, which is sadly not yet really there.

Interesting design but won't be good for typing. But companies are getting creative. I don't know if it will work or end up being like the lenovo virtual row key that replaced function keys on the first x1 which didn't do well and was removed.

Interesting design but won't be good for typing.

Think of it as a tablet that has an added KB instead of a laptop with a weird keyboard. It's about tradeoffs and while I probably wouldn't want to write a lot with it, I think for a 10-inch tablet it's great for when in a pinch.

That's true, it can be useful and you are right it should be thought of as a tablet rather than a laptop and it makes much more sense.

It looks great compared to an ipad with keyboard - weight, price and battery life are all in the ballpark. The added versatility of pen/drawing, tent/stand mode, Windows proper make it really compelling. Just don't compare it to a laptop.

This looks incredible, not sure how many would vouch for it but certainly the best adaptation of Keyboard and pen. Should be great for diary writing those who still prefer the old way and for those who like to draw. Waiting for the full review.

I want Surface Phone to be like that.

YES. I have been meaning to put together a post about my hope that the Surface Phone would at least innovate and maybe even revolutionize smartphone input like the Surface did, with an Ink input panel just like this. What it would do is alleviate one of the big challenges with Ink on mobile, which is the tension between screen size and having enough area to draw. But of course full inking has to come to mobile with RS2 first. I'm increasingly convinced that typing on touchscreens is one of the worst input methods ever, even with shape writing, so this would be great.

Cool idea for the Surface Phone.

You want a 10 inch phone!!! Wow think of the looks you will have holding that up to your ear walking down the street. Just like the 80's ghetto blasters!!!

I don't want 10" phone idiot. I want 5" phone that unfolds into 2 x 5" "screens" thanks to creative cover - which might be eInk display.

Careful, if you keep saying exactly what I'm thinking I might ask you to come to my office and do my work for me! Here's another part of what I think could be cool with this: Allow the user to set up gestures using the creative panel, maybe triggered while holding a side button on the pen. And it could be a good place for a fingerprint sensor too (maybe on the part that holds the back of the phone). And maybe give it options to connect either via Bluetooth or those cool connectors on the Elite x3.

i understand what your getting at but there have been phones that have done pretty much what you're hoping for that never got any traction such as the Kyocera Echo​. That doesn't mean Microsoft cant figure something out especially with better technology available today. But even still will "joe public" go out and buy it or would it just be seen as some sort of novelty thing.

Technically Microsoft has made "iPad" along with HP and Dell 10 years earlier but as you said, technology evolves and makes things more viable. Not to mention I don't care about Joe Public. If Microsoft figures out something that makes Surface phone more effective at note taking and general productivity than Galaxy Note line I'll buy it.

Surface Phone would be a niche market like Surface devices are. It won't matter if it's not a major market presence, that isn't where MS want to be.

I was kidding around, so take a pill. So defensive!

Nobody on the internet can tell if you're kidding if you don't use one of these: /s or ;)

Interesting idea. Do you mean like a "cover" that folds down and gives access to the "keyboard"? I could see that being a thing, but personally I'd prefer a built in kickstand, similar to what surface pro has now, and an included foldable bluetooth keyboard/mouse combo. Add in everything needed for continuum to a seperate monitor wirelessly, and I'm sold on it big time.

I'm thinking cover but not detachable. It needs to be part of the device. Something that adds functionality but also keeps your device secure, and maybe holds a pen if Microsoft wants to make a phone thinner than the pen.

Ok I can see that. I really do hope they design something that blows people away. It'd be pretty nice if the Surface phone had desktop virtualization for the consumer. I'd be happy to have either an app, or built into windows 10, where I just have to port forward my router and can run any program on my PC on the phone. That will be a seller.

It's called "Microsoft Remote Desktop", and already available in Win 10 Mobile. Or even Team Viewer Remote Control"

Or maybe detachable but attaches with those Pogo pins, and includes a little triangular kickstand like thing, like the Matebook but mini.

Super thin "cover" that has E-Ink for the glance screen. Hmmm...

That's something I could get behind. My only issue is I hate the folding cases because they get in the way of the camera. If they can make if fold in a way that the camera isn't blocked, it'd be amazing.

Oh heck yes! The only thing that dissuades me is the Western obsession with thin devices. Honestly I'd be happy to give up some thickness for better performance.

The only thing I want in Surface phone is to boot dual OS (Windows 10 Desktop and Mobile) so I'm waiting for Intel Core M powering the phone. I don't care about apps, all I want is my phone to be my work tool, and for work I need full Windows 10 desktop.

Well that's getting purchased. Not sure how I feel about it not having traditional USB ports, but I'm sure I can manage. I've barely used the USB drive on my current Yoga 2.

This keyboard casing without the mechanical keys acts as a virtual keyboard and sketchpad... So sketching on a pad is better than touch enabled screens? I'm just curious, because I've had eyes on the accessories (pen and pad) available for digital sketching but never known what it would feel like.

We won't know until we try, but Wacom is good stuff.

I hope you guys would do some video about it showing/explaining the difference.

I like using the pen to work on photos and drawing, however sometimes even the pen obscures my view. Back when I was using a Wacom tablet attachment, it worked well because I can see the precise pointer to show where I'm about to draw. This Yoga is nice since it seems like I can draw both ways.

Reminds me a lot of the ill-fated Surface Touch Cover. Very intriguing concept, but I'm worried it'll meet the same fate, where the lack of tactile feedback creates a less than-ideal experience for the users. But we'll see, this is definitely a pretty bold new design concept.

I really like it. I understand that it will not be perfect. Also it will be a learning curve for people to use this type of a keyboard. But it's a good step and if it works even OKish, it will be great

Hinge looks very similar to Surface Book, shame it only comes with Atom x5 processor. The design and keyboard look really nice though.

cool.... i would buy one!

After using a touch cover on my SP2, anything other that doesn't have feedback is pretty awful to use for long period of time. It sure is pretty tho.

This has haptic feedback for typing.

I just re-read it without skipping around and saw in the article. Very intresting.

Yeah, not saying it's going to be great, but it could be decent for short emails, social posts, etc. Will be interesting.

This could be a good ipad type replacement. Where you can quickly write down notes for groceries and send it to your phone. Or even reading an article and taking the article and highlighting the good stuff. Also good for the occassional emails.

Any info on if they are planning to release it with bigger screen size?
If it has a bigger screen, I will replace both my laptop and wacom Intuos with it.

I haven't been that excited by a laptop in a long time.
I'll be first in line to get it as soon as it is out!

The idea is really cool...BUT to me the lack of a tactile keyboard puts it immediately out of the question. I absolutely hated the Surface Touch Cover (remember those?) due to the lack of tactile feedback. This would be no different. As a drawing tablet though, if the pen input is flawless, it might be great for people who use more the pen than a keyboard.

I initially agree on the tactile keyboard issue, but it is a necessary trade-off for what the device is designed for. I also agree that the surface touch cover was not very good, but this will have haptic feedback which may or may not be a good enough substitute for physically feeling the keys. I will have to try it for myself before making a judgment. I'm just glad such a device exists, even if it may be more of a niche product.

Anyone else reminded of the Acer Iconia from 2010-2011? http://www.cnet.com/news/acers-dual-touch-screen-iconia-laptop-reviewed/

Not sure I would like using pen input '"blind" since there'll be no indication on the writing part where your next stroke should be.

I was going to say the same thing. If you draw a line across the pad, stop, and lift the pen, how will you know where to put the pen back on the pad to continue the line?

People have used Wacom surfaces like that for years. Once you hover your pen over the surface, a cursor appears on the screen mimicking the pen.

Bamboo tablets, digitizers, etc.

I use Wacom. If you move your pen across the tablet quarter inch above it, the pointer moves around accordingly, jsut like you move your mouse around. If you want to type, you lower it and touch the tablet, drag and doodle. If this uses Wacom tech, I'm sure it will have palm rejection, etc... Keep in mind that if you get a decent 8" Wacom these days, you will be $200 lighter, so if that keyboard is included in the $550, this thing is a complete steal....

Maybe a bigger brother of this will be released with more memory space, and detachable keyboard and a more desktop oriented cpu? If that happens under 1k it may be a buy for me then.

This should be compared to an ipad, rather than to a laptop.

ATOM cpu! I got bite a few time by an Atom CPU. From an Averatec Netbook, using one of the first Atom, to the VOYO V2. I could also include here my Surface RT with a weak nVidia CPU. Atom is to slow for modern browsing. By modern browsing, I mean web side with a ton of ads! But the GPU in the Atom package is "surprisingly" able to decode HD video without issue. Just to slow.

Remains to be seen. This is clocked at 2.4 GHz and is quad-core, not exactly lightweight.

The VOYO V2 has a Atom 4 core clock @1.6 GHz...We would see.

For $549 is a nice device. The Intel Core M5 stick without all the hardware from this device costs $500 so that gives you the idea of what you're looking for. If this had Intel Core M you would need to add $300 minimum to final price of $849

This is very impressive, even more than the original Courier design, I can't believe this device is so thin and lightweight, this is definitely best Lenovo 2 in 1 of all time. Those complaining at Atom CPU should take into consideration that this CPU keeps price down, I'm sure if Lenovo sees success when selling this device they can add a Intel Core M CPU for extra $300 in a few months.

I know. I like the Atom processor on paper, I had a few, but in real life it does not work (yet). Intel needs to fix this. OEM and Microsoft need Intel to deliver an affordable low power CPU that is power full enough. The Atom X5 is clock 1.44 GHz with turbo boost up to 2.40 GHz. Why not using an Atom X7? Is the X7 enough? The user should be able to browse the web without any lag in webpage processing… Sorry, maybe my frustration come from web developer and advertisement.

Remember the Dell Minis? Had same problem. Too slow.

I'm a noob in drawing tech so please explain something to me... When the second screen gets dark and acts like a drawing surface, how do you keep track o what you are doing? Because in paper you keep track of what you are doing in the same place you're drawing and if you look away and then look again you'll know where to continue... How can someone do that in that dark screen?

Its pretty simple, don't point your eyes at the keyboard cover, point your eyes at the display as if it is the paper where you're drawing.

Easier said than done in my case... If I have to look at a reference book or walk away for a moment two thing would happen: 1- i would have to keep the pen at the end of the current line every time or 2 - would have to touch the screen at different places till i get where i left... What is a bummer

"Users can now write with the real-pen accessory that holds real ink tips onto a piece of paper or notepad covering the multi-use keyboard panel, or as a stylus when applied straight onto the panel." look @ 55 sec in the video

this is how it works on other tablets paired to a desktop computer:
Moving around: you keep moving the pen jsut above the surface of tablet and see the cursor moving on the top screen, just like a mouse
Drawing: once you get the pointer to the place you want, lower the pen to touch the lower screen surface and start drawing. Once done, just lift it up of the surface.
I was very apprehensive when getting my Wacom, because I always thought that the natural way of drawing on the display directly woudl be more natural, but after getting my Wacom, I was surprised how easy it was to adjust for me. I use it for editing photos on my Mac when brushing effects in and out. It works great, has no lag and is dead accurate.

Thank you VERY much for explaining it to me! it clarified everything now

Now hopefully for next device, replace that giant capacitive keyboard/graphic pad with a full touch screen. Courier may return!

I came to see what was this about.. then i came...

Anyone remember that Dual screen Acer thing? I hope something like that comes along again soon.

Why not just get a Surface Pro/Book/Similar and just write on the screen directly instead of a separate pad (and have a real keyboard too)? Doesn't make sense to me. Maybe for tilt recognition or the ability to use a real pen on paper (but disconnected from the output so...). I think you give up too much for these minor benefits, and you can get tilt recognition with other devices if you really need that.

Because a Surface is about 1,500 bucks. $499 - $549 is do-able for a lot of people.

Fair point. I think the goal in tech is to remove as many mechanical parts possible. Now the bottom screen can serve many porposes. A virtual keyboard, a piano keybed, a pair of djay turntables, virtual controllers for a game, the list goes on and on and on... If you had a mechanical keyboard, you'd be stuck with just a.... well a keyboard....
This gives you a second screen and a massive area to utilize for other things than typing.
If they nail the haptic feedback, I personally think this is the way to go with input.

It looks like there is a USB-C port. Can anyone confirm?

So can you write on it when the keyboard is rotated all the way around? Or does it have to be open?

I think that slate is a good idea, but how about going more module as an attachment for all Lenovo tablets (so you can choose which tablet atom to i7) maybe on a reversible module with an actual physical keyboard on one side and the smooth slate on the other.

I'd rather have the optical keyboard. Easier to keep clean.

All I have to say is that I want that thing! No care about any other comments or opinions! Posted via the Windows Central App for Android

is this suitable for creating art, in different colours?

I guess if there is Fresh Paint installed or an Android art program you can. I want it for the same thing and to edit documents with the pen/sylist.

Again, no place to store the stylus! Only Samsung has figured out that the stylus needs to be secured someplace handy so it doesn't get lost.

Love it, want one! Wish I hadn't just bought a new Dell laptop & Chuwi Hi8Pro though...

There is always next time.

I love that it's a clamshell design. I have a Yoga laptop and an iPad and I find myself gravitating toward the laptop because the form factor makes it easier to use in bed, etc.. I had a Surface Pro and always felt balancing it on my lap with the kickstand didn't work well. Size, weight and form factor make it a promising companion device in my eyes.

Looks super cool, but honestly, I think I'd rather write and draw directly on the screen a la Surface Pro 4. And importantly, be able to ERASE directly on the screen (not sure how erasing will be done on Yoga Book). And to save paper.

This is a rather innovative and interesting device. Even though I have a regular Surface 3, I am tempted to get this.

Misssing the mark with this. Absolutely the worst of both worlds. It would be better with two pen enabled touch screen displays. You could put tools and keyboard on one screen with the full page drawing/ viewing workspace on the other, either vertically or horizontally while seeing exactly what you re doing with the stylus or fingers on both screens. Symmetry. The windows on screen keyboard should be by design customisable, allowing users to alter size and location better and add custom macro buttons, to switch layouts for any program they like. That is the main problem with onscreen keyboards. I like the haptic feedback for fingerss though... that is a plus. This thing is limited and seems like a cheap way out. Yuck.

When I'm at my desk, I'd probably attach a full size keyboard anyway. I think this is a good compromise.

IPad pro is toast. MacBook with LED panel? Toast.

Neat thing. Atom x5 should do it, I had another tablet with an older Atom at it was ok. But what I think would be amazing here is to have a dual-boot to have both Android and Windows with you... I wouldn't know which version to choose, so I'd want both but not ready to pay for two identical device where the only difference is the OS. Dual-boot, it's the way to go.

With the keyboard portion of this device being completely flat, can a house cat lay on the keyboard without triggering the keys? Is it cat-proof?

That's my biggest Q too. Inking, annotating, taking notes just on that black keyboard isn't as good as inking on the tablet screen itself. Where do I put my pen when inking on the keyboard.

Can I ink on the screen too or just the touchpad/keyboard portion only? And where to store the pen/stylus?

This really looks fun!! I'd love to have one of these. When will they be able to look at in places like Best Buy?

I do love the concept and design, it's literally mimicing a actual notebook down to the sketching. Would trade my low tier surface 3 for this anyday.
Windows Central Newsletter
Thank you for signing up to Windows Central. You will receive a verification email shortly.
There was a problem. Please refresh the page and try again.