REACHit for Cortana cloud file search now available for non-Lenovo PCs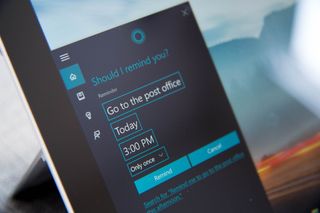 Lenovo is opening up its REACHit for Cortana app to users of any brand of PC. The Windows 10 app expands your options with Cortana, helping you find your files no matter where they're stored.
REACHit for Cortana was originally unveiled last year, an upgrade to the existing REACHit app. It allows Cortana to search more locations to find files, including cloud storage services like Dropbox, Google Drive, and Box. You can also search other PCs and tablets if they're connected to your REACHit account. And because it's connected with Cortana, you can search all of these places just with your voice. REACHit also uses location data, contacts, and more to narrow down its search.
Download REACHit for Cortana for Windows 10 (opens in new tab)
REACHit for Cortana is currently in beta. The beta is restricted to users based in the U.S. at this time.
Source: Lenovo
Windows Central Newsletter
Get the best of Windows Central in in your inbox, every day!
Funny, I just got that Lenovo Thinkpad 11e from Amazon just yesterday and deleted this app because I thought it was bloatware lol

Exactly what I did, uninstall both reach it and share it as BLOATWARE I didn't want. Along with every other Lenovo app.

What happened to the "Windows 10 now finally has a brightness slider" post?

I'm glad I read it before it became as Windows 9. I didn't realize that the brightness slider appeard whenver it appeared but what that article did make me realize is that the settings vary per device because my HTC One M8W has the brightness slider but not the settings about the mouse and keyboard input. Both my 950 and 950XL have the keyboard and mouse settings, pointing to hardware specific settings similar to how some devices have FFC Dual Sim, OTG and other options in Settings that vary by device. I know this may not have been new to Windows 10 Mobile but it was new to me. Thanks for the quick post and to our brave, short lived "Windows 10 Mobile finally has a brightness slider" post, you may be gone.....but you are not forgotten. *pours out some battery juice for our fallen post*

Great. Now it wouldn't be a bad idea to bring Cortana in other languages.

Or at least make it available in English worldwide...

At least that, indeed. OTOH, you can't change the language settings on your computer OS on the fly, so it would be nice if, for instance, I could use Cortana in English in my Czech desktop Windows. I'd like to see at least that degree of integration, but MSFT guys seem like they couldn't care less about non-priority markets. Just to give an example: if I wanted to buy any MSFT device other than Lumia or Xbox, I'd have to do that over MSFT Germany or Austria.
End of rant...

Not working here. I install REAHit app, and then come back to "REACHit for Cortana" and still ask me to install...

Vitor - After your installed REACHit for Cortana, did it automatically install REACHitSetup.exe after? If so, did you go through the process to create an account and get to a tutorial window?

I still feel funnier and less apt to talk to Cortana on my PC, Surface or laptop than I do on my phone. So it would be nice to try this ReachIt on my W10M device. And it is on my smartphone where I need the help in searching. If I'm on my pc, I can usually find what I'm looking for. Not as much so on my 950 XL.

Any known alternates? Love the idea, but don't want to give Lenovo the keys.

Won't install for me. Says the Install wizard was interrupted before it could complete.

Could you send me a screenshot of what you're seeing?

Thats cool, but what I really want is WRITEit for my surface devices. That is something that should have been an integrated part of windows 8 from day 1.
Windows Central Newsletter
Thank you for signing up to Windows Central. You will receive a verification email shortly.
There was a problem. Please refresh the page and try again.