Verizon LG Lancet unboxing and first impressions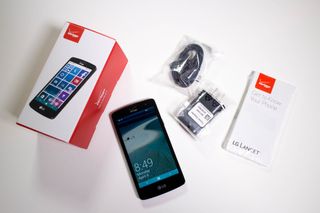 A few weeks ago Verizon and LG released the LG Lancet the first LG branded Windows Phone in many years. Although the device can easily be described as entry-level or middle of the road, in terms of quality and specifications the Lancet is a well-done phone.
Priced at just $120 off-contract (or free using the Verizon Edge update program at $5 a month), the Lancet brings some higher-quality finesse to the budget phone market. Granted, Verizon and LG are barely promoting the device (we had to go buy one for this article), but that should not dissuade you from considering it.
Watch our unboxing and hands-on to see what $120 gets you these days in the Windows Phone world.
Specifications
Swipe to scroll horizontally
| Category | Specification |
| --- | --- |
| Screen | 4.5-inch TFT, 854 x 480 pixels |
| Dimensions | 5.11" (H) x 2.55" (W) x 0.42" (D), 5.05oz |
| Battery | Removable Lithium-Ion Battery (2100 mAh) |
| Storage | 8GB plus support for microSDXC card up to 128 GB |
| Processor | Qualcomm Snapdragon 410 1.2 GHz quad-core CPU |
| OS | Windows Phone 8.1 with update 2 |
| Network | Verizon LTE; LTE (Band2/Band4/Band13) |
| Camera | 8 MP rear-facing camera with LED Flash and VGA front camera |
Sales packaging
LG Lancet
Lithium Ion Battery
Pre-installed SIM Card
Wall/USB Charger
Quick Reference Guide
Product Safety & Warranty Brochure
Important Consumer Information
RF Brochure
Initial impressions
Shooting from the hip here I am actually quite impressed with the LG Lancet. Sure, it is Verizon and LG, two companies that have not exactly won me over in the last few years. However, putting aside my biases the Lancet is kind of a remarkable device for $120. Here are my top reasons why I like this phone:
LG Lancet – Pros
Low cost / high-value
Excellent display
HD Voice Calling (Verizon's Advanced Calling 1.0

(opens in new tab)

Pocket-sized, nimble and ergonomic
Windows Phone 8.1 Update 2 out-of-the-box
Snapdragon 410 = excellent performance
Quality build, nice buttons, no creaks
Double tap to wake (looking at you Lumia Icon)
Camera in well-lit scenes
Okay, but the phone is far from perfect. So here are a few quibbles I have with the Lancet. I would not consider any of these deal breakers, but they are things to consider:
LG Lancet – Cons
Micro instead of Nano SIM (In 2015?)
No ambient light sensor
On screen keys (meh)
Camera in poorly-lit scenes
Overall, that is not a bad list of Pros vs Cons for a $120 phone. LG may have had cold feet for Windows Phone in the past, but I still have fond memories of the AT&T LG Quantum and before that the LG eXpo (a Windows Mobile device with a pico-projector and fingerprint reader…from 2009!).
In short, LG knows how to make compelling hardware. Granted, the LG Lancet is very far from exciting, especially in these Windows Phone doldrums with no high-end hardware. But that is not a fair assessment of this phone, which stand on its own merits, especially for the price.
I'll need more time with Lancet to decide if it is truly worth it, but off-the-cuff I think it makes a great entry-level device (or hold-over until something bigger and better comes along).
Windows Central Newsletter
Get the best of Windows Central in in your inbox, every day!
Daniel Rubino is the Editor-in-chief of Windows Central, head reviewer, podcast co-host, and analyst. He has been covering Microsoft since 2007 when this site was called WMExperts (and later Windows Phone Central). His interests include Windows, laptops, next-gen computing, and for some reason, watches. Before all this tech stuff, he worked on a Ph.D. in linguistics, watched people sleep (for medical purposes!), and ran the projectors at movie theaters because it was fun.
Another phone with Windows os !! Yay :)

Why this phone isn't looking that exciting?? I find the looks really boring (maybe the display is....?) Again its my personal opinion...

I would actually say it looks pretty good! Seems to be a comfortable phone too!
I hope in 2 years there will be a new flagship phone or midrange that dont feel like a stone (I have the lumia 930).

The screen, how is it compared to Lumia 430?

Low resolution with tft screen is awful

"Low resolution with tft screen is awful"

It

can

be awful, but it not necessarily so. Considering the price range and feature set of this phone, I think this display is actually one of the better ones I have come across.

Look at the battery ! 2100 powering a 4.5' phone is amazing, will give u 1-1.5 days with mixed usage, for $120 , it think u r expecting too much

Aren't the screens on the Lumia 535 and 640 better than this one? For the price there are also better screens. The Moto g phones to date have at least 720p. Even for $120, the screen is awful. Cheap price or not.

Have you seen or used the device or are you just going on specs? Because I think the display looks just fine. It's a 4.5-inch screen. Also (looks at Verizon's portfolio) yeah, no Lumia 535 or Lumia 640 on Verizon, so how does that help someone on that carrier who wants a budget phone?

Verizon is NOT a budget carrier. Their plans really don't meet the industry average to my knowledge. That could be dated though.

If you use the Edge plan, they drop their More Everything Plan offering by $10 a month and $15 if you pay off the phone, knocking your bill down to $65 a month or $45 a month with a 1GB plan. Also, are you telling Verizon that they should just not offer low-cost phones to their customers? Seems like a bold statement. Clearly they see a market for it which is why they ordered this phone in the first place.

Yeah I have actually used the device. It's not a bad phone by any means for the price but lets not pretend the screen is good enough for the price. I am not sure what your reference to Verizon portfolio has to do with anything. I never said no one shouldn't buy this. I merely compared it with other products within the price point which is also what customers do. Compare products.

"but lets not pretend the screen is good enough for the price"

You seem very fond of stipulating your opinion as a fact that everyone needs to accept. I think that's nonsense, sorry. In picking up and using this phone, the first thing I noticed was the display was much better than I thought. It's called personal opinion. I'm entitled to mine and you yours, but let's not elevate them to the rank of something that cannot be disputed or debated. As I am the only one here with the phone in his hand, I stand by my assesment.

Nothing different that you do daily...

Good grief, Daniel pointed out that the 535 and 640 are not available on Verizon. So explain why Verizon customers would compare the LG to another carriers phones. As a Verizon customer, I could care less what a phone on ATT costs. Again, your opinion of the screen may not reflect everyone else's opinion. Some people may actually be just fine with the screen.

It's just another fine example of Micah trashing nonlumias, don't feed the trolls folks.

I was about to say the same Br1t. He can't say a good thing about a non-Lumia WP.

The screen is definitely good enough for the price.

Exactly. For $100 you can get the Blu Studio C with a 5 inch 720p screen. Just sayin

Daniel, I support the notion that this is a great holdover device. Especially for someone without the ability to upgrade, with no insurance and a broken phone. $20 more than the typical deductible and you get a brand new phone. IPhones cost more than that to replace. LG may just have priced this perfectly to win some converts from the other manufacturers to their hardware and into Windows.

Technically, any LCD screen is TFT, but the screen on this LG phone is probably TN instead of IPS in order to reduce the cost.

Viewing angles will be poor when compared to ips display

Why do you need good viewing angle on a personal sized, personal device? I honestly don't know. Like gather around a phone for picture viewing?

Not able to view the images in the images section in the app. The app crashes every time. And it has happened a few times before too.
Using the app on Lumia 630.

Oh yes, besides not being able to view images in the WC app, no video plays from the app. It always gives me a youtube error. Lumia 640..

Micro sim instead of nano as a con is too much
On screen keys cannot be considered a con just if you dont like it

Your opinion versus mine, that's all that is.

Which Windows phones currently use a nano sim?

1520, 830, icon, 930, 735

HTC M8 too, can't recall if the Samsung ATIV SE is nano or not... I think it is.

Onscreen keys won't auto hide as the lumia 730, 640 etc

I actually prefer the on screen keys on my 735 than those normal on my girlfriend's 625. Better response, they only annoy me on the Fb Messenger app. Then again, a friend with the Nexus 6 has the same complaint

Yeah, it's really personal taste. I know Ed Bott from ZDNet flat out returned his One M8 just because of on-screen keys. I know Phil Nickinson has some strong thoughts on this as well. Point being, it's a divisive issue for many ;)

So I would not be able to have this and my Icon and switch the SIM between them, because of the different physical sizes of the card, correct? Or is there an adapter I could use?

Hit up eBay, there are adaptors, but the quality of fit varies. Try and find one from an Xperia Z1.

Thanks I'll give it a look!

Yeah, I'm using and adapter now (Amazon has some good ones too), they are just tricky and require a few minutes to get it to sit right.

I have a nano sim card along with micro sim and full size sim card adapters which work extremely well. I ordered them from the Microsoft store. Was extremely inexpensive. Get a nano sim card and a pack of inexpensive adapters and you can freely switch between phones without ever having to go to the carrier. Easy fix. Takes literally less than 10 seconds to swap phones with the adapters.

On screen keys seems pretty normal for a $120 phone. This phone looks well done though.

How can a smartphone have high value but it has no ambient light sensor?

Well, I suppose if you think the ONLY thing that makes a good smartphone of value is an ambient light sensor, then sure, it doesn't hold. I do not believe that, so there's that. There are other things, which I point out, that make this phone interesting and adds value.

There is a trend ( started with L630 maybe ) LG G3 S does not have it, just like Galaxy Grand Prime

There are a bunch of people who don't care about it and have no issue swiping down on the action center to tap the screen brightness button. I watched my wife do it all the time and it doesn't bother her.

Once you get used to well done brightness compensation (Lumia), it really stands out without it. Also, I find no ambient light sensor in 2015 on a "smartphone" (vigorous air quotes) to be even worse than SIM card or button location preferences.

Verizon finally gets an affordable off-contract Windows phone. The Lumia 735 should be arriving soon too correct?

I hope so...i need that US back cover for my EU model...hope it gets released in 2 weeks cuz my friend is coming from US then and i need him to bring me white cover tho

That's the rumor, correct.

Other OEMs are going for snapdragon 410 now. Can't think of a reason why Microsoft isn't using it in their newer Lumias'

I was really glad to see them put a Snapdragon 410 on this affordable device. Even the Lumia 830 runs on a 400.

Can anyone share wallpaper and background image?

I got this phone for the $120 off contract after my 635 bricked and it's been the best WP I've owned. Plus it's loaded with 8.1 update 2 :D

Yes it looks good nd comes with latest snapdraon processor with a good battery!

Wow I definitely hope you get to use some better windows phones if this is the best you have used.

You are coming off very arrogant around these parts lately. Let people be happy with their phones, no need to talk them out of enjoying the device. Grow up.

Agreed. I think more Windows Mobile devices in the marketplace is always a good thing. LG could have told MS to piss up a rope and not made any device. Some of the comments here make me wonder that when the next flagship WM device lands, they'll piss and moan about it too.

Lately? How about for a very long period of time. He has been a troll to any non-Lumia story.

Or you can accept the fact that somebody can be happy with a $120 smartphone.

I think it's 8MP camera is not as good as Lumia 730's 6.7MP...and also not as good performance as Lumia 730.

Performance will be better than the 730. Even better with Windows 10 onboard because it will switch to 64 bit then.

Price is almost half compared to 730! $120=Rs 7200, while 730 costs 13-13500! Performance wd b better bcoz of the 410 processor as compared to 400 of 730

The Lancet would cost around Rs 10k if it came to India. So, not much of a price difference.

It wont cost 10000, bcoz of the display, will b cheaper than 640, id say 8-8500 wd b the right price! Same as 535

Looks ok, but I hope when we finally do get those flagships they still have a camera button and actual buttons - NOT software buttons.

Good luck on that one. The reason they're making the phones with software buttons instead of soft keys or physical buttons is to make the phones cheaper to produce, thus making them more affordable for customers. But as far as flagships go they'll probably still have a physical camera button. The soft keys still remain to be seen though

"But as far as flagships go they'll probably still have a physical camera button. The soft keys still remain to be seen though"

Physical camera button is one of the defining features of high-end Windows Phones, so yes, they will continue to offer it there.

I was speaking Lumias (high-end PureView). Microsoft relaxed hardware specifications, including camera buttons, so the HTC One M8 could even happen. If HTC had to add a camera button and change their manufacturing up, we would not have that device.

Well, yeah. I interpreted your "Windows Phones" as phones which run the OS...not Lumias...had just watched a video review of the LG G4 and was thinking what a nice Win 10 phone it would make.

The HTC one m8 isn't exactly a compelling argument to hold up.

That's why I said 'Flagships'. Do what you want for low/mid-tier devices but flagships should be the gold-standard, not examples of how to cut costs.

$120 off contract for a Windows phone on Verizon is amazing. Marketing must have been asleep.

Agreed, this device has pretty awesome specs for the price 1) Miracast. Most Android phones from Motorola or Samsung at this price point don't have Miracast. 2) Camera with Face detection, voice activation, touch to focus 3) Full HD video recording (1080p), picture taking during video recording 4) Turn by turn navigation, voice navigation.

HERE Maps is available for America, too.

Could you guys try and take some photos, then go to the photos sections try and select more photos at the same time.... Is there a lag when you hit the found "select" button thingie? It's on all GDR2 from Nokia/MS and it sucks! I wanna see if its MS doing this wrong. BUGGGG!!!!

Issue doesn't exist on my 920 with GDR2 so your statement is false.

I have this issue too. It wasn't there on update 1, but is very persistent in update 2. There is a considerable lag on multi select photos option. Problem exists on my Lumia 640 that launched with the update 2 and the lag also started to appear on my 625 when I upgraded it to WP8.1GDR2

But the lumia 640 is right up there price wise and it is a much much better phone. I mean muuuch better. Posted via the Windows Central App for Android

Now imagine yourself being a happy Verizon customer and you want a budget Windows Phone. How do you solve that problem? Lumia 640 is not (and will not) be on Verizon. Sure, if you are off contract, open to new carriers, the Lumia 640 may make sense. Then again, if you want to buy that phone today, Cricket is your only option for the 640.

For the price wise they could also get a Samsung ativ se for slightly more or even a Lumia icon for $100more if they also looked online and were a resourceful shopper.

"...if they also looked online and were a resourceful shopper"

This is a silly argument as most people do not buy their phones online, from eBay, etc. They go to Verizon's site, see what is available and walk into a store. And you toss the "for $100 more" around like that means nothing to people who are looking for a budget phone. I think you need to mature a bit. To a lot of people, phone are just phones, not devices to brag about online in comments sections, which is a very niche audience. You are living in bubble of tech nerds and do not quite understand how people's budgets works, real world challenges and the larger fact that not everyone really gives a shit about the latest and greatest in smartphones.

Thank you Mr. Rubino for that.

Yup. And this is one reason WP has suffered - almost impossible to just go somewhere and buy a phone, other than corporate AT&T stores.
Even with all the low and mid priced phones Microsoft has released, almost none of them are for sale where people buy phones. I'm happy to see ANY new phones for Verizon in this price range. Even happier if they will be in their stores. :)

Yeah ur right still just saying that 640 is a real beast for the price. But the Asus zenfone 2 for 200 probably is the best deal on all platforms. I know it is an android but I am saying for money and what it brings to the table it is the best deal period. Posted via the Windows Central App for Android

So I have an Asus Zenfone 2 and on paper, it's amazing. In reality, meh. The power button (top, middle, very recessed) is enough to make me not use it. Display is also 'bleh' on it. Granted, it's a $200 phone, I'm just saying I was much more wowed by the presentation than the actual device. It does have its strengths, just some really frustrating niggles too (that flip cover is atrocious). It's still great to see though, amps up the competition.

Yeah power button definitely a pain but it has tap to wake screen so you really don't need to use the power button. Posted via the Windows Central App for Android

Why is this the only current LG phone lacking the power/volume on back design language? It's like they bought this directly from an ODM factory...

A good phone for other OS users to play with windows

I think that the G4 - as a Windows Phone device - would be very compelling!

Now looking at the camera UI, does it feature a pause button while recording videos?

As in take pics while shooting video? Yes.

No he means to pause a video recording and then resume recording. Atleast I cannot do it on my Lumia...

How much ram does it has? The ram size is also very important.

It comes with 1GB of RAM. Most new games today require 1GB

Nicest feature from this phone? Variety! It represents a big step for the platform since it increases its presence in the market and opens options for newcomers.

How would this compare to a Nokia 822? They can be found pretty cheap right now as well. I'm guessing that the Nokia 822 would have a better camera but the LG would have much better battery life? Thanks

822 is an interesting device to compare to. Some of it will be design/preference, but I think the newer 410 processor will outperform the dual-core and much older S4 in the 822. In terms of camera, the 822 was never an amazing device, imo. 822 I believe has NFC, which may or may not matter and an ambient light sensor, but the Lancet may be more 'Windows 10 ready' than the 822. In the end though, they are sort of similar.

You're right, 822 camera take very good shots on daylight outdoors, not excellent sots but still very good. But low light and flash soots are poor and yellowish. And yes, it had NFC. This was my daily use handset until yesterday, I already change to 640XL on movistar mexico.

As someone who has had an 822 for over two years now and has looked at the Lancet in store, the main con for me is no camera button. I wish that was standard on every phone. I like the look and feel of the Lancet, though, and it's a nice phone for $120.

That's the same thing I was asking myself. My 12-year old daughter owns a Nokia 822. I wonder if this would be a nice upgrade or we should wait for something better, like the 735, albeit probably more expensive. I know she does like the camera in her 822.

735 is likely better, but it all depends on the price. Also, don't forget for your daughter, 735 does have that 5MP FFC, which for her would be much better than the VGA one on the Lancet.

I had the same question and I'm glad you asked it. My 822 desperately wants to be upgraded but I don't know to what. I'm considering buying the lancet then use my upgrade for when a flagship phone comes out hopefully in a few months. Games would perform better on the lancet than my kind of slow 822 so that is a plus.

Btw mister, can you please rip of this LG lancet default wallpapers collection and send it here? Thank you~ love windows central

nice, LG has given some very good phones on android , i hope it will take this opportunity to go ahead and bring some mind shaking phones :)

Another windows phone to sit way over there.. in the store with no one standing around it.

Why the resolution is so bad pn the L535?

Resolution on the 535 is not bad.

This phone has similar specs as my Lumia 625 and despite looking as a starter device in 2015, this was a middle range specified phone just 18 months ago. FYI The most popular Windows phone device today is the Lumia 535 which comes with Snapdragon 200. This has much better CPU , the Snapdragon 410 which should handle better apps like Minecraft, Spotify, Netflix, Here Maps, Here Drive, Office, OneNote, Skydrive, Lumia Camera, Outlook all open at the same time.

*It has LG camera, not the Lumia Camera...

Daniel, I really liked your "double tap to wake" comment directed toward the Icon. I expected that a while back.

Yeah, it still frustrates me it's not there. Even when I use my S6 Edge I wish it could do that as well. Really useful.

I haven't missed double-tap-to-wake much (I had it on my Lumia 521)... until I bought the Kenu Airframe Plus car mount for my Icon, where the clasps of it are positioned right between the power and camera buttons, making it very awkward to wake up the phone. That's actually the reason I am interested in this LG phone. :)

Hey Daniel, can you do a comparison of the LG camera on this phone vs the Lumia Camera on the Lumia 640 Dual SIM.. I'd love to see the comparision...

I need to get a 640 in house here (Richard has his in the UK), but sure.

Slightly better internals than my 830 for $120 out the door. Not bad if you're stuck on VZW, but the 735 looks better. I'll be curious to see how they price the 735. Hard to justify going much higher than the 640, but that would cut the Lancet off at the knees.

Yeah, the 735 with LTE could be a nice device, but as you mention, it all depends on how they price it.

I haven't look at the author, but after read the "in 2015?" and "meh", I'm sure it's Daniel Rubino.

Double tap...and what was the other one when you take the phone out of your pocket and the time shows, Icon here, yeah its been that long.

Nice, I can recycle my HTC Trophy and buy this if my Lumia 822 ever dies. Looking forward to the Lumia 940. Microsoft better release the same model on all carriers, not the exclusive models like with the Lumia 810/820/822.

fond memories of my Expo with pico projector..... time to fire that up again! Had the Quantum after the Expo. Both were great devices, and I love it when someone at work says "apple (or android) had fingerprint readers 1st" or "no one did fingerprint reading well until apple". My expo still can read my fingerprint flawlessly.

Hah, yeah both phones were really fun. That Quantum was just a solid device (literally). Display was 'ok' but that keyboard and rounded edges made it really nice to use. The eXpo was just way ahead of its time, but I liked that keyboard a lot and the display. Windows Mobile 6.5 looked great on it.

Super solid (the LG Quantum). Only second to the Lumia 822 in my opinion. Out of all the Windows Phones, that's the one with the way lowest rate of returns at my store.

Lg memo app has no splash screen? How is it possible running with wp8.1

Welcome back, LG! My first Windows Phone handset was the Quantum, and was a very reliable device. Here's hoping the Lancet does just as well.

Was there some sort of contract that had to be signed saying that nobody could talk about the RAM in this phone? Sarcasm aside, am I just unreasonable for no longer wanting a 512mb RAM phone and always checking that spec on low-end hardware? If I am, I apologize. If I'm not, could you please check your device and add it? I haven't found a single site that managed to add a line for it when they copy-paste the spec table. Thanks Daniel!

Meh, this phone looks really dull.

I had to replace a damaged 928 here at work and this was really my only option as I didn't want the Samsung or HTC...no Lumia's to be had right now at Verizon. I have to say, I was more impressed with this phone than I thought I'd be. Sure it is no ICON but both myself and the end user were happy.

its sad, that this $120 phn offers more than the Overrated, Hyped-up iJUNK. You really have to be a moron to buy ANY iJUNK phns when there are 10000s better phns with a lot less money. its like paying for a gold painted poop with a ridiculous price tag, that CrApple just pulled out of a hat, just to make it look so special. Sorry CrApple you can price it $10,000, and i know many brainwashed iSHEEP will wait inline for weeks and months and will pay for this trash iJUNK, but to many intelligent people its still trash. Thank God, not everyone is a low IQ, FAD zombies.

LG was my introduction to the WP world via the Quantum.. That was (and still is) a great phone. My old one hasn't been used in years, but can still charge up and power on/function like new. If they ever made another physical keyboard phone (I know they won't), I'd buy it in a heartbeat!

The article specs do not include the ram, which is 1024 MB?

The video mentioned it though.

Changing gears.... Is that the Fitbit Charge HR you're wearing?

Spiffy unboxing, and I certainly look forward to your future impressions of this phone. Too bad LG didn't put the buttons on the back for this phone as with their android devices.

As a diabetic, I have to say the name is not appealing.

This isn't half bad for a budget phone on Verizon. This is actually a little better than standard budget. Its smooth scrolling too. Note: Obsidian? I haven't heard that word since chapter 10 of my geology class in elementary school. Awesome.

Hey, it's $120 dollars. For that pirce it is fine. You can't compare it to a 400 or 600 dollar phone. Just glad to see a new Windows Phone.

They don't have enough Verizon branding on the phone.

When you make calls, it projects a Verizon logo hologram over your head...

I picked this phone up a week ago, and I am very happy with it. I gave my wife the Note 4 and switched numbers. She had an Iphone 4s and it was 3g only. I got this phone as a stop gap till the new flagships show up. I hated Android, because it is too "all over the place" and looks ugly. Apps would radomly pop up when I turned my phone on, and other annoyances. The camara on the LG is not great, but I mainly use my phone for Phone, Calander, Notes, Gps, Information, Music, <--- This plays better sound through headphones than my Note 4 , and of course Candy Crush. Can't wait for Win 10 but this phone is very good, getting 2 and half days of battery with light use. Can't beat the price, and didn't feel like switching carriers as Veizon has been good with me and given me various discounts for loyalty. Hope they will have a flagship, or I will switch day one.

can we use this phone outside the use? meaning, use the simcard of the country where i'm at? If i will buy it off contract?

Verizon LTE phones are SIM unlocked, but they (Verizon) have a tendency to hide settings needed to actually use the phones on other networks (like MMS/data settings). Not sure about this one personally but just an FYI.

Another cheap entry level phone for Windows Phone.... When was the last high end phone released ? The 1520/930/929 ? A year ago. I guess, if I want Apps and High end phones, I need to go to Android or iOS....something Windows Phone does not seem to offer any more... Yea, yea, yea, wait for Windows 10, sure...

I needed a phone to get me by, this is perfect without risk, 5 bucks a month interim..... had it about 8 days. Not crazy about any of the current group of phones VZ has on any OS,,, will look at G4. Battery life on this has been surprisingly good, 128gb sd works great for XBox music app, Cortana is reading and replying texts superbly. It's 120 bucks.....peoples, certainly as good as Moto G for less. I have a 1520 on ATT, I understand the difference, so I'm pretending this is a loaner phone that allows me some time to get by till hopefully VZ shares some Love and we actually get a released phone people want on the network. Thanks for the review Daniel, picked up a tip. Love to see you on with Leo and group on the TWIT network....!

Just purchased this phone a few days ago and I am extremely pleased. The video review was 100% accurate and great job! For the price, you can't do better. I purchased outright for $120 but they tried dearly to get me under contract and/or verizon edge. All the basic features are great - call quality, screen, email, text, and general phone features all work extremely well. I am a big fan or Windows phone due to simplicity and no bloatware that you find in android or apple phones. Also, I have a surface tablet and everything syncs seamlessly. In summary, I am surprised that Verizon is offering such a nice phone at this price.

I thought this smart smart phone was going to to be not as capable as it really is. It is a good starter Windows smart phone or a backup Windows smart phone. I want a replacement for My verizon 928 so I am waiting for the Microsoft Lumia 840/840XL or the 940 hopfully to be sold on Verizon.rumor has for cotinuum to work on a Windows smart phone where you can hook it to a large monitor you need a windows smart phone with a new C USB connectore on it. i hope that report is not true because it will fragment windows 10 smart phones to a dgree be cause you have to have different types of hard ware to run continuum. if that is thhe case will Verizon sell a high end Windows 10 smart phone that has a c USB connector
Windows Central Newsletter
Thank you for signing up to Windows Central. You will receive a verification email shortly.
There was a problem. Please refresh the page and try again.