LG Optimus 7 update brings WiFi tethering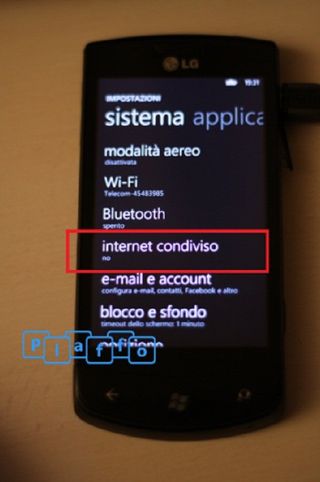 We have been keeping an eye out for WiFi tethering to makes its way onto different first generation WP7 devices via Mango and firmware updates, and now it seems that the LG Optimus 7 just got it. According to users on Plaffo, a new update is being pushed for the Optimus 7, which adds the ability to use your phone as a wireless hotspot. Sadly, not all first generation devices will be able to do this, but it looks as though the Optimus 7 is one of them.
We haven't heard anything from our peeps yet. Has anyone else been able to get this up and running?
Source: Plaffo (Thanks, Antonio!)
There's no update available for me. Optimus 7 w/ French Open Market ROM.

Damn, wish this would be available to all. Lucky Optimus 7 owners though :).

If it's available for the Optimus 7, wouldn't it make sense to expect it to be available for the Quantum?

Downloading now (Vodafone Spain)

My Mozart just got an update too. But no ICS unfortunately :( proly only the radio drivers

Thanks - updating now :) I'll post here after update is complete

i just updated my device and i have NO tethering -_-

Hope Omnia 7 owners will get an Update... ;)

We already have this update, and works perfectly :)

Downloading mine now :D (Tre/Three - Sweden)

Finished. Got Tethering and hidden wifi support :)

Updated firmware but no tethering (Poland - open european firmware)

no tethering for me then -.- (tre/three - sweden)

No tethering here despite an update. I wonder what it did...

I received mine earlier on. I am on O2 in the UK, but the phone itself is technically a German Vodaphone branded phone, but unlocked. Go figure :)

Just updated my LG Optimus 7 (Vodafone UK) and now got internet sharing :)

Works perfectly with my Samsung Omnia 7!!! :DEven tried linking it with my iPod touch. No more bored 2 hour train rides :) Go Samsung!

works on my unlocked Optimus 7!(currently on BASE here in Belgium) :)

Any love for AT&T Focus users?

Got the update 2dayCarrier : OPNOS Version : 7.10.7720.68Firmware Version :1.1.3.10Radio Software version : 1.1.3.10Radio HW Version: 0.3.5.0Bootloader : 1.5.1.10I cannot see any Internet Sharing Option?????Maybe LG screwed up again on selected Devices?

I have been wondering that too.But the its up to the carrier to decide if thetering are to be on their carrier phones....anyway since you posted your phone info i might aswell do the sameCarrier : TreOS Version : 7.10.7720.68Firmware Version :1.1.3.10Radio Software version : 1.0.0.0Radio HW Version: 0.3.5.0Bootloader : 1.5.1.0

I've got the same FW numbers as youFirmware Version :1.1.3.10Radio Software version : 1.1.3.10And no sign of the internet sharing option for me either :(

Got the notification when I plugged my phone in. Internet sharing is there and appears to be working.It's a Vodafone Spain device, which I unlocked and am currently using on 3 in the UK.

I'm from Santander, in Spain, and the WiFi tethering update has just been installed in my LG Optimus 7. I must say that I'm also a Vodafone client and that it works very well.

Telus in Canada - no update for Optimus 7 so far.

Omnia 7 (Optus Australia) got the update. Internet Sharing is there and working perfectly!!!!!

I'm with Telus as well, but no update yet. Darn..

Also with telus - no update yet

Hope that hd7 will also have this..

Updated mine but no sign of internet sharing option :SOn the EU open ROM on Giffgaff network (basically O2) but no option for it :(

ROM 1.0.16.10 will have the Wifi Tethering Option for *all*there will be another update after the 1.1.13.10 which already Is rolling out, so patience....Source: http://www.plaffo.com/2011/10/lg-optimus-7-disponibile-un-nuovo-aggiorna...

i have 1.1.3.10 firmware and yet i see no internet tethering

no update in mexico :( i need to wait i think so :P

From looking at comments, looks like only E900 phones (Europe, Australia) are getting the update so far. E900h phones (Mexico, Canada) seem to not be getting it at the momeny. I'm on Telus in Canada, and I don't have the update :( Hopefully they roll it out for E900h soon...

Unlocked LG E900 in Australia, originally locked with Optus (before purchase, according to the device info). No update here yet, wonder what other surprises this update will have in store for us. :)

Got-it here in Romania (E900 device on Vodafone), has Internet Sharing setting... sweet... will try-it later :)

Is it just me or is noone else with the unlocked/open version of this phone getting WiFi-tethering? If that's the case then LG really screwed up.

Open phone in Finland, no update available (FW 1.1.2.10).

I have a LG Optimus 7 with Vodafone in Spain, update and working perfectly and very easily.

No update here... I have an open phone...

Any news on this?I have an OPN phone here on O² Germany and no update...

I just got this update 3 MONTHS LATER!, but just enjoying it.
MOVISTAR PERU
Windows Central Newsletter
Thank you for signing up to Windows Central. You will receive a verification email shortly.
There was a problem. Please refresh the page and try again.