Life360 for Windows Phone, an easy way to keep track of your Family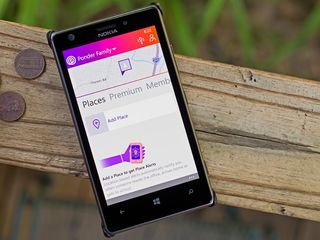 Life360 is a family location app for Windows Phone 8 that will map out family members smartphones using GPS tracking technology. The app also has features to locate lost phones, alerts for when family members reach their destination, and more.
Life360 is available for Windows Phone 8, iPhones, Android devices and even non-smartphones can be registered and tracked. The app has plenty of features but does require each smartphone to have the app installed and each family register for membership. While the core Life360 service is free, it takes a little more effort to set-up than, say AT&T's Family Map but may end up saving you a little cash along the way.
Life360's Set-up
When you first launch Life360, you will need to register with the service. The entire process takes a few minutes and when complete, the app will send you to its main pages.
The main page of Life360 has a map view at the upper quarter of the page that will mark your location and your family member's location (if they are nearby). At the very top of the page is a tabbed menu that will give you the option to change your circles (more on this in a second) along with icons to send out an alert or check-in at a location.
Below the map view is a series of pages or sections that includes:
Member Listing
Messages
Places (for location based alerts)
Premium Services
The Member page will list your particulars (current location) and any other members in your family circle. You can create additional circles such as extended family, caregivers, friends, etc. The default view is for your family circle but you can switch between circles by using the tabbed menu on the main page.
A quick note on the map view is that if you tap on the map section, it will expand full screen where you can move it around or zoom in/out by touch. Circle members will be pinned and if you tap on the map pin, the view will shift to the member's details on the Member page.
To invite a family member to join your circle, just tap the "Add New Member" button tile on Life360's Members section. You can choose members to invite from your Windows Phone address book or enter their contact information manually. When invited an email will be sent to your family member requesting they download the app to their phone, create a membership with Life360 and join your circle.
Once they join your circle, tapping their name will pull up a list of options that includes sending them a message, call them, update their location, generate directions to their location and view their profile. Circle options can be accessed at the bottom of the Members page and include hiding a circle member, edit the name of the circle, delete members of a circle and choose which alerts are used for notifications (email, app notifications or SMS).
Additional Features
While the primary function of Life360 is to track or locate your family members, the app has a few additional features that could come in handy. For example, you can create a place that will allow you to create a location based alert when a family member arrives at that location. This feature can come in handy when a teenage driver is traveling and you need to make sure they reach their destination safely.
Another feature for the basic Life360 app is the ability to pin reported crimes on your map and alert you when crimes are reported in your area. If you aren't sure of the area a family member is traveling to or through, this feature can alert you of potential safety issues.
While Life360 helps you keep tabs on family members, by tracking the phone itself the app can come in handy to locate a lost or stolen phone. It may not pinpoint which room of the house you left your Windows Phone in but it'll get you in the neighborhood.
Premium Service
The basic Life360 is free and includes the location tracking service, the ability to create two places, the messaging feature, crime pins and check-ins. Life360 also offers a Premium Service that will cost $5 per month (annual plan runs $50 with two months free) that will add the following features:
24/7 Live Advisor
Instant Roadside Assistance
Unlimited Places
Non-Smartphone Lookups
Stolen Phone Protection (up to $100)
Performance
As far as the accuracy of locating your Windows Phone (or any other smartphone), Life360 is a little bit of a mixed bag. Life360 was able to map locations within about 25 feet of where the phones actually were but there were times when the location was several city blocks off. It appears to be an indoor vs. outdoor issue, which shouldn't be that surprising, with the accuracy being slightly off when you GPS lacks a clear view of the sky. Mapping non-smartphones wasn't as accurate due to the lack of a GPS but close enough to give you a clue if your child is where they are supposed to be or not.
Keep in mind, Life360 isn't a live tracking app and won't track your movements as a navigation app would. It will refresh your member's locations periodically or you can manually refresh a member's location from their member's listing.
Messaging was similar to other messaging services and I liked how the emergency alert has a countdown timer before a family member is notified. This gives you a few seconds to cancel the alert just in case you accidently tap the icon. What I don't like is that the emergency alert will call, text and email everyone in your circle. I would have preferred an option to alert select members of my circle than sending my children a message that I'm in trouble.
Not around your Windows Phone and need to locate a family member? You can go to Life360.com and have online access to your account from a computer. You can message, view your location history and manage your Circles from the web portal.
Better than the alternatives?
Life360 isn't the only game in town for keeping tabs on family member's phones. Microsoft has the My Windows Phone service and wireless providers offer similar family location services. Sprint has the Family Locator service, T-Mobile has the FamilyWhere app (opens in new tab) (Android only), Verizon has a Family Locator (opens in new tab) service as well. Personally, I have first-hand experience with AT&T Family Map and have to admit that Life360 comes across as a viable alternative to what the wireless providers offer.
While Microsoft allows you to locate, ring, lock and erase your Windows Phone, the service is limited to your Windows Phone. While the My Windows Phone service from Microsoft is a free service and has a dandy collection of features, it will not let you track family members.
AT&T offers a similar service, AT&T Family Map, which gives you the ability to locate family member's phones. The phones have to be associated with your account and the service comes at a cost ($9.99 a month for up to two phones and up to five phones for $14.99). AT&T Family Map has the ability to call, text and locate phones (smart or otherwise) and does not require an app to be installed. You can set places within the Family Map app but there are no location based alerts. You can access the AT&T Family Map services through a Windows Phone app or web portal.
Is Life360 better than the alternatives? With the ability to track family members, I have to give it the nod to Life360 over Microsoft's service. If you don't have a family to keep up with, the My Windows Phone service will do just fine in locating a lost Windows Phone and does have the added ability to ring, lock or erase your phone.
AT&T does comes at a cost, lacks location based alerts and is limited in the number of phones it can track. On the plus side, AT&T Family Map doesn't require an app installed to track a phone and covers both smartphones and non-smart phones. Life360 does match or surpass AT&T Family Map with regards to features but requires an app and registration to locate a phone. This requirement isn't unreasonable but all a family member has to do to hide from being located by Life360 is delete the app or turn off the location services. Family Map and similar can work off the cellular signal and the only way I know to defeat Family Map is to turn off your phone.
When all is said and done, it's a close call as to which is best. The paid services should have a free trail period and with Life360's basic service being free, there really isn't anything stopping you from trying both and deciding for yourself. Personally, once my youngest child moves to a smartphone this summer (I am told it's not cool for a teenager to have a flip phone), I'll probably be using Life360 full-time and save a little on my wireless bill. While she uses a feature phone, AT&T's Family Map seems to provide the more accurate location between the two.
Overall Impression
I have survived a teenage son learning to drive (who incidentally is headed off to college this Fall) and I am about to have a daughter move into the teenage years (not looking forward to gentlemen callers).
Being able to locate my family members when they do not answer the phone or verify where they are when they do answer the phone is important. Even if you don't have children, these location services can also come in handy to help locate elder family members or help find family members during times of crisis. Life360 can be a small reassurance that everyone in your family is accounted for and where they should be.
Life360 does a good job of locating family member's smartphones and gets you in the neighborhood of where non-smartphones are. The location based alerts are a nice touch and will not only generate a toast notification when a family member reaches a destination but you'll also get an email. The app is laid out in simple, uncomplicated fashion. While I would have preferred to have just registered the telephone number with Life360, requiring the members of your circle to register and download the app helps prevent abuses.
If you are looking for an alternative to a paid service offered by your wireless carrier that locates your family's phones you may want to take a gander at Life360.
Windows Central Newsletter
Get the best of Windows Central in your inbox, every day!
George is the Reviews Editor at Windows Central, concentrating on Windows 10 PC and Mobile apps. He's been a supporter of the platform since the days of Windows CE and uses his current Windows 10 Mobile phone daily to keep up with life and enjoy a game during down time.
Cool app in a way but doesn't update contacts.

Unless the other WP users in your "circle" have the app open, it will not update their location. It will give you an error message that reads "this user has lost connection." You can send a check-in request, and once they open the app to check-in, it will update location. Until this issue is fixed, it is a broken and relatively useless app.

It seems to update without being open on my WP8.1 device. It does not update without being opened on my WP8.0 device. Maybe this is a limitation of the OS?

Doesn't see to be updating on my 8.1 device.

My other checks members are on iPhones and this doesn't seem to be a problem. As long as the phone is on I get their locations. Can't day about looking at other WP devices though.

Nice app. But what about battery life? I uninstalled this app because the GPS was turned on all the time.

Haven't seen any impact on battery life. Keep in mind, Life360 is a locator not a real-time tracker and you shouldn't have a major batter drain. As far as running in the background, Life360 runs fine in the background on my Windows Phone and my wife and son's iPhone.

I tried it, and my phone (as well as my son's 925) saw a big battery drain. Every time I checked, it would say that my son's location was update < 60 seconds ago. So it must update once or twice per minute. I would love to hear others' experience, and maybe I was doing something wrong, but the drain was very noticaable.

Same problem I am having using 8.1. Running the app open but not active results in a GPS running that heats the phone up and drains the battery. Having the app shut down but background services turned on for the app results in no updates.

Didn't you guys write an article about this already?

They totally did. I looked at this article and made a Scooby Doo "Huh?"

And actually review it and acknowledge that it doesn't work between WP users...

Wow George... We have some rude users today... I apologize for their childish behavior.....

I mean really, between this, WPC shop offers, non WP related, Mobile Nation posts, and duplicate bug, my notification center has become a spam box.

Well, my WPC comment email notifications have stopped working,, so that's helped a little...

Tried it and its totaly worthless. The app does not work in the background. I have tried it on three different Windows Phones and all Three were "offline" and not reachable if the app was not running on the screen. This must be a sick joke. So much potential and expectations followed with so much disappointment.

Same here. It seems the background agent doesn't work properly for places, which kinda defeats the point...

Exact same problem. According to the FAQ, the app has to be open all the time to work. In this case, it runs the GPS at all times, causing a huge battery drain (~20% per hour!). No trace of background agent to update location every 30 mins. Maybe the author of this article could explain by what magic he managed to make it work as I tried with 2 phones and got same results (920 with WP8.1DP and 925 with 8.0) Also, couldn't get any notifications to work. Overall, this app seems to be coded by a developper not knowing WP. Thanks for the tip about Keeptrack. I will try it.

It doesn't update contacts, it can't even find them (even over Wi-Fi in my bed next to me...) you need celular data in order to be tracked (I assume that's logical but I can't pay 2 more data plans for this half baked app).
It looks great and I was really looking forward to try it with my family but it sucked...

Works for me just fine. And its great that its present in WP, Android and iOS (my wife is on iOS and I also have an HTC M8). Great app. Of course GPS has to be ON for this app to work, but it doesn't kill battery (at least for the last week I have been using it on all 3 platforms). Way better than Sygic Family Tracker (which almost never worked for me on Android and iOS).

The IOS and Android versions seem to work properly in the background. The WP version does not work in the background. So, a WP will be able to locate and keep tabs on the IOS and Droid versions, but no one will be able to locate or keep tabs on the WP users.

Ok, but basically this is supposed to work cross-platform? (Try finding a child that has WP and not iPhone.)

No background running, no dice.

You guys already made a post about this ...

Not impressed. App apparently has to be running to work, making it much less useful. A 15 or 30 minute update via a background task would be a major improvement and shouldn't use too much battery.

Yeah a few days ago I read this post ..

Doesn't work in the background at all.

I am using "Where you at" app. Simple and reliable, updates location every 30 mins. Highly recomended.

Does this requires data? Does it work if some smartphones dont have data or Wi-Fi?

There is an universal app "keeptrack" which does the same work with additional features like live tracking, chat etc

My sister has a Lumia 900 so i cant keep her on track, thumbs down for life 360 :p

It gets my current location, but when I try to add a place it changes the address to another place in the country all the time. LOL, that makes it kinda useless.

My girlfriend now spying on me.

We have Windows phones, iPhones and a simple, spread over ATT and Verizon. Carrier based location services are not going to work, too expensive, and in Verizon's case, annoying to use. This fits the bill nicely for finding someone when you need too. It's background agent is a bit won't, so notifications are not reliable, that is, you only get them sometimes. I'm ok with that, fit a free app, I only need to query someone's whereabouts when I actually need to know them. I'm not the NSA. I would not be impressed with this limitation of I paid for the App, but I didn't, so I'm quite happy with it, but for that, and over other reason, I won't be buying the upgrade just yet. The premium services are not very useful to me, other than the dumbphone tracking, but at $5/month it's way too expensive. A more reasonably priced ala carte menu might tempt me. So its a solid app with potential. Needs a little work to take its full potential but I'm happy with it for the price

There is another service called Followmee. It is also multiplatform. Basically no phone GUI at all--you need to use their site to map. You add it to the lock screen to keep it updating in the background. For our one WP8 phone it never seems to update the location after the initial run. Our two 8.1 phones and one Android phone work fine. I used Life360 on Android years ago and it will most likely be far superior to Followmee (assuming no big bugs). Just wanted to mention another option.

Been using this app in my WP since it was announced here. Review is spot on. The app locates iPhone & Android better than WP, it seems to only update my WP when the app is running but I can track my family fine on their non-WP's.

Nice app... Only if they add background location update over a specific time... Then its is best tracking app

Interesting how the developer was participating in the comments of the original article, until people starting pointing the app doesn't work as advertised. Since then silence.

Hi Gorki, I personally am not the developer, I am not familiar with the Windows devices at all, but I'll give him a heads up that folks would like to hear from him more. The background updating/refreshing thing is a known bug, and we're working on a fix, but I don't have an ETA or anything at this point. If the app is brought to the foreground, that will help it to start refreshing again, but it will then apparently stop updating after a time.

Thank you for being active with our community. I REALLY REALLY want to be able to use this app with our family's phones I await a fix :) Also thank you (I am guessing you are the one running the facebook page) for helping me today locate where my support email went.

Thanks for replying! Despite the harshness that some of this community can give, we really do appreciate your supporting Windows Phone. We are super loyal and excited about any new apps. So thank you for supporting our favorite smart phones! Really looking forward to using this app more extensively. I work at night and it would be very helpful for my wife to know when I leave work.

Glad to see you guys are aware of this and working on it. I have this on my current phone (a GS3), and definitely want to have it on my next phone (WP for sure). It seems to work fairly well on our current phones, though sometimes the location is off. It once told me my wife was 10 miles from where she really was! But I'm writing that off as a GPS error from her hardware. Most of the time the app itself seems pretty good, with just occasional lack of location updates. But again, could be hardware issue due to lack of reception.

I'd love to see a comparison between Life360, Locate My Family, Follow Me, and Where You At.

I downloaded this several days ago. I love that it alerts Mr when my daughter gets home and when she arrives at school. Gives me peace of mind. I have it on a lumia 925, she uses an iphone 4 and my husband uses a Galaxy Note 2. So all on different platforms but it works on them all.

Unfortunatelly have serious issues in Windows Phone 8.

It's not an issue.
In Windows Phone 8 when you turn GPS on he stays always on no matter what.
In 8.1 you turn GPS on but he stays idle until some app need it.

Except its not doing that, if I have the app open but not active it keeps my GPS on and drains the battery in a matter of hours (I am using the developer preview on my 920)

Windows phone already have this feature :)

I worked on the early Android app at Life360 and went through the growing pains around location issues. I knew that with our 1.0 release on Windows I'd get a feeling of deja vu. Its clear that we have a problem with background location for a number of peoople. However, I read a review on the store that said something to effect of this app was done by someone who didn't understand the features of Windwos Phone. I can assure you that's not the case. I bought a Samsung Focus the first day it was out. I had a Focus S, then an HTC 8X and am now on a Nokia 1020. That's me of course, but everyone who has worked on this project, especially on the design side, has spent a lot of time with the platform. This isn't just a one-off app followed by a press release for us. You'll be seeing updates regularly with not just fixes for things like location, but new features as well. Cheers, Luke

Thanks for the heads up Luke!!!! I love the app on my Lumia 1020 and it works well for my wife using Iphone 5S

Tanked my battery but fast. Had to remove from all our phones. Otherwise it was awesome and way better than Familymap. Location notifications are great when the kids are moving around on their own. Except for battery issue it is an AWESOME app

I had this app on Android and it work flawlessly. On WP8.1 it is way off. The notifications are either late or not coming in at all. They need to fix this....

Notifications for Places will always be delayed on Windows Phone 8. That battle we won't win. However, when we switch to Windows Phone 8.1, they'll be at least as good as Life360 on Android and iOS. Location on Windows Phone 8.1 is much much better. If you're already on 8.1, you're not seeing this benefit in our app. Our app needs to be rewritten to take advantage of 8.1

Thanks for the hard work, Luke.

The involvement of your company on thisn forum is really appreciated. So i will keep this app installed and wait for a fix. At the moment I gave a negative review on the store because I couldnt get the app running in background on two phone but I will definitely update my review when it is fixed. On features suggestions: - Could you please add an information about GPS accuracy if available. Followmee has this and it is pretty useful to see that the fiw is accurate (true GPS) or very approximate (Cell phone towers) - A seetings button to totally turn off constant tracking (instead of scheduled tracking every X minutes) would be nice. Thanks again for your involvement.

Just got an update for life360 and, touch wood, it now seems to be behaving and working properly. I'm finally getting my location updated in the background and at sensible time intervals :-)

I tried this app as well but for the same reason i stopped using it, has the problem of running in the background been fixed? I'll give it another go then.

This app is a good and handy way to keep track of your famitly. I have used FamilyTime for this purpose,&nbsp; it is good and provides a lot of other features as well.