LINE is now a universal Windows 10 app, Mobile version in the works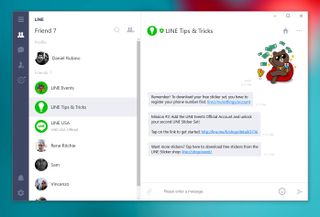 The popular LINE messaging app has been updated in the Windows Store, and Windows 10 PC users will be able to access the new universal version of the app for the first time. While it's now a universal app, a version for Windows 10 Mobile has not been released yet.
Aside from the new app design, there does not appear to be any new features in LINE for Windows 10. For the record, the version number of the LINE Windows 10 app is 2.0.1.0. compared to the old Windows Phone which is still on version number 4.2.1.698
The app allows users to chat via text, audio and video with other LINE users, and is perhaps best known for its use of stickers in chat, with a number of sticker sets available.
Thanks to Yu-Hsin Hung for the tip!
Download LINE for Windows 10 PC in the Windows Store (opens in new tab)
Windows Central Newsletter
Get the best of Windows Central in in your inbox, every day!
Keep the updates coming
Waiting for windows central win 10 app

Yeah exactly me too waiting for it , dont knw where windows central's app development is currenlty :/

They forgot about it, but thanks for reminding them

Yes keep em UWAs coming! :D

That's cool because the w8 version sucks very much, looking forward to this even though nobody in my social circle uses LINE anymore...

here I have so many friends using LINE.... but, hey, this update is great! :D

Most people I know use line because of the stickers hehe

I hope they do something to the nokia mix radio too.

"While it's now a universal app, a version for Windows 10 Mobile has not been released yet" Ehh, .. how can it be universal if it does not work for Mobile? Did I miss something again ...?

Yeah, it's something like universal Groove music app which is not same on desktop as it is on phone. Kinda weird..but universal..

Exactly what I was thinking...

If an app uses universal windows api s then it is an universal app. Universal apps may run on different devices with different screen sizes, but they don't have to. They can share the code between mobile and desktop, but they also can differ at some points such as phone specific hardware, like proximity sensor...

Backend, yes. Will work. But front-end, the UI, it still needs to be adapted for mobile. They are probably adapting the UI for mobile now as we speak. so yeah

because Windows 10 mobile hasn't been released yet? the app on Windows Phone is good anyway, and MOST users are on 8.1, so why would you rush and give the app to few stupid users that like using preview versions? it doesn't make sense for now, for a company like this, eventually they will be released at the same time and they will be the same version. Universal doesn't mean it​ has to run on phone, xbox, desktop.... it just means they can release it to whatever platform they want. they have the app now, I am sure they will release it to users when WM10 is officially released or later, when they feel they want to. they are not obligated to do it, like i said, most users are on 8.1 so no rush.

I've developed Windows 10 UWP. It's one solution /package / project.

So why do they says mobile "version" coming soon, that insinuates another app not the same app. If it was that same app they would say mobile "features" coming soon. Or something to that affect.

Because you can tweak the UI to look better on smaller screens. When you publish to the store you have a list of devices you want to publish to. So the app is universal but they just limited it to desktop publishing while they do little tweaks here and there to look better on smaller screens. Then they'll enalbe the mobile checkbox when updating the app on store and you will see the app from mobile too.

Maybe Universal apps is for W10/W10M and Mobile app is for WP8/WP8.1

I was wondering the same thing.
May be we need an expert to understand this.
May be Dan can help us. Let's put it at "ask Dan" Twitter account Posted via the Windows Central App for Android

So writing a version is "In the works" does that just mean its coming soon, but they are holding off on releasing? I was under impression that because mobile and pc are the same core, they basically just need to check a box and make some minor changes to run on mobile too? Shouldn't they be able to release the same day? Am I mistaken?

Its not really just check a box and it can run for mobile. Mostly, yes. But the UI needs to be adapted for mobile (and that is a seperate thing), so yeha

With good programming is all just about a checkbox. If they didn't not program the layout dynamically then they have to improve it for smaller screens. It would work but it wouldn't look very good.

Hopefully, they'll move onto making MixRadio into a UWA app next.


When will windows central app update itself.... The only app I am concerned about rite now.

Is there a way to find a list of Universal Apps anywhere? I'd probably try out a few just to throw my support behind UWAs.

I love to hear Universal :D

Now waiting for WhatsApp Universal App

I don't think that is so easy, WhatsApp it's a complex app.

How is it more complicated than Line, which is exactly the same type of app like whatsapp, IM messanger?

Whatsapp is not cloud based like Telegram, Facebook Messenger or almost any other chat app. Whatsapp is a phone-based chat and call app. The conversations are stored in your device (only one) so a universal app that let you see the same history of conversations on multiple devices is not coming at all. Instead, can be like Whatsapp web, only a mirror of what is happening on your phone, but to have an app on Windows 10 desktop, it still needs your phone to work at the same wifi network. Sorry pal.

Yeah. That's why it's the most limited of them all. Such a mess when you have to change devices especially different OS

I asked the same question to one of the MS Employee who is in contact with Whatsapp. He said they cant make a Universal Windows App but he confirmed one thing that it the UI changes. It is COMING SOON.

I got this when I read: 'The new UI on WhatsApp's new UWA is codenamed "Coming Soon".'

They're coming in at a decent rate, and Windows Mobile isn't even out yet. Keep them coming developers.

I love LINE's approach to support everything.

It can't be universal if there's no mobile app..

I have some doubts. Why the size of the app says 4.34 MB - 21.28 MB? ​It should have a fixed size, right? And why these universal apps are of such huge sizes? Isn't it something that needs to be addressed? BTW, I am perfectly happy with W10M.

It's maybe the install size. The compiled files might differ depending on the device it's installed on.

22 mb is not huge but larger than 4.34 mb

It could also mean that, the app might have assets (pictures) in different sizes (resolutions) and only a particular set gets downloaded based on the device? Just a wild guess. I don't know what I am saying.

"in the works" I keep hearing this more and more lately...

Microsoft showed off WeChat back in April and that one still hasn't come out :( It's very good to see this though.

Their Win32 app is using UWP UI layout, but it's not UWP, ironic.

I hope this works much better than the older Windows 8 version. Just switching applications would cause it to lose connectivity and stop receiving notifications. This app is my primary means of communicating with friends in asia.

The app is not available anymore.

I thought universal means mobile too?

Is really nice, waiting for whatsapp

Desperately need the updated mobile version, missing lots of features like theme, predictive stickers, and more.

Oddly enough, when i search for "LINE" and "line" at the store on W10, this app doesn't pop up at all.
The only way I was able to get it was to click on the link in this article. WTF?

What use is Line as a universal app? You can't run Line on more than one device without removing the function from the other device. You can't even switch phones without deleting data from the first device and starting with empty chats on the new. I use Line only because my wife is Japanese so "shogannai." For this to make sense Line would have to allow true cross device syncing.

I use Line on multiple platform, it's synchronised and I can even import/export chats between devices. Haven't tried on WP yet because the app is not useable on WP10/L950

I do see that Line tile is transparent on my phone. No more green block with only a number that doesn't update properly showing messages.

Like others, I feel the headline seems like an oxymoron. Should we call an app "universal" if its "mobile" aspects aren't existent? Based on some of the comments, I gather that it might mean that the app itself aims to be "universal" but UI scalability work is still underway?

How can it be universal app if I can't download it on xbox nor lumia...

Cool stuff, really liking these UWP apps.

Finally! Most of the features from the Win32 app now in the Universal app! Have been looking forward to this for a long time! Only if WeChat followed... I really hope that all of​ the apps would eventually become Universal apps, even if they're just Win32 apps in disguise. Edit: Still lacks chat messages search and all photos viewer, probably more, but still enough for my use :D I'll just switch back to Win32 app every now and then.​

General question, why does the WC app no longer have the option, under More, to Download App? As in this article, the last sentence is "Download LINE...", but it's not a link and nothing in More.

Notification does not work on my PC. Doesn't even show up in Notifications and Actions settings

LINE is preparing for more WP users in Japan I guess. I don't really use LINE that much but I use it as a data-friendly alternative to Skype and to keep in touch with some Japanese friends.

I don't understand. I thought the idea of Universal apps was to write once and deploy to any Windows 10 platform: desktop, tablet, phone, and xbox). Why then is the" mobile version in the works"?

You are right but LINE use a different approach for Mobiles and Computers. For exemple, computers require a mobile authorisation to connect.
Just like some bank authentiation system, you cannot connect the bank website without the password device or the mobile application...

i can't use line on my windows phone anymore. neither on my lumia 920 nor my lumia 950. it always says that line isnt compatible for the smartphone that im using. is that normal? most of my friends are taiwanese or japanese and they are all using line. is there something i can do?

I'mTaiwanese so also pretty mad about this. Apparently there's one solution: you can restore your phone with previous backups and the app will be downloaded fine, but I'm not planning on doing that since I want to start fresh for my 950XL. Also I think if you try to find the app in "My Library" section of your Store app, you can install it from there. Otherwise we just have to wait for Line to push out the new Windows 10 mobile version, I'm hoping it will be soon.

So... now upgraded to 950XL, the app is no longer compatible. They need to push out this update VERY soon before people stop using their service

any idea if they will even do it? i really need that app haha

Look at the title of the article....

just can't find any official announcements
Windows Central Newsletter
Thank you for signing up to Windows Central. You will receive a verification email shortly.
There was a problem. Please refresh the page and try again.