Lines, connect matching colors in this addictive puzzle game for Windows Phone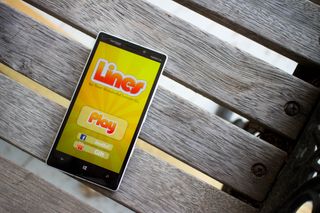 If you like puzzle games, you should check out Lines on Windows Phone. Developed by That Wonderful Lemon Co., this addictive game requires you to match colors and make lines before you run out of space. We just installed it on our Nokia Lumia Icon, so head past the break to watch the gameplay video.
The first level of Lines is the tutorial. A row of color-filled circles drops down. Swipe left or right with one finger to move the row before another row drops down. You can only move the top row. To earn points, simply match colors to make lines. When at least 5 matching colors are next to each other, a line is formed. Lines can go up and sideways. The longer the line, the higher your score.
The rows go all the way around, so you only see parts of them. Swipe left or right with two fingers to spin everything in view. After the rows fill up to the top, you get your score. Depending on how well you perform, you get up to three stars.
There are Helper bonuses you can use when playing Lines. For example, you can click the 'shuffle' helper if you don't like your current line. Another helper doubles your score.
There are in-app purchases available, however, there's no need to buy anything to enjoy this free game. You can buy extra lives, stars, and helpers. Want to buy 1,000,000 stars? It's available for $37.99. A 5-pack bonus multiplier costs $1.99 and a 5-pack shuffle helper costs 99 cents. If you don't want to spend real money, but want to get free bonuses, you can try the spinner game. It's like a slot machine.
Lines is a free download from the Windows Phone Store. It's also available on Facebook and iOS devices. Check it out and let us know what you think in the comments!
Windows Central Newsletter
Get the best of Windows Central in your inbox, every day!
I like the way you think! :)

What a surprise: Not available here in Brazil. Developers, I can help you.

Can you REALLY play this game with in app purchases? Or do they make it painful to play and advance to a high level without buying IAPs? I just hate getting into games not knowing how much it's gonna cost me in the end. HATE it.

What don't you get? Anything I can help out with?

I don't care for this, I really need QuizUp & Candy Crush Saga, beside all other apps that are missing.

Why are you sitting there like a lump on a log? Start coding!

Awwwwww. Now I feel like a kicked puppy. :( Go on... give it a go... you never know... it may tickle ya fancy ;)

Hi folks, I'm Andrew from TWLC. Nice to meet ya'll. You can totally play Lines without needing to spend a single penny. We have tested and made sure that you can make your way through the whole thing with no problem (assuming you figure out the nack to each level!). Signing in with Facebook lets you and your pals send each other gifts - you get the same items that you can purchase (although treating yourself to an IAP is massivly appreciated from our side!). As to Brazil - we need to get offical ratings for Lines before we can release there. Its on my list and I'll be looking into it next week. Lines, its free, give it a go (you never know, you may like it)!

no windows 7 phone support?

Nice app. Managed to play without buying anything so wot the Andrew guy says is true. Gets addictive after the first few levels. Like the colors and the jazz music is cool. Try it - you'll like it. Beats Candy Crush.