LinkedIn for Windows 10 now available in the Windows Store for some
The new LinkedIn app for Windows 10 is now up for grabs in the Store — if you have luck on your side, that is.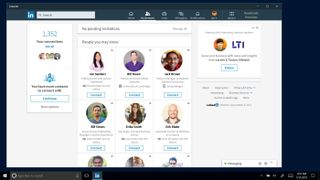 A little over a week ago, Microsoft announced (opens in new tab) a brand-new LinkedIn app for Windows 10. The only catch? It wasn't available to download right away. That appears to have changed for at least some people, as the app is now available in the Windows Store (opens in new tab) (via Aggiornamenti Lumia) as part of a seemingly slow rollout.
The new LinkedIn app appears to be simply a web wrapper. While that's disappointing for fans of UWP, the app still comes with some handy integrations. LinkedIn notifications will now appear on your desktop (for better or worse), and the app also includes a Live Tile that can show you highlights from your network in the Start menu.
As a caveat, it's worth repeating that this is part of a slow rollout. The link to the Window Store doesn't appear to be working for everyone just yet. Still, it seems it has started to roll out more broadly, so be sure to hit up the Windows Store to check if it's available for your PC.
Download LinkedIn from the Windows Store (opens in new tab)
Dan Thorp-Lancaster is the former Editor-in-Chief of Windows Central. He began working with Windows Central, Android Central, and iMore as a news writer in 2014 and is obsessed with tech of all sorts. You can follow Dan on Twitter @DthorpL and Instagram @heyitsdtl.
New trend: "don't develope for mobile, pc is enough". And we are still talking about next big thing... This is a deep shame.

That's because everything will be Windows 10 once they come out with those new arm devices.

Haven't they said that for the last couple releases? This time it is for real, that is until next time.

No. MS is very clear that for mobile there is W10M, and Windows 10 on ARM is not for phones.
Plus, windows 10 on a small device is not impossible, it's just very impractical. And how are you supposed to run and easily use apps on a small device which are designed to run on a big screen? Web apps and Desktop apps don't adapt to screen size, that's why UWP (like Groove) was introduced.
If MS won't support it, not only mobile, but all the other form factors will also be abandoned.

W10 arm is not for mobile. W10 with Cshell will replace W10M..

Cshell can only replace the 'shell'. It still won't make desktop apps look good on a mobile screen.

Problem with win.phone is that, devs needs to develop and QA on 3 targeting devices (win10, win10.phone + xbox if you are a game dev) and everyone is buzy enuf with Android and iPhone already.
win10.arm however, eliminate that problem. Devs only have win10 (+xbox) to care about. If MS really want win.phone to success, they should just let it run win10 apps. No more win.phone apps. win10.arm is not for phones... but it has e-sim... could it run on a 5" 6" device?

I invite everyone to download and write a 1 star review (just because 0 start is not possible), they spent $28b to buy linkedin and they cannot spent some time/money to provide a real UWP app, but just a web wrapper the show also the cookie banner

so do this app and MS behavior looks fine for you? he owns linkedin he owns windows and ONLY for other platforms spend time and money to provide real apps? nice

I didn't say if it's right or wrong. That is simply an exaggerated reaction.

No it's not...
How do like to log in to your tweeter, Facebook, Instagram, Viber, telegram, etc., etc. Using only your PC!.....

Most of those have great mobile sites, so it's irrelevant

I second that.......and go even further to stop buying MS products and cancel your LinkedIn membership until MS wakes up from lala land and release a real app for both mobile and pc...

Will I get a McDonald's burger? Or Sundae?

the link does not work for me and i can't find it in the store. East Coast US

I like when it says, for some . Speechless.

Haha nobody will install this. We need this on phone not on desktop. Microsoft idiots

You have a point there, crise. Apps on desktop are rarely necessary. Apps on mobile devices are crucial. I could explain the benefits of apps for smartphone all day long. On a desktop I could say apps exist if interested, but you can also just go to their website.

Not everything needs to be an app. Every smartphone OS has a capable browser. Some apps are nothing more than a HTML wrapper. They just need to stop writing crappy mobile websites.

I would agree with you if the developers of these mobile websites (with permission of the users) could more easily tap into the OS features like share menu's, notifications etc. etc. That's why I don't hate these website wrapper apps. It's fine to just use a wrapper that loads a mobile website as long as the "wrapper" functions as an interface between the OS and the web-app.

I do NOT need an app on a PC. I need an app on my 📱 phone.

No people or calendar app integrations

THIS! Seriously though, if they want to make an app, at least further integrate its services into their own apps and on Windows. People app is basically a garbage and just a mere contacts app that is still messy to organize. Where is the cohesion here among Microsoft teams? LinkedIn should've at least integrate to Calendar, Mail, People and MyPeople feature. Just releasing a web app that has some Live Tile and notification integration is bit pointless, which is not much of an advantage by just using a web browser, activate the notifications and just pinning it. Apps are best on smartphones and tablets, which this app cater neither of them.

I hope they'll probably rollout the UWP after Fluent design update.

I can understand catering to iOS and android ecosystem but decision by Satya to ditch Windows platform is real stupid. Even in those platform those using most of MS apps are Windows fans except office probably. With that how does it help ******* off those invested in your platform. Only lucky thing for MS is Steve Jobs isn't alive and Tim has no vision. As far as this app goes Nobody likes web wrapper why wouldn't I simply pin it. You can even receive notifications from website anyways and nobody cares about live tile.

I could DL it here in belgium, looks good, I'll use it instead of the website. But really they should have made it Universal(WP)...

The URL may be misspelled or the page you're looking for is no longer available. Always hard to get apps for some reason.

Agreed, that is crazy how that happens

I need this one,on my lumia 950

This app is a shame. However, I installed it from Library section in store.

If only the website was responsive this would be fine

Calender or map integration would do the magic in the new app!

Pathetic! Their own app, a mediocre web wrapper :))) so much for uwp. FAIL!!

No one will use an app on a pc please consider mobile first.
Windows Central Newsletter
Thank you for signing up to Windows Central. You will receive a verification email shortly.
There was a problem. Please refresh the page and try again.