Location, Windows Phone 8 and Nokia's plan to be the ultimate "where" platform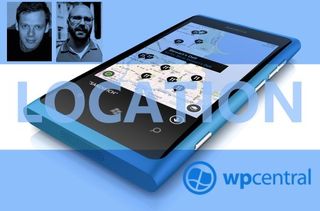 We had a chance to sit down and chat with Thom Brenner, Vice President of Location and Commerce for Nokia and Pino Bonetti who writes about location on the Nokia Conversations blog. We wanted to hear what Nokia are planning for the future with its location services, which the company has touted as its main focus and differentiator for Windows Phone.
Being number one in location and mapping is not anything new to Nokia as they have been at this game for many years, ever since they purchased NAVTEQ back in 2007 for a reported $8.1B. Their services power products from Microsoft, Yahoo, Flickr and four out of five cars on the road today use Nokia mapping technology. Nokia have announced their intention to be the "where" company, making location services the very heart of what they do.
Mapping and location are set to get a big boost from this drive, as Windows Phone users we will be pole position to see some of those fantastic innovations.
Nokia Transport
Nokia is certainly not alone in their pursuit of their goal to be number one with clearly Google being a tough competitor. Apple has also announced they will be dropping Google Maps to instead develop their own mapping and location based solution for iOS 6. Microsoft whilst using Nokia for much of their backend services also invests a huge amount in its Bing Maps platform.
All of the major technology players understand the importance of location. Location services will be delivering practical, relevant and inherently predictive applications to enrich mobile user's lives. At present, users are rapidly ditching standard mobile phones and grabbing devices that have a rich array of sensors and connectivity. Windows Phones and other connected devices will not only allow simple mapping and routing but applications that will deliver information to you where it is relevant and at the right time e.g. Nokia's City Lens project.
Here is our conversation with Thom Brenner and Pino Benetti from Nokia..
Thom Brenner – We want to become the "where" company – we are just at the beginning of it. We believe we have everything we need become very successful in this area. With a number of key acquisitions such as NAVTEQ, we have the building blocks to succeed with that goal.
"Nokia's location capabilities now lay at the heart of Windows Phone 8. We believe this is a huge forward step for the next generation mobile OS...."
Windows Phone 8 will form a milestone for us, as it fully embeds our platform. That means our assets such as extensive coverage and unique offline engine will be deeply set into a Microsoft product. I do not think there are many companies out there that have done that before in such a partnership. In regards to becoming a Where company that forms a major win for us.
Nokia's location capabilities now lay at the heart of Windows Phone 8. We believe this is a huge forward step for the next generation mobile OS. Windows Phone is a big priority for our smart devices colleagues and us. We think there is simply nothing comparable out there, a device that can ship in so many countries and with that quality of data. This is a big move for the platform, we have done this to enable better experiences for both consumers and developers.
Now everyone can benefit from our superior mapping technology. With features like offline maps and an inherently more bandwidth efficient online function, our bandwidth usage is 10x more efficient than Google maps for online usage.
Windows Phone 8 will deeply embed Nokia's advanced location engine
In order to enrich the Windows Phone eco system, we also added Turn-By-Turn directions. These things help push consumer experiences, Smart Devices and more importantly Lumia devices form the spearhead of our "Where" strategy. Of course, over time more features will come to the platform as the stack matures but we are already thinking of usage scenarios way beyond just applications. Yes, we need applications but also we need better data, we need to understand what the consumer is doing, you need to sense and learn about the consumer.
A good example is Nokia Drive and the "My Commute" feature. This is just one-step to us beginning to learn about what users do out there in the real world, which will in turn lead to a more intelligent and relevant experience. This goes beyond what we regard as the initial phases of location-based services.
My Commute, which is part of Nokia Drive, is not currently available outside the US, for those unfamiliar with its features here is a little overview:
Allows one to decide which commute route you wish to take before you set off.
Presents a choice of familiar routes, it will show you what it thinks will be quickest.
Nokia Drive is always monitoring the traffic situation, gives you alternatives based on the routes you are taking every day. In essence using your own preferred routes, it will not suggest routes you are not used to taking.
When you are choosing a route, it will give you ETAs on each of them.
The Live tile is updated one hour before your due to leave.
RB - That is great stuff but when can the rest of the world expect to get it?
Pino – We are working on extending to more countries but currently it's in trials in the US as the traffic is easier to predict. My Commute features are really advanced and as something particularly new, we wanted to get more feedback before rolling it out to other countries. The next countries to get My Commute will be where we have live traffic information, currently those are 26 and yes, the UK is one of them!
Nokia Commute shows a glimpse of whats to come
RB – We would like to know what is going on here to enable this kind of application. This is going a little beyond just simple navigation and routing…
Thom – My Commute is a good example where we're re-thinking how to build location services in a completely new way. In this case, we are thinking that this information matters to you before you even get to the car, before you even get up.
When it comes to traditional services like traffic, people are not interested in congestion as such. Folks only need to look at traffic information because they have to figure out how to get to work. How bad is it today? What route can I take to get me there? If we can make this easier then nobody would need to watch breakfast TV with live images of traffic jams of things not moving. People would rather enjoy breakfast with the family and get on with nice things rather than waste time monitoring traditional traffic information.
"When it comes to traditional services like traffic, people are not interested in congestion as such. People only need to look at traffic information because they have to figure out how to get to work."
This is our way of thinking, it is a good example of sensing, a good example of actually changing experiences out there in the real world. It shows what we can do by attaching touch-points to the parts of the day that a consumer really cares about. By thinking about when we need a certain piece of information and delivering it simply on a live tile with a number this can change the entire experience.
To make that happen, think of all the pieces that need to fit together. To make that live tile number reliable, dependable and deliver it an hour before you leave, you might then begin to understand the level of complexity involved in this service. For instance we do not want situations where traffic data is out of date or inaccurate, we do not want to send people the information two hours too early or two hours too late. My Commute illustrates our thinking model and we will work on all the other applications in a very similar way to identify new ways of serving the "where" questions better.
Windows Phone Live Tiles Nokia Commute
RB: Tell us more about the Where platform
Thom: The platform is built around content, essentially you can only build a platform if you have the right content. The platform itself makes that content computable. Therefore, you can for instance ask the platform how long it takes to drive from here to Devon, a question you can only ask once you have put the content into the platform.
The key pillars of "Where" are Mapping, Positioning, Places, Directions, Guidance and Traffic. These are the central aspects of the platform. Uniquely we can have a large part of that platform embedded into smart devices. The map handling can then be local, you don't need to have a data connection allowing positioning and of course be totally offline. You can even search for places as well as route calculation, a compressed, portable version of the Where platform."
We're able to take a mini version of the whole platform experience and embed it into mobile devices. With Windows Phone 8 we did just that, we brought a hybrid version of the where platform (mixture of local + online data) and gave it to Microsoft during the building process and now it forms a key part of the operating system.
RB : Beyond what we see now, what new types of location will Nokia be incorporating in the future. For instance, currently we have places such as cafes and sites of interest but how are you going beyond that?
Where is it all?
Thom: We are looking at places far beyond the usual suspects. We see places as things that matter most in a person's life, it could be something out there on a beach or could be somewhere without an address in the middle of the forest. These are all places, we are building towards an offering that blends into everyday life. Essentially seeing those needs in a different way, we will look at places from that view. You can expect a new view on places from us in the future. Yes, cafes and normal locations are major parts of this, these will stay and also dramatically improve in the future.
"We will learn about you and your personal places, and perhaps some social connections between them."
You can see already, going back to My Commute, we now have two new concepts for "place", work and home. Places you usually do not find in public databases, really these are the first set of personal places that we are actually learning from the user. This will continue as well, so if you go to the beach every Wednesday afternoon then we would like to learn that. A place might be something that matters only once a week or once a month. We will learn about you and your personal places, and perhaps some social connections between them. We can evolve and improve the experiences from that.
RB: Explain the importance of smart devices like Windows Phone running your location services.
Thom: This is hugely important for us. Sensing the world is not just sensing the things around you but also sensing what happens in the world. What are the changes in the world that are currently happening, why do streets change, traffic change and activity in places change?
In order to sense the world effectively, we need to be aware of all these changes happening around us. Having information come back to us from our smart devices out in the real world allows us to process and deliver meaningful and accurate data back to the consumer. Currently we collect 11 billion traffic probes a month, much of that comes from smart devices like Windows Phones running apps like Nokia Drive. Our platform also gets 90 million geo-coding requests per day. With navigation comes search and we are seeing in the region of one billion queries per year. All of this helps our platform learn what is happening out there in the world. This desirable feedback loop is only enabled by having more smart devices out there.
"Sensing the world is not just sensing the things around you but also sensing what happens in the world.."
As humans, we are building large cities, but who has the information about the cities? A transport agency only has some information, a local authority knows about streets. We believe to really know more about the world we need our own sensors embedded. This allows us to detect changes that are going on around us, with traffic in particular, we do that.
Bing Venue Maps - Powered By Nokia
RB: Smart devices out there are acting as sensors to extend the abilities of your Where platform?
Thom: If you want good, real time traffic information then you can help contribute to that by joining the whole community. This only works if we can close the feedback loop. Of course, we don't know who's driving or to where, it's completely anonymous information.
Our interest centres on "it's a point moving somewhere, how fast is it moving"? That information is then processed into a traffic model. In the future, for instance, we will know what general conditions are like on a Monday morning and on top of that traffic model we add real time incidents and things like that.
RB: For location-based apps such as drive, can we expect to get features such as automatic notifications to people when we arrive somewhere?
Thom: Yes, this is a big part of everyday life; we are working on the relation of location and communication. Sending messages when trains are late or when there is too much traffic, yes these things will be a big part of our strategy.
"We're able to take a mini version of the whole platform experience and embed it into mobile devices. With Windows Phone 8 we did just that..."
RB: Nokia have tied their smartphone future to Windows Phone but how will you ensure that your platform stays relevant for other smartphones, such as iOS, Android and tablets?
Thom -There is only one very simple answer, if you want to become the "where" company, you have to make efforts to achieve that, and we are. That is all we can say right now. We are not forgetting about the rest of the world, this is part of our strategy and you will see something in the future.
RB: Currently you have five location-based apps, are we going to see some convergence?
Thom: Absolutely, you cannot image how we would love to be three steps further but we are getting there. We have applications that are there for a certain purpose, Drive evolves at its own speed and it is as good as it is because we de-coupled it from some other things.
There are problems around activities that first need to be solved, things like usage with Transport and Augmented Reality. Keeping these apps separate for now allows us to move faster with each of those experiences. It is also helping the consumer as there is a really easy entry point for each of those experiences. If we were to put it into one application it gets slower, complex for the consumer and harder for us come back with good experiences.
We split applications like Drive, so that it can offer things like a live tile with my commute. We're focusing a lot on really making our set of applications work really well together, that means favourites syncing with similar data like knowing where home is and each app will be able respond in relevant ways.
RB: Windows Phone 8 – Why are you excited about it?
Thom: I have been using Windows Phone for some time and I love it, it's so easy to use. There are many improvements coming to the UI, even with WP 7.8. Windows Phone 8 will be a big power step up in terms of the platform. We're happy to have our location platform embedded in there, that's a huge step, there is nothing like that out there. Nothing compares to Windows Phone 8 when it comes to location.
***********************
Thanks Thom and Pino for taking the time to tell us more about Nokia's future with location. Nokia already has some impressive assets to lead in location services and it's clear they have plans to ensure they stay at the top of their game. They are going to be met with some steep competition from their rivals. But competition is healthy!
Thom believes that having this competition only helps highlight just how far ahead they are with their location offering. As Windows Phone users we're likely to benefit early on with all the advances Nokia makes with its endeavors.
With location, it's essential that Nokia not only provide its services to all Windows Phone users but also other platforms too. From the interview above it would seem Nokia haven't "forgotten about the rest of the world" so we are likely going to see Android and iOS offerings too.
As always, we'd love to know your thoughts. Please let us know in the comments bellow…
Get the Windows Central Newsletter
All the latest news, reviews, and guides for Windows and Xbox diehards.