Live outside India and want to try out LockMapper? Dev releases International version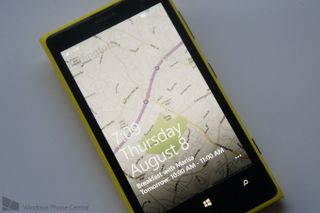 LockMapper is an interesting app that allows you work some magic with your current location. The app has been published in India through the Nokia Collection, but for the rest of the world there was a waiting game until we were also able to download. Luckily, the developer has got in touch with us to reveal that an official International version has been published on the Windows Phone Store.
Found yourself wanting to try out LockMapper? Now's your chance.
There are numerous ways to use the functionality boasted in LockMapper to share locations quickly and enable the recipients to save locations on their Windows Phone. From pinning your home (or chosen location) to the Start screen to check the distance between yourself and your humble abode, to seeing a different perspective on places you know and visit frequently.
See our previous coverage on LockMapper for more information. Should you live in India, be sure to check out the official release available in the region (left-hand QR code below). For everyone outside of India, here's the same app published by the developer (available for free on Windows Phone 8 - right QR code).
It's worth noting that should you already have the Indian version on your Windows Phone (by altering region, etc.) you may encounter issues grabbing the in-app purchases. Best to download the International version to be safe.
Windows Central Newsletter
Get the best of Windows Central in your inbox, every day!
Rich Edmonds was formerly a Senior Editor of PC hardware at Windows Central, covering everything related to PC components and NAS. He's been involved in technology for more than a decade and knows a thing or two about the magic inside a PC chassis. You can follow him on Twitter at @RichEdmonds.
I don't see the point for this app, the only think I like is that you can pin home locations, but even that has no usage

Both seem to work for me now, in New Zealand. Previously the Nokia Collection one was unavailable for me.

I don't live in India and I have this for while. The only problem is that I can't seem to be able to use my CC to buy the maps, it keeps try to bill me through my provider.

Getting the international version released today will solve that problem.

Hi, I am the developer of LockMapper (as well as Memorylage). This actually is the "official" version of the app, as Nokia is only the publisher within India. I am releasing it myself outside of there. While many people have already downloaded the Nokia version from outside of India (it shouldn't be listed there, but the direct link may work), the app functions fine for most, but some countries won't work at all. The new version will work in all countries. Also, as SlayerSpecial already mentioned, the Nokia version only supports carrier billing, but the new one supports all standard payment options. Also, to those who say the app has no use, it is not meant to be used for actual navigation, but just to create an interesting wallpaper that always changes, based on your location. It does give you a nice view of things around you that you might otherwise not be able to see though, which can be cool. I also leave my home pinned to my live tile, so I always see where I am in releation to home. Again, not necessarily "useful", but it's cool to see how far away I really am, and in what direction.

I can also see this as being useful to those that want to know which direction Mecca is in and might be of interest to see how far they are from that point rather than home.

Definitely! You can pin any location (and multiple locations) to either the live tile or lock screen. When I travel, I send my wife my location through the app, and she can pin it to see how far apart we are. Of, if traveling by car, it can be fun to have a visual indicator showing your progress along the way.

Exactly, I like the geo-located lock screen. Is it useful ? No. Is it cool? Definitely. Kinda boring resorting only to utilitarianism.

Yes very nice, beautiful loockscreen if you ask me....

Thank you for publishing this! A fun little app!

Way to go bro....kudos and lets bloom this windows store

Hey jrharmon, thanks for your work in this app, also "memorylage", and any future apps you`re planning on developing.

Thanks! I love developing for Windows Phone. Not only does it have the best development tools by far, but the community is awesome. I have a few updates that I need to work through, but have plans for some more apps coming up.

Im using it for while....its cool

Call me stupid, but it took me a while to discover that I could set zoom levels on the pin ,just by scrolling down or up the images on the settings...LOL

Amazing but traffic information is paid service in it ,if your service provider supported u can use traffic service to.. When u click on traffic display button it will ask for purchase i can't understand why that option is not free

Omg not only traffic but if u select Arial map that also u need to purchase

Wow purchased arial map view and traffic display ... Guys if u in india u need to purchase service only then only u can enjoy this application i can see now my location in arial map

Thanks for purchasing! I tried to make sure the app had plenty of value without having to purchase anything, but still need to support it financially, so making the Aerial map types a paid upgrade seemed like the cleanest break. The traffic option was originally going to be free, but since it forces the app to use the mapping service much more often (the app normally doesn't update if you aren't moving, but will if traffic is on), I had to make it paid to keep the service from being over-used. It does come bundled with the Aerial maps though, so one purchase gets you everything.

Already running this (in the UK), without any region changing jiggery-pokery. Innstalled a couple of days ago, without any issues. Seems to work just fine.

I downloaded Version 1.0.0.0 a week ago or so because it is included in the SysApps Pusher app and I didn't have to change region to install it in US. Uninstalled it because it's not uselful for me really- it is nice tho'