Loco Music Player for Windows Phone– playlist oriented and full of features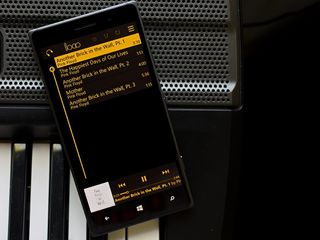 Loco Music Player is a Windows Phone app that makes it easy to create and manage song playlists from your music files. While you can play individual songs from the app's music library, Loco's strength rests with playlists.
Playlists can be created based on artists, albums or individual songs. You also has SD card support, gesture based playback controls, OneDrive integration and album art. The clean appearance helps round off Loco Music Player's appeal.
Here is a list of key features for Loco Music Player.
Full playlist control (remove track, change track order, sort, shuffle)
Two main views that include playlist view and now playing view with gesture support
Add tracks from specific folder (including subfolders)
Search for tracks and browse tracks by title, artist, album and genre
Add tracks from SD card
Download and play music from OneDrive
Display album art and lyrics from mp3 tag
In app volume control
Auto saving playlists and save unlimited playlists
Multiple themes support
Share single song from playlist and multiple songs from the library browser
Sleep timer
Loco Music Player will also remember your last playback position, Live Tile support to pin playlists to your Windows Phone Start Screen and playback shuffle/repeat controls.
The layout for Loco Music Player does take a little time to get used to but doesn't take terribly long for you to get into the swing of things. You do have a short slideshow tour that will run when you first launch Loco Music Player and you can always replay the tour from the app's settings.
Settings cover Instant Play and turning on or off a host of features that includes:
Lockscreen
Status bar visibility
Volume bar visibility
Automatic pause when volume is muted
Playlist numbering
Logo spinning during playback (the headphone icon)
You also have the option to manually search for new music. Otherwise, Loco Music Player will do this automatically every time you launch the app.
You have two views to work from that include your playlist view and a playback view. The playlist view is your default view and has your sleep timer, shuffle and repeat controls running across the top of the screen. A hamburger menu button is in the upper right corner, which will pull down your main options menu. From this menu you can:
Add or remove songs from your current playlist
Change the song order
Pin the playlist to your Start Menu
Save the playlist
Create a new playlist
Access Loco Music Player's options
You also have the option of tapping the headphone icon in the upper left corner to add songs to the playlist. A host of options ranging from finding songs in folders to searching by keyword are available, as it would be if you added a song from the hamburger menu.
You can toggle between the playlist and play back views by tapping on the album cover in the bottom left corner of the playlist view or the Loco logo at the top of the screen. This will pull the album artwork to almost full screen and allow you to navigate between songs by swiping at the screen. You can also control volume by pinching at the screen and to return to the playlist view, just tap on the album or Loco logo.
Creating the playlist is simple. Just tap the new playlist option from the hamburger menu and then tap the "+" button to start adding songs. While you are in the library view selecting songs, you can tap the song title to play. Tapping the song's album are will pull up the playback view and swiping at the screen will move you from song to song from your full library as opposed to a playlist.
One problem I have with the Loco Music Player's saved playlists is that the app lacks a playlist list view - that is a view that lists all your saved playlists. There is a work around though. Just go to add a new song from your saved playlists and a list of all your saved playlists will appear. Tap on a playlist title to view a listing of the songs or tap the play button to launch that playlist.
Alternatively, you can pin playlists to your Windows Phone Start Screen to give you direct access to that particular playlist but I could not find an easy or direct way to access your saved playlists within the app.
Overall Impression
I found Loco Music Player to be a very appealing Windows Phone app for creating and managing music playlists. I liked the concept but the navigation needs to be tightened up by adding a few more view options such as a listing of all your playlists. It might not be a bad idea to have Loco Music open up to a playlist library view that you can manage and play your music playlists from.
While there is room for improvement, as is, Loco Music Player is a nice music player option to consider. For me, music playback from my Windows Phone isn't an everyday event and being able to have a playlist ready to go can come in handy when the mood for music hits. Loco Music Player helps avoid the need to hunt for a particular grouping of songs.
Overall, I like Loco Music Player and it joins the ranks of the quality Windows Phone apps for managing and playing your music files. Loco Music Player, at last check, is rocking a 4.5 Star rating in the Windows Phone Store, which we think is right on the mark. If you try Loco Music Player, let us know what you think of the Windows Phone app in the comments below.
Download Loco Music Player for Windows Phone (Trial / $1.99)
George is the Reviews Editor at Windows Central, concentrating on Windows 10 PC and Mobile apps. He's been a supporter of the platform since the days of Windows CE and uses his current Windows 10 Mobile phone daily to keep up with life and enjoy a game during down time.
Might have to give this a try. Looks cool.

have been using since like forever.. it's the best

Also try out, Music Locker Beta and SonicXbeats.

I have been using this Loco player and SonicXbeats for sometime now... Both very good alternative for MixRadio of course... But i have a little doubt in the power consumption... Both seems to drain more power compared to MixRadio...

It has amazing performance as well!! Greatt tip this one!! :D

It has completely replaced my daily music player from Xbox music (for over 3 months now). It's fast, full of features and looks cool with so many themes, too!

Whats the benefit of buying btw? Except supporting the dev?

"Core music player" is the best....

Thn what's the player r u using?

Ditto. No other music player on Windows Phone allow seamless folder playback. Every other music player relies on ID3 tags when people with large libraries don't care or give a shit about tagging their music. Everything is sorted by folders anyway.

looks nice but musicxmatch lyrics player is enough for me. love the lyrics on screen.

I can vouch for musixmatch. Definitely worth trying out.

The default (xbox)music player is great.

Nope it isn't, not when you re used to the default music player of wp8

Not even close. The took Zune and threw out 90% of it and then wrecked the 10% left over.

The best one is the one that you favour or favor. See what I did there? :)

Its fine but not the best

Agreed...i love this player! Works bloody well moaners

There's some nice players but I love Last.fm and that's something I prioritize :/

Agreed, Last.fm integration would be ideal

Just wondering..... How does Loco work with windows media player on the pc? Can playlists be synced either way?

If you need syncing, Media Monkey on the desktop works well.

Wow. Thanx. You just reminded me the name. I used this years ago to edit album art. I knew it had monkey in the name

You are welcome, the album editing features are still pretty good. Between Media Monkey and MP3 Tag, it's not to hard to get your info on point.

Cool. I'll keep that in mind. Thanks!

Hope you like it. Just be aware, it's a little slow to connect and sync at first because it analyzes what you have on the phone but then it syncs pretty quickly. WinAmp also lets you sync music but is not as good.

I loved mp3 tag to do each file individually if I wanted to add better album art but, as I remember, media monkey could scan them all at once to add the album art and it did a pretty good job

I really like Loco. Loco and Perfect Music are my go to music players on my phone. Core Music Player is very good also.

Same as me. Loco and Perfect music are the best.

Music x ...best ever in WP try it out guys

Gapless song transition (needed for live albums)? Xbox music sucks in this regard.

I hate that we don't have this feature. It's much needed.

Making gapless playback is hard. Really hard. There isn't native support for gapless playback, and the MP3 format doesn't even have any data that describes how much silence there is at the end of the track. So to make gapless playback for MP3s you have to analyze the last segments of a track and decide how much silence to trim off, which isn't a reliable process. Furthermore, doing this isn't even something that is possible, as the MP3 format isn't a format that anyone can make a decoder for, so to do something custom like that you'd have to pay fees to whoever owns the format. For FLAC or other files this is actually easier, but still quite complex to implement.

It's REALLY hard. That's why practically no phones offer gapless playback, except for Android, Apple, Blackberry, Symbian, and Windows Mobile.

You missed a clue Sherlock. Hint: No native support.

Of course, no native support - this wasn't a slam against the Loco Music Player for not providing gapless playback, it was a slam against the WP OS for not supporting it (like every other platform in the modern world does).

Modern music player is the best. It even replaces the default music player

Do any of these players have replaygain support?

I prefer to use cool music player

~Edited~ Was meaning to reply to an earlier post above

waiting for you at myappfree lol

It was free about a month ago. Downloaded it for free. It's amazing. No wonder the dev made it a paid app.

Yes i know this is one of the best music player for windows phone

'Listen' is also very good.

It hasn't been updated since Apr, 2014.

Want simple player with a possibility to quickly mix songs from different folders?
And you are tired with "playlists" made automatically from ID3 tags and would like to have full control? Try MusicMan. Next version will have a special quick Folder-mode and a couple of new features. Still improving...

Anyone knows player that support order by date feature (except OnePlayer)? It means that first will be displayed songs that was last added to phone.

Is it a trial trial or trial with adds forever?

I've been playing the trial app for an hour and see no ads so far... Hmm... What might be this full features? Well I'll find out sooner or later. If after 1 week its still this fluid and I see no features I miss, I might've still pay for the full version just for appreciating the creator. :)

Extreme Music is the coolest! ;) http://www.optiez.com/

I prefer PowerAmp but its not available yet on Windows store

True... True... It's not yet. But it might in the future, Windows after W10 will be different... I hope... (at least we'll get USB DAC option, so I'm happy enough)

This might be the best one so far... Very fluid, no lag at all, and its simple enough but at the same time, the playlist system is so easy to use... Almost as easy as Drag and drop on PC now.. Thank you Windows Central for discovering great app in our windows store for us! :)

The best free music player.... Using for more than 3 months... Love this app...

Perfect Music is just Perfect for me...!!

Looks cool, but I had already set up playlists on my desktop and synced them to my phone, this app didn't see them. Probably great for those who like to create playlists on the go, but I create mine beforehand so I don't have to do that.

did not know there was this many music player apps. I was using zbox and then onemusic but ill check all these out that I found suggested in the comments.

Anybody know of an app that can download a different random playlist each day? Preferably one that learns your taste?

Have you tried to run windows phone apps on PC like Whatsapp?

Perfect Music is just Perfect for me...!! P/s : game online

I use Loco player, it's easy ti make a playlist....but give a try to N7PLAYER. Is good and this player, free at this moment, and have a Last.fm scrobbler.
Windows Central Newsletter
Thank you for signing up to Windows Central. You will receive a verification email shortly.
There was a problem. Please refresh the page and try again.