Logitech Craft keyboard has an amazing built-in Surface Dial
By Daniel Bader last updated
Logitech's sublime new Craft keyboard is worth its hefty price.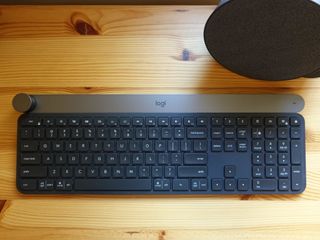 For the past few weeks, I've been propping my laptop (a Dell XPS 13) on a stand and connecting to a mouse and keyboard for the first time in years. I have stations around my house for working (including an underused standing desk) so the idea of plopping myself on an office chair to work for eight hours didn't seem like a lot of fun.
And then I got the Logitech Craft keyboard (opens in new tab). This thing is amazing. I've never used a mechanical keyboard, nor have I really thought about how much better my ergonomic situation could be if I made some adjustments to my input methods.
See Craft keyboard at Logitech (opens in new tab)
What Logitech's Craft keyboard is all about
The Craft keyboard, which is expected to come to the U.S. in October for $199.99, is made from precisely-machined aluminum, with sturdy, perfectly-tuned keys that are a joy to type on, with just the right calibration. It's a full-size rig, too, making it extraordinarily wide, so you'll want ensure your desk has the space to accomodate it and a mouse. That extra space is necessary for the number pad which, though superfluous for most of my needs, is a nice bonus.
The main draw of the Craft is its "Crown," a stunning bit of engineering that twists in ridges for precise turns, while supporting both clicks and taps, making for three separate input methods.
Logitech uses its Options app to optimize the Craft's crown on a per-app basis, and Windows users get more out-of-box apps on day one; in addition to Adobe's Creative Suite, which includes Photoshop, Premiere and Illustrator, the entire Microsoft Office 365 suite is optimized. Logitech worked with both Adobe and Microsoft to tune the crown to work properly with each tool; you select a brush and the crown resizes it; if you select a timeline, it scrolls forward and back.
My favorite application is quickly switching tabs in Chrome and changing the volume in Spotify, but Logitech says that it will be releasing an SDK to developers so they can make thier apps work with the Crown. Whether the Crown becomes a popular accessory for creatives remains to be seen, but in my short time using the Craft keyboard, it's become an invaluable part of my workflow, even if I'm not constantly adjusting brush sizes.
The keyboard itself comes with a rechargeable battery that lasts up to seven days, though I regularly hit the red after two or three. That's likely because I work in the dark, and the light-sensing key backlight knows when to turn up the brightness. Thankfully, it recharges quickly over USB-C.
Finally, the Craft keyboard connects to up to three devices at once, using either the company's widely-used Unifying USB platform or direct connections to a smartphone or tablet using Bluetooth LE.
In related news Logitech is also announcing a pair of desktop speakers called MX Sound (opens in new tab) that use smart sensing technology to intelligently switch between devices — you can simultaneously hook into a PC and a smartphone if you like to listen to things in different locations. They sound rich and full for a 2.0 setup and fit in nicely with my desk decor.
See Craft keyboard at Logitech (opens in new tab)
Why, oh why, can this new Logitch keyboard have Adobe LightRoom and Photoshop functionality available to it, but the Surface Dial that has been available for almost a year now still does not have any true Lightroom/Photoshop capabilities?!?!?!

Well, yeah. I think I was just whining more than anything. Bought a Surface Studio at launch last year with a Dial and I've been waiting and waiting and waiting for Adobe to do something useful with the Dial... :(

Hang on.. is it REAL support? or so some BS keyboard shortcut thing? Logitech drivers have a reputation of being not great

As much as I hate to say but this is Microsoft to blame Microsoft. I had some genuine interest into the Surface Dial for use with my Surface Book but when I went to a local Store to test it's capabilities while connected to a Surface Studio I quickly realized that the accompanying Settings Program for the Dial will not work with anything else but an Microsoft Store App. Yes, you can create a profile for an *.exe ( tested with OneNote 2016 ) but unlike with the App ( the OneNote App ) it will not work.

Wat for JW will tell you why its a good thing and how it will get developers rushing to write apps for windows store.

Man, nice keyboard, but I hate Logitech new rounded keys design, which seems to have all these "spongey" budget keyboard (at least to me) feels key. It is not crisp and 'solid' feeling like the Surface keyboard or the older Logitech keyboard, such as the Logitech Illuminated Keyboard or the DiNovo series. I mean, everytime I try them at the store they have this spongey sensation, of course this keyboard could have the same keys but the typing experience is different. Is it just me that I prefer this keyboard design? Do people prefer the new feel that they go with?

I thought the surface dial thing was an open API that microsoft made :(. If not MS should open it up and get logitech to implement that and not create 2 different systems that may or may not be supported in different apps.

It is, Dell is using it for their own Surface Dial compeititor as far as I'm aware.

Goddamn Logitech... would have bought it if they had followed the standard instead of some half-baked internal crap.

Ok it's got buttons. But that still doesn't make it a mechanical keyboard. At least not in the sense that keyboard enthusiasts use it.

Battery lasts up to a week?! I have a Logitech solar keyboard and I have never had to swap batteries or do anything special to charge it. We have one at work too, and there are no windows in the office. The ambient light from the monitor and some pretty dim office lighting is enough to keep it topped up with 18 hours/day (4 shifts) use for many years now. I could not go back to a keyboard that has to be charged up every few days.

so dell, logitech, (or logi...) and surface dial all work in their own ways and not using a standard.

http://www.leatherbagsgallery.com/
Windows Central Newsletter
Get the best of Windows Central in in your inbox, every day!
Thank you for signing up to Windows Central. You will receive a verification email shortly.
There was a problem. Please refresh the page and try again.