Logitech's G900 Chaos Spectrum is a wireless gaming mouse that actually works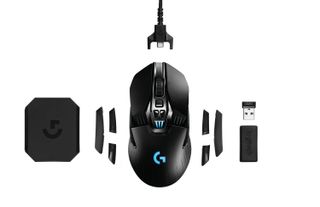 Logitech has announced its flagship gaming mouse for 2016, the G900 Chaos Spectrum. Set to debut next month for $149, the mouse comes with adjustable grips for left or right-handed use, offering 200 to 12,000 DPI with zero filtering, maximum acceleration of 40 Gs, and 300 inches per second travel. You can even disconnect the cord to use the mouse in wireless mode, which connects over the 2.4GHz channel.
It also features customizable lighting with up to 16.8 million colors, as well as sensor calibration to ensure maximum responsiveness with your mouse surface. The buttons are good for 20 million clicks, and Logitech has built a mechanical pivot with metal spring tensioning that offers a clean click, while reducing the amount of time it takes for the button to hit the switch.
On the hardware side of things, the G900 Chaos Spectrum offers Pixart's PMW3366 (opens in new tab) optical sensor, the same sensor used in the G303. The mouse has dimensions of 130 mm x 67 mm x 40 mm, and weighs just 107g.
Logitech claims that you'll get 24 hours of usage in wireless mode with the default lighting enabled, which can be extended to 32 hours by switching the lighting off entirely.
We'll let you know once the G900 Chaos Spectrum goes up for sale. Who's looking to get one?
How do they measure the how many clicks? Have they actually done it?

Of course, a machine clicks many times per second for days/weeks/months, whatever it takes. The same goes for chairs, pens and every mechanical device

There's a video of Microsoft putting their Xbox One controller prototypes in a machine where its pushed and steered to hell and back. These things do get tested.

The micro-switch manufacturer (Omron) releases the spec sheet. When Logitech receives their order of micro-switches, they sample a percentage of them to ensure the quality of that batch meets the standard (numbers on the spec sheet).

Lol 16.8 MILLION colours, more like 7.

LOL eddp77, more like eddp7.

Why does it matter if human eye can only see 4 colors

Something's wrong with you bro

Man you really need to check your eye sight

Huh, a mouse that actually works? That's a really stupid headline....

Not if you've used a wireless gaming mouse for any extended duration of time.

How did you find the corsair one you (windows central) reviewed a while back?

G700s user with no issues. Heck, even my old rubbish microsoft wireless mouse with the big fat brick receiver had no issues unless i tried to use it on something shiney.

Don't buy Dragonwar and Corsair at all. Their gaming ones have a lot of irreparable troubles. Logitech is good.

Only thing I hate about my G700s is the battery life. But it's a pretty fantastic mouse, I agree. Equally I'm not much of a gamer. But it's soooooo comfortable to use.

Yep, battery life is poo. The old rubbish MS one i used to use had 2 AAs and it lasted months, only reason I got rid of it was because the switches started going.

My Sidewinder X8 still rules the universe and it's wireless, so you are wrong.

Yea i've been using the Logitech Performance MX for gaming for 3 years now and while its worn its still perfect, and works anywhere. Might get the newer one or just buy a new Performance MX as a spare.

My R.A.T 9 worked amazingly

Only 32 hours? My wireless Anker mouse has lasted 4 months so far! Sent from my Lumia 830, working good for once with the '.164 build of Windows 10 Mobile

Do you encounter black screen problem. Like phone screen goes off for 1 second and comes back?

Yes Sent from my Lumia 830, working good for once with the '.164 build of Windows 10 Mobile

Wow, 17 word signature for a 1 word reply -_-

Same on my 830. Drives me nuts. It's less frequent not he new build, but still there.

Turn on a gaming-grade dpi and you can drain the same battery in hours.

Most wireless mice have low polling rate (100~125hz) to prolong battery life, with aggressive sleep mode that activates after seconds of idling. Gaming mice nowadays are expected to operate at 1000hz (which G900 does) with as little downtime as possible, so of course the battery life won't look as good. Seems like G900 doesn't have an endurance mode like G602 though.

Lol Sent from Lumia 550, HTC Desire 816 or Dell Inspiron 5122

I am happy with my G402. Extra features are just gimmicks. Posted from Windows Central for Windows 10 Mobile.

My seven-year-old Microsoft Sidewinder X8 has served me well and is still going strong. And plus I get more than a few days of battery life.

I really want this mouse! Time to retire my Performance MX methinks.

Love my Mazer. Great $20 patent infringing knockoff of Razer from China. Thing works great and fits so well in my hand. Until I eventually buy a Naga XD Posted via the Windows Central App for Android

"Maximum acceleration 40 G's." In case you're trying to play while being blasted into orbit?

My doctor said carpal tunnel was making my hand fall asleep. I must just be pc master race gaming too fast.

I'm glad it's launching at such a high price. I just got a G700s for Christmas, and I haven't even started using this. If the 900 were around $100, it'd be tempting. $150 for a mouse is pretty freaking high! It definitely looks and sounds nice, especially since lefties can give it a go.

I like the Logitch Gaming mice (I currently use a G502 on one of my systems). But it can't do some things, like smooth scrollng in web browser, that the non-gaming mice do. I also have a Performance MX. I find it frustrating that Logitech can't put give their top-of-the-line mice all of the capabilities.

Tempting for some of the hardware features, but I wonder how well it will operate in non-gaming, low stress situations (casual browsing, scrolling through long articles, etc.). Either way, I am going to wait for reviews and maybe a flash sale.
Windows Central Newsletter
Get the best of Windows Central in in your inbox, every day!
Thank you for signing up to Windows Central. You will receive a verification email shortly.
There was a problem. Please refresh the page and try again.