Cortana in some countries, including India, now has more interests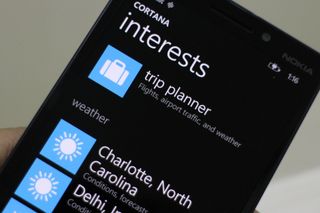 One of our readers in India, @cliffordanup let us know us that Cortana now includes more categories of interests. Well, I checked, and it's true. At this stage though, I'm not sure when this update sneaked in and which are the specific markets where the new list of categories has been introduced.
The Windows Phone 8.1 Update 1 brought Cortana to China and the UK in beta and to India, Australia, and Canada in alpha.
Before the latest update, Cortana users like me (India; alpha) had limited interests available – news and weather. However, there's a slew of new categories of interests that one can add and can keep a tab on, including very useful features like trip planner, daily routine, local events, eat + drink, fitness tracker, et al.
The gradual trickling of new features in Cortana's Notebook is pretty good for users outside US, and helps Microsoft gain a lot of data from diverse users in different geographies. Check out Cortana on your Windows Phone and let us know if there are new categories of interests available for you. Which are the Cortana features that you find really useful? Shout out in the comments!
How to enable cortana in India...mine not working

Not so funny. Try something new

The post links to my older post detailing the steps.

Does those steps works for Windows 10 mobile ?

No, Cortana is US only during the Insider Program

It is not. It was US only more than a month ago ...

I noticed the new interest list almost 7 days ago but facing a problem whenever I select new interest nothing happens. Abhishek Baxi aren't you??

Same here. Nothing gets added to my interests list

Same here nothing get added up

Yes. Even after clicking interest, it does not adds up to the list. PS: Tried deleting all interests and added only new interest but nothing happens. Only news and weather can be added.

Exactly, except the finance option, all of the new options just get me back to my existing list of interests

Set language, speech, region to US. Enjoy Cortana.

Exactly, I never understand why people want a version of Cortana where the interests have nothing to do with the country they are in. In India you would be better off switching it to the UK version as it has the same features as the US version anyway.

Actually, in Canada, ask my interests show local stuff

I'd assume that the location services would determine where you are and give you relevant details from the current location. Like a weather app, it should update based on where you are currently, not what your home city is set too, right? Otherwise, why does Cortana require the location to be set to On? I gather that it dies not work this way otherwise you wouldn't take issue with it, but it still seems that it SHOULD work that way regardless of regional setting.

Hi Abhi, Go to Settings -->speech and change speech language to English(United Kingdom) and enjoy cortana services..................

Just let everything set to India but change the language to English uk.

I still don't have it in India. WP 8.1 update 1

Set your speech language in settings menu to English(UK)

But I don't have a great time with my Lumia 930 as I don't have hey Cortana in India

You can download hey cortana app seperately on mobile by going to the store. The problem is it only works when you set youjr region to United Kingdom and speech language to English(UK). You can find the store link by searching Windows central web site

Hey Cortana is not a separate download, it's integrated.

To enable Cortana in India.....there was an article on this website check for that...it will help you all getting Cortana

So I'm in Australia and I see lots and lots of new interests that I can add (where we only had News and Weather before), but when I tap on them to add them, nothing happens, they don't add to my interests list. Must be getting closer though :)

Yea, facing the same issue.

Same issue here in Canada. Happy to finally see some of the additional interests. However, if I try to add one of the new interests, nothing happens.

That sucks for people who want to use the Australian version of Cortana. Me, I'll stick with Jen Taylor thanks. Can't stand the pommy voice.

Same issue. Sadly I have to go back with US settings, still not as good. :( Hope Australia will reach beta soon and other english speaking regions. At least on-par with UK.

You wouldn't think it would be so difficult for english speaking countries to be on par with the US version, or at least Beta by now. I mean something like Canada is not that different form the the US in terms of language and localization, other than the metric system and it is still an Alpha!

Same issue, Cortana sucks in Australia.

Wen in India? Sounds Dajavu?

Change the speech to english uk to get cortana in india

But you can't add any of the new interests. :\

Yes not able to add any new interest..

i've been seeing the interests for over two weeks now. but i was never able to actually add them. hence i never tipped the news thinking it was a bug.

Me too. Pretty sure they showed up after the second build of Windows 10 Mobile.

I checked my Cortana .... I've got the update and the other interests are there but when I am adding it is not being shown . What should I do

You should ask your question in the forums!

Besides this US version is more better than indian...

Remove this article. Only weather and news "Interests" are working. Also they have just added more categories in news section. Please first confirm then write about it.

Well I can see the various categories in the Interests section but unable to Add them in the list.

The interests were added to the list two weeks ago.. But the Fact is that we cant add any new interests other than News & weather.

Unless I missed it before, travel planner seems to be new in Germany, so Germany now has daily routine, food, news, travel planner and weather.

About time. Well, I added a bunch of things but nothing happened.

Yepp! there is a whole list of interests but you can set only news for various topics. As other interests are not activate till now. As far as there is a news that other lumia will also get windows phone 8.1 update 2 (GDR2). So cortana in india should be come with beta mode atleast. And when Windows 10 mobile hits update cortana should also be able to understand indian accent and should come with full fledged features like recent bing video have.

The lumia 640, 540, 830, xolo win q1000 are already on update 2, and cortana is still in alpha. So don't get your hopes high, nothing will change, because, hey, we don't live in the US, so microsoft won't bother..

Well they obviously can be bothered as the UK, China and Canada have the beta version. You are forgetting two very important things: 1. The infrastructure needs to be put in place first 2. Cortana relies on local sources of information Both of which Cortana needs in place to... you know... actually be useful in your country!!!

Bing has to improve in local relevance else Cortana won't improve.

It's still the alpha in Canada smh

What infrastructure? Oh and there are plenty of "local sources of information", Cortana just doesn't utilise them.

I have MS Lumia 532 & device is updated on version wp 8.1 update. I knew that the Cortana is enable in India via changing your region & language to UK. But what about the update Cortana in India in alpha mode? One more question is how many all of you gets wp 8.1 update 2.

Well its already there friend. Keep all settings to India, and just change your speech to English UK. Cortana will start working. Then, I had my Lumia 625 on Update 2, though it was through the insider program. Then I bought a 640 that shipped with update 2, and my dad has a xolo q1000 that got updated to Update 2 about a month back. Even tipped windows central, but they never did an article over it

only in wp 8.1 not wp 10... so it is not a amazing news ..lol

How to enable Cortana in windows 10 mobile build 10149 in India?

uk or us language is default

I've always been interested In being inside India. He is great. Lol

Another thing. The topics which you've added on MSN, to get latest updates of them, has also been added in interests now. Wow.

When will Cortana work in Windows 10 (India)?

I wouldn't know, cortana is still not supported in the region of the Netherlands.

+1 duurt veel te lang, kom op MS

Apparently not in Germany... :/

Isn't the travel planner new?

Cortana is totally absent in wp10tp, keyboard flow doesn't work. Now when in Australia is more suitable.

People outside US will be testers forever. Better not to release additional features if its not working. Other people get hype on this, but much worse is others who are just a regular WP user think their phone is having a problem or not working properly.

agree, to think cortana has been one of the selling points of windows phones. people from other countries buy it and boom where's cortana? wait... are you pinoy? your username sounds filipino to me. anyway, i experienced a very irritating situation recently. i changed region to US to enable cortana and i realized i cannot add/use my credit card to purchase apps from the store. it's really a drag because i have to change to PH to buy from the store and change it again to US if i want to talk to cortana. the remind me feature is really useful at my work. but changing regions gets really annoying.

Ennaanu cortana Malayalam samsaarikua? Ennu in Kerala?

Still think Cortana is extremely pointless, I wish you could remove it from your device if you don't wish to use it.

You can turn it off. Hit the hambuger button, then settings, then swtich it off.

cortana is also wp 10 in india in uk or us language and region but not indian region.when it will come in india?

Good for India. I hope Sweden(And rest of the Eu) will be able to use Cortana soon

Well, Microsoft really have no choice now seeing as Windows 10 will be released everywhere.

I was hoping Cortana now spoke more languages :-(

When in Latin America just all what hear is India and etc, but when in Latin america, the alpha version in spain is here in fact have switched to spain my region instead of Chile but i hope Microsoft do not take long to carry Cortana to Chile and other countries of the southern hemisphere

It isn't supposed to work there!

Why doesn't Microsoft release Cortana in Sri Lanka? There is a good market for windows phones here.

Which one is better alpha or beta??

Yet again this guy more interested to mention india.

It was showing the interests since long.. But if you click it and try to activate.. Nothing happens.

i just hope they enable cortana in every region. period. if the language is not available in the region, just enable US version. because i change region (from PH to US) to get cortana and it works well actually, BUT! because the region is US i cannot use and apply MY CREDIT CARDS!!!! what a hassle. MS needs to enable US cortana in the Philippines BECAUSE THERE'S NO CHANCE OF CORTANA SPEAKING TAG-LISH EVER!! So just enable US. Filipinos speak english. Siri works here. Cortana works here also. so just enable it. no one is waiting for a filipino cortana. we're just waiting for a US default. i hope i made my point. :(

Not possible. Because Microsoft.

well, id rather not buy anything from the store than not having cortana.

Tons of interests were added in Canada a few weeks ago however when selected nothing happens

Ditto. The list of interests has been longer here in Canada for weeks, but adding them doesn't actually add them. Still stuck with news and weather. Seems like they are accidentally showing them. Such a tease.

Well Cortana is basically still is non-existence in Windows Phone looking at how many regions and percentage of devices do not have it OFFICIALLY. MSFT, please release a digital assistant that everyone can use ASAP!!! Are you even interested in the rest of the world? Or are you happy with announcing something that most won't get to use?

Wouldn't be surprised if ios/android gets it and in more regions before rest of the world using MS platforms.

Have installed the new Windows Mobile and in Canada and had change region to US to make it work but can't get it o work with my Band Has anyone got it to work with there Band?

Ha ha what India still not officially got Cortana , we still have to change region and language.

loot lo
Sign up and enter code XR43KZ and earn Rs 100. Download the app from www.ola.bz/b for indian users only

When in Mexico it's been a long time since Cortana's released

How can I add a trip manually to Cortana? I know how to add/track flights, but how about the whole trip, the way Cortana gets from email with all the details? Any suggestions, anyone?

Still haven't got it in Ireland, dragging on a bit at this stage

I am having Windows 10 mobile TP build 10149. Cortana is configured to Region-UK, Speech-English UK, but still speech reply is not working :( How to enable voice of Cortana? Is it the same for all Indian Windows 10 insiders?

One Day (year) Cortana will become fully available worldwide. At the moment we are getting just a trickle, which is damaging the Cortana brand. Especially when Windows 10 comes out on July 29th, and for most people in the world all they will experiecne is Cortana doing Bing web searches. Microsoft seems oblivious to Cortana getting a very bad reputation, and way overhyped. Meanwhile Google Now continues to march ahead in global markets.

Did anybody notice that we got two updates this month for developer preview?

Speaking about 'interests', why no alpha for portuguese yet? :-/ MSFT has been working here in Brazil for many years (decades?), collecting and sharing data, and no signal of Cortana to us. :-/

It's just all talks and no actions if it is still not available in my country.

Others countries support windows phone mpte than US. Now just shift your focus too countries like Brazil,India china and Italy Germany bcoz they are imp market to WP and Cortana growth.

Yeah - I'm in Australia and have the continuing Alpha version of Cortana with the extra Interests. However they must not be activated yet because when you add a new choice no new choces showup on the device.
Windows Central Newsletter
Thank you for signing up to Windows Central. You will receive a verification email shortly.
There was a problem. Please refresh the page and try again.