Lumia 1320 full country listing for Lumia Cyan mass rollout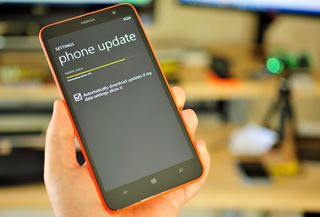 Earlier this morning we reported on receiving tips – especially from India – that the Lumia Cyan update is deploying for the Nokia Lumia 1320. As it turns out, this is another mass rollout and as usual, we have compiled this list of regions, countries, and carriers for your convenience.
If you see yours listed below, head to Settings > Phone Update and force check the process to get started. However, if you do not see your country or carrier listed, it means yours is still under testing, so sit tight!
Remember, you can always check our OS update tracker to see the status of your update:
WPCentral Windows Phone 8.1 and Lumia Cyan Tracker
Note that 'CV' stands for Country Variant.
Africa – Algeria CV; Egypt CV; Ghana CV; Kenya CV; Libya CV; Morocco CV; Nigeria CV; South Africa CV, Vodacom; Tanzania CV; Tunisia CV; Uganda CV; Zambia CV
Asia Pacific – Hong Kong CV; India CV; Indonesia Erajaya, Parastar, Trikomsel; Malaysia CV; Philippine CV, Globe Telecom; Singapore CV; Taiwan CHT; Thailand CV; Vietnam CV
Europe – Albania CV; Austria CV; Bosnia and Herzegovina CV; Bulgaria CV; Croatia CV; Cyprus CV; Czech Republic CV; Denmark CV; Estonia CV; Finland CV; Germany CV, Vodafone; Greece CV, T-Mobile; Hungary CV; Iceland CV; Italy CV, TIM, Vodafone; Lithuania CV; Macedonia CV; Montenegro CV; Norway CV; Poland CV, T-Mobile; Romania CV; Serbia CV; Slovakia CV; Slovenia CV; Spain JazzTel, Vodfaone; Sweden CV; Switzerland CV
Latin America – Argentina Movistar; Brazil CV; Chile Movistar; Columbia Movistar; Costa Rica Movistar; Ecuador Movistar; El Salvador Movistar; Guatemala Movistar; Mexico Movistar, Telcel; Nicaragua Movistar; Peru Movistar; Uruguay Movistar; Venezuela Movistar
Middle East – Bahrain CV; Iraq CV; Jordan CV; Kuwait CV; Lebanon CV; Oman CV; Pakistan CV; Palestinian Territories CV; Qatar CV; Saudi Arabia CV; UAE CV; Yemen CV
North America – under testing
Daniel Rubino is the Editor-in-chief of Windows Central, head reviewer, podcast co-host, and analyst. He has been here covering Microsoft since 2007 when this site was called WMExperts (and later Windows Phone Central). His interests include Windows, Microsoft Surface, laptops, next-gen computing, and for some reason, watches. Before all this tech stuff, he worked on a Ph.D. in linguistics and ran the projectors at movie theaters, which has done absolutely nothing for his career.
75 countries are concerned, that's a worldwide rollout. Now, if that could happen for every model...
Any news on that fix Microsoft is working on for Developer Preview users?

North America – under testing

huehuehue :D

I lol'd so hard when I saw that, an i still am.

Yeah.. nice going. Biggest user of Windows Phone and so are the last to get the update

I thought a Lumia 1320 was a Lumia 1320? What's so different about it than the other countries?

US has less marketshare than most countries, but has a population much bigger than most. Therefore, yeah, outside of maybe India, the US has more Windows Phones in citizens hands than any other country.

http://www.zdnet.com/us-is-home-to-biggest-chunk-of-windows-phone-users-in-the-world-7000031491/ USA is the country with the highest number of WP users, including yours truly. I don't give a flying f--k what everyone else in America is using.

Yup. Too bad we also seem to be the ones most likely to be figuratively held hostage by the carriers. And the debacle with the Preview for Developers needs to be fixed if Microsoft is going to set a good example about direct-to-consumer releases...

The biggest problem with the US is that apparently you can't get this phones without carriers I think. Meaning that while Microsoft/Nokia might have released Cyan it's the carriers that have to check cyan and then release it to the public. So it might not be MediocreSoft's fault.

Yes and no. Years ago everyone was shocked that iPhone actually attached itself to AT&T - up to that point, Apple was fiercely independent. Google has tried to provide the Samsung Nexus as a generic non-carrier Android phone. Just recently MS finally released a non-carrier unlocked version of the 1020. But yeah, most of the time we have to buy a carrier based phone and if we stray, then have to ante-up, pay the full cost of the phone off and get the unlock code. So even though my 1020 is in fact unlocked from AT&T and running happily on T-Mobile, for updates I am still at AT&T's mercy as the update still reads my phone as having the AT&T variant ROM.

Yeah, you have a phone that is locked to a carrier... The point was that the phone was supposed to be unlocked, not the SIM. You could always flash your phone, but then you would most likely void your warranty. But if it has been working well for a couple of months there probably isn't anything wrong with the hardware anyways. But then be careful about not dropping it to the floor.

North america biggest user of what?!?! Burgers???

When Cyan for 1520 was released, everyone was saying 920 would be the next. But something kept telling me back in my head that 1320 would come out as its the lower end of 1520. And to everyones surprise it did. :)

Well Cyan for 1520 ain't released for everybody yet! Still eagerly waiting here in Belgium for it to come out.

I have 1520 country variant and for me wasn't released :)))

It's all politics..920 will be one of last to release, since it was one of the first lumia phones. They won't want to compromise the latest devices. - A 920 owner.

The 1320 is crappy. It's slow and just an upgraded Lumia 520. How do I know? I own one.

Crappy? I don't think so. Mine never lags. Never. Incredibly smooth with 8.1 Dev Preview, even without Cyan firmware. How can you compare it to a 520, when there is a massive difference between both? 1 GHz Snapdragon S4 + 512 MB RAM (520) vs 1.7 GHz Snapdragon 400 + 1 GB RAM (1320)

It's slow with using internet from your carrier, but when I but my sim card into my 920, my internet is light speed. I guess the Lumia 1320 is only 4G and not LTE.

My 1320 is lte so you obviosly have a defective product

620, won't be the last again, please!

Nope.. It can't be! They have to roll-out cyan update for 520 as soon as possible.. And Microsoft knows very well the position of 520 in the market!

Why does everybody say that? There is no official thing that points to the 520 being the last, in fact, the Lumia 520 is one of the first devices to get this update already, it's already being rolled out in France.

No , looking the order in which the update is being rolled out it should be the last.

1020 might be last since it's nearing EOL..... T_T

920?810? 820? There are alot.

Nice, looking forward to the other models. :)

Do u have developers preview btw? Baddeh Shouf iza fina nnazel cyan if we have dp

Yeah, i've Dev preview installed
but my phone is hungarien version so i should get the update but can't get it because of the dev preview
i've either to downgrade or wait for a fix (i'm gonna wait) so no, mafek tnzl Cyan lesa

I recommend downgrading. I did it while I was confused, thinking Cyan was already out in my country so I went back to WP8 and then decided I missed many things from 8.1 so I installed the DP and my phone feels much better than before. Just make sure to do a backup (Settings -> Backup) because then you even get the Start back like it was and all your apps will get installed again. So just roll back, if asked to restore don't. Just update to Cyan and then do a hard reset and then accept to restore from your backup. I believe that you will then get better performance on your phone on top of Cyan!

I downgraded and now running cyan on my 1320 the only problem is that i didn't get the restore option... even tho i backed up everything before the dowgrade, i even check the time when it was backed but no, i had to start from zero :\

Do a hard reset. Then it will give you the option to restore right after it asks you to enter your microsoft account.

When update Lumia 920 in India sir pls.inform

It's Still Under Testing. Read The Complete Article Man. C'mon

You could have just said "NEXT YEAR". That would just make him read the article :D

Good. Already got cyan on my 1520 & 1320. Looking forward to the 720 & 520.

You have 4 different Lumia?

Aha! I knew someone will ask that! I have a 1520 & 1320 . 720 belongs to my brother & my friend. My friends wife has a 520.

What network is your 1520, or is it unlocked?

Unlocked. Unbranded. We purchase our phones outright in India.

Jealous. Branded and locked AT&T here. :/

No USA, totally bogus. hehehe

Where is Russia, dammit?! All the models are still "Under testing".

Because Russia is isolated in the global community. With good reason.

What are you talking about? If you mean the sanctions from the US, then you should know the they are the economical one. It has noting to do with consumer market. And BTW, Share of WP in Russia is quite high.

They should put sanctions on consumers as well. All iPhone, Android and WP users. Maybe then Russia would start behaving when tons of its people get annoyed.

In Russia, phone updates you.

I am really waiting for this update for my 1520 in the Philippines. Sadly lower models were updated first in my region.

Apir tayo dyan haha..#feels

Im one of the few who bought a cursed 1520, where the screen just moves by itself. I wish 8.1 would fix it, though others had already said 8.1 with cyan didnt fix the problem. I really wish 1520 and 1020 will be next.

Didn't you have warranty for the phone? Can't you just take it to a repair? Make sure to roll back if you had it on DP. I hope you didn't install DP on it.

Same here. Always checking haha

Damn. Vodacom is on the ball here in South Africa. I knew I should have gone with Vodacom. MTN is rubbish. How much of testing are they doing?!

Lol that's why I opted for a country variant, I don't trust MTN when it comes to phone updates

I have install prievew devolvep version but sum function is not proper working so pls inform sir when official update Lumia cyan with windows 8.1 in India India India.......

Phones with the preview can't get Cyan at the moment. You must downgrade (but check if Cyan is available for your device first) to 8.0 or wait for MS to resume the updates for DP phones.

Could you please enlighten me, I am using a Lumia 1320 with dev preview on it and I live in Nigeria (west Africa) I just heard that the update for 1320 is out, but when I checked there was nothing there

Update is not available for devices with dev preview , the cyan update is only for devices with wp 8

It seems that the update goes out per modells. Now, Cyan for 635, 925, 1320, 1520 is available world wide (or at least almost). What I don't understand is that if we have to wait because of the carries than it seems strange that the technicians at completely different companies are working at the same schedule testing WP phones.

Carriers have to give approval, it's mostly still Microsoft that actualy releases the update.

As far as I understand, Microsoft would love to relase the update for everybody at the same time as Apple does, but it can't because it has to wait for the approval of the carries. If I were Microsoft I would push the button as soon as a carrier gives me green light. But now it doesn't seems like it, because I can't believe that every carrier finishes testing the same WP modell at the same time.

Surely you mean '625'? :)

Of course. :-) Anyway, I don't think anymore that carriers have a lot of thing to do with these updates.

720, India, waiting! Not only this, but every one esle are waiting.

When in 520?....plz release globally in all countries all models

No China, hahahah, Microsoft must be angry about anti-monopoly probe.

Everywhere except North America..... Amazing just goes to show you that it the American Carriers that is the issue and not Microsoft......

Everywhere except North America..... Amazing just goes to show you that it's the American Carriers that is the issue and not Microsoft......

I wouldn't say that. Plenty of people on American carriers receive iOS and Android updates within hours of announcement. Here we are a month later, and still no Windows 8.1. I'd imagine that, as the owner of an unlocked device, I'm probably even further down the list than people stuck with "official" devices. My carrier may never "allow" me to receive the update.

I'll give you iOS. But Android? I see tons of complaints online from people with Android phones that never see any updates... maybe they're just loud. Byt apart from the Nexus it seems to be just as bad as WP there.

I think this time 820 will be the last.anyway nokia screwed its camera with black update.

Great... My friend topon this phone today only

Where is the 1520.3 LTA CV update? C'mon MS.

As a 720 user, I was left out of the Black update by Claro Argentina (620 and 920 were left out as well). I don't see why they will now give us Cyan.

Then you should change your product code to get the update.

How is that? I know that the same is possible by factory reset and nokia recovery tool... But I'm lazy.

With Nokia Care Suite, change your product code to your country variant's.

There are more 520s and 521s in the wild than any other WP.No 8.1 or Cyan yet :/

Looks like the firmware for unlocked 1320 is out.

Not state-side. My unlocked 1320 on T-Mobile says 8.0 is "up to date." No cyan, no WP 8.1, one month after official release of 8.1. When will my device get it? Will my device EVER get it? Who knows? It's all part of the "fun" of running Windows Phone.

Where the f*** is for 520... :/

North America "under testing," of course. Why make a seamless, unified rollout that appears on every device simultaneously, when we can have a hackneyed, device-specific, country-specific and carrier-specific clusterf*ck of a rollout that will take months?

Yep. That sounds stupid. Global rollout should mean something like "all devices not matter what country or carrier it belongs to".

I'd rather suffer with some small bugs than have the problem stated above.

I wish it was all out mass roll out including all handset models and all country

Zzzzzzzzzzzzz 1020. Immmmmmm turning into an android please hurry up

You get a Phone Because of updates?

Damn carriers and their show ass testing process. Tmobile has yet to update one god damn phone.

IM hoping very soon a news posting will say "Cyan 8.1 for lumia 1020 update releasing Uk on all networks!!"

Its already long wait... L 820 plzzz.

No love for UK? Wtf, really, I mean come on! That was the title of last news article about 1320 and Cyan, no?

Have a 920 with EE and 1020 Vodafone - still waiting for 8.1 :/

Unlock them. I had a 1320 this morning with EE, flashed a CV EU Rom, now have a network free 1320.

I know this off the topic, but, Lumia 520 is getting the update at last?!

Yes, 520 will get it last. Also off topic, but, how do you get rid of a bunion?

I live in Nigeria, I just checked, but there is no update, my question here is I am currently running dev preview of 8.1, will I be able to update to cyan without having any problems?

you have to downgrade your phone to 8.0 then the update pops out

Could you please tell me how to do the downgrade?

http://www.nokia.com/us-en/support/faq/?action=singleTopic&topic=FA142987 and which phone do you own check correctly than your phone in your region has got an update if u r sure then do it

I'm waiting for my Lumia 520 update I don't know what's the holdup. ALGERIA CV

I think 1020 is the last one

What about 820 .. How much wait ?

I hope Lumia 520 would be the next

Good thing Columbia got it, hopefully Colombia will get it soon /s

Sheesh people, stop whining about the update. Alot of you have really good phones, that run windows phone 8. You can still make calls, send texts, take photos, and browse the internet. What if wp8.1 was never announced? Make the best out of your phones instead of getting mad at a carrier. I really think you guys are taking it way to far. I had a unlocked htc surround, and i was stuck on 7.5 and never had a problem.

What if it was not announce.... But it is and is rolling out for the device everyone paid for using their money.

>You can still make calls, send texts, take photos, and browse the internet.< Yeah. I could do that on a BlackBerry Pearl too. >What if wp8.1 was never announced?< Then Windows Phone would be about as big a dead-end as it is for us stuck on an obsolete version of the OS for no good reason. All those people who have purchased new Fitbits, or who are trying to get the latest apps to run on their devices, are receiving a giant middle finger from both Microsoft and their carrier. Whereas on Apple (and, increasingly, Android), they'd be on the latest and greatest within days -- if not hours -- of announcement. Meanwhile, we get platitudes like "real soon now" and "watch this space," while figuring out how long we can cope with our out-of-date software until we either explode with frustration or switch to another OS that gets timely updates.

They announced WP 8.1 officially 4 months ago, to great fanfare. They said it would roll out "this summer". So yeah, I guess they are still on schedule, but you know what? Everything MS does these days is talk about new devices and software that is compatible with Windows Phone 8.1 (like the FitBit, which I would love to get but due to my Lumia Icon not having Cyan yet I can't utilize it fully), a device that is available in the US on ONLY two devices (the 630 and 635), both low end and one nearly obsolete for the US market (few people care about a phone with dual SIM and no LTE here). So yeah, if we should stop whining, then MS should shut up about how great Windows Phone 8.1 is, because the truth is that hardly anyone is able to use it in their largest market (by users, if not market share). Add to that the fact that they stopped the rollout for devices that are used by their hardcore base, those with the DP, unless you wipe your phone and do a rollback (if you even can), because they managed to screw that up, and you can probably understand why there is some frustration.

I wonder whether after a restore/ downgrade with nokia tool, i'm entitled to redownload my purchased apps/games. If not, then what's the point using the tool??

Yes you are. For lifetime, they are all yours.

Lumia 520 has 12 million selling worldwide and they don't prior 520 users to have Cyan update? Come on!

i have not got the update till now. do i need to roll back my phone to windows phone 8.0 ? and how to do that? i have windows phone 8.1 preview for developer

Download Nokia Software Recovery Tool. Use Bing. Its easy.

I tried but I am unable to download this software. ☹

Jesus, it has been mentioned here in WPCentral like for the nth time, where have you been?!

try this http://www.nokia.com/us-en/support/faq/?action=singleTopic&topic=FA142987

Eagerly waiting for 520..:)

That means I should buy a nokia Lumia 1320 as I want a big screen replacement for my Lumia 520....
Please suggest me should I buy or wait for any price cut for 1520 in India
I think that's not going to be soon
Also please tell me 1320 frnds if there is any problem regarding the update or so....

get 1320 bcoz it's cheap than when it was released when compared to 1520 u can hav 2 1320s but if u r a great photography enthusiast then take 1520 both the phones run well u get all additional features of 1520 in 1320 too except nfc & wireless charging

And where's the fucking fix for DP?!

Chinese took the fix them by raiding ms offices in China

fuck orange romania,under testing 1320 :(

Now that India is getting the update, the comment sections shoul