Lumia Cyan update rolling out for the Lumia 1320 in select regions [Update]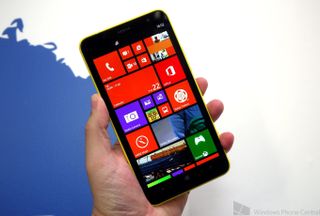 We've been getting word from our readers in India and the UK that the Lumia 1320 is receiving the Cyan update. After looking at some more tips pouring in, as well as the Nokia website, it appears as though more Lumia 1320 owners are getting the update across the globe.
If you're rocking the Lumia 1320, you can check manually for the update by going to Settings > Phone Update > Check. As we've stated before, you need to rollback the Preview for Developers for you to be able to install the Cyan update, if you have the preview installed.
For more information on the availability of the Lumia Cyan update in your country, visit our tracker page:
Windows Phone 8.1 and Lumia Cyan update tracker
Note that these units may well be unbranded ones, with carriers to follow suit. Lumia 1320 users, are you able to install the Lumia Cyan update? What features are you liking the most? Share your thoughts in the comments.
Update: The Nokia website (opens in new tab) shows the Lumia 1320 getting Lumia Cyan in various regions, please do let us know in the comments whether or not you've received the upgrade.
Thanks to everyone who sent this in!
Windows Central Newsletter
Get the best of Windows Central in your inbox, every day!
Harish Jonnalagadda is a Senior Editor overseeing Asia for Android Central, Windows Central's sister site. When not reviewing phones, he's testing PC hardware, including video cards, motherboards, gaming accessories, and keyboards.
Yeah!! I bought it few days ago!

I can confirm, my Italian 1320 in the Netherlands is also receiving it right now. My friend's Dutch 925 the same.

Yes, the cyan update page says it's out in a lot of countries

It says "a lot of countries" BUT NOT UK. So I am surprised this article is talking about UK updates whereas the page and their tracking page both says "under testing" or "unavailable" for UK.

It seems earlier that someone did say it was rolling out and had got it on their 1320 in the UK. I am an an unlocked 1320 -- 3 carrier. I have just rolled back to 8.0 but nothing showing yet, maybe it will take a little time to get to us. Fingers crossed soon

It's globally, seem to me that all 1320 CV are receiving the update. (At least all LTA are receiving).

What about Lumia 920 and 820?

http://www.nokia.com/global/support/software-update/wp8-software-update/availability-in-europe/

Is it possible to update my 520 (running DP 8.1) through some kind of PC program? I heard there was something like that

http://discussions.nokia.com/t5/Nokia-Lumia/Nokia-Software-Recovery-Tool/td-p/2391671 Has a link to the programme you need.

you'll be receiving the update at the fall of summer with L520

You probably need to bring your 920 to Nokia Retail Store b'coz the update ready through Lumia Software Updater. My Lumia 920 is already on Lumia Cyan (Cambodia)

are you serious, bro ? can you post some pictures, pls

The stores use the latest version/firmware available when they repair/re-flash your phone which is why he may have it.

Hi Bro this is the picture of Lumia Cyan https://twitter.com/saosuk/status/494312333942857728/photo/1

When did you got The cyan update for 920? The Nokia site says Cambodia is still under testing. Please tell me if you got it from Nokia OTA, or is just Developer Preview, because i want to install Cambodia version on my phone to get The Cyan and i do not have time to format my phone for nothing. Is your phone on Country Variant or an operator Variant, and witch one please. 10x
http://www.nokia.com/global/support/software-update/wp8-software-update/...

Really ? I'm in Cambodia too

Dear Bro, I'm already on Lumia Cyan since July 26, 2014. So please visit Nokia Store and get that update

After they finish test it will be released

And my 420 .... ;) Oh wait nokia hates no. 4...

The issue with the DP is known since weeks... Microsoft knows that a lot of people installed it already even if they are not really developers - of course you can say it's one's fault if he had installed it before public release but anyway... Are they going to fix it or not?

Yes, they are working on a fix and have said so. It's just not finished yet.

Does the present link of nokia displaying cyan update is with fix or without?

The availability is for Lumia Black users

I have lumia black running in my lumia 520. I m from india! I have installed the wp8.1 DP in my mobile! I wanted to know that the availability of cyan in that site is der for all devices and regions current and under testing status is for those who are wid DP?

Look buddy, first u need to uncheck the box where u have enable the D.P. Release. Second when its available for 520 in India.. Check fone update.. If it still doesn't show, then u need to downgrade it to Lumia black using Nokia recovery tool..

They have shown little evidence of providing any DP fix. They are going on Summer leave, so have told us all to suck it up and downgrade back to WP 8.0.

While nobody will literally admit this, but I think thats the simple reality behind the scene.

We want 520 :/
I know I am a bit greedy xD

I already have cyan on the 520. I flashed the France orange rom and from there i got the cyan update :)

How about mc5 gaming on lumia 1320.. I m planning to get one by selling my 520

MC5 on 512mb ram? I would tear apart android users if that happens

Yup! Thats a good choice but wanted to know is there any difference in camera 1320 and 520 since both share 5mp. Is there any difference wrt pixels and resolution?

I heard that since my 625 n 1320 share the same optics, but review says in low light with slight settings, 1320 comes out good than my 625.. May b because of better hardware I suppose

Well one does have a flash...

I sold my 520 and purchased 1320.
Its 1.7 Ghz prosesar is amazing never hanged, pic are better than 520 in low light. Resolution is almost same on both but gaming is very good on big screen.

That what I wanted to hear.. Thanks buddy... Have u played mc5 on it... If this plays fluently.. I m on with it by next few days

525 also got 1gb but its not so good...

525 is an awesome phone you dont know how to use it

Yeah exactly.. So I thought to sell of my 520, I already have 625.. So just for playing purpose n chit chat I guess Lumia 1320 would b good.. I guess with 1gb n s4 1.7 dual core.. Is there any lag??

U can play by xap deployment through pc, I played mc4 on my 625 n it was very smooth, no crash no lag..

Looks like india that hosts the third largest number of wp users is going to get the update after its given to everyone!

Well! 520. Keep calm and see other devices updating :(

3rd largest no of users and no signs of Cortana yet....

MS said cortana finds difficult to understand the indian accent but thats a NO. It reallt cud understand me very well and provide good results. I dont have cortana now since its useless without wifi in india. 2G is too slow for cortana to work and absorb the internet!

Because India ISNT a majority English speaking country. The accents differ across North to South India. India probably has 5 versions of English spoken across the country.

By 2015, when India has the basic version of CORTANA released to us, It would lag with the 2G network that we have.(It runs good with wifi, that too with decent mpbs, whereas 2G network, I ask her "weather", she reads as "where the" Secondly, Android and iOS would have been more far ahead by then , and we would still celebrate Cortana Cortana!

I know how iOS works on 2g. You can't even connect Facetime with 3G in India. Skype, however crappy, easily connects for a video call with 3G on Vodafone. I've got friends in India and we even use "elevate calls to Skype" on DP8.1


The Data networks in India suck !

We indian cab speak un any accent, I have Cortana by changing region n Lang to US English.. She comforts me bro..

Pity it doesn't extend to your written skills as well.

Forget about writing, Cortana understands who speaks good...

Good luck getting that job then.

Do not worry. You will be able to keep it if you have the skills.

L1020 will be the next receiving the update next week..

That device will reach its EOL soon, so it may not be the next one to get the update.

No Idea! Seems the lowest end device, though a HIT in the market, is prirotized to be the last to receive the much awaited update. Probably towards the end of summer.

Sweden also got 8.1 on Lumia 1320.

Any news
regarding cyan update for nokia lumia 520?

sorry dude.. MS says L520 will be the last one to receive the cyan update :(

Waaattt? Last one to update? Come on ! All 520 users. Lets bribe nadella and get it done ! :P

Yuop emjey lets do that !!

If you can afford to bribe Nadella, you can afford to get the 925 or 930, both of which have Cyan officially, now.

Yeah can't find a source on that.

In France L520 getting cyan , so I don't think so...

I think that is only in France

Yo made ma heart skip a beat now !

Yes but it is a sign that 520 certainly not the last one to receive update.If it is going smoothly on orange france..will expect worldwide rollout soon

Got it last night! And I love it so much! Thanks MS!

Romania is getting the update as well.

Rather than the high end phones, wouldn't it have been great if Microsoft rolled out updates for the bestsellers first? Like 1020, 720, 520, 920 etc...!
Or may be its too much logic for them! :P:/

I think if you've purchased a high end Lumia you are probably choosing to stick with their ecosystem and should be rewarded as such. How many people probably buy the 520 because it's better than other phones in its price range?

I bought it because it's the best in that price, I like WP and I'm poor
Still I'm not one of those who keep asking every single time about when will be cyan available for my phone and my country

I'm guessing that when testing on the high end phones they run into fewer problems because they have better specs. When they test it on a 520 they could get some problems due to its lower specs, so it would take longer to fix those problems.

No, the 1520, as an example, s best suited for cyan. Meaning the 1520 has more to offer. You may not even know the difference in the 520, so why hold up the phones that need it?

1320 is a best seller Windows Phone for Turkey.

I got it thanks!! Lumia 1320 United Arab Emirates.

woahhhhhhhhhhhhhhhhhhhhhhhhhhh right now updating my lumia 1320..just downgraded to windows 8 from DP. started receiving update to wp 8.1....... :)

hi friend, Congratulations for the 8.1 update and experiencing the all new features. I also updated my Lu 1320 on 30th July. However, I have found two things missing:
1. " Show more tile" feature in - Setting- Start + theme. This is not visible. Do you have this? 2. Lock screen background the options of having a choice of picture or an app or Bing does not work.
Please share your findings on the same. Would highly appreciate your feedback on my query.Thanks

Is it out for the 1520 as of yet ?

Bugger hope we all have it soon

Awesome..time to call dad and give the good news :D

When will they give an update for 520 !!

I am in India and yesssss my phone shows an update.. Need a WiFi.. 1320

And don't download the interactive lock screen. It ducks up your phone. I guarantee!

Heyy what is the size of livelockscreen app !!

5MB. Nothing special. Screws up glance, freezes home screen, for me. I had to factory reset my phone to get rid of that crap.

Hmmm !! U mean its just a crap !! And y not !! It is a crap !!

Future updates may make it better and once devs get on it.

Waiting for cyan from more than 2 months!!!

Why? It only is released as roll out in last 2 weeks. If you wait for WP9 from today, its just foolish.

No sign of update !! I m an indian user !! Noo sign of update !!

Is it relevant to ask for an update on an article which clearly is not the 520? Have some patience, most of the non-520 users are also waiting eagerly for the update

Microsoft is giving a shit for the 520 !!!

Waiting for 920, still one of the more popular handset

I found a news that Microsoft will release that update at lastfor 520 users !! After all !! Microsoft is a fuc**** shit !!

U knw microsoft is really a piece of shit !!

Not only bcoz of software updates !! Bcoz of app updates too !! They r sooo dumb that they r not giving a better popular app update like fb messenger & games like hayday !! Noo sign of that !!yaa i know that it is not in hands of microsoft to give an update !! But there is a deep reason behind all that !!

Another clueless person not knowing Microsoft can't just force app developers to develop apps. Facebook messenger updates are in hands of Facebook.

And this is the reason why need a bit more monitoring over here on the blogs </sigh>

Yupp Swapnil i knw that !! But microsoft should force fb devs to give us an update !!! Bcoz we had paid for buying a windows phone !! Not got it for free!!

So how exactly do you force a company to update their apps? I know Facebook has a relation with Microsoft (because of Bing integrating Facebook feeds or results - don't remember exactly) but look Facebook has control of its app - Microsoft cannot force them to update it. If they could force companies, we would have the app gap closed in 2013.

Noo i m not kidding !!! I m only telling u what is the truth !!!

Sorry, that was meant to be a reply to the comment about 520 last to get an update!

Ooo then sorry !!#WPmaniac4 25

Then get off the internet until you're mature enough to hold court in an adult world.

Ugh kids/teens these days :/

I am 14, but why should this be the discussion place only for adults? Care to explain.

I suggested he abstained from the internet until he was mature enough. If you can be mature, carry on.

If u r telling others to be mature make sure u r mature yourself. The mature thing to do would be to ignore this act of rage, ignorance and immaturity, let it slide and let Ronak do what he wants until he realises what he's done is immature and submits more reasonable comments.

And, I myself am in fact 17

Well that's great parenting skills you show there. I'll let my son play with matches until he burns the house down. Silly Billy.

Look who's talking!
*and he calls himself mature!*

Nice comment, how much time did u waste writing it when u cud have been stopping ure son from burning the house down?

Bring it on for 820 in India.

Good news for me. Thank u

No news about 720 in anywhere

Ya I also think that the 1020 will be the next with cyan....hope it will get it this week ;)

1320 locked on EE no update even after downgrading to WP8.

I would gladly take that! However, I just flashed an EU ROM and now my phone is carrier free. Got the WP8.1 Cyan update on my 1320, download as I type ;)

someone tell me...i got windows 8.1 in my phone and preview for devolopers too...i dont wanna roll back cause iv heard that ill be stuck in windows 8.0 till the 8.1 officially rolls out... so what to do? should i wait till they fix preview for devolopers or is 8.1 already officially out?

If you don't want to roll back, then you wait. Simples.

I am having developer preview.i want to wait for the fix because I won't trust on downgrading.it many even brick your phone

Updates may brick it too...

What about lumia 1520 in the middle east ?????

I am having Cyan 8.1 in Vietnam also, installing...

Why can't they release cyan to all devices in all regions in one go? ;[

If they could they would've

I'm sure they could do it for all the CV devices. :(

Nope, servers don't work that way. Plus if things go wrong, millions more will be affected. So they roll out, get feedback, fix, continue roll out.

Yupp !! They should do !!

The servers would crash. Also, MS's marketing team wouldn't allow that anyway.

Not just uk and india, 1320 is getting update everywhere

nope, in Ukraine we still don't receive update

Is it still necessary to down grade to windows phone 8 for Dpv without bitlocker.

Yup. Unless you'd rather wait for the fix, of course.

What about Lumia 820 .hope they update after 920 gets it.

Aahhh Lumia 520 will receive it last?

When testing is done of course

And still nothing for my HTC 8x

Yes I know.....eagerly waiting :(

plz plz plz +1520 plz plz plz

When will it be out for other OEMs ....sporting a HTC 8x here :(

What abt 520 running on developer preview for about there months and 15 days...

Is nokia is going to announce a promotion for 1520 in India soon I want to buy but at less than 30000₹

eBay second hand gets it for lesser than 30k.

10 bloody 20 . Top down micky.

Still waiting for my 925 on 3 to update in the uk.

Daksh Gupta2 you need to downgrade to wp 8 if you want to receive the update now

I own a Lumia 1320 and i have the developers edition so should i wait for Microsoft for the fix or downgrade it?
And can people at windows phone central please show us via a video that how can we downgrade

Wait for a week the software fixing for dp will be available soon.

I think you need to wait much longer than that...

Still not out for the 1020 yet, head and shoulders the best Windows Phone. Some joke ting. kmt

Still no fix for developer preview users.. Posted via Windows Phone Central App

Next Tuesday lumia 1020 later 920.. Posted via Windows Phone Central App

Middle eastern ROM is too slow to receive updates after the acquisition by Microsoft.

@varun chopra you can wait or downgrade now to receive the update. Downgrade using the Nokia software recovery tool

roll out of Cyan update for 1320 here in the Philippines has also started

when lumia 520 get lumia cyan update??

They will give us an update at last !! After all those phones !!

How to roll back the preview for developers

http://www.nokia.com/ru-ru/support/faq/?action=singleTopic&topic=FA142987

People in india got the update on 625 as well.

It's ridiculous how long it's taking them to release this update.

Was using preview for developers .. Rolled back tp wp8 now . Missing 8.1 features
.. Specially the wordflow keyboard

@Ajinkya Huddar use the Nokia software recovery tool

It shows me your phone is updated but I still running on Lumia black firmware.is that developer preview holder did not get cyan update?

You need to downgrade to wp8 using the Nokia software recovery tool if you want the update now and of course if it is available for your phone model or wait for the fix
http://www.wpcentral.com/preview-developers-still-need-downgrade-lumia-cyan

@NokiaSWUpdates just tweeted that Lumia Cyan is going out to 1320s in various regions.

How about here in the Philippines?

Might take longer. You can check everyday here: http://www.nokia.com/global/support/software-update/wp8-software-update/... WPC App for Android- Lenovo IdeaTab A3000

Anybody heard anything about the cyan update fir the CV version of the 820 in the UK?

Rohit waingankar is windows phone 8.1 official update is available for my Lumia 520

Right now 'no' for both, users running wp8.1 dp and wp8

Nothing here L1320 UK CV I guess you posted wrong fix the thread

Lumia Cyan rolling out on 1320 all across Africa...

Same goes to Lumia 1320 users in Malaysia

You ask us to check the update tracker - but its not updated for 1320 AT ALL. What's the point of internal linking of WPCentral articles if they aren't updated in time for news release.

Is this update including both the WP8.1 official and Lumia Cyan

Yep, Slovakia too. We received it yesterday. Mine is O2, and doesn't look branded a bit ;) works fine so far :D

Wp central is faster then any other source on web! Gr8 job

Just wanted to know if WhatsApp doesn't work for other users from India when we change the region and regional format to United States to enable Cortana

Wow showing available for 625s in Canada and 1520 on at&t. Hopefully TELUS 1020 soon.

Wot eff MS doing? Still no CYAN highends likes of 1020..This is Frustrating!

Yaa seriously its very frustrating!

Hi there's also an update for Lumia 1320 here in the Philippines! Thanks

Cyan has been out on Nokia 925 for over 2 and a half weeks down here in Bangalore. Features are totally worth the hype.

Any news on a fix for those running the dp who can't roll back to 8.0

How to get cyan on my Lumia 625..i'm running dev. preview..
Official launch was weeks and I still haven't received..help me out folks..is it must to revert back to 8.0..?

yes...or wait for some time...i suggest you wait...microsoft will fix it soon im sure

If you could hard reset, I mean if it doesn't mean losing out to much things that are dear to you, then just downgrade and viola you'll have the update.

Lumia cyan tracker shows available for my 1320 but phone shows phone is up to date. Im using dev preview, do i have to restore back to wp 8?

Yes, downgrade to 8.0 first using the Nokia Recovery Tool.

And on reverting back what data do we lose..?

downgrade to wp8 n check or wait for some time when ms fixes the issue

Still no 8.1 for 925 on EE network UK. Why are they taking so long?

Are the developer's preview owners getting the update?

Has anyone heard any more about the dev preview cyan update?

Really? At least they should say something, just a little something to hold on to

Totally agree, maybe a rough timeframe? I just don't want to waste time rolling back etc to get it, then an update be released for dev prev the next day or something!

Based on Official site, 1320 Cyan also rolls out in almost all regions, but vary depend on the country and the carrier. In fact 1320 Cyan is rolls out as the next model after 925 & 1520

920? I think I will be dead by then

The update now available in middle east... finally

Somehow I thought MS will give updates to their flagships first before the latest phones! +/- 920 :-/

520 doesnt get updates so late...im sure we will get before any one or some of other devices..

As usual the 520 shall receive it in the end.

The iPhone 6 will launch worldwide with the all-new iOS 8 BEFORE the Cyan update will reach even 1/10th of the world. How pathetically slow.

Tbh, ios8 is nothing special. So your comment is completely accurate...

It's actually rolling out all over,except North America. Check the tracker

When is the update for my nokia Lumia 520 Man!-(From India)...waiting for your reply and response.!

End of August with MS's current speed.

I dont know why.?Microsoft is slow in updates

My carrier(Singtel)'s L1320 model haven't got the update, though the unlock model got it already. I'm going crazy. I'm in Singapore by the way.

The questions here are over and over again. Please read the comments before asking a question. If you're currently installed 8.1DP, it's required to downgrade to 8.0 first then do the update to Cyan.

Updating my Lumia 1320 (India)...now it is in download progress...tell u when i 'll complete my update asap

As per the Nokia Cyan tracker page .. It is also available in the UAE too

no i want to revert back wp8. It will erase all my data including my purchased apps...

It's globally, seem to me that all 1320 CV are receiving the update.

1320 Finland CV on 8.1 DP confirming no update.

DP phones aren't currently eligible to get the Cyan update. You should downgrade to 8.0 or wait for MS to fix the Bitlocker bug and to resume the updates for DP phones.

Got it on my L1320 mea variant.

I installed developer preview on my 1320. Should I wait for the fix or not?

maybe you could disable developer preview first and check phone update, if cyan update doesn't shown, you may have to downgrade to wp 8.0 with Nokia recovery tool. If I were you, I'll wait until the DP issue has been fixed

I hope they are fix DP issue, so we don't have to downgrade before update.

Hi all, I own a Lumia 1520 Unlocked phone. Bought it on Amazon.com.
I did not receive the Cyan Update. Does anyone know when the Country Variant Unlocked phones are gonna get the Cyan update?? I downgraded from DP to 8.0 to get the update. I've been stuck with 8.0 for two days already

You have to wait for the update in the phones original update.

You'll get the update once its ready for your particular CV 1520.

The 1520 CV models have had Cyan in the UK for the past 4 days..... If you flash the WP8 UK ROM you will probably get Cyan... I'm running Cyan..

I think 1020 will get the update latare because of the low light camera improvements ..because we have that huge sensor

I think it will be next to 1320 to get lumia cyan

Coz m also waitin for ma 1020 n really fed up of waiting

My 820 is in the year 2000BC - Before Cyan

What about devices with PFD?

Still waiting for MS to find a fix, or if you can't wait just downgrade your phone

Waiting for 720 in india... I hope it would come out in next week!

Why would MS suddenly skip 1020, 920, 820?

Some 1520s got the update too...

I talked to: microsoft > they say it is available in India and if i am not able to , then recover and then try. Nokia says > they din't even know if 8.1 update is called cyan, they don't have a single clue. I own a lumia 1320, Developer unlocked but it does not have bit locker, i don't have any issues related to bit locker, why am i supposed to revert back...?? Microsoft and Nokia , you guys need to get your facts right. Or atleast act responsiby, if you want some importance...... This whole negligence is on your part. Contact: +91 - 9814515434

Actually its your responsibility. If you use a preview no one elses. A developer knows that previews can cause issues and will use a secondary device to use and develop on... Hence the name developers preview. If you downloaded it or bought a phone with it on then no one elses fault so stop ya wincing.

Will the phone get reset during updation??
Whatz the approx size and time for dowmnloading update??
#lumia1320 #india

Judging from what you're asking, I don't think you're on dev preview, updating will not erase the data. And, update is about 500 mb, I think. The approx time depends upon the speed.

No..am not on dp...
Thankzz

So many 520 users, and am too, waiting for it, eagerly

I have the 8.1 update on 1320 INDIA. Its awesome.

Idk what happened to Lumia 1520, most of countries not received update yet. Every time I switched on device checking for updates, not available its still under testing. Normally they push updates for high end devices in android not for Nokia Lumia. Felt bored now using Windows o.s ..

Still waiting for update for 925 on 3 in UK.

So , Lumia 520 is going to be the last to get the update

when will cyan update be roll out for lumia 520 devices?

L1320 Brazil Country Variant confirmed.

lumia 1320 orange Romania didn't got it :( if u can only see the sadness in my eyes :(

How about role out 1520 first for all CV. Now my country get 1320 available but not 1520.

1320 got the update as well in Malaysia. Need to update twice to get 8.1.

It's hard to understand that Nokia released Cyan for the 1320 & not for the more expensive 1520, here in Germany.

God so many people asking is the update available for xxxx lumina on a 1320 thread and so many asking the same bloody questions againa and again. If you have 8.1 Developers Preview, and whether you have Bit Locker or not MS wont let you update to Cyan its as simple as that. They may fix it shortly or it may be a few weeks, who knows. If you have 81 Dev Preview and want the Cyan update which is rolling out for your model in this cae the 1320 then you must download and use the Nokia Recovery Tool to roll back to 8.0. Install it on a PC then follow the instructions on screen. Its simple and you dont need a video to show you just the ability to read tick and press continue when asked. It will take about 40 minutes so dont panic. Before you roll back run a backup on your phone Settings>>>Backup. This will backup to OneDrive all your Apps and Data (hopefully all of it). NOW when you roll back and restart your phone you will be asked during the phone setup to restore a backup. Please anyone correct me here if I am wrong but as you were previously on 8.1 Dev, you are now running 8.0 and your backup was made under 8.1 Dev and it will not show up. Only once you update to Cyan wich has the offical 8.1 with it will you be able to restore your backup you last made under 8.1 dev preview. If after updating your original apps are not shown then reset your phone and make sure now you have the 8.1 installed you select the last backup you did. Check the dates of your backups its wrote on the name. Who has had the Cyan update in the UK and if so what carrier.

When ma lumia 1020 will get lumia cyan please tell me someone

When they announce its ready

How about my Chinese 1320

No sign of it on my 1320 running the generic UK CV firmware?? Nokia Availability page still shows all UK versions still "under testing" too.

Do I need to get rid of 8.1?

Are you for real, you have seriously got to be joking right!

The Nokia page may be out of date or not being updated when it should. We just have to keep manually trying. Think our ISP's will be burning when someone says they have it in the UK

I'm reinstalling Dev Preview for the moment anyway. Will do a reset/check again in a day or two. WP8.0 really is unusable once you've had 8.1 for a while! :)

Ok mate I will give it 24hrs but agree going back to 8.0 is hard but I am fortunate I have another phone on 8.1 dev just for development

its writen Macedonia, but we still dont have that model here :D hahahahah but i love it and waned :(

Yes! Got it in Australia (phone manufactured in Thailand). I'm on VAYA (part of the Optus Network).

Still can't believe the Lumia 1320 got the update globally before 1520... This sucks

Lol I will tell you what the admins here must have a right laugh going through stuff. Recommend an update though to the forums called a numb nuts filter so that idiots who cant read or are to lazy to read articles are filtered out to a dumb room.

I received it today on my Lumia 1320...Bahrain...Middle East

Oh no I am using DEV PREVIEW I dnt want to flash because so many apps are installed... Any alternate option for cyan update?????

Yes....wait for Microsoft to fix DP

You will just have to wait until a fix has been made by MS. Or you could try backing up and restore once Cyan and the bundled official 8.1 has been installed.

Do a Backup before you flash it.. when you restore it later it'll reinstall everything automatically - including your Start screen

Kasiser have you installed Cyan and the official 8.1 and if so did your restore work ok?

@Steve: No, what I did was backup, roll back to 8.0 and when it wasn't there, I reupdated to Dev Preview, reset the phone (About > Reset), signed back in and chose to restore my Backup when prompted Worked fine so I can't see why it wouldn't with the official/final release too :)

Yeah no prob mate I will give it 24hrs but just wanted to make sure that if going back to preview it would restore, thanks pal

Still no cyan for my 1520 in Malaysia :-(

Wrong information...not rolling out in the UK

Any idea on when it will get patches for dev. Prev. Owners and be released for them?

what is the size of wp8.1 update ? can any one tell me if they have track it ( my friend told me its around 200 MB only but I doubt it must be around 400-500 MB)

I cry. 1320. Developer Preview. Cry again. T.T

I do hope it comes to the 1020 & 920 soon but being with EE might be alot slower.

When will 920 get an update? I mean it is their flagship device! Some respect is expected ;)

Wow, L1320 cyan update in New Zealand. Yea. Happy as.

WP8.1 on my 1520 rm-937 is now available here in the Philippines Downloading updates 88%

Yep. Upgraded to wp8.1 yesterday.. Loving Cortana n transparent live tiles!

Romania Orange carrier 1320 confirmed :)

I live in India and I have a 1320. My phone showed that an update is ready to be installed. but I am not able to install 8.1. It gives a error every time: The update was downloaded, but couldn't be opened. (8007000d) I have forwarded a complaint to Nokia Care. Don't know what's gonna happen. Let's hope for the best!!!!!!!!

Do anyone have live folders on 1320 with cyan?

Just got the 8.1 update for the Lumia 1320 for Cricket Wireless this morning!