Lumia 1520 reportedly now getting Lumia Cyan in Finland and India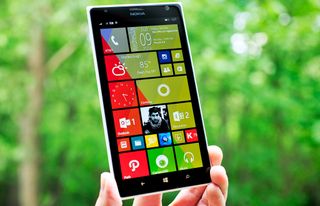 India and Finland friends with the Lumia 1520 are going to have a good day. The Lumia Cyan update is hitting up those regions today. That also brings with it the Windows Phone 8.1 upgrade.
We've received a handful of tips that the Lumia Cyan update is rolling out to Lumia 1520 handsets in both Finland and India. The Nokia Support page still has the status for both listed as 'Under testing', but we've received too many tips to ignore. If you have a Lumia 1520 in Finland or India you're going to want to check for an update.
Just go to settings -> phone update -> check for update and you should see one available and can start downloading Lumia Cyan and Windows Phone 8.1.
With Lumia Cyan on your Lumia 1520 you can look forward to improved low-light performance, better color reproduction, continuous auto focus and more.
We're positive that Finland has the update, but are still waiting to see some proof out of India. Let us know if you have it.
In either location with a Lumia 1520? Sound off if you have Lumia Cyan now. Don't forget to let us know where else you're seeing the update.
Windows Phone 8.1 and Lumia Cyan tracker page
Thanks for the tips everyone!
Windows Central Newsletter
Get the best of Windows Central in in your inbox, every day!
Damn it! I thought AT&T was on it.

ATT I have them too... We shouldn't hold our breath!

Does it support 4K Video Recording ?

Have them too think att going to pull a gdr2/3 on us we will get it 5 months after everyone

I pray that you are right on this one. Let it be updated as fast as gdr3 was.(relatively speaking). I've been checking my device weekly.

I saw the notification and jumped at last and when I touched the I said #uck.

Most of us in the US I think are just screwed. They'll take their sweet time getting it tested, dumbed down and released

you'll most probably get it very soon....UK (CV GB) 1520 now downloading

Just downloaded UK CV on my 1520, it's almost finished installing

You have to consider that AT&T has most of the phone models. Therefore, naturally, it is going to take longer to test. The only thing that could speed things up is IF AT&T releases for each phone as they check them, or does AT&T release when all models are done? Does anyone remember how the GDR for Amber and Black was done by AT&T?

Amber was super slow but the Black update was quick. My 1020 was one of the first phones to get it.

Thank you, do you remember if they released all at once?

Most likely they going to remove data sense like they have done in the past

Thank you, do you remember if they released all at once?

But what about Lumia 920? :(

Yahoo! ( No pun)! Downloading now!

I don't see it yet, is it because I am on Dev Preview?

Is your phone connected to your company with bitlocker?

Nope, it isn't. I was using Cortana, so I changed my region and regional format to India and checked, still no update. Toggled airplane mode and soft reset my phone, still no update. I am reverting back my software to the latest commercial release using Nokia Software Recovery. Let me try again after that.

I thought firmware is dependent on the region the phone was intended to be sold, not necessarily the regional settings in Settings

Yes, ideally that is the case. But in this case Microsoft chose to prevent Dev preview users from upgrading due to the recently reported bit locker key issue when upgrading to Lumia cyan from Dev preview, makes perfect sense.

Changing the region and format won't solve anything my advice is stay on Dev preview cause carriers take their own time to release the software I'm in SA I had Dev preview and reverted to cormecial guess what the software is still under testing in upgrading back to dev preview I can't stand the commercial...so wait up until your carrier releases the software then revert to cormecial

The official Lumia cyan update is already available in my country, why shouldn't I downgrade when it works only from commercial release. It doesn't make sense to me to stick with Dev preview.

I'm facing the same problem, i'm on DP and unable to see the update.

That doesn't matter... MS doesn't know that, and they are stickily holding of on DP devices.... As far as we know..

Doesn't work on Dev Preview. I reverted back and then tried and I am getting it now.

Thanks. This was a major update that we were all looking forward to. Given that it satisfies most of my requirements, I won't be longing to see another update so badly. Thanks Microsoft, you have delighted me today. Just before my birthday, the perfect icing on the cake.

How much time it takes to revert back. And how much GB download

It depends on your network speed to download 1.43GB. I have a super fast 15mbps connection, it finished downloading in 13 mins and installed in 15 mins.

What is the OS size after installation?? Is it 1.9gb as before or more than that????

The installation size in storage sense for system says 3.25GB.

How did u revert back?? Using Nokia recovery software??

Dunno how you managed the revert. Having a crappy experience with Nokia Software Recovery Tool. It keeps giving a "failed to connect to service, check firewall" error every now & then. I click try again and it progresses. I've actually turned off firewall just for this. Hopefully it lets me revert to pre-DP state on my 1520.

You need flash your phone go back to black update and get cyan update. Firmware version should be lumia black

If you noticed the update page it says under testing. I wonder if anyone tried Nokia Care Suite if the update is available. If yes, no need recover and again update OTA. You can directly update it instead wasting the time on OTA update.

Nokia software recovery currently only has the Lumia Black update.

Dang it! Why couldn't it have been the Lumia 1520.3!

Exactly. Posted via Windows Phone Central App

Does your Lumia 1520 show this same info. Mine shows AT&T?

Awesome, hopefully we can see this in the US soon! Anyone getting Cyan, hows the battery experience. I'm having a good time with the DP but not has good as the Black Update.

We will probably be the last. US carriers are the worst.

I wont hold my breath for Lumia 925 or 521 on tmobile support says later this year and another said they don't know yet

Would be really interesting to see how Lumia Cyan has impacted camera performance of the 930, 1520 and Icon. *COUGH* WRITE AN ARTICLE ON IT *COUGH*

Could i be the only Indian awake?

nope.. I checked for update in my 1520 at around 12.30am and found an update ready, imagine my happiness.. :D

I m Here Brother ;) But i dont see any update on my L1520. what could be the reason? DP??

Doing it now ;) Kinda exited :)

Yeah, we need it for 1020 now.
I've been waiting like ****.

LoL we all have been dude!

next is 1020 guys, don't worry.. nokia care centre dude told me when I asked about cyan for my 1520 that after 925 & 625, 1520 & 1020 will get it.
and judging by today, he was right.

Bugger it! Just keep on waiting then I suppose

Congratulations for India and Finland users.

Thank you,sir! Lets hope you are next!

I dont get it! Why don't all unlocked phones get it first?? And do I need to get rid of DP to get updates??

Yeah I know right,my phone is unlocked ,purchased online Singapore Country Variant 1020, I thought unlocked would have priorities over locked ones

the update its blocked for those with DP, for now. Sorry.

I am still waiting for 8.1

Please faster update for my L1520....

Ohhh like coming in second when I read that headline. L1520 AT&T Indiana

Waiting for lumia720 (india)

Alguien podría decirme como se llama las apps que están en la parte superior de la imagen ? Del mes

Lumia 1520(CV MALAYSIA) still waiting

Umm what about the us like north America thay say in the next week or so but if I was Microsoft or who ever gets updates out I would make sure the leading wireless providers would have it first

Dammit!! Why not in the US?!!?! Lol

Because contrary to the US, ALL devices are sold unlocked in India, and carriers are not even remotely related with phone updates, software etc.

I have the 1520 in America and I dont see it

They said in Finland and India first.

I don't find any update yet.. I'm from Indian and having Lumia 1520

Same here buddy ... I dont see any update either. r u on Developer preview 8.1 by any chance??

Same here. No updates yet

Thanks.. Do I need to downgrade from 8.1 to 8 to get cyan Lumia cyan?

Nope, unless you have bitlocker.

How to find tat I'm having bitlocker?

Do I need to go back to WP 8.0 to get the update? I have developers preview installed and I do not see an update. 1520, India.

Yes you must roll back to wp8.0 before updating to cyan

I'm in Finland, nothing for my 1520

Can anyone confirm if changing the region to Finland... Will allow me to update?

Got it on my 1520! Att in Kansas City!!!

Yep that guy is lying trying to get us worked up. Still waiting on it from the Bahamas.

Where I come from, such lies can get you smoked :-)

I really hope Lumia 1520 in the Philippines is next.

It already is available, just updated my 1520 (I geeked out) - although I bought this one from Hong Kong if I am not mistaken. FINALLY.

It is. I just downloaded+installed it early in the morning to day. So I assume that Philippines is getting the updates now because I have it and I was able to update it with our pathetic internet connection.

HK variant here. Still no available update.

Sana pati diri Sa Saudi. Yellow Nokia Lumia 1520 owner.

It's not available in Finland yet

Damn at&t! Damn u to heck!

I have att and I got the update!

What is that calendar app in the upper right hand corner on the start screen ?

Check out "Simple Calendar" for Windows Phone http://www.windowsphone.com/s?appid=977e5d54-01d8-4cf8-9891-da9579ce2692

What calendar app is being used on that 1520 pictured?

How come I asked that right before him and know one answered me? Pshh..

Dude, someone answered you, even gave you a link

www.windowsphone.com/s?appid=977e5d54-01d8-4cf8-9891-da9579ce2692

Unlocked 1520 in UK....now downloading ....WOOOHOOO

did you have developers preview installed?

I used to but downgraded to 8 last week

Boo... I bought an L1520 off UK Amazon, established reputable supplier.. Looks like grey import from Hong Kong...so now I have to wait for them to get it... :(

I'm in the same position. Didn't realise until I reset back to 8 and found my phone full of Chinese text! Have you had the update yet?

I tipped u about cyan for 1520 in Taiwan.

India and Indiana aren't that different!

Except the n and people ;)

And the extra "a" and the country and time zone and so on..

Indiana simply means India in North America

Lumia 925 GB CV... Still waiting...

When it hits here in the states, I hope and pray at&t does not remove data sense...

Anyone know how to get that background ? Its beautiful, Im running a TMO 925, thx!

Yay! No more spamming the comments of every last WPC article.

Nothing for my unbranded 1520.

This is why I hate having a large carrier (AT&T). They drag their corporate feet in releasing any new updates. I do have the dev. preview but I'm on the 1520. So I'm not sure if I'll need to do any type of downgrade, as I don't use bitlocker. In either case AT&T needs to be more expedient in their updating process as well as leaving the firmware intact and to not remove so much of it just to nickel and dime everyone. Let's get with it, AT&T. Release the freaking Cyan.

Don't bother to downgrade yet, AT&T usually takes much longer to "test".

Yup, I'm from India and I'm downloading the update now. Excited!!

Rape of the software update button!

Post some screen shots and mobile details please...

I really wonder how they Classify the 1520.3. Since it came with Spanish as the default, I wonder if its branded to a particular region in North America? I have an AT&T SIM in at the moment, but I could easily change that.

It's supposedly a Latin American model. I would assume it will recieve the update the same time the CV 1520s in Latin American countries do.

You can hate Apple all you want but they put Microsoft to shame when it comes to update releases.

It's not Microsoft's fault really. Apple is able to demand that they control all their updates. Microsoft does not have the market share to make such demands. It's the carriers who are taking their time.

I don't think so. My 1520 is unlocked, yet I don't get cyan 3 months after being announced. It's all down to sloppy Microsoft here

I have to agree on that, no one can beat Apple in the updates.

My unlocked 1520 in the UK has just been updated to cyan...8.1...party on...

@Blackcountrykid did you update from dev preview 8.1 or wp8?

Hey dude did it solve any issues to do with screen sensitivity at all? Also, excellent name. Wolves FTW!

So how does it work for regions? I'm in Pakistan and I have my location/region set to USA to take advantage of an overall better marketplace. Since my Lumia 1520 isn't locked to a specific carrier... I'm just wondering how the update would get rolled out for me? Would I be tied to US rollout, or when it is actually released for Pakistan? Now i'm wondering if changing my location might help in getting it sooner... Hmmm.

You'll get it when it rolls out for Pakistan. What matters is the region variant you see in extras+info, not the region you set your phone to

Thanks! Might be a stupid question, but how does one identify the region variant from extras + info? Is it the last portion of the manufacturer name?

@NAMISH, yes, that's it. E.g. mine is RM-937_im_mea3_1019. The mea part means Middle East and Asia. I live in the Africa region, but I'll get it when it's available for United Arab Emirates where the phone was imported from

Thanks for the clarification! Mine's MAE3 too... Hopefully we'll get it sooner than later! :) Regards.

Unlocked 1520 uk .. No cyan :(

Keep trying buddy.....its live ok....upgrading as i type

Do you have dev preview 8.1?

well done what time update in China?

Can anyone confirm if it fixes the touchscreen issue? Thats my only hope on this otherwise awesome phone. Edit: only GRIPE

Exactly means you agree with his idear or the glitch has benn fixed ?

Sorry. I meant I agree. The issue is annoying.

Can confirm the opposite - mine was fine until i installed the update, now it's super sensitive and goes grey and pixelated in direct sunlight/bright office light (fixed the last one by turning off auto brightness).

Shoulda been the 1520.3! hopefully soon

Also got the never option under lock screen! Not there earlier.

Two weeks, 4 devices, and people complaining about "slowly"

how to downgrade dev preview 8.1 to 8?

Ditto.. And do I need to downgrade, really? No sign of update for my L1520, New Delhi, India.

It is all seems like that.. I'm not ready to reset and restore rather i'll stay in dev preview till they fix the issue.

You need to install Nokia Recovery Tool on your computer. When you plug in your phone and launch the app, it'll detect there's an update. Just install that update. Voila

Superb!! Fon feels butter smooth!!

I live in India. A lumia 1520 owner and also running a dev preview 8.1 . However I,still haven't received the Cyan update. Do u think its coz,of the dev preview ? Should I downgrade it to wp8 ?

It is not working for DP 8.1 fellows. That's for sure.

Why can't MSFT just fix the issue with the DP, so people don't need to revert back to 8.0?! This is LAME and STUPID!

I heard that it is also available in Taiwan now.

Hopefully Hong Kong next =)

Yes. HK now!!! Hopefully next.

I finally got my 930 mobile. Cyan update is installed. Waiting for 8.1

Then keep waiting forever

If I have to downgrade to 8.0. Im not updating! F*ck em! they can fix the DP! No reason why they cant! This is pissing off alot of people lemme tell ya!

ATT USA, you are killing me right now.

My 1520 works great anyways! No problems here! :-)

You have to install in your PC Nokia software recovery tool to downgrade it to Windows 8 and then you receive the update

Have it on my 1520 in India

No. Phones with DP are not eligible for the update at the moment.

Then say me.. How to downgrade?

Do i want to downgrade from 8.1dp to 8.0 , if yes tell me how to downgrade....

Depends if you want to wait.

"if yes tell me how to downgrade..." How about you do some research on your own? And how about using the word 'please'?

RM937 INDIA
Nothing so far via OTA!
Plugged it in with NSU, and baaaaaaam! Cyan is available! Downloading it right now!

Did you wet your pants? Do you see anything new and compelling?

@pt uk cv gb just installed update

Here in Brazil, 1520.1 with unbranded device purchased from HK, burn firmware RM-937 product code 059V281 (Finland), and wowwwwwwwwww, up Cyan now !

How ?? Nokia care suite??

Yep. Product Code 059V281 (Finland) and 059V333 (euro 1_231 aka GB) work fine. Try download with Navifirm and "burn" with Nokia Care Suite, in offline mode.

Please, which release & variant? Never used Navifirm. Thanks

I'm used product code 059V333 - Great Bretain Country Variant. Version software is RM937_059V333_1028.3562.1402.0001 My Device is 1520.1 don't even think about using on 1520.2 or 1520.3), imported from Hong Kong.

Many thanks Ronaldo. I use the same version (no brand Italy - Developer Preview), it is possible to flash this without rollback to WP8.0?

Be careful, backup, flash will delete everything ! This upgrade option with Nokia Care Suite doesn't need a downgrade for him to actually reinstall everything from scratch.

Last thing, My phone is black... can I install 1402.002 -> VAR EURO IT BLACK (059V3B8) or it is a normal 8.0? Sorry for stress Ronaldo :)

Try 059V337 GBHP BLACK, the version IT CV don't have info on the release of Cyan right now (today).

OK, I'll proceed with White (I think that color code is irrelevant). Backup done, thanks Ronaldo :)

I have the feeling that tomorrow or past tomorrow is the time for my L1020 to get some love! :D

Unlocked 1520 running 8.1dp florida USA. No update yet! Anyone in Florida have the cyan?

@ronaldoramires I'm in Brazil too with 1520 running dp. But no update here, same model. Did your phone had dp too?

@JotaRBR speak portuguese ? Baixe um dos product code 059V281 (Finlandia) ou 059V333 (euro 1_231) com o Navifirm e grave esse firmware com o Nokia Care Suite em modo offline. Assim que acabar de atualizar, pode ir direto para "Atualização de Software", Bingo, ela vai estar lá.

Ronaldo, obrigado amigo. Deu certo aqui, fiz td pelo Nokia Care, baixando a firm 059v281. Ja esta instalado o Cyan. Obrigado pela atencao. Abraco!

You must downgrade to 8.0 or wait for Microsoft to resume the updates for DP phones.

Downloading Now ! In India ! 1520.

No, Microsoft hasn't yet resumed the updates for DP phones.

Can anyone tell about Battery backup After updating to Cyan??

I think 520, 620 and 720 these devices will be the last to get the updates.. Like in lumia amber update

Why are all other Lumia phones receiving cyan update before the original windows phone 8 phone..the Lumia 920..can someone explain that to me

Philippines or ASEAN seems to be ready - just updated mine a few minutes ago.

.naka DP8.1 ka ba or nagdowngrade ka pa?..

Never used Developer's Preview.

Sorry that I failed to mention this, my phone's ROM is RM-937_eu_euro1_231. I can't remember if that is a UK version. I bought the 1520 from Hong Kong but decided to flash it - changed the ROM to the current one. Maybe this is the reason why I got the update. I could be wrong though.

Yes your're correct. The Philippines ROM Lumia 1520 still hasn't got the 8.1 and Cyan update (I checked after I read your comment :P) Your ROM could be a Finland CV ROM :)

Awwwwwwwwww,,nagdowngrade pa naman ako to wp8.0

You can flash to the EU Finland CV ROM (WP8) Then install 8.1 and Cyan via OTA :)

I cant see the update yet..
In Mumbai, India..

Check Again..I just installed it..!!!

I have DP, I can't get cyan update, should I wait or downgread to window 8 ? Plz suggest

somebody help me.. i'm in india and i purchased my lumia 1520 in dubai.. do i get update today ? or i have to wait until update rolled out for dubai?

if you have developers preview nop... you need back to 8.0

so there is no problem with dubai purchased..

Anyone know when Australia gets the cyan update?

Taiwan has got the update too.

I am downloading update to my lumia 1520 to 8.1 right now (India - Bangalore) (updating from official win 8 phone version and not DP)

Confirmed. Have it running now, freakin' awesome!

Started Update !! Gears in progress.. for Lumia 1520 - India

Seems every other region is getting it faster than the US on AT&T. Have to be patient I guess,

if you are desperate to get the update just go for the developer preview. I got it on my 1520 and its perfectly fine.

Still missing the Cyan part with all H/W specific stuff, like SensorCore and hopefully more stable battery drain and fixed scrolling issue.

Microsoft sahih lembap!!!

Tired of carrier interference in the US. Everyone has developer preview and working fine across the board so what are they still testing for? Been out since April. Come on Tmobile, Att,Verizon.

It is not showing any update yet.

Yippie! Received the update on my Lumia 1520, India. Updating now!

Waiting with my Lumia 520 in India

Updated to 8.1 Have fun guys... Will report if any issues(On DP i had frequent screen freezes on my 1520, so i had reverted back to 8)

Hey guys iam from Chile, i got a Lumia 1520, i download the GB firmware with product code 059V337 and restore my cell to it. After i check for software updates and i got one update and them other, the lastone was CYAN. I update the phone with Nokia Care Suite.

Yes, it works perfect on my 1520 buyed at Honk Kong!! Thanks for share mate,

mi phone was buyed the same as yours ;) jejeje nice to see works perfect for you too. until now is running without any problem.

Works mostly nice. I have an issue in the camera app. I think the image stabilization have problems working on sunlight. The issue was present with preview for developers: the screen shakes aleatory when I try to shot a picture. It makes really hard to take a picture in focus, now it works better but the issue still there. :(

Hi!!. From Chile too. Did you loose 4G when you use this other firmware? Once i did this on my 920 and i was not able to flash it again..... Any news from 1520 RM-937, product code 059V253? Greetings

Mumbai.. India. Update Completed. App updates from the store is in progress.

Got the update on my 1520 (India). Had to downgrade to 8.0 from 8.1 DP to receive the update though.

S now its available i just got the update

Yes...that's true...seems like the update for DP has been blocked...I downgraded to 8.0 and now I am downloading the update...

Yes. My Nokia Lumia 1520 start downloading the new Cyan update (Bangalore, India)...... There was small software update (even though I have the lumia black updates on my 1520), before it actual start downloading the lumia cyan update.......

Sorry if my question sounds stupid but i want to know : Is this Cyan update same as update to 8.1 ?

No, Cyan is a firmware, while the 8.1 is an OS. However, the Cyan update comes with the 8.1 OS.

is there anyone in india using lumia 620 :(

Just fix the bitlocker stuff and we are good to go

Upgraded 1520 to cyan in India. Feels good. But couldn't find any noticeable differences from the developer preview.

Did u downloaded the update on developers preview...?

No I had to revert back to 8.0

Got my Lumia 1520 updated last night :)

I'm on 1520 dev preview and I cant see the update either. But I dont want to revert back as I have too many data and apps :( any idea when people with dev preview might get this update?

No idea. I am on dev preview.

I guess I'll just wait for it then. Not that I'm not excited for this update, but I'm not too desperate either atm.

Good idea...me too will wait for a fix...

Just hope they fix this dp8.1 stuff cant stand seeing others get the cyan update before my 1520... It's annoying

Waiting for my 520 in india

1520 goodness! Hope they get to Denmark soon...

Now, what I have to do is just change the rom

Just got cyan on my UK 1520 developer unit.

Getting it in the UK on unlocked 1520- had to uninstall DP with Nokia Care suite first though...

I have L1520 from HongKong (factory) but I live in the Philippines and I changed the region to US due to Cortana..which country update should I wait for? HK? PH? US?

Check your ROM - I assume it is HK. If you want to receive the Windows Phone 8.1 update now, you can flash your 1520 - change its ROM. I must warn though it will wipe out all your data/information. I forgot how I did it - you can find it on Google or YouTube I'm sure.

Thanks! got to try that soon :D

And it has the potential to bork the LTE bands, as someone on here found out the hard way - restoring the original ROM didn't fix it.

Yea. So change the ROM at your own risk.

Yeah...From India... Windows Device Lumia 1520. Just updated my Phone to Windows 8.1. Checked the phone manually and it provided a minor update to update the phone to 8.1 and after installing that update, the phone downloaded windows 8.1. The phoen is being installed with 8.1 as i type and hence the fingers are crossed to see the new interface as i didnt downloaded the DP version. So I just confirm that windows mobile 8.1 has hit India.

Received in India ...have to move back to windows 8 from dev preview and then the update worked on 1520.

Got my 1520 updated for Cyan this morning. Airtel Delhi India

Got it !! Holy Jesus I was expecting this for so long !! I just flashed the Finland cv firm on my L1520 and voila !!OTA Cyan updated !!

Should I back my preview up and rollback to wp8 to get the update?

Depends if you want to wait.

I just want to confirm that my wife's 1520 is being updated to Cyan in Finland. No DP in her phone. Waiting for Cyan for my 920.

Whether applicable to 8.1 preview members also who have already downloaded the preview version?

Your question is confusing but, Microsoft hasn't yet resumed the updates for DP phones.

I am from India...downloading updade.. :) You need to go back to windows 8 if you are using dev preview....

How to go back by clicking factory settings?

How to go backwards? Go to factory settings?

Download lumia software recovery in ur pc and it will downgrade to windows 8...don't forget to back up ur data..

If we downgrade to WP 8 from DP 8.1. Do we loose all the saved apps and data???

Which weather app that is?

Received Lumia cyan in India for nokia 1520

You need to download lumia update recovery software in ur pc to downgrade..

Received cyan in 1520 in INDIA :)

I'm in the UK and I downloaded 8.1 on my Nokia 1520 this morning.

Dint recieve any update yet on mu Nokia Lumia 1520!! INDIA....HOPE D TIPS ARE TRUE....WILL SURELY UPDATE IF IT ROLLS OUT ON MY ONE BY EVE!!!!

I guess its coz im on d DEV version of 8.1

Will downgrade first nd give d comfirmation soon!!!

I can confirm it for you. Use Nokia Software Recovery Tool or Navifirm and Phoenix to downgrade to Windows Phone 8 Update 3. You will receive the update.

I am from INDIA. I was using DP on Lumia 1520 and i revert it back. Now it showing update again how can i know that it is LUMIA CYAN not again DP ??

Uncheck the "enable" box on Preview For Developers App (assuming you still have this installed after reverting to WP 8.0)

My 1520 is a CV GBIE. I have 8.1DP installed. OTA check says no update available. Nokia Software Recovery Tool v1.4.3 is telling me I can update to 1028.3562.1402.0001 - Is this the Cyan build?

Nop. It's the Nokia black.

Does nobody read the hundreds and hundred of comments plus the stories over the last few days. If you have the DP installed - no Cyan. If it is available for your phone and you want it revert to GDR3/Black and you will be good to go.

I couldn't downgrade my 1520 to wp8, tried using software recovery tool. Downloaded fine. But USB device not recognized error occurred and couldn't install it. I've developer preview installed. What can I do? I'm from Bangladesh

none yet here in the Philippines.. :( still waiting.. anyway.. I'm so excited for this Cyan update. I already updated my Lumia 625 and it's great indeed. I look forward to having my Lumia 1520 be updated to Cyan .. O yeah!

Not available for my 1520.Btw im on DP8.1

did anyone receive Cortana as part of the update?

Got it yesturday :) finally !

Anyone on DP will have to downgrade to Windows 8.0 to install the update.

repeat this 1000 times because nobody read what other people says about downgrading to get the update

720, India, waiting eagerly!

Please push Lumia cyan update for Lumia 620

Lumia 1520 Vietnam - Im raping the update button. Nothing yet

I'm from Brazil buit waiting for CV Malaysia update

Downloading now (15%) in India. also got a pre update-update.

started download now!!!!!! LUMIA 1520.1 RM-937 HUNGARY GREECE, no operator related. I am from Greece and i confirm Cyan is here!! Note that first i received a small update about 2mb in size and after restart i checked again and voila!!! the big update was available.

Do you had developer preview installed on your phone?

No I did not.i went straight from 8.0.

Downloaded yesterday, I'm from PORTUGAL and I am loving CYAN update!!

Does the update fix screen over sensitive issue on 1520?

Boas. A tua Rom é de que país? E que tal, notas melhoras no problema do ecrã scroll/tap? E o consumo de bateria? Um abraço.

CYAN update finished... I'm from Portugal too - RM-937_eu_euro1_231 Updating several apps

Hey folks, L1520 UK CV on 8.1 DP. (1028.3562.1402.0001) here. Tried plugging the phone into the Software Recovery Tool and it offered me an update to version 1028.3562.1402.0004. Could this be Cyan?

No, it wasn't - just Lumia Black. The phone was originally the Czech CV, but I flashed it with a UK ROM some time ago.
Software Recovery Tool apparently just wanted to flash the original ROM, I looked up the code.

Oh yea! Always complained for the big texts on my 1520 when reading articles on WPCentral.. I so love the text size now.

Folks, I'm currently using Developer preview and what I planned to do was downgrade it to WP8.0 and download the latest update. What happened when i tried to downgrade it using Nokia Software Recovery Tools, it prompt me to update/flash to ver. 1028.3562.1402.0010 which is the WP8.1 with CYAN firmware. The download is th still in progress but hope this help those who have DP and keen to have the update ASAP. Lumia1520 unlock Malaysia.

No luck....it wasn't 8.1 + Cyan but 8.0 + Black. Anyway, my phone didn't receive any 8.1+cyan update after i downgraded it to 8.0. *sigh*

I am from India and in extras+apps its only showing black and not cyan.

When I tried to downgrade my 1520, after fully downloading 1.47 GB, it sucked. Error occurred and couldn't install. I got the firmware version 1028.3562.1402.0001 and Nokia software recovery tool also offered me the same firmware to install. I am from Bangladesh. DP installed. What can I do?

Im from Maldives and i just got the windows phone 8.1 update today on my Lumia 1520. currently installing. Its taking a while. Just spreading the news to everyone curiously wondering when the update will be coming. :D

When it will rolls out in uae?any idea?

1520.1 uk sim free , downgraded to 8.0 and still no cyan update :( .. I may cry out of frustration

Same here. Downgraded but no luck. :/

Lumia 1520 CV (Developer preview) Italy in download an update of 1,61 gb (nokia recovery tool)...maybe cyan? :-D

Sorry mate, doubt it. What was the software version the tool offered you to update to?

is the 1028.3562.1402.0002 that on the nokia page is the number for Cyan for 1520 CV in Italy http://www.nokia.com/global/support/software-update/wp8-software-update/...

Today at morning 6am my dream came true by updating to cyan update

I have one question from all of the people who have updated Lumia 1520 to Cyan from 8.0. Have you got build 12400.899 or one before that? This build was released in DP but then rolled back. I have heard from people that this build resolved screen senstitive issue in 1520 and made it faster. Please let me know what's the final build number you got after updating to Cyan

ok then i think we'll get one more update later

just downgraded to wp 8.0 after taking backup and got the notification. Rolling gears :D

Finally!!! On windows 8.1..Lumia Cyan :D

In India??.... On developers preview?? Cyan??

In the Czech Republic also available.

Hey guys....i got L1520 running WP8.1 developers preview.....India.....trying to update since this morning....checked up settings like a lot of times(like 50).....it still shows no update found.
Then I changed my location to Finland...then checked for update in settings.. Still no luck.... Can anyone tell me wots going on??
Kind of pissed now.

you cant update from DP to cyan yet . Either you will have to wait for a fix from MS which wil allow you to update to cyan from DP or you need to roll back to wp 8.0 using nokia software recovery tool and once you do that you'll get a notification for cyan. I just did and got it

So after this goes this way....
1. Take a 1520 WP8.1 DP
2. Use Nokia Sw Recovery tool....and downgrade the phone to WP8...reboot
3. Get Cyan Update...reboot
4. Then get a formal WP8.1 update.... Done.
Right??
Am I missin somethin here??

You need to not have DP. Downgrade to 8.0, then check for update.

8.1 it is a rocking blasting update Ms.has proved it will be the rival for android and IOS and it should be feared.. i have faith that WP will bypass android and IOS

But cortana is not still available expect in near future

I'm using Nokia Lumia 925. Recently Microsoft has released Cyan update for 925. Before that i was using Developer preview. Nokia suggested to use Nokia recovery tool..and go back to official os. Though I wasn't faced any problems with DP. After using recovery tool..... I should receive Lumia Cyan update. But still I'm not getting the update. My phone is made in Brazil.... I'm living in Bangladesh. Its a country variant phone. So why I'm not getting the update. I'm so tensed about this matter. Could you please tell me what's going on???? Help me

Finally I got windows phone 8.1 update, in india

hey plz let me know howz the battery performance after the update..

flashed my HK 1520 with UK rom using http://forum.xda-developers.com/showthread.php?t=2515453 and RM-937 059V051 in the product type/Product code in the package manager to download the rom and now updating to to cyan/8.1 with no hassel. enjoy other codes here incase you need um http://forum.xda-developers.com/showpost.php?p=49365290&postcount=17

Awesome thanks. Will try this on my hk 937

Flashing Finland CV firmware will give you the Cyan update.

I ve updated my Lumia 1520. It's working fine except Xbox music :( my Xbox music player got disabled I am not able acces it. I opened for a time after updating it to windows phone 8.1. after some time I saw the tile like disabled still it is in disable mode.in app section I tried to open but when I click the app icon it is not responding. Can anyone please help me to resolve the issue??

I am in the USA and purchased a unlocked version ( i believe they refer to it as 1520.3) its a Latin American market variant and works great in USA. As I travel a lot to Finland including this week, as my phone is unlocked, could I download CYAN while in Finland???

Finally I got cyan update on my Lumia 1520..

Changed my rom to UK from HK and I got cyan. Was super easy to do. Now to test the improved camera and dolby audio and screen responses

Hi blue1k i have a Hk model 1520 too, what product code did you use to download the firmware? Did you lose anything as per functionality?

What about L1320 cyan update....In India

1520 - Updated changing my FR firmware to FI lumia white yesterday (no preview for developers).

Got the update in my Lumia 1520 but after the update my cell is hanging abit

Finally got the cyan update in my Lumia 1520 but the update my phone started hanging abit

try taking a backup and do a factory reset, beware You loose software settings, game progress etc... It also depends if you had lots of stuff installed on your system. did you use wp 8.1 preview. apps may still remain on SD card?

Got a notification for Cyan Update for Lumia 1520 in India.

Needed to roll back using recovery tool and then Cyan update showed up, downloading update now. Lumia 1520, India

I used WP 8.1 Preview for Developers on Lumia 1520 in Poland - CV 059V3T4. I had to downgraded to WP 8.0 (via Nokia Care Suite) for UK variant - 059V337. After restart the phone I checked update in the settings - I got UPD to Lumia Cyan. Nice, THX

I have the WP8.0 version 1028.3562.1402.0003 when i connect my l1520 to the Nokia recovery tool it shows me a new update, however it's the same 1028.3562.1402.0003 firmware, it also says that the update will erase ALL my data, and it's 1,69gb. What's wrong? (see pictures for details.) ( http://i.imgur.com/AZ2d8Cw.png )

Got the official update yesterday (Lumia 1520 UK). not 100% sure - it now says i don't have permission to play any of my music, facebook & skype chat has been taken out of the people hub, this is a huge disappointment as the "social" aspect is what attracted me to the phone in the first place. also now the screen is super sensitive and registers scrolls as taps... apart from this, it finally looks like the OS fits onto my phone, rather than just a scaled up version of that used for the smaller WPs. Notification area is brilliant, long time coming, although i don't see why they have got rid of the notifications area on the Me tile... Calendar is fantastic, love the 7 day view. I changed my region, etc and have been playing around with Cortana, and if it works as well in real life, its going to be huge! TLDR: got the update, not convinced, will know when i have used it for a week and compare it to my other WP running WP8

Battery is awesome after cyan and no lags what so ever....its been 10,hours since i last charge my phone and battery is 75% remaining. Wifi on...3 hours of music ...1 hour of browsing...1 hour video...and it says 1 day 10 hours remaining

Cyan is amazing.1520 just got amazing...no heating issues...no lag....battery is amazing giving around 1 day 15 hours of backup lol...

WHEN IS IT GONNA BE POSSIBLE IN FRANCE, THAT'S ANNOYING !! :(

When Lumia 920 get cyan update in india

When Lumia 920 get cyan update in india

So, these countries already have the Cyan Update: Finland India Taiwan Hungary

Hi all, I own a Lumia 1520 Unlocked phone. Bought it on Amazon.com.
I did not receive the Cyan Update. Does anyone know when the Country Variant Unlocked phones are gonna get the Cyan update?? I downgraded from DP to 8.0 to get the update. I've been stuck with 8.0 for two days already.

If you want an update immediately, you should change the firmware, it is not an easy procedure and it is not difficult.

I just change the firmware, installed the RM-937 product code 059V281 Finland, worked, very good.
Windows Central Newsletter
Thank you for signing up to Windows Central. You will receive a verification email shortly.
There was a problem. Please refresh the page and try again.