MetroPCS Lumia 521 is the latest to receive Windows Phone 8.1 and Cyan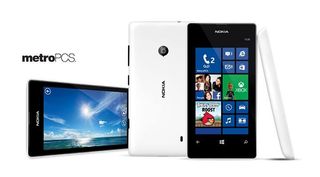 Less than a week after T-Mobile started rolling out the Windows Phone 8.1 and Cyan updates for its Lumia 521, its subsidiary MetroPCS is also making those updates available for its version of the smartphone.
Many owners of those devices have reported getting the updates on their Twitter accounts today. Launched well over a year ago in July 2013, the MetroPCS version of the Lumia 521 joins the ever growing list of Windows Phone devices in the US to get the over-the-air Windows Phone 8.1 update.
If you own the MetroPCS Lumia 521, what is your impression of the new updates for your smartphone?
Source: Isacc Wurm (Twitter); Luke Sandoval (Twitter)
What we need is DENIM !!!

And the truth shall set ye free!

Everyone gets Cyan except Verizon.

Correct. Verizon doesn't get it. They really just don't get it.

Denim hasn't been released yet

I have Denim on my TMobile 521, sent in a tip about it when I noticed it, but never heard anything about it.

You have Cyan, you're just seeing the bug in the extras+info update.

Ooh, I didn't even know there was a bug! That explains it, then!

When Verizon update the Lumia 822?

Can I install this update even though I'm on Developer Preview??? I hope they (The carriers) don't brick my phone o.O

Just as long as you are aware of the risks.

Just installed, I have my fingers crossed!!!! lol

There's no reason why your phone would be bricked if you're using the DP and you update to the official Cyan release. I have the DP on my T-Mobile 925 and updated to Cyan a week and a half ago with zero issues. Don't worry, just go for it!

I need denim for my kick ass 930 immediately!!!!

I live in Los Angeles where there are alot of metro stores.... Unfortunately, I'm with Verizon! What the diddly?!

LMAO...Even Metro PCS beat Verizon

I think Microsoft is trying to have all wp devices on Lumia cyan before they roll out denim?

Then denim will never happen. T-Mobile has flat out refused to update the 810. I suspect Verizon will refuse the Cyan update for the Icon (which was supposed to be one of the first to get Denim in the first place)

Maybe maybe........who knows :)

Screw Verizon. I'm gone in January

AT&T Go Phone is the way to go

And the Lumia 521 is the slowest, worse windows phone ..

Indeed, it is but still can beat a lot of android phones 2x,3x times more. However it's a great option for someone new to the plattaform, I've already converted 4 android users and 1 iOS to WP through a L521. That's how I entered the WP world and I've liked it so much that next year I'm planning on getting a big boy (waiting for windows 10 to see if MS finally give us a flagship device) :)

I disagree as well, the camera blows but I installed cyan/WP 8.1 today on the phone and it runs solid. Fast as all hell. I think it runs better than it did on developer. I'm glad they got the update right and hope that it continues to run as solid. It is a solid phone for what I do and that's just what its going to be about, what you are using your phone for.

OMG Hellllooooooooooooooooooooo .. Why Microsoft? Why Verizon? U all when to update the Lumia 928. When to update Cyan, more than update Denim going now to process.. I'am need Verizon clarification and Microsoft update Lumia Cyan to Lumia 822, 928, Icon. Please!!!! Oh shit .. The latest update via Verizon's.

Unlike AT&T or T-Mobile or any of the GSM carriers, Verizon has total 100% control of their firmware. If Verizon tells Microsoft to go to hell, there is nothing Microsoft can do. Verizon is CDMA that that requires them to activate every phone type and firmware type on their network. If they don't approve, it won't work. Microsoft can't do a thing to fix that.

Which is exactly why Microsoft needs to stop this multi-model crap. Build like 3 phones and put them on the carriers and control the updates. No more of this crap so if you want a pure windows phone experience you buy an MS Lumia and MS will handle testing and updates.

Kinda like nexus regarding a clean Lumia experience?

How can? We need update Lumia Cyan to Lumia operator Verizon (L822, 928, and Icon).

It's official- Verizon is dead last in getting Cyan rolled out to any of their phones! AT&T was first and they had twice as many Lumias to upgrade!

Yes .. Verizon dead last getting Cyan to updating their phones.

Confirmed, after installing Cyan update on Lumia 521 phone is downloading another update. First thing I noticed is a little arrow indicating wifi or celular data activity, I like it! I will investigate a little bit more when it finishes everything. Yay!!!

-Verizon -Icon -928 +AT&T +1520.3

Guys calm down we are not going to get Lumia Denim on our 520/521. Hell my 521 has trouble running Cyan. The problem is the phone has a dual core processor and cant handle the constant live tiles and voice reconition. Quad core is the future for now as dual core is rolling its way out.

My L521 is handling Cyan like a champ, what kind of issues are you experiencing???

Hogwash. I installed Cyan on my 925 at the end of October and have had zero problems. The 925 also has a dual-core processor. Maybe it's just your particular phone having issues.

When Metropcs starts to push out updates before the largest provider in the country, one has to wonder why they're paying all that money and whether or not it's time to switch.

Haha even a post about MetroPCS becomes a "look how bad Verizon fails" post.

So, now Verizon absolutely IS the last carrier to release Cyan.

That 830 on AT&T is starting to look pretty good right now.

Verizon 822..... still waiting! *sigh*

OOOOMMMMFFFGGGG will verizon hurry up already.
Windows Central Newsletter
Thank you for signing up to Windows Central. You will receive a verification email shortly.
There was a problem. Please refresh the page and try again.