T-Mobile unleashes Lumia 521 Windows Phone 8.1 Cyan update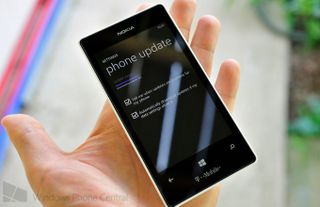 Last week, T-Mobile US let loose the Windows Phone 8.1 update for their Nokia Lumia 925. At the time, we noted that the budget Windows Phone Lumia 521 was slated to get its update sometime in November.
It looks like that day is today November 4 as numerous reports are coming in from users who have a fresh update to install.
We have plugged in our Lumia 521 and sure enough, there is an update. We are attempting to verify the version number of the OS and firmware, but it does look to be Windows Phone 8.1 and the Lumia Cyan software package that users have been wanting.
Lumia 521 users should now be able to enjoy Cortana, the new swipe keyboard, Action + Notification Center and all the Lumia Cyan benefits as well.
To grab Windows Phone 8.1 and Lumia Cyan, head into Settings > Phone Update > Check for update. You will need to be on Wi-Fi to pull down the full package. The backup and installation process could take upwards of 20 minutes, so make sure you have some free time.
Thanks, DigTheNoise, rfutscher, and Hermanthegman in our Lumia 521 forums, for the tips
Windows Central Newsletter
Get the best of Windows Central in your inbox, every day!
Daniel Rubino is the Editor-in-chief of Windows Central, head reviewer, podcast co-host, and analyst. He has been covering Microsoft since 2007 when this site was called WMExperts (and later Windows Phone Central). His interests include Windows, laptops, next-gen computing, and for some reason, watches. Before all this tech stuff, he worked on a Ph.D. in linguistics, watched people sleep (for medical purposes!), and ran the projectors at movie theaters because it was fun.
Finally!!!!!!!! Took them Lon enough!!!!!!

Feels like I've been using wp8.1 for an year now

Sadly, you didn't have to wait as long as those of us who have Verizon's Lumia Icon have had to wait...and apparently, will have to wait.

Sweet. Now lets how tmobile is a little faster with denim.

They shouldn't keep denim far!!!!

I updated my 925 last week, and I'll be damn guys, its not as smooth as before the update.

Yep, now some games don't want to open, and if they do, they don't run as smooth

I don't know why but since the Cyan update Subway Surfers is laggier and drops more and more frames if I play it for a while. Before Cyan I didn't have any issues playing it for protracted periods of time.

The notification centre is always available with a swipe. That's taking a bit of RAM and a bit of CPU. So that's part of the explanation, I think.

I had developer preview though, and it wasn't bad with that

Funny... Mine runs just as smoothly now as it did before the Cyan update.

Through Developer Preview? If so welcome to the horror that is "Resuming"

1sec very rarely on a 925 the horror is a G3 on kit Kat having loading problems for widgets, and slow app start up. Welcome android

and VZW is officially the last to update...probably won't see cyan from them any time in November either

I'm wondering if Verizon is even going to send the update at all...

probably not especially on the discontinued Icon.

Sweet! Now us Verizon users are next! :) +Icon

Only next because there is no one left to update their phones!

Unless you count T-Mobile's 810.

Yeah, that one doesn't count!

Im using the developer preview on my 810 and it says its running denim

I think that was a bug that was reported after the last update.

No Denim on AT&T is next. Verizon is.....never.


+Icon
Let us hope Cyan comes soon to Verizon users...

-Icon its not happening. If it does it probably won't be this year. I already switched to AT&T for a 1520.3 because of this.

Now waiting on HTC lolol. But good for the Lumia owners. As expected :)

htc 8x & the Lumia 810 will never get 8.1 . My guess it's because they are 4g hspa+ , T-Mobile wants to promote their 4g lte devices

The Lumia 810 is a special case for some reason. It was always left out. The HTC 8X was supposed to get it in "late October"... we'll see when that actually is, I guess. http://www.windowscentral.com/htc-8x-verizon-due-get-windows-phone-81-oc...

The 810 should have never existed. I don't get why it wasn't an 821 or something like that. Calling it an 810 makes it obsolete by number. It even sounds like it isn't a WP8 device because all other WP8.x Lumias are x2x or x3x or xx2x.

my guess is they name it Lumia 810 to attract those who liked the tmo's Lumia 710 idk

The link is about the Verizon HTC 8x . I was talking about T-Mobile's HTC 8x

The L521 is 4G not LTE so that theory is debunked. :)

Great news!!! My daughter will be happy!

I'm really hoping Metro PCS follows suit, with this update.

It should since it's part of T-Mo.


I don't think Cricket has released anything even though its owned by AT&T. Then again I'm not affected so I'm not 100%.

They've updated the 1320 after all. All the other phones are listed as not available. Its interesting because that includes the 520. It would be trivial for them to push the AT&T version for that.

Just read yesterday that Cricket will be pushing Cyan 8.1. Didnt give a date though.

Oh lord, my prayers have been answered!

Always reset my phone after a os update

That rule usually can be skipped for Nokia phones but Samsung & htc are a different story

Happy for T-Mobile owners... Verizon will probably release it when pigs fly.

Oh look, there goes one now! Lol

Time to update my dads phone... He will be happy. He hardly could see the text for messages and other reasons.

I love how they use "Unleashed" in reference to an update on the least powerful Lumia device.

Not powerful? They specs are not up to par with flagships, but look at the value you get for the decent power!

Woo hoo! Thank you. I checked and it's there waiting for me to pull the trigger.

Where's 10 its seem like I've had Cortana for like a year now. Unofficially of course

Damnit, I just caved and bought a 635.
I guess I can return it and wait for the 735 that I really want.

Just downloaded Cyan for 521 and it says it's running Denim in extras+info???

Mine is the same on my 1520 and has been since I updated it months ago. Weird.

It's a bug that was mentioned in an article here a little while ago. It's still Cyan version number on the firmware in settings.

Will Microsoft Band now work with the Tmo 521 once this update is installed? I believe that it will, just looking for a confirmation before spending the money on the Band.

It didn't before? There are some features that might not be available without upgrading the OS (via Preview for Devs), however.

hmm, not sure. i never installed the preview for developers on my 521. thanks!

We got a Microsoft Health not available message. The wording suggested it was waiting for an OS update.

And then there was Verizon

Once Cyan is installed there is another update for L521 running DP. After installing both, have to s say, phone is running buttery smooth finally.

Great news about Cyan for T-Mobile 521s. I have one I loan to potential Windows converts, I have it on my family plan so it only costs me $10 ($12 with tax/fees) a month. Made a few converts already and another who will switch when their contract is up. Anyway, I'm confused about the artical saying Cyan will bring Cortana. My 521 on DP has had Cortana for some time despite the phone still being on Black. Was Cortana just partialy working? As I said, I don't use the phone myself.

They mean for those that dont have the Preview version of 8.1.

-Verizon -Icon -928 +1520.3 +AT&T

So when does it get pushed to Metro PCS??? They are one and the same now. I have been running P4D for about 2 months on my Lumia 521 on Metro. Only thing that didnt work was wifi calling. I bet Metro,being that they are a prepaid company,never gets the official 8.1 Cyan update.

Metro will usually a few days after, at least they did with Black. Have hope it will come! I'm concerned since I had to have the phone unlocked and move to AT&T because of coverage problems in the area that I still will get the update. But if you haven't got it yet then I'm assuming I will get it soon.

i tried to update mine but get no update. nokias site says under testing for the 521 from t-mobile as of 11/4 6:17 pm est http://www.microsoft.com/en/mobile/support/software-update/wp8-software-update/availability-in-north-america/

Hopefully, Update 1 comes soon. I must have Live Folders.

yay. finally get to use my 521 with my fitbit

Downloading now. I am curious to see the update in action.

Just updated from the Developer Preview. One thing I noticed is that my Wifi calling app now works. It basically stopped working after I started using the Developer Preview. So that's good. Another thing I noticed is that now I can have Wifi Calling Enabled and still send and receive texts. This did not used to be the case before. I had to turn off Wifi Calling to send and receive tests. What I am looking forward to is the battery life boost that Cyan's optimizations are supposed to bring.

I was so happy to get the update on this phone and my 925. Now I don't feel resentful when those Cortana ads come on tv. If only it didn't take so long!!

For a moment like this, some people wait a life time...

Lucky for you 521 users. Hopefully, you'll get the 8.1.1 and Denim updates soon.

Why would you think that? Many of us have had Cyan for months with no hint about Denim coming to us.

Kinda strange. Microsoft said the 8.1 and update one would be pushed out in 2014.Don't see this happening in the next 60 days with carrier testing on top it :/

This is ridiculously late! Microsoft has to find a way to light a fire under providers.

The 8.1 update killed wifi calling.No signal when wifi calling is on.

Loving the update so far. Its running smooth and liking Cortana. :)

When will they release it to metro PCS.