Nokia's successor to the Lumia 520, the Lumia 530, reportedly codenamed 'Rock'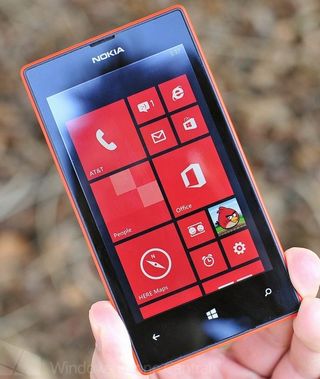 The Nokia Lumia 520 was the sleeper hit for Windows Phone in 2013. The inexpensive Windows Phone went on to become the most popular Windows Phone ever. Last time we checked into stats from AdDuplex the Lumia 520 commanded 33.0 percent of the marketshare for Windows Phone devices. The Lumia 920 (7.4 percent) and Lumia 620 (7.0 percent) came in second and third. Which is why we're greatly anticipating the true successor to the Lumia 520 in Nokia's smartphone lineup. Ready for the Lumia 530?
Nokia currently does have the Lumia 521 and Lumia 525 as inexpensive options in its smartphone lineup. Those are of course iterations of the Lumia 520. Here in the United States the Lumia 521 is a Lumia 520, but just in a different shell. The Lumia 525 is exactly like the Lumia 520, except it has a full gig of RAM.
According to Twitter leaker @evleaks, the Lumia 530 is codenamed Rock.
Like most companies, Nokia is fond of codenames. We know of a few upcoming phones and their internal codenames. Moneypenny is expected to be the Lumia 630/635 and is notable for being a Windows Phone 8.1 handset with dual-SIM support. We recently also learned of the Lumia 930, codename Martini. We're also aware of Nokia Goldfinger, though not much else is really known about it besides it being a super high-end phone with a touchless 3D-gesture system.
All those phones are devices that will launch with Windows Phone 8.1. And as far as codenames go, they're related in that they're from the James Bond world. Though we're having a hard time making the James Bond connection with the Lumia 530's codename – Rock.
Not much else known about the Lumia 530 besides that's codename is Rock. Try your luck at it making the James Bond connection below in the comments.
Source: @evleaks
P.S. Before you freak out, that's the Lumia 525 in the lead image. We're not from the future yet with an image of the Lumia 530.
Get the Windows Central Newsletter
All the latest news, reviews, and guides for Windows and Xbox diehards.