Lumia 550 owners asked not to update to Windows 10 Mobile preview build 14267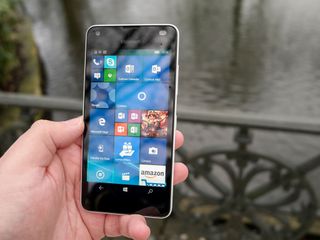 A newly found bug in the recently released Windows 10 Mobile preview build 14267 has caused Microsoft to ask that owners of the Lumia 550 smartphone who are signed up for the Insider preview program to not get that build.
Microsoft's Gabriel Aul has updated his original blog post with this additional note. It offers a workaround for this problem for Lumia 550 owners who have encountered this bug:
Source: Microsoft
Shame? It's a preview, try it on your own risk...

This is not the first build. It should only get better. Of course it is expected to be somewhat dangerous, that's why it's just a preview for installing at one's own risk. But it doesn't change the fact that the pretty near-to-end build of the OS almost bricked a very new device, that is a shame.

no. it's a preview, it doesn't matter how close to finished it is, fix one bug and get 99 new bugs in place

I get that. That's why I mentioned the risk factor. But come on, it's a major one. You would think that they have some test devices they install these updates on. Some green tint on every photo taken is a bug that's excusable for a preview build. But this is a critical one that they needed to post an urgent warning for.

The people who are testing probably don't have 550's... I'm testing on a 950XL and a 1520.

Is that bad coding, bad QA, or both?

Considering that coding is supposed be a type of work that you make mistakes and fix them, and mistakes, then fixes... This is not bad coding, I would say. But this is clearly a QA screw up. Don't they have internal rings, test devices? Did they just forget to test this thing on one of the only 4 handsets?

I agree, this is a major QA issue that we all now have. In development issues can happen especially on lower branch where bugs are more frequent, this is where the QA team to help them out to eliminate those bugs before it will release to the wild. Microsoft seriously needs to do something with their QA team, not because of preview builds are buggy but because public builds are still highly unpolished and quite buggy, which isn't acceptable for public release a d especially for a brand that is already tainted. It seems like their QA gone down low since the massive layoffs last time where alot of those are part are of QA teams. Relying alot to Windows Insiders for bug tracking is really unreliable. Insiders don't have a tools nor methodologies for bug tracking and number of Insider are composed of just wanting to have new builds and there are also are "fine" with bugs because of misguided reason that it is preview builds, bugs are normal. Still kudos to those Insiders who really do report issues using a feedback app.

You have zero experience wih software development, right? Otherwise you definitely knew better than that fud you're spreading.

No, I don't have any experience with software development. The knowledge I lack should be something that justifies a critical problem such as this. I don't argue about how a problem like this could happen. I just criticise the fact that this build was released with it. They should have checked for this beforehand, am I wrong?

You can't check every possible combination of hardware and software. Look, Apple offers very little diversity when it comes to hardware configuration, yet every release of OS X holds tons of bugs. Minor as well as major. Now imagine a rather huge variety like we have in this particular case here.

This particular build was only released to the new devices, though.

That's true, but it doesn't change a thing about the fact that it's very common to have bugs slip through. Even showstoppers. That's what preview/insider programs are for.

If they can't catch showstoppers like this before the insider release, they won't be able to stop rather embarassing bugs before official releases.

Discussing with you just doesn't make any sense. You obviously have no idea what a preview program is meant to be for or how things really work.

So basically the preview program is to discover bugs that slip through the cracks, that way they don't release unstable builds to the public. The discovery of this bug is the main reason you have things like "insider programs". This bug also comes to show that the OS functions differently from device to device. Can you imagine how complicated it must be for the developers to overcome the production obstacles of this OS?? Then to top it off they have to deal with the demanding public. Kudos to Microsoft.

So they let this pass through because of the huge public demand? This is not a public release, only insiders' demand has a role in this, if that's a thing. And no insider should be ok with a screw up this big being released untested.

This is beyond ridiculous, sorry.

I think the preview program was more about allowing users to provide input and have a say on new functionality and features than bug reporting. They could just as easily allocate internal resources for that. If they went that route you wouldn't see a build until it was feature-locked.

Nope, it is actually meant for both. Your employees cost money, whereas volunteers do not. Not to mention that the number of testers outside is far larger than the number of internal testers at Microsoft.

This is the first build from a Redstone development brand, so your argument that builds should only get better does not apply.

They start from scratch, is that it?

No, it's more like a car, the first set of new builds mess with the core OS (the engine) to refine it further (get some more speed). That's what's going on right now, and some of the worst bugs come out of this part of the upgrade. A couple months down the road, they'll put the hood back on and start messing with the interior of the car and the electronics. Maybe a large bug will come up, and we'll yell and tell them about it, but that's what happens.

Well, that clears things up for me. Thanks! :)

It's hard developing. Like for instance I had an app running great. A few lines of course later my app was dead. I deleted those lines and still got a dead app. Had to start all over

In a manner of speaking, yes, they do. They reach a stable base of code in 10586.x, right? So then a big bump to reset the dev process and sync up teams. Then they start introducing all the brand new code for new stuff that isn't fully tested and vetted out yet. This is how this process works. You can only really PROVE it is working when you get a large test group, hence insider program.

It's just that I always thought that they had test units (like, at least a single Lumia 550 at hand) themselves, to try when the software first meets the hardware. The distribution of the update, responsiveness of a certain server would be the kind of parameter they could only test with larger test group.

They probably do have test units. It sounds like this isn't something happening to everyone, so they may not have seen this issue. They may also not be using the test units like normal people would, so their milage will vary due to that. It could be a phone with a certain setup on settings and apps triggers something, and they can not test for all that. Even if they tried, it could involve some junk left behind from an update on the system or app side. Or any number of possibilities more. That is why people become Insiders, to help test these things in real-world situations and setups.

Yes, actually, it IS the first Redstone build in the FAST Developer Branch. If you expect it to get "better" you should be in Release Preview Branch.

It's in a development cycle and bugs like this do appear..It's not a shame..

Doesn't matter. If they haven't been able to release a stable OS yet they shouldn't be rolling it out to public or selling phones that comes with these. Get real. Posted via the Windows Central App for Android

They have already released a stable os for phones... Four actually. So, why don't you follow your advice and get real?

It has not rolled for public. Duh. It's for insiders. -_-

Sm shud be ashamed for theese bugs and official updates they are all still full of bugs its realy embarrising takes ages dor them to get a final os for mobile if they ever will finish

Official? What? These a preview builds, no where near official. Bugs like this are to be expected. If you want official, stay off the Insider Program.

I am not an insider and have the official 107 update and its still full of bugs cmon ms shud do better and make a good os and if they cand than pls quit with mobiles,

I have the .107 build and I don't have bugs. The mileage does vary depending on every user scenario.

It is not full with bugs. Just stop.

I think he left his phone outside in the dirt overnight. Maybe he's talking about insect bugs.

I am sorry but is has Bugs foto album its a mess still getting restarts en alot of tiles dont work and dont tell me its my phone becose its the os before u bring a phone out make the os normal or just wait with releasing it this is ambarrising Posted via the Windows Central App for Android

I don't wish to seems rude here, but if you're going to insult someone, should you at least spell it properly? If you're having issues, please go onto the forums and ask for help. Perhaps there is a simple explanation.

The trouble is that with bugs like these it might take several months before the official release of Windows 10 Mobile.

This won't be part of the official WM10 rollout, this is the post WM10 Redstone branch build which won't be seeded out until later this year (probably Q3/4). 10586.xxx builds are the TH2 or WM10 general availability builds.

maktaba means library hehe

Why? This is the development branch for the next big update...

Bugs like what? Not being able to charge? No, this is not to be expected. This is more like alpha software bugs that are supposed to be caught internally before Insider release.

No, it's more like a car, the first set of new builds mess with the core OS (the engine) to refine it further (get some more speed). That's what's going on right now, and some of the worst bugs come out of this part of the upgrade. A couple months down the road, they'll put the hood back on and start messing with the interior of the car and the electronics. Maybe a large bug will come up, and we'll yell and tell them about it, but that's what happens.

Lemme remind you that this isn't the official update. Nor a preview for developers. It's for insiders. Do you even get what insider means? So such bugs are gonna be there. Big or small, a bug is a bug. Not saying its a good thing. But if you have any idea about coding, then it is not like if you upgrade a software from an old one, you wont have new bugs. The older build didn't have this problem. But then this one had some issues, so had this problem. Also, this isn't for every single 550. So. Cannot expect anything like that when you have "agreed"the terms and conditions while signing up for windows insider program.

Are you kidding me right now? Lumia 550,950 and XL came with these 'preview' software installed. If that's not a shameful sight then I don't know what is. Posted via the Windows Central App for Android

You are kidding yourself. You don't know what it is, period. These phones did not come with 14267 installed. 14267 is a preview (aka alpha, beta, release candidate whatever you want to call it) with Redstone features, and is different from the 10586 branch. Try it at your own risk.

your inability to use a keyboard correctly is "embarrising"

Should be ashamed of your typing, is that from an android or iPhone...Spellcheck

if you do not like their work then why don't you switch to android or ios instead of wasting time here.. shame

I think you may be quite confused with what is happeneing here. The builds being released now are for the Redstone update. These are not the cumulative updates you are looking for. However, I also think you and ​many other people on the Insider program haven't gotten far too used to receiving stable builds on the fast Insider ring. At the beginning it was a haven for bugs, do you not recall? It was messy and things were expected to not be working. Moreover, that was when they were being more careful​ with what builds they release!! A reality check is needed here.

If you do not like their work then why don't you switch to android or ios instead of wasting time here...shame

Wow, that's a really cool bug. I actually like it

Best bug till date. Only true insiders can dare to update.
Best chance to show that you are the biggest fan! Posted via the Windows Central App for Android

Cool bug indeed. The Lumia 550 will get even more popular.

Although I have 525 and not the 550, this bad news is really freaking me out as one of the fast insiders. That is considered a critical issue not being able to charge or even connect any usb peripheral!

With a 525 you're not even eligible for the new Redstone Insider builds... so rest assured ;)

They said same for my Ativ S...and here I am, rolling it.:-D Posted via the Windows Central App for Android

The update rolled out for 550, 650 as well, I believe, and 950 and XL, via Insider Program. No one HAS to get the updates. It's pretty clear when you sign up to the insider program that you're going at your own risk. We're testers when we agree to it, not the "end user".

Don't worry. You won't be getting this build. Didn't you read its release article? It clearly read that the build is only for the new Windows 10 Mobile phones. 525 is three generations old.

I know it guys. Just stating out my opinion, don't u guys worry :)

Preview users should be banned from complaining online. You lot signed up for beta testing the OS, why don't you get that in your heads first?

You apologist should be band. "This is ridiculous that they told us we would have Windows 10 Mobile a year ago and still nothing" "Stop crying and download insider preview" "Insider Preview is a mess" "Stop crying, its Beta"

Nobody has told you when you were supposed to get w10m, that is just not true.

Amen. That is MS right there. Posted via the Windows Central App for Android

Yeah right, coming from an Android user. LOL.

Yeah... It gets old real quick with all these android users complaining about microsoft.

I have interest in windows 10 mobile and hence I come here. Mind blown right? Posted via the Windows Central App for Android

By the way, it is ' banned. ' and not band. And also, this ain't preview for developers. This is for windows insiders. So cry if you want to. But you are wrong.

Breaking voicemail and USB connectivity at this point is extremely questionable, where's the QA?

This development branch is entirely new... It is the first Redstone build made available.

Weren't they supposed to have more control over the initial Redstone builds since they've chosen to limit them to only 3 devices?

Well, apparently everything goes with Insider releases. What a colossal screw up, if you ask me.

I had an odd experience with my 950 on this build last night after it's battery died. I plugged it in as normal. It never turned on though, gave no indication it was charging, nor came on after 10 minutes of rapid charging. I felt the charger to see if it was warm which meant it was doing it's magic, then I held down the power button forever and it came on. So, who knows?

Ms should cancel Windows Phone already, it is a complete failure already

Could you justify your comment?

Cancelled. It's windows 10 mobile now

Yeah and then same goes for Android cuz its still.... You know 'hangs' and in 5 years it did everything but improving the task manager threading!!

But how do you determine what is a success and what is a failure? Despite popular misbelief, Windows 10 Mobile does not have to be the number one phone OS to be deemed successful. A niche product can be successful, and right now, that's what W10M is - an alternative to iOS and Android. And if it has a customer base, and phones are being shifted, and it has a plan (it is an integral part of Windows 10 as a whole) then that is not a failure.

"But how do you determine what is a success and what is a failure?" Return on Investment (ROI)? We all know MS isn't making any money on Windows 10 Mobile, and spending a ton. Kind of up to them what the required return is. Presence in the space? Technology developement? Actual profitability on the device (like Apple), or the services supported by the device (like Google). No, you don't need to be #1 to be successful, but you can't continue to pour money down a hole forever, without having some plan for climbing out of that hole. Maybe you can stand on the money.

Stop trolling, you are making yourself look stupid.

W10M is the same core build of W10 desktop. You don't just cancel it because you say so.

How is that a complete failure when I am using it as a daily driver? Can you elaborate your position instead of these mindless oneliners?

This build makes my 950 unresponsive while on charger. Have to soft reset

Yeah same problem here, had to roll back to pevious build. Any known fixes?

I've been scoping forums and sites to find out (Ps - love These new notifications with windows central)

Love windows phone, but sugar coat it all you want... The handled Windows 10 Mobile like a band of retarded monkeys. Time to get rid of this lame duck CEO that can't focus on the entire company. For every great thing you mention, there is just as many huge bobble ***** by him. Bye-bye.

Right. So where can I buy your book on how to run a multi-billion-dollar, multi-national technology giant?

You fail to realize how a company works.

Did I miss Nadella's retirement announcement? Maybe you should look up 'lame duck'.

Oh I finked that my phone is dead.. Thanks Windows Central and Microsoft!

No, only bad trolls keep repeating that.

Yeah like for every problem use recovery tool and rollback! As if Microsoft sponsors us 3 GB of STABLE internet usage for rolling back!! Please show some seriousness Microsoft rolling back again and again is really ******* us off. And do check your builds on your model devices before its release, this mishandling is such an irresponsible act.

If you can't allow for a rollback every now and then you seriously should NOT be previewing software... Get your act together.

If you want stable and bug free versions, stay out of preview. And if you want a relatively stable and bug free windows 10 experience, stay in the slow ring of the preview program. No one forced you to download something off the fast ring.

If you don't have a STABLE internet, the preview program is least of your problems. Start being responsible and stay out of the preview program.

A humble reminder that this is a program meant for testing software.

Can you test without charging your device?

This update is really buggy. It has caused gadgets app to be unusable on 950XL and Bluetooth contact sync.

My gadget app works on my XL with me DT903.

As a software developer, show stopper defects or bugs should not make it out to external beta testers like that.
Microsoft has a major QA problem with bullshit like this.
This is the main reason why I'm on Slow ring, not Fast.

I work in QA for a living and totally with you on that. I also moved to the slow ring because of constant issues like this, it's not worth the pain.

Constant issues like this? What?

Oh I guess you haven't been on preview from the start and suffered such things

I have, with my 920 and XL. Neither have had any "constant issues like this". Would you mind pointing me in a direction of these constant issues?

I am certainly with you on this. If you can't stand alpha or beta problems, then stay out of the preview program or at least move to the slow ring. Those people (including Android users) who cry about problems like this don't know what the purpose of the preview program is.

I love how he gave a solution to correcting the issue. Anyone who has flashed roms or used beta/previews know this is part of the territory. The real problem is when you get left high and dry with no way to fix the problem.

What do you mean with that. If you do not know how to use the Recovery Tool you never should have installed a preview in the first place.

First time I know about this flashing mode!!

Thank you fast ringer. We slow ringers salute you.

Every OS has it's own bugs... Oly v r complaining this much!

who's waiting for that HP phone reveal? :)

My 950XL got this release a day or so ago. Twice it has locked up while charging, requireing a restart. Glance screen was on, but no buttons worked. Held down power to force off and reboot. Twice it has not found the SD card when rebooting that way. In both instances just doing a normal power off, restart brought the SD back. I have everything possible sent to the SD card, so much is not available if it can't find it. In both instances, even after the SD card was re-discovered, all my off-line maps began to re-download. That appears to be because the off-line Maps location changed itself to Device rather than SD. It seemed to know what it should have, but they weren't where it thought they should be so went to get them. If your insider phone is your only phone, I would consider skipping this if it isn't too late for you. I use a 950 day to day, and it is not on insider. I deal with the RTM bugs, but not the preview bugs ;)

this build is the most buggy build ever on a windows phone, for real

What the irony is how can you roll back if USB does not work!!!! ANY LOGIC???? It clearly says You will need to connect your phone to your PC via USB first, open the Windows Device Recovery Tool and choose "My device was not detected", choose "Lumia" and turn off your phone and let it reboot in order for the Windows Device Recovery Tool to detect your phone and reinstall.

By following the steps he wrote...

How many 550s were testing in the Internal Rings???

How does knowing that help anyone?

It would convince at least me that Microsoft has some minimal test base in place before they release to Insiders.

Instead of criticism and sarcasm lets help 550 owners on this issue.
One thing I noticed on Gab's instructions connecting your phone to your computer. My experience has shown better results if you launch the win device recovery tool first and then attach your phone to the machine USB port for detection.

Wtf they rollout OS like this

Do you realize this rollout wasn't meant for anyone but testers? I hope you have a little bit of knowledge of beta testing software vs rolling out an RTM build/General availability. Posting half-knowledgeable comments is certainly not justified. And to reply to another comment of yours, do buy an android device next time and make yourself happy rather than ranting here.

Really annoying MSFT is not interested to rollout W10 until end of 2016

W10 is out already. What are you talking about? But if you are referring to W10 mobile, then perhaps please post a link to a Microsoft announcement that W10 mobile will not be rolled out until end of 2016.

The OS is just a waste ill buy an android instead of using stupid windowsphone no apps n features MSFT also has a lot of app for android not for WP

my Lumia 550 after update did not want to charge battery anymore so I just bought Samsung Galaxy A3 2016 great device - sad but goodbye W10M I hope MS will finish this OS until 2018

LOL, seriously, you bought a new phone, used it in a preview program without knowing what you were loading, and abandoned it without trying to fix it. You HAD a fully functioning OS (10586) already in your Lumia 550. The 14267 build is a new branch testing new features of Redstone, which is the next next release. This is so ridiculous to me that somehow I doubt you actually have the 550.

!waiting for the official release anymore

Anyone else having major notification issues with this update? Put it on my 950xl and rarely getting notifications now and nothing goes to my Microsoft band

There is a problem with my Lumia 950 after this install. Wen ever i use the mobile data icon to switch on/off the data the phone gets struck and again I have to restart it. I have tried it many times and suddenly it works and again it stops. I couldn't use my data from 24hrs. Some times wifi also dnt connect. And i have reset the phone and installed all the apps from scratch. It appeared that the problem is solved but after few hrs it again started. And now I can't use the WhatsApp. It keeps loading but never loads. Any solution? Wen will a next update be given. Some times the glance screen appears but nothing works then have to hold the power button for 15secs which restarts the phone.

Okay, yes. This is a bug and I was one of the 7 people who reported it. Yes, Microsoft needs to fix this but no. This is a preview build that you are warned before you get it that u will experience bugs and problems like this. If u don't like the fact that this has happened then don't join the insider preview. Simples

They made this update available for the newer phones, but previously warn us not to put preview updates on our daily drivers. Makes no since.

Had this same issue on Lumia 650

I'm getting Redstone update on my Lumia 640

Still can't get 14267 on my M8. Not sure why...=(

this has to be the WORST build for win mobile 10, i hard reset twice my 950 XL, not going back to this build, i will wait to or three updates.
Windows Central Newsletter
Get the best of Windows Central in in your inbox, every day!
Thank you for signing up to Windows Central. You will receive a verification email shortly.
There was a problem. Please refresh the page and try again.