Lumia 640 and 640 XL get a firmware bump in Latin America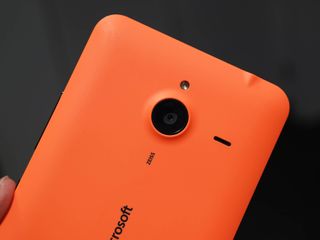 It appears that the LTE versions of the Lumia 640 and Lumia 640 XL in Latin America have a small firmware update available. The update, which seems at the moment to be regional, bumps the firmware of both phones to 02177.00000.16025.27003.
From WindowsPhoneApps.es (translated from Spanish):
It's not clear at this time what, if any, changes this update brings. We'll be sure to keep you posted on any developments.
Source: WindowsPhoneApps.es
Windows Central Newsletter
Get the best of Windows Central in your inbox, every day!
Maybe preparing for Windows 10 rollout?

R u dreaming? Next delayed announcement coming to your theatre soon! :P

I wish something would happen to the 640 here in the US. But I'm not very optimistic. I get the feeling T-Mobile is pulling the plug on it, just like they did on my 810...

Why not sign up for the insider preview?

Careful with the 640 and the Insider Preview. WiFi calling doesn't work. Looks like the fix is in, but is beign tested. http://answers.microsoft.com/en-us/insider/forum/insider_wintp-insider_c...

Oh I didnt know that. I dont have wifi calling with my carrier and if I did I probably wouldnt use it becasue I have unlimited calls and texts lol. But it is good to know that!

Tmobile already pulled the plug on it like last summer though.

I'm not receiving the update yet. I'm living in Mexico with Lumia 640xl 3g version.

The article mentions only the LTE ones got it so far.

All lumia 640 are capable of LTE

Actually not. Mine is the single SIM 3G model

Windowsphoneapps.com from Spain.

I'd get this, if I wasn't an insider.

You can, just open the insider app and select the production line. Reboot and then check for updates. If your area is getting this firmware it will download and install it. Once done just reenroll into the ring you were in to continue to get future updates.

It's false, I have a MS Lumia 640XL CV LTA and I don't update my phone, this firmware version is October 2015 update, the explain is that Latin America carriers don't release this update, and pushed now

Perhaps its to fix regional problems... ???

I just update my 640 LTE, @Italy

Got the update on my Claro 640 LTE in Argentina. I don't notice any change but the build date is 01/22/2016 bumping firmware to .27003

Are you on Windows 8.1 or Windows 10 Mobile?

Thanks for the answer, until now only people on 8.1 got the update. It seems you have to be on 8.1 to receive it.

That seems weird. You probably just need to opt into the Production ring in the Windows Insider app.

I'm on Windows 10 insider on my 640. I'm with MetroPCS. WiFi calling works fine.

No update for my 640 lte CV Nl

I bought a prepaid AT&T 640 LTE that came with the option to unlock it, so I'm using it with a Latin American carrier chip (Tigo Guatemala). How to know which updates can I get? Will I see this firmware update?

It sounds like if you are using the att version your updates will
Be controlled by att.

my 640 is not LTE since Microsoft doesn't sell this version in Brazil, another disappointment of mine (950, 950XL and 550 are not even scheduled for release here)

and no surfaces, no bands, no high-end keyboards and mices, etc

But you can buy them from amazon,eBay...right??

No, amazon doesn't deliver anything besides books to Brazil due to to-person import taxes that usually double the price (I'm not exagerating, sometimes it is even more than the price os the eletronic itself). for ebay probably the tax still aplies, I've only bought small things like old games because of that.
​If a company like Microsft import and sells the product here there are still taxes, but they are usually way lower than if I try to import it myself. That's what Lenovo, former Vaio, and other companies usually do, but Microsoft has verry little hardware presence here, it's mostly just the phones and some keyboards and mice. not the top ones, like Arc touch and Curve, just regular wireless dongle ones (I wanted a bluetooth mouse and had to buy one from dell)

Nadella sold the Manaus factory that makes Lumia's. Though he promised that manufacturing will be just outsourced and will continue. Lets see if Nadella is to trust on anything.

Nadella doesn't give a damn about MS phones or Brazil.

Okay this update seems to be for the Dual Sim 640 LTE only (I've the single sim LTA MX ROM running on my AT&T RM-1073 and nothing yet).

Nope, mine is single SIM. Got the update

Interesting. The firmware revision in the images point to the dual sim ROM. I've checked mine several times but it still shows up to date. Care to share your phone variant from extras+info? RM-1073_XXXX?

That's Argentina ROM, the one I have is Mexico ROM.

Will it come to India also?

When is Windows 10 coming to 640 and 640xl?

Abhi ro sab update ho raha he..win10 kab aae ga

Well we do need the Windows 10 bump soon

I'm on Personal in Argentina and the update shows up, but it gives error 801882cb. I also get the store error 805a8011. There's 1 Gb free space in the phone memory, and the rest of the stuff is on an SD card. Anyone know how to fix these errors?