Lumia 730 and Lumia 830 forums are now open and ready for you!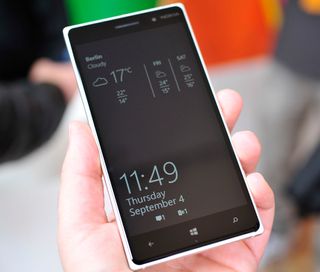 Hallo! Earlier today Microsoft some new Windows Phones at IFA 2014 in Berlin. We have the affordable flagship, the Lumia 830, and the new selfie phone, the Lumia 730. That means we have a new destination in our forums if you're interested in these two devices!
The Windows Phone Central forums are a great place to go and talk about anything Windows Phone, Windows 8 and Xbox.
If you're interested in these two new devices, be sure to check out their respective forums and talk among like-minded individuals!
Windows Central Newsletter
Get the best of Windows Central in in your inbox, every day!
All that matters to me is when AT&T is getting them. AT&T now only sells the 635 (Junk entry phone), the aging 1020, and the 1520. If you want a mid level phone, you have to buy a refurb 925 or 920. AT&T needs the 930 (Which I still can't believe is not ever coming) and the 830 to replace the outstanding 925. As a mobile admin at my work, these current choices are not acceptable for our mass deployment. AT&T's decisions really puzzle me. They championed the WP from the beginning, and now we can't get a decent device. Verizon resisted WP for so long and now has, what I consider the best phone on the market, the Icon (929).

According to Paul Thurott (who has pretty good sources inside Microsoft) on the Windows Supersite, neither of these two devices is coming to a U.S. carrier, at least not anytime soon.

Totally agree about the 930. Blows my mind they are not getting it. Out of everything available the 930 is what I would buy today if it was available through AT&T despite the lack of expandable memory and glance (I do like the weather for glance though). I'm being forced to go with HTC if I want to upgrade in 2014. However, 2015 is around the corner and I can live with the 1020 until they announce WP9. Heck, I'll wait until 2016 if I have to in order to get a Lumia that has all "I" want feature and spec wise.

Hmmm... well then I have no idea what to roll out to my users. NOT the 635 by any stretch of the imagination, and the 1520 is too big and pricey for enterprise deployment. The 1020 replacement? With the rate at which AT&T is failing on delivering, I'm guessing the 1030 will never come to the U.S. Hopefully the HTC M8 will show up at some point. They say "Soon", but we all know that with AT&T, speed and following through is not their thing.

The 830 was rumoured to be rolled out in the US carriers via three exclusive variations.

Wow... How can I put the weather on glance mode ..??

I also would love to know the answer to that

it's coming with next update : LUMIA DENIM ( a.k.a windows phone 8.1 update 1 )

it already exist update 1 :P

it's a developer preview update 1 official known as Windows Phone 8.1 update 1 lumia denim ( a combination of microsoft and nokia )

Does it work with Cyan + DP GDR1?

Hey Alexandros... How can I download this weather look with my current Lumia Cyan.

I have 8.1 update 1 but cannot put the weather on glance like in that photo.

Not aka update 1!!! You got it all wrong

That doesnt look like a glace screen to me. It seems to be the lock screen.

What is the weather app on the pic?

It's glance! The new glance with the new Lumia Denim firmware update

What will be the price for Both Phones and when it will available here in INDIA..?

it comes : LUMIA 730 : RS . 17,500 LUMIA 830 : RS 23,500

When it will be available here India...? Both are comes with Lumia Denim

yes at the end of this month

NL 730--₹15,836.15
NL 830--₹26,062.27

What about L735 ?? Are they going to launch in India ?

I don't think so.. The 635 is also unavailable here.

no 4G network so no 4G Device

Now where's the oneplus one equivalent?

Bro One plus one is not as trusted as MICROSOFT ( NOKIA ) MOBILE OLY one plus one - don't have the super cool windows phone 8.1 lumia denim one plus : don't have the ability to run a long time battery ( but lumia 730 , 830 gives best battery 2200 mah with 1.2 quad core ) without any lagging .

Won't it get Denim later on?? Will Microsoft drop support for a newly released phone?? And it is the only handset right now that can run Hey Cortana by the hardware swipe which can't be done so in any lumia leave aside the 730 and 830!! It is the 2nd fastest phone in the world right now and except its camera and dolby features is I think the fastest WP available!!

You have no idea what the One + One is, do you?
For starters, the One+ One has a 3100mAh battery. And no, it doesn't have WP8.1 Lumia Denim. Because it runs Android...something over 80% of smartphone users seem to find "super cool". One+ One is done by OnePlus...a company completely owned by Oppo Electronics. And Oppo has as much given proof on the market as Microsoft Mobile. Microsoft Mobile ISN'T Nokia and they don't get to use Nokia's history and reputation just because they bought half their D&S division (since the other half was fired). Also...perhaps you should catch up with the times. That "lagdroid" talk is as much current as it is to judge Windows 7 or 8 based on Vista. Here's the One+One specs for you, then you'll understand why Bacalaohombre said what he said: 5.5" 1080p display
3100mAh battery
2.5Ghz quad-core Snapdragon 801
3GB RAM
16GB OR 64GB of storage capacity
5mp front facing camera
13mp SONY EXMOR IMX214 with 6 lenses rear camera with dual LED flash. PRICES: 269€ for the 16GB version, 299€ for the 64GB version. Do you understand now why he asked for a Microsoft equivalent? This is a TRUE flagship device (unlike the 830) for the same price (if not less) than the 830 will cost.

Ok so? Posted via Windows Phone Central App

Thanks for explaining in detail

it runs android ... so we cant compare .. android uses more battery and needs more memory :) .. but good phone already see some reviews ...

actually, it comes with a modified android (Cyanogenmod)

What happened to the "Microsoft Mobile" branding on 830? Does anyone care?

no one care about branding . whether it's NOKIA or Microsoft we know the phones are made by both !! ( it's like no matter whether we pray lord jesus or lord ganesha - we know both are god )

You know nothing, Jon Snow. 1 - People CARE about branding. If people didn't care, they would have never bought into Windows Phone. 2 - NO, it was not made by both. Nokia has nothing to do with these phones. Ex-Nokia employees made them. 3 - For everyone's sake, don't ever bring religion into internet comments. It's always bound to offend someone.

That person is just spamming the comments section without any knowledge about WP!!

I don't care! I love Nokia and MS. MOSTLY MS Posted via Windows Phone Central App

Jesus isn't God...
Jesus is the son of God.
Both of whom I do not believe in ;)

That device was a prototype... Not everything always makes it with prototypes.. They were just testing it with people.. Probably a focus group device.

That image was a fake. Someone just photoshoped it. Microsoft is going around the original deal terms, with Nokia's consent of course, and using the Nokia branding on all the Lumia devices that were started by Nokia, even if the final work and decisions weren't made by Nokia anymore. That's why the 830 and 730 still use the Nokia branding despite not being Nokia phones. After they run out of phones started by Nokia though, they'll have to have a branding in place. And they'll probably just call it "Lumia". Notice how in the press conference today, the guy that did the show NEVER refered to the phone as a "Nokia Lumia" nor used the Nokia name for a single thing. Microsoft HAS to phase out the Nokia branding and "Lumia" seems to be the one that was chosen to take its place.

If they brand the phone with that crappy name. Nokia by Microsoft that would be meanning that Nokia is just a name of the device and not a brand. Like let s say. One Milion, by Paco Rabanne, and so on, a name of a smell. In this case, a name of a model. Besides that sound uterly ugly, this will also be a killer for them. Microsoft would have never sell wp if there wasn,t Nokia brand and quality all over. And, my two cents opinion. Microsoft killed Nokia, and they will never manage to bring it alive again. NEVER! All i can se is that they bury it right now. And if they will turn it,s name from Nokia to Microsoft. Well, they can kiss their left costumers goodbye.

Weren't they already opened since the leaks of the 830 and 730?

I was very please with today's announcements... Very, very pleased... WP is the best!!

Did you notice? No Eflop!
And no mention to the name "Nokia" which at least is honest from Microsoft. These phones are as much Nokia as a 5S is =P

But those Nokia accessories DJCBS....

What about them? Because they have the Nokia logo there? Well, the phones also do and we all know they're not real Nokia phones. See what I wrote above about the phasing out of the Nokia brand.

You're not going to start crying are you?

@DJCBS I really can relate to you(as being brought to WP through Nokia) but don't you think the kind of phones released Lumia 730 (lacking glance) and Lumia 830 (with such less s400 processor that is found in budget phones) reminiscent of Nokia, they always do this for most of their phones with features lacking in one but present in another which lacks different features. I was by the way underwhelmed with the phones announced, thought Lumia 730 was perfect till the omission of glance was mentioned.Also only two phones announced, it's a bit meh, with me getting used to hear Nokia announce a host of phones at this time of the year. I was kind of hoping to upgrade my L925 but seems like that's out of question with these phones, non availability of L930 in my region and L1525 being too darn big. Any suggestions?

Lol!!.. I'll judge how much Nokia they are when I get my hands on one... If they look, feel, and smell exactly like a pre acquisition Lumia, then that's good enough for me.. And, you too, if you'd quit being so political about this.

Its a shame really, Elop got to him so badly that he feels he must turn his back on the devices, the devices that will continue to be built with high quality and production. I say shame, because I know he'll be making the jump to android soon. I've been seeing him more active on android central lol (still defending Nokia) which I find so confusing lol

Yes... These are the same old Nokia devices.. Nothing else.. I don't care what they call them, because they still provide the best WP experience.

Chris weber must have said "Microsoft" around 10 times in the first couple of minutes lol. It won't be long before a parody gets posted :p.

Is this phone will arrive in indonesia?if yes when and how much the price after tax?

sepertinya harganya itu buat 730 sekitar 2.8 juta, dan 830 itu 4.3 juta... itu baru perkiraan aja ;)

bner segitu gan harganya? kirain 5jutaan buat 830

bisa juga 5 jutaan gan, ane juga baru ngira ngira aja... soalnya itu juga harganya sekitar $443...

mudah mudahan ga sampe 5juta yaa, soalnya keren banget hahaa

Sam has to recheck the first phrase.....

Do Lumia 730, Indian version support wireless charging, and glance screen..?? Any comments

If I like taking pictures of my self you think I'd like taking pictures of other things. I want good ffc and regular camera.

Is that a mock up or what ? Weather in the glance screen ? That's sweet

Looks to me like the standard lock screen with a black wallpaper...

I kinda like how they're recycling previous flagship models into midrange models. The 830 looks a lot like the 930 and 925... and the 730 is reminiscent of the 920. Kind of makes them all seem kind of premium.

Lumia 830 is not at all a good deal... It uses the same processor that is used in Lumia 630 n 730. Plus has a less mah battry than 730.. Jst a 10 mp camera n 5 inch dsplay doesn't seem to be working. One more thng..dsplay resolution of both the phns is again same so 4.7 inch screen has a upper hand again. Lumia 830 will consume more power so more mah battry shud hv given.. With same processor Bt a more mp camera it may lag sometime.. Plus Lumia 730 will be around 16000 in India and 830 will be around 28000. So when the heart inside is same y to waste almost 11-12000 for 830... What do u say guys

What's the weather lock screen in the photo?

not a lock screen app but rather a new Glance feature. It will be coming soon with the new firmware update Denim :) so if your phone supports glance, you're in luck

Sam Sabri what about the NEW Glance screen mentioned in the Program?

Wow that looks so beautiful

Glance on that non-amoled screen reallys sucks. A shame they couldn't have given the 830 a better screen.

Yes that's unfortunate, when Nokia started sleeping screen as it was originally known for Symbian it was for amoled screen, then they made it compatible for LCD screen and now as seen in L930 and L730 they don't support Amoled anymore?? This kind of sucks as glance screen looks mind blowing in amoled screen and I heard they consume less power too(in amoled as compared to lcd), but though I maybe wrong there.

Guys, I hope 730 price after taxes isn't too bug so that I buy it. Oh , and I it coming soon in Europe?

Well peeps I'm really looking forward to seeing and trying out the 830 as for 730 to 830 well it depends what your after. My 820 has taken some pics and vids that I'm truly happy with and was stunned at the quality of a concert I videoed, so 8mp camera & a carl zeise lens made all the difference to me. Battery has never been an issue I get home with at least 50% left everyday. So cpu is the only unknown but I expect it to be as good or better than my 820.

i can't decide !!! i want both!!

Is it just me, or is the glance screen a little pointless given that it doesn't take the place of the lock screen?
It essentially means I just have a double lock screen to get through when opening the phone!

Um, that's not how glance works. It's not an extra screen, it's what the screen looks like when your phone is in standby. It disappears when you either push the lock button, or double-tap the screen.

Can someone tell me why the "Lumia 530" section misses the "Nokia"?

What a pity for those can't get full Denim features updates.

Is that what the Denim update does to Glance? If so can't wait.
Windows Central Newsletter
Thank you for signing up to Windows Central. You will receive a verification email shortly.
There was a problem. Please refresh the page and try again.