Lumia 800 available for pre-order at Hutchinson 3G Austria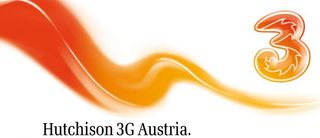 Austria's Hutchinson 3G, part of the Three Mobile brand, announced via Facebook that the Nokia Lumia 800 is now available for pre-order. It is listing for free with a monthly plan. The Lumia is also expected to hit Austrian stores in the next week. This is comes a month after 3's UK counterpart got the Lumia 800, but hey, better late than never.
The Nokia Lumia 800 is a stunning device that has been winning its fair share of accolades, including What Mobile's Phone of the Year. It is nicely equipped with:
Single-piece body.
3.7-inch AMOLED display at 800x480 resolution
1.4 GHz Qualcomm MSM 8255 processor with hardware acceleration
Windows Phone 7 Mango
1450 mAh battery
16GB internal storage, 512MB programmable memory
Quad-band EDGE (850/900/1800/1900); quad-band 3G (850/900/1900/2100); 14.4Mbps
8MP camera with Carl Zeiss lens and LED flash
720p video capture at 30 fps
Dimensions: 116.5 x 61.2 x 12.1 mm
Weight: 142 grams
Wifi: 802.11 b/g/n
Bluetooth 2.1
aGPS
Source: Hutchinson 3G (Thanks for the tip, Patrick!)
Windows Central Newsletter
Get the best of Windows Central in in your inbox, every day!
Does that mean it will support 850 at&t unlocked?

Don't all phones sold in Europe support At&T 850?
There's just one standard 3G in Europe as far as i know. It's more about the U.S CDMA back in the days messing things up and maybe some future problems with LTE.

Please Mr. Nokia, bring this device to the States....

Bell Canada gave up on Windows Phones, you just can't find a windows phone 2nd gen in canadian carriers and except for the Samsung Focus (1st gen) windows phone is unexistant... Canada is a big market too and people here don't even know about WP7, but everyone knows about Android and Apple, why? Because they are promoting their products... Microsoft is not gaining ground... they are doing what they've done for years... sit back and watch what's going on. What do they think? that we're going to promote their phones so they don't have to spend money on that?

totally agree with you.
Canadian carriers don't even know that wp7 devices exist. only rogers has the slightest hint of supporting it by not phasing out the samsung focus like telus is doing to optimus 7.
Bell has already dumped wp7.
It's very sad because i'm telling all my friends to switch to wp7, but there're no compelling devices (in terms of hardware design) right now. if the radar or titan were here, i can easily point them to those devices
it makes me wonder: who's to blame for Canada not having wp7? carriers for not wanting it? or MS for not pushing canadian carriers to support it?

I bet Nokia will come around the same time they hit the United States.

I feel your pain. I have a HTC Surround from Telus. Wanted to get a different phone for my wife. But, all they offered from Telus was the HTC Surround still, plus the Optimus 7. So, she got the HTC Surround. Nice phone but I think we are done her ein Canada.

I really wish they would stop advertising this as quadband 3G because it's not true. Below is from an email from Nokia:
We understand that you would like to know if there are other versions of the Nokia Lumia 800. Please be advised that the Nokia Lumia 800 has two variants: • European Variant - WCDMA HSPA 900/1900/2100 MHz (RM-801)
• US Variant - WCDMA HSPA 850/1900/2100 MHz (RM-819)
-----------------
Mind you, I had to ask no less than FIVE times to get a straight answer...



Windows Central Newsletter
Thank you for signing up to Windows Central. You will receive a verification email shortly.
There was a problem. Please refresh the page and try again.