Lumia 820 shell designs revealed along with ruggedised versions too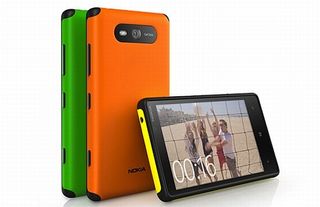 We saw the 820 revealed not so long ago, I even have it pegged as My Next Windows Phone. The folks over at Nokia Conversations have gone into a little more detail about the options we'll be seeing for the replaceable cases.
As the Lumia 820 has a replaceable shell design, the options for changing the dynamic of the phone are plentiful, with Nokia will offering glossy, matte and even 'ruggedised' designs. With such a flexible array of case designs, we're sure that the 820 will prove a popular option for those who like a bit of mix and matching. We're left wondering if the Lumia 820 might end up being the smartphone choice for builders or other professions based in high impact environments.
Nokia will have quite a range of colours and textures, here's what they will offer:
High Gloss Colours: Red, Yellow, Cyan, Purple and White
Matte Finish: Grey and Black
Wireless Charging Shell : Matte finish only, White, Yellow, Black, Red and Cyan.
Ruggedised Shells: Matte finish, yellow, orange and green, all with a black trim.
Here's what they had to say about the cases:
We're sure that the hardened cases will appeal to many who are looking for something a bit more durable and long lasting than the matte and high gloss finishes. We're keen to know how much extra protection these cases will give to the phone. Of course don't forget that Lumia 820 owners that want to take advantage of wirelss charging accessories will be limited to one of Nokia's specific wireless charging shells.
What do you guys think of these options from Nokia? What sort of case designs would you like to see for the 820? Let us know..
Source : Nokia Conversations
Windows Central Newsletter
Get the best of Windows Central in in your inbox, every day!
I agree, orange is awesome and I wish the 920 came in orange as I'll never own a 820 I don't think!

Awesome option for tradies

Totally, they love this kind of thing! RB

hi, im from mars so excuse me for asking what does Tradies mean Oo

Tradesman, Workmen, Builders etc? That was my interpretation... RB

Whyyyyyyyyy not 720p aaaaaaaaaarrrrgggggggggg

I feel you there! Should have definitely giving this phone a higher screen resolution.

Yup, it would be my option too if they were brave enough. Sigh. Hence, 920, here I come. ;)

Well, that protective case in green looks pretty hot.

I'm getting the 820 not the 920 :) a bit sad to see the unibody go because it's a great feature of the 800 which i have now. But there are so many nice features in the 820 so i can live with the loss :)

The 820 will certainly be my first WP8 device :) RB

It is my next Windows Phone as well.

Am I the only one that really likes the way they closed off the usb port on the 800 ?

How can you tell? It's on the bottom now

I think you are. My wife and I both unequivocally hate the cover of the USB port.
Plus if you've got the phone in a car holder, how annoying is it to pull the cable for charging over the top of the phone....

I like it, seen many comments about people struggling with it, but don't really understand what the problem is, always come open when I press it, and keeps out the dirt, brilliant

Oh... The 800, I thought you meant 820

I hope the carriers stock the accessories; they definitely didn't carry any for the L900; this is another tactic they used to steer customers to the iPhone or an Android

Why limited to only 1 of the charging shells?

I assume it means they don't plan on letting 3rd parties produce wireless charging shells. There are multiple colours.

Am I the only one who sees a sort of discrepency with the ruggedized shells on this phone, which does not have a gorilla glass screen?

"We're left wondering if the Lumia 820 might end up being the smartphone choice for builders or other professions based in high impact environments." Not without Gorilla Glass. Although I do like the idea and design... Kind of a built-in otterbox.

Well for those that are in construction or such, maybe they would have a durable screen protector anyhoo. Sure that there are many folks working in tough environments that would like this. Cake the phone in crap all day, get home slip it into something sleek and fashionable? Winner! RB

I must be missing something. How is this different than every other phone and the myriad of case and such available?

Ehh it does have gorilla glass

Not according to the official Nokia spec sheet. The 920 does, the 820 does not. If it does, I stand corrected, but I really don't think it does.

Could you provide a link to a story that confirms it? This may just be a viable option yet for me. But I've not seen it in any specs listed for it.

If they advertise thus right, this could be a major hit for Nokia. Put the 820 on as many carriers as possible. Have the 920 please the diehards(me).. But the 820 make the revenue. Sell this baby in volumes!

I wish they would offer purple for Qi charging. My gf would love that!!!! :(

Wowww. I love the option to change the cover.

Verizon version with an orange cover please.

Now we just need some custom laser engraving ala Zune Originals and we'll be all set.

Hmm, now you're talking! RB

I remember the old Nokia phones used to do this. You could buy a case anywhere in the malls Kiosks. We had wild designs and even a Puerto Rican Flag one.

I can confirm there will be no Gorilla glass on the 820. I asked the question -on an online Q&A- to an official Nokia rep of Sweden. He said "no, no it won't have Gorilla Glass BUT the 920 will have Gorilla Glass 2". You can read the Q&A with google translate I guess, HERE.

OMG Nokia, please release these phones already!

OMG, what is this? Come on, the nineties called and wanted their phone shells back.
Not even the tachy South Koreans do shells anymore. For goodness sake Nokia, you had it going with the wonderfully designed L800, a real competitor to the iPhone. Please don't spoil it all by launching phones that could have made revenue in the 1990s!

A shell isn't much different from having a soft or hard case/skin. There's a whole market for these out there. Very few use their phones naked these days.

Love the orange!

After the price revealed I'll get any one of these two lumia 920, 820

I LOVE the swappable backs and batteries. I HATE the screen red, no nee screen tech, and no gorrilla glass. Also wish for charge/notify LED. Not crazy about the 920's non-swappable battery but love nearly all else. Maybe HTC will wow me somehow... my Trophy has been rock solid and updated quickly.

Damn autocorrect... Screen RES, NEW screen tech

they are following the same idea of windows phone 8 making the phone "Personal"
Smart move Nokia :)
i never thought i would like a green or orange on smartphone for the first time i do :S
green , orange and yellow shells with a touch of black making the phone look young and sporty


I think all the 820 cases should support wireless charging, it's one of the selling points of the phone. It will disappoint people who like to put a case on their phone (which is most!)

This is very smart idea. Instead of making cases that go on top of the phone and adding bulk, accessories makers can make different shells that just replace the standard shell.

Man I wish the 920 would have exchangeable covers... Now I can't make up my mind....I love the interchangeable covers from the 820 and the camera from the 920.

So... I can't get the wirless charging and the rugged features at once? That's begging to be hacked together.

If the 820 had a 720p screen it would be my first choice. Don't be surprised if this phone outsells the 920. Average person cant tell the difference between sd and hd on a phone.

Who needs the rugged ones? It's a freaking Nokia. I was showing my boss my phone. He said he didn't ha e a smart phone because his brick phone is all beat up. So I showed him the design quality of my beautiful cyan 900. Think it hurt the cement more then my phone. =P

I have had the 820 for 3 weeks it is fantastic and I chose this over the 920 for size, changeable battery and SDHC.
This make iPhone look antiquated as an OS and design.
WP8 has not crashed once.
Nokia have built a serious bit of kit, the built quality is second to none out there. I happen to work opposite the Nokia HQ in London and I can tell you this does have Gorilla Glass 2.5. It also is plug and play with W7+8. I mention this because their is so much misinformation out there about the Nokia 820/920.
Seriously everyone I know with Android and IOS who feels and tries this phone want to move over the WP8 and Nokia.
Serious European designed kit - think of this as the luxury solid built European car over the FAREASTERN very good cars that run well but don't sound the same when you shut the door. CLUNK not CLINK..
You must try one of these to belive it. Those who do will be taken in. WP8 and NOKIA deserve the market this time !





Windows Central Newsletter
Thank you for signing up to Windows Central. You will receive a verification email shortly.
There was a problem. Please refresh the page and try again.