AT&T flyer confirms Lumia 830 to get two covers in box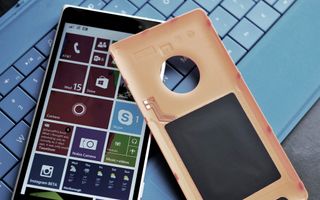 The Lumia 830 is almost ready for AT&T. A Windows Central reader recently went to an AT&T store where they picked up a flyer with specs for the Lumia 830. The flyer lists the features and specs for the Lumia 830 and confirms a few of our earlier reports about the Lumia 830 on AT&T.
We recently reported that the Lumia 830 destined for AT&T would support both the Qi and PMA wireless charging standards. We're also expecting the Lumia 830 to come with two wireless charging covers in the box. A fact that this flyer from AT&T confirms.
The Lumia 830 will come with a black cover and an additional green cover in the box. A nice little feature to let you mix things up on your Lumia 830.
We're still expecting the Lumia 830 to come to AT&T on Friday, November 7. Pricing hasn't been announced yet, but look for it to potentially be under $100 on-contract.
Thanks for the tip @LouisCarmine!
Get the Windows Central Newsletter
All the latest news, reviews, and guides for Windows and Xbox diehards.
That's very neat, green and black looks great

Don't know if I'll be able to contain myself till the holidays!! Might have to give myself an early Christmas present!!!!

Any other words on the HTC one m8?

It is to be released the same day as the 830 on AT&T.

Waiting for the no contract price...

Right there with you. This is the most crucial piece of info I need about the 830. Probably grabbing one for the wife and myself if the price is right. Otherwise I'll just upgrade her (both of us have 920s) and I'll wait until Windows 10 hardware drops next year for myself.

It was $400 CDN when I bought it off-contract.

Yes, contracts became pointless (especially on phones with under $600 off-contract prices) as soon as they stopped making BYOPs pay the subsidy. They are a bad deal, just buy your phone outright (unless you use the contract as a way of financing over time).

I still have the opinion that the black metallic band looks better than silver. It allows the phone to stand apart from every other phone that has a silver metallic band...FWIW...

Never thought I would agree with a crack pipe, but here we are.

Yes, I had to change my name, I am/was Peg Leg.

I like the silver personally, especially with the colored backs. Would have been nice to give people the choice.

I can see silver as an option too. Suppose it would be possible. Nonetheless, I think black is something different, like our choice of OS, for better or worse...

I agree. I would be very interested in that silver and orange combo, but no way I'm doing black and green - that's not a look I can get into. Who knows, maybe it looks better in person. But I doubt it.

Did anyone else notice that the flyer clearly states that the phone comes with a secure element sim? Is this a sign of something or is ATT doing this with all their phones now?

What's a secure element sim?

It's got additional functionality that enables it to be used for payments in stores (if there's apps and hardware in the phone that support it).

Basically the secure element is your "identity" to a payment terminal/server. It is something on the SIM that is encrypted that allows the merchant to know that the transaction is legitimate and safe. Some phones can have it built in but the big push for cellular providers is ISIS mobile wallet(now called Softcard ) and they require it to be on a SIM.

What is a Secure Element SIM?

The problem here is, there's still no Softbank app that enables Nfc payment.

There's another problem. Retailers are disabling NFC. http://www.imore.com/dont-want-retailers-shutting-down-nfc-tell-them-your-apple-pay-powered-wallet

I totally was thinking the same thing, Noticed the SE-SIM and am hoping that perhaps AT&T will start offering mobile payments on Windows Phone. I'm really hoping that they will start turning on Windows Wallet to use NFC payments now that Apple Pay is out. SoftCard used to support the iPhone (Special case needed), but this has been pulled since Apple Pay came out. Don't get me wrong, would be just as happy if we need to use SoftCard.

Anybody have any idea how much the M8 for windows in going to cost on contract for AT&T? Also any idea if its still on track for the Nov 7 to launch alongside the 830?

<sigh> Meh. I want a real flagship, a real successor to the 1020. Come ON, Microsoft, get on the ball!

No come on he said a REAL flagship like the 100 threads on the forum stating they all need a real flagship. There are 4 real decent flagships and they still want more. Don't get it myself one phone will never be everything as they will want to see other phones for a different reason. If the put everything into 1 phone the cost would be huge. I love my 930 although I do miss glance but not so much I wouldn't have got this years FLAGSHIP, I use a cool device to check the time called a watch and that solved the problem lol

A flagship should have all the Lumia 920's features. The only one that can do that is the non-AT&T Lumia 1520. And I guess the 830 too. You don't see Apple forgetting to include the 5s's fingerprint scanner on the iPhone 6. Nokia would have.

Sadly, the 930 is not available in the US.

I predict a boatload of PMA covers on ebay for $1.

Hmm, they mention PMA but not Qi. I know they are PMA members so they may not want to advertise Qi but that's not a great sign.

The last info that was received said that both covers will be dual function Qi and PMA.

C'mon AT&T, shock us and make it 300!

Sam, any more info on how this 830 is able to be "bi-wireless?" (sorry, can't think of a better term, haha...) I remember you all writing an article about a company aiming to create a charger that would play nice with all formats, is this essentially the same idea at work?

I think you are referring to Qualcomm or someone having a chip or coil that could do both? I vaguely remember that. This seems like the workaround since the impression I get is you have to switch covers to get one or the other. I assumed the device they wrote about would do either or without a swap.

Daniel said in the other article that either cover supports both Qi AND PMA.

Yep. I remember this too.

I sure hope this isn't more than $350. The closer I look, the more appealing the L735 looks in comparison.

Hey, the flyer only says, "Integrated PMA wireless charging". No mention of Qi. Does this mean Qi wireless charging isn't built in? Windows Central had reported it would support Qi and PMA, but the flyer only lists PMA. Windwos Central, can you look into this?

Hopefully, it has both as previously reported and AT&T just doesn't mention it in their marketing material because they don't want to help advertise Qi.

It means while supported it doesnt mean they have to include the compatible cover for a standard they don't support

So, do the covers that come in the box only work with PMA, and if I want to use Qi, I have to buy an international cover that supports Qi? Or do the AT&T covers support both standards somehow, and they're just not advertising that fact?

If the L830 is designed with the Broadcom chip (BCM53950) built in, it would provide multi-standard wireless charging capability. It would automatically recognize and switch to the right charger. Hopefully that's the case for L830. http://www.broadcom.com/press/release.php?id=s850858

If Verizon had this phone I would get it.

And then you would never get firmware updates. That's how us icon and 928 users are treated.

Isn't it strange that you can still buy a 928 but not the Icon?

Bahahahaa! Yeah I regret buying the icon now... Better dead than red!

Very strange. There's no way they were selling more 928s when the Icon was retired.

Last cycle (Lumia Black), Verizon got it before AT&T... before that, Verizon was 1 or 2 months behind AT&T.
Point is you can't find reason with the carriers update releases.

So..... no mention of Qi, only PMA

The only thing that flyer confirms is integrated PMA charging. Says nothing about qi

Shame the flyer couldn't confirm the date. Not that I don't believe Malatesta & the crew, but I would've hoped that AT&T would've confirmed 11/7 by now.

Any more news on if that deal where it comes with a fitbit is true or not? Wife is eligible for an upgrade soon but she wants a fitbit too. Kill two birds with one stone.

Qi won at&t, get over it and get with the program.

Right?! Only Starbucks and AT&T are all about PMA. I think they assumed Apple was going that route so they tried to get a head start.

This is VHS and Beta Max / Blue Ray and HD DVD all over again.

They're are many more companies still supporting PMA. Including Duracell, Energy Star and even the FCC.

How funny, I usually don't buy Duracell :P. I don't eve have a qi device, I just look at a lot of the stuff coming out and it appears most OEMs have adopted the qi standard.

I can't charge my phone with a company. All the actual devices in the wild are Qi at this point. This would be like BD/HD-DVD if there had been a whole shelf of BDs at the store and a single HD-DVD of a movie no one wanted.

And we all know what happens when we assume lol

This should be free on contract.

Give it two weeks after launch and it will be. I love WP!

I'm glad ATT is promoting it.

I wonder what happened with the orange

Says it comes with Denim too so much for Cyan

It was always supposed to come with Denim.

Glad to see att promoting it. Surprised no mention of the m8 in the article lol

$100. On contract na hell no it can't cost more then $50. Unless they throw in a fitbit.

Was h ng s Elizabeth's send weekend alarm marksman well Sunday

Cool. Still curious what off-contract pricing will be. Either way, this will likely be the phone I use to refresh my families handsets (520,8X,TITANII,920). I might hold out a little longer or get the M8 to replace my 1520.

Not much of a replacement there.

Any reliable source for how much this will be OFF contract?

At&t's colors are Blue and Orange. Why isn't it have an extra cover that's ORANGE. That's the one I want! But I'm probably going to get an 830 for my wife and she will love the green. So that works out, I guess.

Off contract price is $399. Not too bad.

where is that information being confirmed?

Doh! I wanted $249 or less (I'm sure I'm dreaming...) I may have to hold out and see what else is available for my first ever Windows handset.

Yikes.... For Microsoft's sake I hope this sells well but the reviews I've read all mention how expensive the 830 is considering its competitors. If it were $279, I'd just barely be able to justify the extra $100 over a Moto G. But paying a $220 price premium? No.

Never compare a Motorola phone with a Nokia phone a few of these people start screaming and saying that your not supposed to be here you "android fanboy". The 830 is gonna cost around $350-$400 and on contract $99. The HTC desire has the same specs and costs $199.99, lg g3 vigor or vista costs $334.99- $354.99 and the moto g costs $179.99 and on contract the highest one is lg $50 and for $1 more you get a tablet. Anyways just buy the Lumia 1020 which costs $399.99 in store.

Lumia 1020 is only 330 on Amazon, so that's what I just bought. 830 is too boring and too expensive if it's over 300. MS needs to release a 1030 (with glance and qi) to be interesting again. The 920 and then the 1020 were such cool phones, which is why it's a letdown that it's just been a bunch of cheap or semi-downgrade flagships ever since, except for the 1520 outside the US.

So I wonder if this is an upgrade from my Samsung Focus (circa 2010).

lol, perhaps. I just switched back to AT&T, and almost re-activated my old Focus to save money, and until I decide which phone I want next. But my Verizon GS3 actually works on AT&T's network, so I just kept that until I decide. The release of the 830 is one of the things I'm waiting on. But I'll probably end up with a LG G3 until MS gets with the program and comes up with a 1020 or 930 successor.

My 830 on Rogers in Canada also came with two covers. The box only says green but there is a black one in it two. The black looks kinda weird on the lighter metal but I love being able to switch between the two to suit the occasion

Does the phone will be able to buy in Australia?

I don't know... Coz I want to compare between 930 and 830, both look very good devices

I still have hopes that they will have an alternate package with orange and not just green.

Black Friday sale: $299 unlocked. Make it happen.

Lol. AT&T initially loved Qi. They they cozied up with PMA/Starbucks. They declared PMA their standard. Now they are doing some serious backpeadling by offering both Qi and PMA backs in their packages. In other news, they are slowly, silently admitting PMA was a terrible mistake. Someone call Howard Schultz and let him know too.

I thinks its awesome. Something cool that only WP has as far as I know...

My only disappointment with this phone is that it won't have hands free, "hey Cortana". I'll have to stuck with my oversized 1520 for the time being.

Hey Cortona, hey NSA something

Hmm. Remember that article about a new MSFT branded Lumia coming soon? Some thought this 830 would be it... but it isn't...

I'm pretty sure its the 735 which comes later in the year or early next year to the states.

A little disappointed they didn't offer the orange back. AT&T's colors are orange after all. But just happy it is finally almost here.

Im pretty sure they'll sell back covers at the Microsoft store like they do with the 635.

No different than ee in uk they have green logo but only offered orange on 930 and that was after I was told I ordered the green and week later when it turned up oh yeah sorry we don't do green

I'd like the sand-colour of the backside on the top picture. Something muted, that would actually go with the clothes I wear...!

Take some sandpaper and lightly scuff off the outside color, lol. You can try it on the back you don't like first, in case it doesn't work!

I have a 1020 and want a new phone badly...should I get this or wait? Would this be an upgrade?

If you don't mind having a worse camera then it's a suitable upgrade in my opinion.

Still hoping it'll get a price cut, or else I'm getting the 635/735

that is a nice touch, id probably swap them out every so often

i always prefer a smartphone with removable back cover instead of the unibody. battery ages overtime and gets drained quickly. so i'll have an extra batt ready as a replacement.