AT&T Lumia 830 comes with two dual-use Qi/PMA wireless charging covers in green, black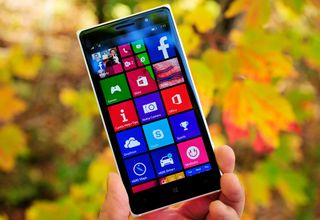 Starting in early November, AT&T is expected to begin selling the new Nokia Lumia 830 in addition to the HTC One for Windows. The two phones offer different price points for those looking for a new Windows Phone, and they should bode well for the 'premier' Windows Phone carrier this holiday season.
Yesterday, we reported that Qi wireless charging is included with the AT&T version. This turnaround is important since AT&T had previously shied away from supporting Qi, instead backing the alternative PMA wireless charging standard. Today, we can expand this further with more details.
The AT&T Lumia 830 will come with two wireless charging covers in the box: one in black, one in green. The colors themselves are of little surprise since they are revealed on Microsoft's site (opens in new tab) for the US Lumia 830 version, seen in the above render. What is surprising is that both covers are offered in the box, letting users switch between green or black, depending on their preference. Observe that the AT&T Lumia 830 use the black metal frame instead of the silver/grey one, contrasting nicely with the green back cover.
Perhaps more interestingly, the covers for the AT&T Lumia 830 are dual-use PMA and Qi enabled. This the first time we have heard of such a cover, and it is very exciting for users who like choice. In theory, you will be able to toss the Lumia 830 on a PMA-enabled charger at Starbucks while using their Microsoft Qi accessories at home with no fuss.
Potential customers can expect the Lumia 830 to hit store shelves on Friday, November 7. Pricing has yet to be announced, but we are guessing it will be aggressive, coming in the $99 mark or less with a contract.
Has any of this information changed your mind about getting a Lumia 830?
Windows Central Newsletter
Get the best of Windows Central in your inbox, every day!
Daniel Rubino is the Editor-in-chief of Windows Central, head reviewer, podcast co-host, and analyst. He has been covering Microsoft since 2007 when this site was called WMExperts (and later Windows Phone Central). His interests include Windows, laptops, next-gen computing, and for some reason, watches. Before all this tech stuff, he worked on a Ph.D. in linguistics, watched people sleep (for medical purposes!), and ran the projectors at movie theaters because it was fun.
Good charging cover support - still waiting till spring though.

1030 implies possibly a huge disk onthe back to accomodate a big sensor --so not really for me. I'd rather a 940ish kind of flagship device - max 5 inches, without a massive camera buldge. I'm afraid the 1530 would just have too big a screen, so out fo the running for me. I'm not getting stuck with an barely acceptable 920 replacement for another 2 year contract. This might be the phone if it had a 800 series processor, but going from the best launch WP8 device to an afforable flagship doesn't interest me. I'm disappointed that MS didn't have a plan for a flagship this holiday season (or if they did, they didn't execute it or pulled back last minute).

Sounds like they did but it was cancelled.

Agreed! All we have to do is vote with our wallet. Let those who want to get fooled fooled and buy the new crap with old internals or wait till MS produces something worth buying, otherwise at least I will consider alternatives....

And maybe they'll drop WP for forever and those of us who expected big things from this platform will be left with paperweights.

People have already voted with their wallets, expensive phones for WP have flopped. Microsoft is making the smart bet and doubling down on the low and mid range where they thrive. They need marketshare, they'll never get it by continuously releasing high end expensive devices that barely sell.

Wmpoweruser.com has and article about FCC filings about a new Lumia device that is called RTM Lumia 1091 I wonder if that is the successor to the 1020

With a qHD screen...
Truly a successor is coming

Not seen that one. Did see another on their site, but it had a resolution below 1080, that won't be it. They post a ton of stuff, but I have found that WPC are a little more discerning.

They will most likely abandon it. look how long it took to come out with the green 1520, I think it's almost a year after the device hit the market.

1528 is what it will be called.

W10 for ARM won't be out until much later it looks like, so I think expecting a flagship in Spring is a little too......hopeful? I'd say, November 2015-ish.

Windows 10 phones will be announced and shown off at build, guaranteed. Released shortly after, hopefully

Unfortunately the way Microsoft releases phones, if they announce in spring, we might not see them available for MONTHS later. Look at the 830, announced in August and not in US until November? They really need to work on their announcement-to-release timing.

You're right. It's a guarantee those Windows 10 phones will be out in the fall, exactly a year from now. I expect it's going to be a long wait for anyone who wants a proper flagship phone.

Seems faster... to charge

You know what though, att are really trying to embrace WP rather then shun it as the store staff do. If that makes sense..Anyway, I like the black band and dual use is the best if both worlds without having to hamstring the phone or AT&T' s reputation. In the end, the user wins with the ability to be even a bit more unique as a windows phone owner and have useful tech included not to mention color choices.

It doesn't matter; if it's not pushed at the store level, all the corporate HQ love isn't going to amount to anything.

Yep, therein lies the problem. Yet, corporate is a start.

There are only tworeasons I can think of as to why any phone is pushed: because the salespeople/retailer have a financial incentive and they push what they know/use (not WP). Corporate can't do much about the latter, but they certainly can about the former. Give the salespeople financial incentive to push WP and they will. They are there for the money and not the dialog. Some of the money for advertising would be much better spent on front end salespeople.

Lol .. I dont understand what the message of that headline was

I think it was clear, don't know what you talkin bout Willis!

Is there a chance t mobile could get the Lumia 830

Chance? Sure. Evidence to suggest that they will? None, which I agree is lame.

I had gotten the LG g3 because of t mobiles lack of support and returned it for the Lumia 635

I saw the orange version of the 635 in an ATT store this past weekend and that little device is gorgeous!

Yes, I have the Bright Orange Lumia 635 and it sure is a beaut!

635 is a nice device and could have sold a lot if it came with a front facing camera. Affordable selfie phone would have been that

Lumia Selfie app makes it a snap (pun intended) to take selfies with the 635. It detects your face and snaps a picture when it's in view. It's pretty awesome! I use it for my Lumia Icon to take selfies too, since the rear camera is better than the FFC. A FFC would be great for Skype and similar, but the Lumia Selfie app takes care of the "selfie issue".

I finally just got my matte green 1520, but the wifey needs an upgrade really soon. That being said the grey model that you reviewed IMO is MUCH more appealing for her and women in general. Will they have both colors? If ATT is only getting a black model, I find it truly moronic.

I know right. ATT did the same thing with the 925. Tmo had a beautiful silver color and ATT brought out the dark gray. Lame. I am in the same boat. Aluminum is in. I'm opting for the HTC M8 anyway as a secondary to my 1520. It better be in silver aluminum or I may just fall off the WP wagon. I don't begrudge them for not catering to a gadget geek like me. But, I will vote with my dollars.

I guess there is always a chance, but I've been holding my breath for to long for this. I'm giving up hope of T-Mobile getting anything higher than a 635 before next year.

I hope they will get it because this lack of support is irritating

Why bother? Even if they did they wouldn't support it.

Tmobile has been dragging their feet on a few windows phone fronts:hardware and software.

They won't have the grey one?

You could buy the Qi one as an accessory from Microsoft.

Oh, right. Thanks Daniel. I plan on getting the 830, its so beautiful.

I thought Cricket was the new 'premier' WP carrier

It will always be AT&T especially since At&t bought CricKet

Too bad some of the smaller ATT stores have chosen to adopt verizon's philosophy and put all the only WP device the have near the rear exit and make sure they're not charged and tell unsuspecting customers it never worked and their waiting for a microsoft tech to fix it. This also happens at my local Fry's Electronics store with the SP3. They tell the customers this to deter them from buying Microsoft products. I called them to the rug on this and moved the display cabinet where the plugs hide and showed the saleperson that it wasn't plugged.......needless to say, he was pissed and I left laughing in his face concerning their tactics.

Should have recorded this and uploaded it or something.

Yes, kind of like folks do with Brighthouse

Cricket is owned by AT&T now.

My next phone. I don't like the dark metal though. Makes it look cheap. I call a $49.99 contract price on this one. $299 off contract. $11.84 Next 18 plan.

Really?! I love the black metal with the green. I want Orange myself, but when i saw the pic here i actually out loud said, "oh wow, that looks good!" But regardless, i think an "affordable" flagship has to be less than $299 which is why i just bought a 920 on ebay for less than $80. I figured it would be a worthy upgrade from my 620 and tide me over for a few months to a year until either they release a true flasghip that i HAVE to spend the money for, or until the 830 hits MY price point, which truth be told is only up to $250.

I was thinking how my Lumia 635 looks like a cheap Go Phone with the black cover on FROM THE FRONT (as it is just all black) but with the Bright Orange back cover, it looks amazing from the front with the colored trim. The dark metal just makes the 830 look like a plain black phone from the front. At least we can turn it around and see some of its character. The black sides make it look like the 925....I would rather the phone be easily noticeable and ey catching phone from all sides, not just the back. It isn't a big deal but a lot of the style was from the look of the metal and now the metal just looks like black plastic to me.

I liked the black. Every body and their brother, sister, aunt, cousins, have phones with ...how do the UK people say aluminium color metal on the sides.

Al-you-min-eee-um? But if you're going to go that far, you might as well use 'colour' too... :P

Yes, good one. I mean no disrespect though...

Haha... No worries man! Her Maj would be proud! ;)

Here here, I'll rock my 1520.1 till there is a worthy successor

I'm following that cab with the 1520.3 (Green), which I'm still waiting for via the mail : ( ill put a 64GB scan disk micros SD in for more space.

Yep, still king in my eyes. Has all features except wireless charging if it was from AT&T, but that can be fixed if hard pressed to do so

There's a 1520.3 green? Maybe I'll have to give my wife my yellow 1520.3 and get the green one.

I'm not sure about this. I thought the green was exclusive to AT&T - which means no wireless charging. :(

1528 will be the successor. Stay tuned.

now that seems pretty awesome, and definitely a good move for *both* PMA and Qi users. Now you don't have to be tied to one standard, but can instead use whichever one is available wherever you are. I wonder if they are using the qualcomm chip that was announced a couple months back that supported both standards...

Yup! This is fantastic news! I mean, it doesn't help us get any closer to a standard, but it's fantastic news for Nokia fans with existing chargers :D

Disappointed at&t decided to go with the black framing rather than the silver one we've seen in the original 830/930/Icon. Black is just so boring. Also why not include the orange cover instead of the black?

I dunno, I think the green/black looks stunning.

I agree with Daniel. The Black/Green combo looks tight

Is the Green Back on the 830 the same color as Xbox Green?

I think it would have been nice if each individual Carrier had an exclusive cover, Sprint a yellow cover ,Verizon of course a red cover,T Mobile maybe something in the dark purple..And Ma Bell the Orange.. And have the release of the 830 on all of them at the same time! Posted via the Windows Phone Central App for Android

That makes no sense to me why they didn't at least make Orange the default back, since most of ATT's theme color is orange. I'm disappointed about them going with black instead of silver on the sides, too. At least they give a choice.

Orange and black would look too Halloweenish though.

Everyone has silver. We are already different, might as well embrace it. Heck, I got a black car, never thought I would, love it now
EDIT: I live in Orlando, black gets hot

Furthermore they're offering both wireless charging methods which I think is the biggest and quite frankly only takeaway.

+disappointed. I want silver. Everyone has silver because it is in fashion. We already carry WP. Now we have to be askew the fashion side too!
Go for the HTC M8 where you can ride the android wave for covers and accessories. (I don't use a case which is why silver matters to me)

I'm just going to put a case on it so color doesn't really matter to me

I just hope the 830 will come out on Verizon. I have a friend who's itching to get rid of his iPhone.

Any new rumors on TMo/Sprint devices, Daniel?

This is great. It may also explain why it's being released later than the intetnational version. @Daniel do you know if it will come in the original box or the boring AT&T box?

Oh it has to be an AT&T box. Never seen it any other way.

I was afraid of that. I'm still getting it regardless of the box that it comes in but I would have liked the same box as the international version. I'm looking forward to your unboxing of it soon keep up the good work.

It would make for more interesting unboxing videos lol

Why? Kind of like keeping an old cereal box...

What about the updated Qi wireless charging that was shown at Germany??
Will AT&T have that also at release? Posted via the Windows Phone Central App for Android

Nice Nice. Posted via Windows Phone Central App

My 920 has a bad earpiece and my 1020 is on the blink. I was considering the M8 but I really don't want to go without wireless charging. Those who don't have it, do not understand just how important that feature is when you're heavily invested in it. With that said, this will make me seriously consider the 830.

3 wireless chargers here and one is my cradle at work. I couldn't live without it. Plugging in is soooo last decade.

If this is true I'd like to see this becoming commonplace. If they can't settle on one standard release devices that support both!

It looks so sexy with the green plate

Will they offer the orange cover as an option with the dual charging???
This is finally making me tilt towards the 830 instead of waiting. Or the m8
Any reason the 830 couldn't run windows 10?

I'm sure it will get Windows 10. But it may miss a feature or two that may need the 8XX SOC.

I think the processor will be the thing that eventually holds this device back.

Great to hear. Bringing the Qi is nice, but giving two played is sweet. The alleged pricing seems to potentially acknowledge that the 830 is a mid-range device, at best. My int complaint is that the only color I would want is orange, and that isn't offered. Irrelevant though, as I wouldn't want an 830.

Hope it doesn't add bulk to the covers

wireless charging!!!! They should just do away pluggins and make this a thing for all Lumias. It will make other phones to shame.

Yeah, the 1030 will be like that because it will be waterproof, plus, you know, flagship. ;)

I love wireless charging, but not having the microusb option to charge would be worse than the USA 1520 not having Qi. People not invested (I have 3 Nokia Wireless chargers) think it's cool, but don't get it. That means most places don't offer it and we would be screwed when we were out and about or in our vehicles. Now give it Qi, PMA and solar charging and I'm with you!!!!

Definitely gonna replace my 920 if the off contract price around 299-350. I would say this is kind of an upgrade. Bigger screen, micro SD, thinner, removable battery, a lil higher battery, better camera, and can't beat that its suppose to be affordable! I would be the average consumer but a lil more knowledgeable not the hard-core user so this one is good for me!

The more I look at it and the more I look at my 920, the more I want this phone. I think I'm just itching for something new!

I am completely on the same page with you. +920

If it was $299, I'd be floored. Expect $400.

Shits n giggles! Awesome dual charging!

This phone would be perfect for T-Mobile where a lot of us are starving for a higher end, but still affordable phone. If it could launch at under $400, I'd be the first in line to buy it. I think the value proposition of the phone is wasted on a carrier like AT&T where most customers do contracts and get even the highest end phones for $100-200. If I were still letting AT&T rape me with a contract, I would at least try to get my moneys worth and pick the 1520. Historically you can get almost any phone for $0 on contract if you buy around Black Friday.

That's what cricket is for. I'm buying this and I'm on cricket.

I almost switched my family to Cricket. The rates are very similar to T-Mobile and they were(are still?) offering $100 credit per line switch and a free L630. But in the end I decided I'll stick with T-Mobile. Mostly because its such a pain in the ass to move my family from carrier to carrier, but also because T-Mobile improves their offering like every damn month. Since I have joined at the beginning of "Uncarrier", my service has only gotten better (I'm up to 2.5GB data now), and my rate has gotten cheaper since they expanded from 5 lines to 6-10 lines for $10 each. Also they just started last month giving out free high end wireless AC routers that are like $200. I love T-Mobile!

I sold my family...just sayin.

I have the next plan so I pay less now. This is a great value for myself and my wife. I'll never get a contract again.

You know..I just really want the white version...white frame and white back, looked good on Daniel's pictures when it was first announce....

Really tempted to pick this up, but I really want the green 1520! Contract ends in Novemeber, probably will wait for a Black Friday/Christmas deal.

Well wow, this is a great device on at&t. I want one ...

Wait, not only did they not remove Qi, but they actually enabled dual-charge?
Did somebody give Ralph De La Vega a tall frosted shot of common sense? This isn't the AT&T I know.

The "not sure if serious" look in that avatar of yours makes this comment that much better. I don't usually do this, but +830 to you sir.

While I'm waiting for a 1030. Might have to get this for my wife so I can get my 1020 back.

Good to know, glad they came to their senses. However, still going to hold out to see if something more optimized for Windows 10 is in the near future.

AT&T is pulling me in, saving me from the black hole Verizon (Verizon the Event Horizon?)!
I love my Icon, but this kind of customer pleasing offer is stronger than Verizon's money sucking network.

Daniel, Do you have any HTC contacts? Do you feel like the HTC One will see frequent OS updates like the Lumia line of phones? Like will get WP8.1u2? Will it get "Hey Cortana"? What are your gut feelings on that? I know a few people looking to get either an 830 or the HTC One and obviously future support is part of the recommendation. Thanks. *I am aware the 830 won't get Hey Cortana, etc... due to chipset limitations.

Honestly, no idea, sorry. I would like to think it will get Hey Cortana. At least AT&T is getting it, which greatly increases its chances of better support.

Love the green with the black anodization.

Them there's fancy words, you know ipeople and androids think were dumb. Stop it

so... this begs the question; is it just the ATT version with dual charging standards? Or will all 830s have this built in? Care to try your test product at a Starbucks and report back Daniel?

I was wondering this myself. Is this something unique to AT&T because of their alliance with PMA, or is this something that will be utilized moving forward.

99% sure it is specific to the AT&T version. Will require some hardware changes, not just the cover.

Good point. Do you think they will release covers in other colors, like cyan?

Covers as in qi not built in? Or because its removable back plates its on them?

Any word if the 830 is coming to TMOBILE?

Did AT&T just get a double shot of awesome at Starbucks recently? That's great news... =P

Why can't there be a premium Lumia with covers and micro SD support.

Good idea. If MS could make a buck you would think they would do this. After all, look at all the ithis and ithat

Hey Daniel, care to venture a personal guess on off-contract pricing? $349 is getting tossed around a lot. . .

No idea, TBH. I would think that price is a little low.

$350 too low? Any higher than $300 and you're better off buying the 930 for $399 on eBay.

$379 is fair, but they'll likely start a little higher than that.

There was a rumor that Nexus 6 coming in all US carriers with $50 down and 2 yrs contract, so I expect this one will be $0 down on contracts.

Its confirmed that all 5 major US carriers will get the Nexus 6 but the cheapest option is 650$ off contract. So for it to be 50$ ON contract? ehh idk about that math lol

Was it that to add those to the 1520.

Verizon isn't getting this one, but the 735, selfie phone? Any high end WP's coming at all? I'm due for an upgrade next month. 928 user.

Dear god man, if we had an answer to that, Danny boy would write a book rather than an article

Omg, that black/green combo is fantastic looking.

Daniel, I know you've your sources :) in AT&T. Could also check what would the pricing be? I'm tempted to get the eBay prototype (RM-985) since it comes unlocked but I can live with an AT&T locked phone since I'm on Cricket. Pricing would be the deciding factor

Looks awesome, definitely like the black border better than the silver. Looks like this will be my new phone in November, especially given that my power and camera buttons on my 920 have kicked the bucket.

Super woohoo!! This seals the deal for me! Lumia 830 when my contract is up in December...

I wonder if there will be a Black/Orange version of this bundle too. I have to say the only thing I have against the 830 is the lack of "Hey Cortana" when it comes.

Y does It take Lumia phones so long to get to Nigeria...but if its the shitty Samsung or the so called iPhone.it takes less Dan 48hrs after release

I'm seriously considering buying one. Would be a great second phone to my AT&T 1520.

I checked on the specification of the Lumia 920 and it has a 1.5 Ghz dual core. The 820 has an 1.2 GHz quard core. Is is safe to assume that the Lumia 820 has a better processor than the L920. On the Camera side, the L820 sports an 10 Mpx perview camera, and I am not really sure that the number of pixel for the L920. If this the L820 has a higher number of megapixel, would it be fair to claim the L820 has a replacement for the L920 just because it has better specification?

I'll have an article coming up on the processors. Technically, the Lumia 920 still edges it out, but it is very close.

Saw a video the other day comparing the 920 and 830 side by side, opening the same apps and stuff, and they seemed to be of similar performance.

Like Danny Boy said, edges, as in close

Give me 1520 qi charging case please.

I am so tempted by the new nexus 6, however, no cameras on any smartphones are better than Lumia phones.... That's my only concern, tho it has wireless charging....

Depends on off contract price since we're on a mobile share value plan now. Probably will go for it if it is $399 or less. $349 would be a no brainer.

Depending on the price point, I may end up just buying the phone off contract and then be available to upgrade it next year when W10 comes out. Or, I could ... could... just do the early upgrade phone and get a new one each year... This one is getting harder and harder to say no to since there is no alternative and my HTC 8X is just getting older and older... Give me a more future proof Lumia alternative and I would just say "yes"...

Most phones are ' done' at twelve months just look at note 3 vs note 4. I would consider the 925 an upgrade over the 8x and that phone is a year plus, the 830 to me is an upgrade to the 925.

Please AT&T, just admit defeat and fully adopt Qi Charging. Also I notice the "Nokia" logo on the back of the 830 renderings. I thought all new Lumias were dropping the Nokia name.

Re: Logo. Partially true. These are basically the last 'Nokia Lumias' as far as we know. Microsoft can continue to use the Nokia name for a little longer and may phase in Microsoft Lumia.

I just realized that if the logo said MS Lumia instead of Microsoft, the sales might triple because the average consumer wouldn't be able to generate the instant doubt they have for the brand. LOL

This is such awesome news for us AT&T WP users. While I plan to keep my 920 until next year (contract is over June 2015), it's nice to have the 830 as another replacement option just in case my 920 craps out between now and then. I would tell AT&T and Assurian to replace my 920 with the 830. Really hope any 2015 Lumia flagships offer the same removable backcover and dual wireless charging capabilities. Make it happen MS!!!

This is great, giving consumers choice! AT&T is starting to pull through as the champion US carrier for Windows Phone.

I'm still struggling with whether or not this is a good upgrade to the 925, although this broad-spectrum wireless charging support and free backplate sweetens the deal. If somehow they had crammed a Snapdragon 80x into this, I would get it without hesitation. Or if they made the 930 as thin as the 925/830 and gave it the black metal that would be an instant buy as well. As it stands, I am torn, and the 925 is just a bit sluggish with 8.1. Maybe a 935 will emerge in 2015...

The 830 with the slower clocked quad core processor will feel much snapier than our old dual-core 920s and 925s. Go try one in the store when they hit and you will see.

That's what I'm expecting/hoping!

Curious to see what the Black Friday/Christmas deals will be on this.

I can't wait to see what the AT&T price will be

Sounds like a unique selling point!

I wish the articles regarding new phones also included the retail price of the phones as well as the contract price since so many have gone off contract.

is the green or the black the Qi plate?!

Both covers have both charging standards.

Is the Lumia 830 side rim metal or plastic?

Damn, I don't like the black aluminum frame... :(

That is cool. Nice gesture AT&T!
The graphics make the phone look REALLY thin. Is it really as thin as that Dan?

Guess they have Qualcomm to thank for this dual support

Meanwhile...Verizon might have the 735 in early 2015. *sigh*

Bravo AT&T! This is how you do it.

Now that is the correct approach, this should push a few sales.

That looks mad! I did the same thing with my black 930 by putting a green back on it... Bit more involved as had to buy new qi coil gaskets etc. Black alloy frame with green back is the classiest imo. I returned my green 930 for a black unit after a few days as the silver coating on the alloy frame looks cheap. Thinking of getting an 830 to replace my 920 work phone.

Still can't decide which to get from AT&T, 1520, 830, or HTC?

I wish AT&T worked in my area since they obviously support Windows. I would change in a heartbeat.

Dual use, go figure !!! We found a great solution to a disgusting problem (pma buying att exclusivity)... And att is carrying it!! Keep distancing yourself from Verizon and I might switch!

I find the black one ugly/boring. I want the green and silver finish!

Oh, dual use. that's pretty solid. I just hope that isn't an extra 40-50 dollars they've baked into the price though. I'd settle for 1 cover and buy another later.

The 830 will be my wife's next phone - she's had the 820 since launch. This week be a good upgrade for her.

Has there been any talk about T-Mobile offering the 835? All the talk seems to be about AT&T. Since both use the same technology, this should be a no brainer.

Would be nice if they made a dual charging shell for my 1020

Interesting... are you saying you would rather use PMA? I don't think I've ever actually heard anyone wish that before. Why?

I just noticed something on the pic of the 830. The time shown on the phone is 8:30. I need a life. Lol

Man each day this phone looks more and more beautiful I really want to get it but I know ill regret it come march-April when the next real flagship comes out

Ive been thinking the same thing. I will probably use my christmas bonus to buy an 830 off contract, and then go on contract again with the new flagship. Probably give the 830 to my mother in law.

Good update for 920 I think. Only lose dual led flash and keep nearly the same size

The 830 is a lot taller than the 920.

I'm really looking forward to Daniel's post comparing this with the 920 now. Starting to come up with less reasons to hold off on this.

Yes indeed...I'm still having trouble with a mid-range flagship...lol
Coming from L-920 on AT&T...was going to get the L-1520...size factor came into play. Contract up soon..as I'm pretty confident that a 'true flagship' will be out (hopefully)..lol in the not-too-distant-future. Need something new to explore with.

What's the deal on the 935?

i like dual wireless charging but don't like black metal bezel.

Wow, totally wasn't expecting this. It's nice that they learned from the whole Lumia 1520 PMA support debacle.

I'm gonna recommend a friend who is tired of Android this. It gets to be a better phone with each story here.

Holding onto to my 820 and 920 until something significantly better comes a long.

"In theory, you will be able to toss the Lumia 830 on a PMA-enabled charger at Starbucks while using their Microsoft Qi accessories at home with no fuss." Does this mean that the dual use is not confirmed or that for some reason it may not work with both? If they both work it would be a pretty nice feature. The 830 seems like a really good phone. I have a 920 and the 830 would be the phone I get if my 920 broke, but I'm waiting for a true upgrade.

Well, the 830 is definitely a true upgrade from the 920 - faster, thinner, lighter, higher res camera, larger screen, SD card, removeable battery, Miracast, etc. How is this not an upgrade from our 920s?

Just due to the processor. I don't think it's quite good enough to warrant an upgrade from the 920. It's a great phone if my 920 got lost or stopped working, but I wouldn't get the 830 as an upgrade to the 920 to use for 2 years. I believe the 830 isn't going to support the "hey cortana" feature either, due to the CPU. 930 does not support Glance, 830 will not support "hey cortana", 730 has a better front camera than either. I'd like to see them make a real high end phone that doesn't compromise on any feature, a phone that people can clearly see as a distinct level better than the lower tiers.

920 technically has a better screen (720p vs 768p).

Holly hell! Did not see this coming... Nice move on Microsoft's part to push this!

Aw crap. The black looks hideous. PLEASE tell me AT&T is going to offer the silver and orange combo. Or at least we will be able to buy one from the MSFT store that will run on AT&T's bands? Damn it! Why does AT&T always have to try and trick shit up? JUST LEAVE IT THE WAY THE OEM INTENDED!!!!

Too bad it doesn't have "Hey Cortana". I wonder if SensorCore can handle it despite not being S800.

I really like the two covers with the dual charging standards, A LOT, but the black metal may be a deal breaker for me. I will of course wait to see it in-person before making my final decision, but I personally think just looking at the mockups AT&T messed up something good. It also ultimately depends on the final price AT&T sets.

I was really hoping for the silver metal frame version on At&t. Anyone know if the Microsoft store will carry the silver one? If so, I'll be there to buy the 830 come November.

All jokes aside, does anyone use PMA wireless charging, for anything?

If the AT&T version of the 1520 had dual wireless charging my household would have 2 of those and the kids would have gotten the 920 hand me downs. I understand they chose a partner, but not supporting the standard was so Appleish, it made me want to vomit.

For those wanting orange couldn't you just buy an orange back cover - assuming they are available to buy?