AT&T Lumia 830 to come with Qi wireless charging after all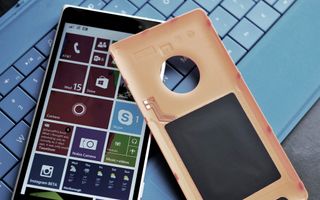 We got our first in-depth look at the new Lumia 830 'affordable flagship' phone yesterday, and I briefly talked about Qi wireless charging. The Lumia 830 comes with the popular standard built into the removable back cover, leaving two contact points on the phone itself to get a charge.
AT&T has announced that they are getting the Lumia 830, and through our sources, we have pinned down a date for Friday, November 7. This sale date is reportedly the same for the AT&T HTC One for Windows.
The big question for many is will the Lumia 830 have the Qi wireless cover or is it removed?
A highly reliable source familiar with AT&Ts plans has confirmed to us that the Lumia 830 does come with Qi in the box. AT&T is supposed to get the black/grey variant, so this means the Qi should be built right into the device. It also means users should be able to buy alternate covers with the colors like green, orange, or black and retain the Qi charging (the coil is in the back cover).
Additionally, we are told that the Lumia 830 also supports the PMA standard through the availability of an accessory case for the Lumia 830.
AT&T and PMA
AT&T is on the board of the Power Matters Alliance (PMA), a competing wireless standard to Qi. As such, they have been more aggressive about downplaying Qi in place of PMA. Therefore, although the Lumia 920 had Qi built in, the Lumia 1020 needed a shell to add it. At the time, the reason given for this move was to make it thinner, though this is a dubious explanation as the wireless coil is paper-thin.
Looking at the Lumia 1520, and AT&T's version is the only one in the world without Qi built in. In fact, the AT&T Lumia 1520 only supports PMA requiring some sophisticated soldering if you want to put Qi back into the phone.
Why the change of heart? If I had to guess, it is because Microsoft as a company is in a better bargaining position than Nokia due to their size and reputation. The sudden turn-about evidences this by Canadian carriers who are all picking up the Lumia 830, despite previously being chilly to Nokia. There are even rumors of Sprint getting a Lumia (either the Lumia 635 or Lumia 735), which would be a momentous event. Nokia and Sprint have had some bad blood over CDMA issues and marketing in the past.
For now, we are giving this rumor a 9 (out of 10) on our Rumo'meter only because we have not seen it with our own eyes, although our sources on the matter are consistently right. [Update: new information has come forward so I am bumping this to a '10', so consider this rumor confirmed]
If our information is accurate, Microsoft is reaching a middle ground with AT&T: Microsoft gets to keep Qi, but AT&T also gets their PMA option. For consumers, this is a win-win, since leaving the choice to the market is clearly the right way to go.
Windows Central Newsletter
Get the best of Windows Central in in your inbox, every day!
Daniel Rubino is the Editor-in-chief of Windows Central, head reviewer, podcast co-host, and analyst. He has been covering Microsoft since 2007 when this site was called WMExperts (and later Windows Phone Central). His interests include Windows, laptops, next-gen computing, and for some reason, watches. Before all this tech stuff, he worked on a Ph.D. in linguistics, watched people sleep (for medical purposes!), and ran the projectors at movie theaters because it was fun.
Lol is there a need to mention the HTC one in an article about the Lumia that has no relevance to it? With that said, this is good to hear they aren't messing with the qi

Yes, because people like choice and inevitably people are going to ask in comments about it, having missed our earlier coverage.

But Daniel, if people buy the HTC over the Lumia, that will invalidate his purchase, and he could never handle that. He'd absolutely die.

Lol it has nothing to do with choice haha. Its an article about the 830. I seriously doubt most people are going to ask about the m8 in article about the 830 and wireless charging lol. It was not really necessary but I digress :)

I mean, they have the same release date on AT&T and they are Windows Phones. I see this as highly related.

Just mention that HTC doesnt have qi build in :)

Daniel, how come Sprint and TMobile seem to be so uninterested in bringing new WP's to their lineup?

Well, T-Mobile IS getting the HTC One M8 with Windows so, it's at least got that going for them.

The wireless charging standard is becoming a major issue now for the smartphone users. It is getting ridiculous that consumers have to worry which standard they need to side with. Qi and PMA are adopted at different locations and stores. All phone vendors should design their phones by using the new Broadcom chip which supports multi-standard wireless charging. It automatically recognize and switch to the proper charger you are using. http://www.broadcom.com/press/release.php?id=s850858

That seems like a happy medium in the short term, but in the long run: It will be of more benefit to consumers if one standard wins out, like VHS vs. Betamax, and HDDVD vs. Blu-ray. Only one will survive. I personally think PMA is more sophisticated, but Qi is the most widely-adopted standards, and it can only improve with time. Because of that, I support Qi charging, simply because I'm very big on market standards. Sure, Apple was the first to popularize a reversible phone connector, but now USB 3.1 Type-C is here, and consumers are going to suffer because they have to deal with different hardware and accessory makers siding with different standards.

Guess who we need to solve this problem? It's the EU. They have to set (hopefully) Qi as a standard like they did with micro USB.

Mentioning it will come out the same day as the M8 is not necessary? I think your comment isn't necessary. Get over it dude!

I can PROVE 100% that you are wrong to some degree. How? I have a 1520 and don't give a flying **** about the 830 but I plan to buy two M8s and clicked this article specifically to see if there was mention of the M8 even in passing as this confirms to rumor hasn't been superceded by another and the Nov 7 date is still the most current info. Daniel... Don't listen to these people... It takes less than a 1/10th of a second to read the one line about the M8 so if it helps one person (and it has) its worth it.

Im asking: Will the One have wireless charging (Qi)?

No. Maybe the next-gen M9 will, but the current-gen does not. HTC cites the metal backing as being incompatible, but they might engineer around that problem in the future.

Hey Superboy, within the context of a flagship Windows Phone device being released on ATT on November 7, mentioning another flagship Windowsphone device being released on the same day on the same carrier, I would say is highly relevant. Especially considering that when reporting on a device, particularly Windows Phones, which are an underdog in the mobile space, has limited carrier support for flagship devices and a stunted mindshare presence in the general consumer space - mentioning another high end flagship Windows Phone device in an article that is helping to disseminate information about "the affordable flagship" simply supports the growing Windows Phone ecosystem of devices. It certainly doesn't hurt. :-)

One Plus.. +1 Posted via the Windows Phone Central App for Android

I believe the m8 for Windows is mentioned only because they have the same rumored release date.

I could see that but the article isn't really about their release dates so it is kind of irrelevant to the topic itself lol but the replies to my comment are funny to me(always the same few lol)

Micah... Really??? Was it necessary to even post that?
*this is the reason why you are disliked so much*
btw...
Hopefully the next flagship by Lumia on at&t keeps the internal wireless charging as well (with no removable back cover)

You have to remember who you talking to. Cause lord forbid anything over shadow a Lumia device

I'm dislikes by a select few who I couldn't care less about but ehh :)

Says the nokia fanboy who mentions nokia in EVERY article about OTHER OEMs. What hypocracy...

Supervage boy Dawson Micah?!?! Never! LMAO

Yeah there is when talking about the date of release. It's relevent and gets us WP fans excited.

Good grief. Leave Daniel alone... nothing wrong with adding the M8 info. Such whining.

Good! Im anxious to see it in person. Any word on the 735 in the US?

Verizon is getting that, likely in the coming weeks. No date yet.

whatever comes after Denim, somebody wont be happy with Verizon:)

Didn't see any other news about Verizon retiring Lumia Icon. I guess that one is a 10, too?

Since in the article you sight carriers being more agreeable because Microsoft is a more powerful brand (in the US, anyways): Do you think Microsoft will be able to throw their weight around and convince Verizon and T-Mobile to release Denim for their devices in the future (which would also, by extension, give consumers their long overdue Cyan update)? I'm on AT&T w/Lumia 1020, so I'm good. I just sympathize with my Verizon and T-Mobile brethren, would still have to either endure WP8, or use it without the optimized firmware (and lack of BT LE, which is required for awesome accessories like Nokia Treasure Tags).

"Whatever comes after denim..." What about whatever comes BEFORE denim? We still haven't received Cyan yet, much less Denim and my Icon is now "retired" after only 7 months. Tell me you believe Verizon cares about Windows Phone users and I'll sell you a huge lot of land in the Louisiana swamps!

I was talking about this device only because it has Denim already and what comes after that (Emerald maybe, ABCD E), because I know how Verizon treats its WP customers, I have 928 that also haven't got Cyan

Wonder how long it will be before they retire it.....

I'd guess they'll use the 735 as a 928 replacement. In which case, a long time. ;)

Carrier exclusives are poopy. I was hoping to upgrade my step-son's AT&T 520 to the 735.

Yeah, that means maybe a new 1020/1520 might have QI built in!

I an REALLY happy to read this article... I actually think they are meeting then more than halfway if the Qi back is in the box. I would have thought for sure they would include a PMA back, and allow you to buy a Qi one as a best case scenario. I really like what this could mean for the future. I do wish they were getting more than the black version though. I could never go back to a black phone. Personally, I think the black edge with a colored back would look better than the silver edge though, so it's not all bad news.

Yeah, the black edge with red, or bright green, would be nice.

+1...Maybe they (At&t) hear our rumblings about Qi and decided to give it another go. Posted via the Windows Phone Central App for Android

Yes, here's hoping! I hope that removal nonsense is over. Stupid att

Yes.. Att, Nokia, and MS heard our complaints.

We can only hope so.. Posted via the Windows Phone Central App for Android

Number of people who will choose PMA - 0!

Well, maybe Starbucks employees :P

Don't they all use iphones anyway?

Pfft. Apple invinted Wireless Charging. They just haven't decided to use it in their phones yet. ;)

Samsung seems to be the same but thats understandable seeing as all they phones are dual mode(gsm/cdma)

They (At&t) will be watching to see whom wins... Qi FTW!! Posted via the Windows Phone Central App for Android

Why is it that there is always one company that wants to buck the system? Apple refuses to go with microUSB chargers, AT&T wants to go with PMA when the rest of the universe has adopted Qi. Why can't they just admit that PMA is a failure and move on to Qi?

I actually think the lightning bolt connector is superior physically to the micro USB. I really don't like a lit about apple, but I think that micro USB is to fragile and not poka yoke.

I agree, but it's only available to those who reside within Apple's ecosystem. Everyone else is SOL. I just wish Apple would climb aboard the USB train. With their backing, I'm sure innovations like USB 3.1 Type-C could've been developed and be adopted much faster, only benefiting consumers in the process. Just like I wish more companies would've adopted Thunderbolt back in the day. Such awesome potential it had back in the day. Now, USB 3.1 and Type-C are mostly going to close the gap. Thunderbolt is still faster, yes, but for most people: Type-C will be just fine as a truly universal connector. Still, only Apple embraced Thunderbolt, so it never (and still hasn't) gotten very far. :(

All true, and exactly what I meant by what I wrote. Apple is the only company to use Thunderbolt Lightning Port and no other companies world-wide will adopt it. Requiring a special adapter to charge your phone isn't very smart, especially when you go overseas where hardly anyone has iPhone chargers as most of the World uses MicroUSB. It's not so bad in the United States, but going abroad, you'd better remember to bring a few extra iPhone chargers with you.

As great as Qi is to the masses At&t is always looking for another revenue stream. Its all about business. Posted via the Windows Phone Central App for Android

Awesome! I've already got the prototype 830 from eBay, but I wanted to buy the green cover from AT&T (using my discount) and still have Qi. This is great news.

You can buy their prototype?

A bunch of unlocked prototypes have been available for sale on eBay for weeks now. Still the consumer version of the 830, only running experimental firmware ("Debian Red" instead of "Denim"). How so many have been chugging out the factories, when one would assume Nokia/Microsoft would like to keep the prototypes out of people's hands? Beyond me, but still: There you have it. Whether these prototype models are eligible for upgrade to the official Denim firmware, or any official update in the future remains a mystery, however, so we'll have to wait and see.

Can the Lumia Icon back cover be put onto a Lumia 930 to give it Qi wireless charging?

Lumia Icon and Lumia 930 both already have Qi, no need. You can add the green or orange cover to the Icon through some tricks, we have covered it before.

Thanks for the reply. I guess I mixed up the 930 and 1520. I thought the 930 didn't have the wireless charging built-in hence me asking about swapping backs. I'm debating on upgrading from my 920 to the 930, but I'm curious about the devices coming out in the spring.

Someone has this article about change the cover of Icon/930? I made a research but didn't find it =(

http://www.wpcentral.com/swap-icon-back-plate-lumia-930s-green-or-orange

Am I missing something here? I thought the Lumia 930 wasn't available in the United States because of the exclusivity deal on the Icon with Verizon. Am I mistaken? Tell me I can get the 930 on AT&T and I'll dump Verizon today!

This article says Nokia confirmed the 930 won't make it to the US because of the focus on the Icon. However, since Verizon is retiring the device we might see a change in that by November. Having the HTC One and Lumia 930 available on AT&T for the holidays makes sense to me. You could buy an unlocked GSM model and put your AT&T sim inside if you want to spend $400+ on the device.

You can do that now? For $400? For att? Good article, thanks for the link!

This. $400 would be an AMAZING price for that phone. Also, any unlocked models that support the proper LTE bands for AT&T? I've been using LTE since the days of my Lumia 900, can't go back now.

Uh...yeah but...the 930 has built-in Qi wireless charging...

The 930 comes with Qi built-in...

Mean while nexus 6 has all the buzz and whistle. And it costs a bit more than Lumia 830

It also is rumored to he a gigantic 6 inch phablet, making a comparison to the 830 meaningless. A better comparison would be to the 1520.

You didn't get my point, did you? I am saying this mid range costs little bit less than a flagship. Read and think.

So your point was that midrange phones cost less than high end phones???? Lol I'm not understanding what you're saying.

Why explain to a troll, you no what I mean so piss of.

No, I just have no idea what you're talking about. You making a confusing statement and me not understanding it doesn't make me a troll, it means that you don't know how to get your point across.

I'm guessing he's saying that since the price difference is so small people will go with the bigger phone, and thus the 830 is overpriced. But you are completely correct that it is very unclear what he's trying to get across. And if that is what he's saying I think he's wrong anyway. Lots of people would never consider a 6" phone, regardless of price.

I'm not a troll, but I'm not sure what your point is either. It isn't surprising that a flagship phones costs more than a mid range phone. That is usually how it works, since that is exactly the point of mid range phones.

No SD, while 1520 has it.

Nexus 6 32GB is $650USD .. that's a lot more than L830

It doesn't matter. The Nexus line is geared towards developers. It is not a big seller. Nokia and even ZTE have a bigger market share in terms of usage. So more people use Nokia phones than Nexus ones.

Are you saying that the N6 will have similar qualities, but for a higher price? Lower than other flagships? Moto G-like?

I'd imagine it was more a change of money from Microsoft to AT&T than it was AT&T's change of heart.

Likely a few factors, tbh. Without being there, hard to say. I just see Microsoft getting things done, like announce the phones and 4 weeks later they are sale in many places around the planet.

True. Their retail strategy has drastically impoved post-acquisition. One day I'd like to be able to see the same flagship on most carriers on the same date. That'd be cool.

Same here *clears throat* 1520

Or a more managably-sized Lumia Icon upgrade (Lumia 935) with 3100mAh battery, microSD card slot (supports 128GB), Qualcomm 805 processor (with "Hey Cortana" support), sensor-core, removable battery, HD Screen compatable with Glance and active screen cover (ala HTC One M8), with Lumia Denim and Windows 10 mobile and unlocked for all carriers (no exclusive carrier deals!) And while we're at it, lets throw in that "touchless reactive screen" ala McLaurin MS's been working on. Throw all of this into a beautifully crafted magnesium metal case (ala surface pro 3) and man I'll tell you, I'd pay a fortune for that phone! $1,200, not a problem! Are you listening Microsoft!?

Right there man! So waiting for THIS! /\ /\ /\ /\ /\

But it would break the poor hands of trolls ;).

What does that mean? Does that mean they wouldn't be able to find any flaws in a phone line that?

Considering how heavy they thought the 920 was, (185g) a 4.5 inch device with a 3100 mAh battery would probably be more heavy. (I meant it might break their little wrists) :D

OK, gotcha! Good point, but I think with the latest battery technology, the newer 3000+ mAh batteries don't weight as much. For example, look at Apple's new iPhone 6 plus and Google's new Nexus 6, both of which have a 3000+ mAh battery and don't weight very much.

When you make that jump from retail stores to Carriers in the conversation, Microsoft still has no saying -_- You can see the difference in rollout worldwide but in the US its still the same story sadly. The carriers decide what they want to buy and they are very careful to buy expensive Windows phones due to lack of sales. But you know how that vicious circle goes lol The next logical step for Microsoft is to sell unlocked devices at their stores THAT WORK FULLY with Att, Tmobile, Sprint, and Verizon. Which would be costly of course but another way they can by pass carriers in the states.

That news on the 830 has pushed my decision to pick one up. I honestly do not need to have the flagship specs to have an enjoyable Windows experience. It is always nice to have the high end specs (I currently use a 1520 as a daily driver) but I totally am picking up an 830 as a backup and possibly a daily driver.

I hope you enjoy but I am curious why people buy backup phones lol. Like if you're 1520 is your daily driver then what does the 830 serve as exactly.

As I found out in the last year, phones can break, and it can be a pain in the butt if it breaks after hours and you need a replacement right away. I picked up a $40 520 a while back and keep it in the gove compartment of my car. Short of my phone being stolen I can just pop my sim card out, slap it in the 520 which is already set up and ready to go, and continue on with life until I can get a replacement for my main phone. An 830 seems like an overkill device for such use... but some people have more disposable income than I do.

It's a pretty kickass phone and a joy to carry/use so far.

How does it compare to the M8 in your opinion? See, it did make sense to mention the M8 in this article. :)

Tough comparison. The M8 is clearly the flagship out of the two. The solid metal, higher rez display, much faster CPU/GPU. If you want the best, that is probably it. Having said that, even I do not "need" that stuff. I have been using a Lumia 735 all week, not even with LTE, and have loved it.

You are so hard to please Daniel. Lol Seriously though I have found it more exciting to see just how great some of the low end phones are for the price compared to the bells and whistles on the flagships that I won't need.

lol Yeah, I mean specs are one thing, but it's about using the phone on its own and feeling out the experience. The low/mid range Lumias are all pretty fun to use, and for 'normies' they are great devices. I have quite a few friends wiht smartphones who are just regular people, couldn't tell you a damn thing about the phone, model, OS, etc. I use them as the standard buyer, and not enthusiasts (though I try to cater to their needs in reviews too).

HTC on Verizon was flaky as hell. Reboots and Data issues that required rebooting. The camera sucked and no camera button or wireless charging is/was a huge deal breaker for me. The qi adapter also caused major issues for the HTC and none at all on the 1520. HTC has a phenominal battery though.

But what about the camera on the M8? Is that up to par with a high end phone?

Fun fact: I got my mum a Blu Win Jr and even that has a good WP experience. Its slower than my 1520 obviously but still very usable and for my mum will be more than fine. Even had tons of open apps in the background and it still ran fine. An 830 should be just fine for anyone but the tech snobs on this site.

Yeah totally. It's just about understanding how the non-enthusiast crowd (aka overwhelming majority) uses a smartphone. 90% are email, call, sms, browser/search and around five apps.

Have we seen prices for back covers?

Can you give me a link to where you found them? All of the ones I could find are flip only.

Nice. I could get one and repaint it blue or red or get 2 and do both. :)

Great! Come on T-Mobile announce your 830 soon!

Ditto! T-Mobile says on their site they will have the M8 for the holidays. So maybe they will release both phones on the same day like AT&T? @Daniel_Rubino have you heard anything?

I got burned with 810. T-Mobile stopped support after couple months from release. Luckily I'm running on developer preview firmware.

Why didn't they do this for the 1020?

Do which? 1020 had the cover for Qi. Or did you mean support for PMA?

More like they should have done this for the 1520 or at least had the removable back cover. That should be standard now going forward.

Because Nokia who no one wants to daddy anything bad about was in control at the time and now Microsoft had taken over and s Daniel had said, things are getting done now. Bringing the phone to market a month after announcement I'd better than the 930 on ATT which we still hadn't seen.... Nokia was the d&s owner when the 930 was announced

I had to read the headline twice.

Maybe their not actually carrying it in their own stores & just online & @ Microsoft store?

Well, I was trying my best to ignore the 830 and wait for the next round of Windows Phones, but this is looking like a real 920 replacement...

I never thought they'd take it from the people

So, Daniel got the Lumia 830. I'm looking forward to its hands on and review. Time for a new phone. A brand new Lumia 830 or a second hand 1520. Even after an year, it's specs and hardware remain unmatched.

I'm looking forward to its hands on and review.

Like this you mean? http://www.wpcentral.com/nokia-lumia-830-unboxing-impressions :)

In fairness, technically it's not a full review despite it's length ;) More of an initial impressions and tour. I'll do a proper review after using it for a few days.

Please review battery life in detail when you do :)

Daniel it would help us if you rant a quick comparison of the Lumia 920 vs 830 cameras, since so many 920 users are hesitant to "upgrade" to the 830, partly or mainly because of the camera.

I second this. Been waiting for the right phone to upgrade from the 920 and this very well could be the one. Was thinking that I wanted a better display, but I don't watch videos on the phone so why should I care about 1080p screen res?

Check the articles from yesterday, he already went into detail with a hands on.

Hope you're not interested in the green one as I've been waiting 2 weeks already for mine and I'm growing impatient. It is a sick device that of course can take a 128GB micro SD for expansion. I can't wait as it looks slick in green! I've been checking every other day since I ordered it!

Awesome news!!! Now going forward all future MS/Lumia phones need to have Qi built in and a removable back cover just in case AT&T wants their own stripped down version. Any new flagships next year better be like this. Don't just offer us something cool and innovative one year and then take it away the next. Looking at you Glance!

Thank goodness common sense ruled. Customers with Qi investment would not be happy otherwise. Perhaps an AT&T model will be purchased here after all. Now they just have to get the off-contract pricing right.

Anyone have a suggestion for a good, inexpensive wireless charger for use on a kitchen counter or bedside table?

I made a little LEGO charger stand for my Qi puck complete with rubber pads on the sides of the cradle and that works great as an upright clock at night. Cant wait for a newer phone on such a cradle where I could just say 'hey Cortana, what is..." and see/hear an answer without ever touching the device. That would be the coolest gimmick ever!

This is great news. My only complaint is AT&T isn't carrying the 830 with the silver colored metal, only the black version. Either way this is my next phone.

Yeah, unless the AT&T version is a lot cheaper I might still go for the RM-985 variant from Latin America. I wish you could just custom-order any device from a Microsoft store.

I think ms got burned when they did that with their zune originals line(like Motorola)

Daniel - can you do a side by side test of the 930 and 830 showing app loading speed and camera shots. I've seen a 920/830 video elsewhere with the 830 looking to slightly take the lead but am curious how much faster the 800 series processors really make a phone. Thanks!

930 needs to get Denim first.

Thank you ATT! We just ask for options whenever possible. We know you like PMA, and if that wins in the market place, great. But give us options when you can, and do work that removes our options.

So now maybe AT&T can bring back all the discounted $5 Qi Nokia chargers and Fatboy pillows and start charging $50 or more for them again?

Wireless? Well ....can you people afford the phone at first? Hahaha

Exactly nothing has changed since the pre came out these charging pads still cost a fortune & we still cant have truly wireless charging

WOW, just wow. Every time I call ATT they ask what they could do better at the end of the call. I ALWAYS mention that I want Qi charging BUILT IN! I am glad that they are listening to their customers! This is great!

The only question I have: Microsoft will sell the back covers without flip??? They only announced the flip ones, but I don't want it.

You can buy replacement Qi covers w/out flip right now on eBay.

Searched and didnt find anyone withou flip. :S

Sorry, but can someone enlighten me about what flip is?

Paul Thurrott said yes to a comment on his website. He is going to have a longer review where he said he would give more details.

Very tempted to sell this 1520 replacement I just got from ATT simply to buy this for Qi

First of all I love QI. But one remark. The QI makes the phone thicker is true for the Lumia 820. But for me QI is more important than a mm thickness. But thickness is a selling point. (for the 820 you need to changes the back cover). And also for the 925 becomes thicker because you have to click a additional cover on the back.
An additional problem with the increased thickness is that telephone covers do not fit that good anymore.

Yup, I have those covers, but Qi has improved over the last two years. If you handle the 830's back plate and see how thin the coil is, you can see it is adding virtually nothing. Same with the 1520's coil.

I saw on YouTube how to get the QI in the battery cover of the 925. Maybe I have a go on it.

I wonder if T-Mobile will get the M8 on the same day????

Denim denim denim denim denim. For my 1520 I refuse to buy a 830 that's going back from us 1520 owners. Just release the damn denim

What is the successor to the flagship 920? If there is none, the 830 will be my upgrade in February

There will probably be new phones based on the 8xx Snapdragon next year, I'd imagine. Hope for some rumours before February :)

The successor to the 920 is supposed to be the 930, but i guess people want to wait for the next iteration to see if it offers a more compelling reason to switch

Please let this be true... Qi is the way to go. I actually went and bought a qi strip that plugs into my Lumia 1520 to use with my old charging pad from my days with the Lumia 920. It isn't quite the same but gets the job done.

What is this magic strip you speak of?!

What a joke.. Get screwed on 1520 and now 830 needs charging cover. :-|

It is not an additional charging cover. It's the back plate of the phone, which comes with it when you buy it. The word "cover" used here is maybe a tad misleading as it could also be used to mean something external to the phone, but that's not what it means in this case.

Color me surprised and angry. An AT&T 1520 user.

Wait, what? What are you angry about that you weren't when you bought your phone? It's not like they are now including Qi in their 1520s. This is GREAT news. It means whenever you buy your next Windows Phone from AT&T it may not be crippled. And it means all the people who buy 830s will be happier. Your point of anger should have been when they made the bad decision, not when they corrected it.

Hey poddie, simmer down now! I love my 1520 and I would like it to have the Qi. It doesn't becase they took it out. Besides, this is a rumor, which means there could be angy 830 AT&T owners in the future.

I'm a little confused... aren't you the one who said you were angry at this news? I was just explaining why you shouldn't be. Trust me, I'm on a very low simmer. ;-)

Yea, maybe a more appropriate punctuation, !, could have lifted the tone of the initial statement. I have a 1020 with Qi via the Nokia case so not all is lost. Angry might have been to strong of an adjective :D

Finally some good news. AT&T can go screw itself though.

Nice! Now we just need a 1020 successor that also has qi!

If Tmobile doesn't get this one we are more than likely jumping to ATT so we can get these. Was really eyeing the m8 but so far liking the 830 and Tmobiles lack of love for anything other than iPhone now is activating. Just wish ATT had comparable plans.

Well screw my 1520. Switching both of our phones to the 830 now that this is happening.

I have the 1520.3... the magical unicorn that does it all. Qi is nice this I will admit, however, it's no a game changer. I have only standup charger and it's nifty but it's a gimmick not a true value add in my opinion. The issue kind of is the 1520 lasts easily through the day and I hardly find myself charging the thing often. Only at night before bed and I just drop it onto the Qi charger at night. Simply put... it's not a HUGE thing. I am, of course, interested in the new Qi chargers that were announced though. Those look nice with notifications.

I use my Lumia as navigation and this eats battery. So I have the CR-201 QI charger car kit and with this my battery is not empty after a drive. So QI is no gimmick for me. Just click it in and go (No cables involved)

I can't stand when people call it a "gimmick". It implies their judgement is superior. For many people Qi charging is a huge convenience. If the level of convenience offered to you personally is not enough to be a must have feature, that's your own opinion (and completely valid), but it's more than a bit arrogant to condemn it as a gimmick.

You should talk to people with a touchstoned

I will trade ya Jessie. Mine is white and on At&t. I will take that unicorn!

Black only? So that means no silver framed option :(

I really hope this pattern continues. My next flagship phone purchase needs to have wireless charging. And I hate adding a charging attachment like the 1020.

Finally, a smart move by ATT.

Whoa. Really? Never would have guessed that to be possible with AT&T. :0

Most will opt for Qi, nice of att to allow consumer choice instead. Still gonna get a Lumia 1520.3 anyway owo.

Now, I have to decide if I want to be without "hey, Cortana" on the 830 or without a decent camera and qi on the One M8. Actually, I can't do without either and I can't use a 1520 with it's monstrous screen size so i'll be still left without a new phone. You're killing me Microsoft. KILLING ME!

For some reason the 830 for AT&T shown on Microsoft's page makes it seem like there will be an all black version and a black/green version (as opposed to the black/grey variant): http://www.microsoft.com/en-us/mobile/phone/lumia830/#4144198 They also show two Nokia Wireless Charging plates with Qi under Recommended Accessories -- so I think that also helps confirm the rumor :-)

Are you sure that's for AT&T? When I go to the Microsoft site and drill down to AT&T phones they show the 635 as the most recently available option. http://www.microsoft.com/en-us/mobile/phones/att/?action=catalogsearch&catalog_mode=list&order_by=latest

If you look at the top pictures of the phone you should be able to make out the AT&T logo at the bottom. That's what I was basing my guess off of -- I could be wrong. They also have the AT&T logo and name next to the phone at the very top to the left of the phones. Also I assume it doesn't show up in the list you referenced since it's not out yet. However if you look at 'All Phones' instead of 'AT&T' ones, you'll see that black & green are the two colors listed (I only noticed after you shared your link) http://www.microsoft.com/en-us/mobile/phones/all/

You're right. It doesn't seem to look good with the black metal..... I'll wait to see it in person.

I think a few people in the forums -- over in the Lumia Icon forum -- were changing the backs to the the orange and green plates (from the Lumia 930) and they seemed to like the look. Maybe AT&T jumped on that trend a little too early... It's cool that the choice is there though :-)

AWESOME!!! Though i love my 1520 and I have added a small addon Qi adapter to it which works flawlessly. hmmmmm, decisions decisions! So used to the bigger screen now.

Lets hope ATT pulls it's head out and realizes Qi is the winner here.

AT&T will no longer stand for Alternating Technology & Torture. Since 2012 with the L920, 2 years later they finally listened to us. Will they bring back $5-$10 wireless chargers with the launch?

Where's T-Mobile's 830!?!?!?!

I thought this article was about Qi wireless being reintroduced in att Lumia phones. Looks like Microsoft may be able to get more out of these carriers than Nokia ever could.

So I'm using a Lumia 925 on AT&T. I have the wireless charging back. I was looking to upgrade. If i decide to go with the 830 what specs am I downgrading? Is it just the display?

not really. Since the 925 has an amoled display it actually has fewer subpixels than the 830's lcd display even though the 830 has less resolution. The 830 should probably be a little sharper. The blacks will be better on the 925 though.

With this result in the 830 internals rattling like the 920?

This has nothing to do wireless charging. So no, no rattling.

This is freaking great!! Follow for the rest of the future devices!!

I'm interested in the Miracast function. Specifically the ability to use the car mode apps on my JVC touch screen car receiver that supports Mirrorlink.....i believe the M8 supports Miracast. Does anyone know if the 830 will?

I like to think that part of the change of heart is people like myself walking into an ATT store to look at a 1520, and just when the desk-jockey is about to close the sale saying "Naw, I will buy the unlocked verion online rather than the gimped ATT version". When sales people loose out on a sale then they complain to corporate, and I am sure enough people did it to at least make them question their stance on the matter. Then again, maybe it didn't make a difference... but I like to think it did :P In all seriousness though, the 830 may not be the great leap forward that I expected after 2 years, but it does seem to be at least incrimentally better than the 920 and could be a worthy 'upgrade'. Still, part of me is hoping for some sort of 935 with Glance, SD, and Qi on ATT, or a 1525 on ATT that adds Qi support before my contract is up in 2-3 months.

T-Mobile really is a big disappointment. Apple got its dick too far down T-Mobile's ass. They no longer care of Windows phone

Leave them. They have the worst reception of any carrier anyways.

My 1520 has everything I need. Even if a successor comes out, I don't know what else better they can do with it besides add new guts. I'm just looking forward to the next major update to the os.

Hey that's great news. Having Qi in it for us AT&T customers is even better news. This 830 looks like its going to be a nice device, with good value, that could do some good sales numbers. I can actually see why Verizon is winding down the 930 with this on the horizon and slated for Verizon also. Sitting side by side on a display counter, who is going to buy the 930? Its all about sales and I'm thinking this 830 should be much more successful for everyone. Looking forward to a highend unit to replace the 930 in the spring that builds off this 830 formula. I assume/hope AT&T will pick it up and I'll replace my 1020 with it

Say what you want about AT&T, and they certainly have earned plenty of criticism over the years. But they remain the best US carrier for Windows Phone, and it's because of things like this. It's a shame Verizon struck that exclusivity deal with Nokia for the Icon -- AT&T definitely would have managed support for that device a lot better. Mind you, none of the carriers REALLY PUSH Windows Phone. AT&T Store reps look at me like I have 5 heads when I tell them I have an 920. Still, they're the best we have in the States.

Please, oh please let this be representative of a shift for 1030 to Come...

This is fantastic news. I hope the continue this trend on future releases. My 1520 is not as nice since they removed qi.

So I can get a PMA wireless charger for my att 1520 ? With or without shell?

I'm about to embark on hacking my ATT 1020 to put the Qi charging inside. The shell has proven unreliable. Anyone tried that here?

My question is, with the icon dropped will there be a new high end flagship for Verizon, or will we have to downgrade hardware to upgrade firmware?

This is great news in my book, and I hope the inclusion of Qi extends into future devices. I picked up the 1520.3 a few months ago to wait out a future flagship that will attract my attention, hopefully that is a replacement for the 1020.

Oh, happy day! This explains why the AT&T Lumia 830 page on https://www.windowscentral.com/e?link=https2F%2Fclick.linksynergy.co... lists the new Nokia wireless charging plate and portable charging plate as recommended accessories.So glad AT&T did the right thing this time and left Qi on the 830. The only thing I'm not happy about is they will only sell the black version. The Microsoft page shows black or green as the color options. but the green phone has black around the edges instead of silver. I had really wanted the silver. Not sure I like the green with the black. I had also liked the orange/silver phone, but an orange back on a black phone might look too Halloweeny. Why, AT&T why? Why only black? Daniel, do you think there is any chance AT&T will sell the other colors with silver edge (like the gloabal version) at a later date? Perhaps they're only selling black at launch to see how well it sells, and if it sells well, maybe they'll add the silver color options later. Not sure if I should just settle for the black or wait. I want LTE, so I don't want the global variant.

I wonder if the real reason AT&T is allowing Qi functionality is because it listened to the feedback from its sales reps. I apologize about the small sample size of 1, but I let my AT&T local store know that if their 1520 had Qi wireless charging built-in, I would have purchased one. Perhaps they heard that same message from hundreds of potential buyers in the US who kept their wallets in their pockets...

Check the RAM! Check the storage! Check the battery! AT&T WILL CUT something out!!! Is in their nature!!!

Daniel, Is Windows Phone going to last? We are being bombarded by releases from Apple, Google, Samsung, and LG - pretty darn good devices at that, but it is relatively quiet on the WP front. The HTC One release is a nugget, but no true flagship/landmark releases. What's the deal? Should we be patient, because it's coming? -Thanks

Hell has frozen over! And I'm about to do another Lumia 1520 Qi mod tonight!

im glad to hear this news. i have a qi charger and i was hoping to be able to use it in the future. this is good news for future phones on ATT

Question. I know the Lumia 830 for AT&T will work with Cricket but will it also get LTE on Cricket?

Great news! I"m far too invested in Qi with charging accessories all over my house. This certainly makes the upgrade from my 920 to the 830 more plausible. Going to hold out for a new flagship though... where they'll also hopefully retain Qi.

This is fantastic news. Now I won't have to buy all my phones unlocked from random internet retailers. This week I bought a 1020 when my 920 broke. The only reason I didn't just get a 1520 was that AT&T ruined their model. And while I was glad the 1020 was cheaper, there was a nasty surcharge on the Qi cover for it (it supposed to cost $25 but is sold out everywhere, so the ebay price is quite a bit higher). So AT&T's fixation on that vaporware PMA has been a major problem for me this week. Glad to know MS is putting an end to that nonsense.

Great news for you guys. Can you all take to Twitter and Facebook and spread the love to AT&T, it will do them good to get the positive feedback.

Microsoft's weight with Canadian carriers is good news. Windows Phone is almost dead in Canada, given that the 1520 and 930 were never sold by the main carriers. Rogers is still selling the 1020, for heaven's sake!

I wish att felt this way back when the 1520 came out. Pma is stupid.

Finally, a step in the right direction. Now i'd just love to know why this phone doesn't have a 1080 screen. If it did, i probably would have purchased it.

Price and as it sits below the 930 in the line up. And if McLaren had come out it would all make more sense. Alas, Nokia/MS had no plan B.

No need . You can change batteries at will.

Is that accent color chocolate brown?

Yeah!!!!!!!!!!!!!!!!!!!!!!!! F yeah!!!!!!!!!!!!!!!!!!!!!!

ATT needs Windows Phone options in their stores. Period. Good to see this one coming but their stores in Chicago loop have almost no options. We need options and lots of them!

So can I send my AT&T Lumia 1520 back to AT&T and have them put the Qi charger back in it so it will work with my charging plates I have from my Lumia 920? Didnt think so, but thanks AT&T for crippling a decive out of the box. Disclaimer: I am a Microsoft employee.

The only negative to the AT&T version of this phone now is that there is no option to buy the variant with the silver metal frame... only the darker one that accompanies the black back cover.

Now all we need is a price on AT&T... I still believe they will want $399 for the phone, in which case I'll just buy an unlocked and unbranded model.

Brilliant, we should definitely celebrate this. I wish, but highly doubt, this would lead to a solution that will FINALLY enable wireless charging on my Lumia 1520. BTW, thanks for mentioning the Lumia 1520 in this, Daniel, though have you heard anything on how Lumia 1520 users are supposed to make use of PMA charging?

Can anyone explain any definitive advantages to using wireless charging over attaching the AC charging cable to device?

Easier to access and you don't have to worry about the micro USB breaking.

I don't know what exactly you mean by 'easier to access'. What is easier to access? The device itself? Certainly not. After all the device must be placed on charging plate which can no more easily be moved than the USB-style plug as they are both in need of constant AC, right? As for the other reason, I suppose that it may be possible that the USB port of the device would experience less wear n tear. However having owned the first 2 iPhones (3G then 4S) and both Nokia 920 & now 1020 for past 6 months, I've never has amy issues with my USB ports on those devices and neither have any of my friends whom do not possess 'wireless charging'. Careful use of USB-style rarely results in damage so I am yet to convinced of any real benefit from wireless charging. It actually results in slower charge time - at least it did on my Lumia 920 which came with a free Wireless charging pad that I used for maybe a couple of months until I grew tired of waiting much longer for the recharge process to complete and could not conceive of a true benefit from using it.

Must..
Resist...
Wait...
Flagship...
In....
2017...
Windows Central Newsletter
Thank you for signing up to Windows Central. You will receive a verification email shortly.
There was a problem. Please refresh the page and try again.