Microsoft's Lumia 735 'selfie' phone could be Sprint's first Lumia ever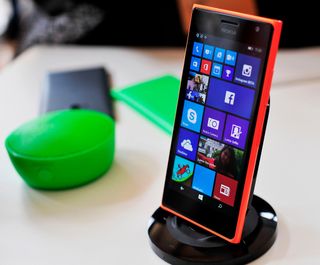 It looks like Sprint may be get its first Lumia smartphone on its 4G LTE network as FCC documents reveal that the Lumia 735 supports compatibility for Sprint's Spark network. Listed under the model name Nokia RM-1078 in regulatory filings, the phone sports similar dimensions to the Lumia 730 and Lumia 735 variants, and comes with a removable back battery cover, micro SIM card slot, and microSD card slot along with support for Sprint's LTE bands 25, 26, and 41
The Lumia 730 and 735 debuted in Berlin at the IFA show as a mid-range selfie phone with a 5-megapixel front-facing camera. The phone sports a 4.7-inch ClearBlack Display 720p HD screen, quad-core Snapdragon 400 processor, and 1 GB of RAM to power the Window Phone 8.1 operating system. The Lumia 735 is a single SIM LTE variant of the Lumia 730.
So far neither Microsoft nor Sprint has announced the Lumia 735 for Sprint's network.
Are you on Sprint's network? Are you excited to see a Lumia Windows Phone added to the mix?
Thanks to Dee for the tip.
Source: FCC via PhoneArena
Windows Central Newsletter
Get the best of Windows Central in in your inbox, every day!
Chuong's passion for gadgets began with the humble PDA. Since then, he has covered a range of consumer and enterprise devices, raning from smartphones to tablets, laptops to desktops and everything in between for publications like Pocketnow, Digital Trends, Wareable, Paste Magazine, and TechRadar in the past before joining the awesome team at Windows Central. Based in the San Francisco Bay Area, when not working, he likes exploring the diverse and eclectic food scene, taking short jaunts to wine country, soaking in the sun along California's coast, consuming news, and finding new hiking trails.
Sprint is terrible. I doubt anyone would switch to Sprint just for this one phone.

But this would be a great phone for someone who currently has Sprint. Their network is improving tremendously. I just ordered the new iPhone but I would definitely still purchase this as well. Been waiting for a Lumia to hit Sprint. Softbank is turning the company around and they have a new CEO. Things weren't always so peachy at TMobile either

Good for people who are currently STUCK on Sprint maybe. Man is it terrible.

My GF is stuck on Sprint. This looks like it could be an upgrade to her HTC 8XT so I'll probably recommend it to her.

It's to keep people from leaving.

Well, they do have cheapass plans. Cheapass phone + cheapass plan = mo money in yo pocket

And more free time because their data sucks and no one will talk to you because the calls constantly drop. But if your a teens are girl sensing text messages your in good shape.

Sprint works great and the new CEO is amazing probably the best thing that has happened to sprint in the last 10 Years. Hesse did a great job with the network ehancements but Sprint top Exectutives have had the loosing mentality since the Nextel Merger. Cluare and Masa is proibably the best thing for Sprint. Masa doesnt want to be the loser he has the winning mentality. Sprint will be great in a few years. They have people that care in charge.

I am slaved to their data plan, as I on other carriers I would be paying way too much for the data I use. for other memebers of the family, this may be a great solution.

My wife and I use Sprint because we receive good customer service, get service for a fair price, and the coverage is good and improving. My only gripe has been the poor WP selection, and getting a Lumia on the phone roster would be appreciated by this Sprint customer (HTC 8XT).

EXACTLY! Posted via Windows Phone Central App

Same here. i've been a Sprint customer since 2006 and had the HTC Arrive and currently the HTC8XT. I've been wanting them to carry a Lumia phone forever. As much as I'd love to have the 830 on Sprint. I'll gladly take the 730 just have first party Windows Phone that'll receive OS updates and unique Lumia features. As much as HTC One M8 with Windows would be the better phone assuming that it's coming to Sprint. But I would like chose the 730 over it given HTC track record provinding extended support with Windows Phone.

I got the Samsung ATIV S Neo when it came out, and it has been a great phone. Upgrade my daughter and wife to it over the last month, as it was one cent on Amazon. Everyone is happy, and we feel no need to jump onto a Lumia anytime soon. I'm sure, in a year or so, somebody in our family will want to upgrade, but the Samsung as been just an excellent phone. I agree with Sprints improvements. We used to have an Airwave for the house, and now its 3 bars 3G. My area is now mostly 4g, and sppeds are good, and dropped calls are a thing of the past. Plus Sprint does have the best customer service.

Really❓ Did you think about that before you typed it❓ ..... You'd better say no...

I LOVE Sprint...except for the lack of Windows Phones, BIG downer. Love everything else, and have ported in about 24 of my friends over to Sprint, predominantly from TMobile....Happy customer with great service at the cheapest rate, unlimted data only.

Was on Sprint for years just for cheap unlimited data. Even though it sucked really hard. Had to leave to get a decent Lumia. So now I'm at home with metro pcs a Lumia 920 and killer data speeds. Unlimited too. I use like 14gb month. F sprint.

I love love Sprint :) 8 years going strong. I finally decided to renew and don't regret it.

Lumia availability is incredibly pathetic in the US.

You got that right. No wonder there is no market share, nobody can buy the damn things unless you do a ton of research and actively seek out a place and carrier that has one (and hope the store you find has it and that the sales person doesn't ignore you or talk you into another phone).

It seems like fewer people are getting subsidized phones on-contract nowadays, and more are buying them at or near retail value or through something like eBay because of cheaper no-contract plans. The only issue in that case is that most unlocked/international phones don't support 4G.

Canada also
Phone in shelve :
Walmart : ~12 phones demo / 0 WP
Bestbuy/Futurshop ~20 phones demo / 1 wp

Superstore Mobile Shop: 2 WP's both same model on different carriers

This could be the first universally available Lumia on us carriers. Isn't it coming to att and Verizon.

I think 830 variants are coming to those.

This is why MS should sell UNLOCKED LUMIA Phones for nominal price as Google does with Nexus line.

That would mean cutting corners. But I agree. The 830 isn't a true "flagship killer" like the Nexus line or Oneplus, contrary to statements by Microsoft.

Microsoft never claimed the 830 was a "flagship killer", and seeing as the other devices you mention havent managed to kill any flagship themselves I would question their claim to that titie as well.

But IMHO MS should do the price match unlocked 830 with Nexus/OnePlus lines across globe or MS should create a new line of unlocked Lumia (that carriers don't get any exclisivity) to price match Nexus phone every year, sounds good?

That doesn't work for Sprint and Verizon. Phones only work if Sprint and Verizon cooperate. AT&T and T-Mobile work as long as the hardware is right.

YES! Posted via Windows Phone Central App

Correct... We need every device on every carrier..
530, 630, 830, 930, 1030, 1330, and 1530
.............
And they need some more Niche devices.. Active, Music, Gaming... Come on MS!

Well, its another outlet, and MS needs to try and fill sprint shelves with WP devices...
.........
Each carrier should have a minimum of no less than 10 different WP devices from a mix of OEM's.... This should be MS's goal.

Glad they're getting something. The 735 seems to be an excellent value.

If Sprint is truly going to start carrying Lumia phones, I'd want to see something like the 1020 or Icon being offered.

The more WP on more us carriers the better doesn't matter brand or carrier more is better

This is a start though and its cheap. I'd buy this phone off contract. I'm sure Sprint will get the M8 as well. Only a matter of time

I'd probably buy it as a backup to my Neo but only if it's priced around $100.00 outright

I doubt it will only be 100, but I'm hoping its under 250 outright.

When the McLaren was initially rumured, Spring was mentioned as the participating carrier along with AT&T and Verizon. Lumia 1030, if available, could be going to Spring too.

I wish they'd stop calling it the 'selfie' phone, it cheapens it so much. It's much more than just a Facebook duck face phone.

Or call it a selife phone since it is marketed to those who may want a high res ffc

This its a big market not for us but kids eat this shit up

I want a higher res ffc with the next 1020. I take photos forwards and backward.

Sprint has a lot of customers that will fall for "selfie" though. Lol

Every carrier has those kinds of customers..

I'm not saying they don't. I'm saying there is more to the phone than selfie shit. It's not the only USP of the phone.

If they're not going to support our advertise it then it won't matter

I am on Sprint and am happy to see this coming. I am still very happy with my Samsung Ativ S Neo, but would be happy to see more options for Windows Phone on Sprint.

No, still have a year left before I can upgrade, but it wouldn't be for a Lumia 7 series...I'd want a higher end phone. Sprint's service is great in my area, and we're very happy with them overall.

whens the release date for verizon?

I'm just glad Sprint users will have more Windows options.

I hope to see this device on many of Sprint MVNOs.

YES! I hope Sprint will add the Lumia 735 to its Virgin Mobile lineup SOON!

This is what we need on ALL carriers in the U.S.--a selection of several Windows Phones, consistent. Lumia 5xx, Lumia 7xx, Lumia 8xx, Lumia 9xx, Lumia 10xx, Lumia 15xx HTC One for Windows Samsung Galaxy S5 for Windows Only then, with 8 different phones on display at every retailer--including mall kiosks, Best Buy, Walmart, etc.--will Windows Phone take off. Having 1-2 Windows Phone at some retailers and 0 at others, and none on display at kiosks or Best Buys is never going to work. Microsot needs to make this happen if they want Windows Phone to gever grow into double-digit market share. Also, fire Joe Belfiore. He has more than enough time to get the job done and has failed. Time to Ballmer him.

throw in the LG G3 for Windows & the Sony Xperia Z3 for Windows, along with more low budget stuff from Samsung & LG and Android would take a HEAVY hit.

What I'd consider is an HTC Desire for windows. That's a pretty phone for the price.

It's a good start. If true I would like to see a comparison between this and an 830 from another carrier.

Good for people in Sprint.

I'm on sprint. It's Nice to finally see a Lumia device,but I would have preferred a flagship.

I still have almost a year left with my 8XT, but at this point I'll be happy for *any* Lumia! I hope this comes to pass.

I wouldn't wish Sprint upon my worst enemy

My worst enemy doesn' deserve the bargain I get with Sprint ha. I wish on him TMobile haha

Wishing someone to go from Sprint to Tmobile? They will thank you in the long run. You are too kind.

This might also mean it has a chance on US Cellular, since they use Sprint's network, if I recall right.

Although I'm no longer on Sprint, I am very excited to hear about this!
This will help to grow Windows Phone to a much greater market share. We need T-Mobile to grab a high end and mid range good Windows Phone option as well. I see great things for Windows Phone in the near future!

It's good for those on sprint but Microsoft should also give them the 830 and 930, and if HTC throws in the ONE m8 for windows they'll have a complete lineup.

Would love to have the One M8 for Windows

Sprint is getting the One as well.

I'm debating on getting this when it comes out or wanting a few months to see it they get another Lumia. I have a Neo and the phone is good but the plastic feel and lack of support from Samsung makes want to grab a Lumia. My preference would be the Lumia Icon.

This thing only has 8g storage right? Lol even with a micro SD that's too little.

Its about dang time! Didnt realize how much I should appreciate Sprint until my Company switched providers from Sprint to Verizon and now I get about half the in building signal I used to.

FINALLY. However, I would be more tempted to purchase this phone if I knew for sure the main camera was better than my HTC 8XT. The 735 has only a 6.7MP Camera while the 8XT has a 8MP.... Why would they put anything less than an 8MP in a modern phone?

Finally a phone my wife can use if it does come to sprint.. She has the galaxy 3 and been having problems part of it phone, part network

Now that Dan, "Messy" Hesse is finally gone, I expect sprint to finally come into the 21st century with Windows Phones and services. We could finally put this question, posted on CNN Money back in August of this year to rest: http://money.cnn.com/2014/08/06/technology/mobile/sprint/index.html Can sprint do anything but suck?

Yeah. Another WP8 device that Sprint can neglect. Look, no one is happier than me every time a new OEM or device is announced but it's a well-known fact that Sprint could care less about WP8. They don't advertise their WP8 devices, they don't support them. The only reason they have one is just so that they can say that they one. They're basically the carrier version of Samsung. If Sprint never carried a WP8 device, I wouldn't be too upset.

Well maybe they can change that. Dan Hesse has exited the building

I have a Sprint line and would love to put a WP on it. I would prefer a 9xxLumia or the HTC W8, but time will tell. At least Sprint will have a current WP on its network.

I'd love to see this (and the 1520 for that matter) on T-Mobile!

And I always thought that 735 was the dual sim variant :o

YES WE ARE GETTING A FREAKING LUMNIA!!!! I was just in the sprint store the other day arguing with the dude about why I didnt wanna upgrade "to one of his better phones like the GS5" in November Sprint was about to lose a customer, maybe ill stay now. And ill get cortana finally! No more waiting on Samsung! YESSSS.

We do have windows phone preview program.. I got 8.1.1 a few days ago on my Sprint HTC 8XT!

Sprint finally gets a new Windows phone and it's the flippin selfie phone. at least we finally get a Lumia device though.

Sprint's mother company should start bringing Windows Phones to their homeland. Posted via the Windows Phone Central App for Android

I have a LG G3 and it works Perfectly on the new Sprint network. However, that only applies to areas with LTE. I've never experienced dropped calls as of yet. With that said i look forward to picking up this phone as a secondary to have.

Would be a step in the positive direction, but they really need some of the higher end Windows Phones. I have been using the ATIV S NEO since they released it, but they do not even release updates, and being it does not have BLE (Bluetooth 4.0 Low Energy) there are many things I cannot use it for. This phone would be nice, but a little lower end than I would prefer.
Windows Central Newsletter
Thank you for signing up to Windows Central. You will receive a verification email shortly.
There was a problem. Please refresh the page and try again.