Lumia 830 now also available through Telus Canada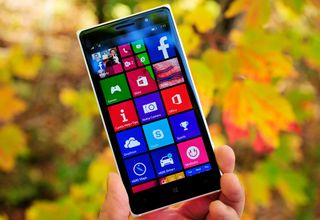 The Lumia 830 has finally made its way north of the border into Canada. It was only a handful of hours ago when we covered news that the new Windows Phone is available on Rogers, but the same device is also listed with Telus. Available for $0 on a 2-year plan, consumers have the option of being tied into a contract or being hit with a $500 fee for the Lumia 830 off-contract.
The Lumia 830 is powered by Windows Phone 8.1, featuring a 5-inch 720p ClearBlack IPS-LCD display, 1.2Ghz Snapdragon 400 processor, 16GB of storage, a 10-megapixel rear camera, and a 1-megapixel front-facing camera. The black variant is available. Will you be picking up the Lumia 830 on Telus? Let us know in the comments.
Source: Telus (opens in new tab); thanks, Bernnutz and Shawn for the tips!
Windows Central Newsletter
Get the best of Windows Central in your inbox, every day!
Rich Edmonds was formerly a Senior Editor of PC hardware at Windows Central, covering everything related to PC components and NAS. He's been involved in technology for more than a decade and knows a thing or two about the magic inside a PC chassis. You can follow him on Twitter at @RichEdmonds.
Hopefully the device (and the 7 series) gets released everywhere. And soon.

$500 Canadian is = 444.76072 USD. Not surprised by price

@swizzlerz, There you are young man (I have no idea if ye be man, woman, or beast much less sex). I liked your comments from yesterday. Keep after them. Unfortunately for me, I had to tone down for WPC kept deleting my skillfully interwoven trolling comments. Just trying to smile...some just don't understand.

Oh I am not trolling. Currently using a Telus Lumia 1020. Verry much in Canada.

Rogers 1020 how do yo like it?

Oh, I know your not. I said I do. Just for a laugh...

Price is outrageously inflated in terms of mid-range device that costs Microsoft less than $150 to manufacture. Google sold the superior Nexus 4 (which I bought outright as a backup Android device to my still-currently used Lumia 1020 for under $400 outright) for less and sells their vastly superior Nexus 5 for less than the L830. Heck even their extremely advanced Nexus 6 will arrive soon for a price that's only $100-$150 more than the L830 and is a true Flagship device with a bigger Higher-Resolution screen, much faster processor, 4K recording etc.

Well with the Canadian economy on the fritz. Oil and doller are down. These companies need to show shareholders some support of profit. They will charge more for a less used device to make a buck. As always if you don't need it dont buy it. If you need it wait 6 months get it when the contract price drops. :)

Great Phone! Bought it yesterday to replace my 920. And considering the price it is a good upgrade. Got mine for 400chf (420$) in switzerland. Although 500$ can seems a bit high.

Do the capacitive keys light up?

Yes they do, but only in low-light conditions.

Looks like I'm going shopping in the morning. Hopefully I can keep my awesome data plan.

@Black prince and @Fahmi, ....well obviously your from A-Canada (except maybe Fahmi) I have seen your names here and there....I have nothing to add...other than hello? Dear god, I'm bored. Where is the delete button...Is there even a valid reason to use the @ symbol here?

@peg leg, not @ all please use the symbol @ your discretion.

Free on a contract, that's awesome!

This this a upgrade from a 1020? Had mine for about a year and I'm waiting for something worth to upgrade too to come to Telus.

No, 830 can be an upgrade from 920, 925, 928, 820, or any lower Lumia like my 720.
I guess we won't see the successor of the 1020 until next BUILD conference

Matter of opinion, fahmi.

This is no upgrade of the 1020 in any shape. The camera is still much larger on the 1020 (both in MP and area) and the dual core Krait @ 1.5 GHz is still faster than Snapdragon 400 with quad core Cortex A7 @ 1.2 GHz. Still it's a beautiful phone I just picked one up. $0 on contract is where I hoped this would land. And THANK GOD it has Glance this is the first of the x30 phones with Glance. Best feature of the Lumia line and then they stopped putting it on everything.

The Lonnie is crashing, this isn't helping make it an affordable flagship

Why are you Canadians up already? Its early, even for bored Canadians. Wait. Your going to work to buy a new phone, aren't you? Robin Williams joked that "Canada is like a loft a apartment over a great effin party," you agree? I'm just playing, he did say that though. Good morning! .......to early for this....

Dude, Robin Williams died like last month, not exactly funny to talk about him. >->

Not being funny. Seriously, it was part of his act.

If I was a comedian, I'd like for people to keep remembering my jokes and laughing even after I died, not be all sad and mourning. Just my opinion though.

His history of golf routine cracks me up every time.

"....and we'll call it a stroke cause every time you miss you feel like you have one"

It's such a hard decision to make coming from a 920 and wanting to make a leap into something more. Granted it is an improvement in many ways and designed to be adorable, Rogers I believe sells it at $450. Although, with Build half a year away and the 5xx, 6xx, 7xx, 8xx, and 9xx already receiving their 30s refresh the 1x3x can't be far behind right? Unless of course we get more x35/x38s. Exciting times nonetheless... so long as they too make their way north.

Yes, adorable it is...don't you love autocorrect?

So very much and no luck trying to edit it in the app. But I felt responding to my own message was a little pretentious and when it comes down to it the 830 is adorable :P

While it's great Canada is finally getting a new higher-end Lumia (albeit a true flagship is still lacking), the thing that's really disappointing is there's like ZERO marketing around the device, and then later the stupid carriers wonders why the phone doesn't sell well. Most Canadians are not that adventurous, and they play the safe route with the iPhones and Androids because they really don't have a clue what WP brings to the table. Microsoft really needs to work with the carriers here and spend some serious marketing dollars or else WP will never flourish here (it's such an obvious statement, I know right yet it's shocking MS doesn't seem to realize this).

Rep at Rogers said there were quite a few people around asking about it. That is encouraging.

That's not surprising given there was a while there that the only Windows phone they carried was the 635. Pretty much makes this the upgrade path for anyone with something other than a 52x series. You'd think the premiere Canadian partner would have at least had either the 930 or 1520.

Will it work on, T Mobile U.S guys.

The Rogers version would, according to the specs posted on Rogers' website it supports AWS and LTE bands for T-Mobile

Ffs, $500 +tax... FUUUUUUUUUUUUUUUUUUUUUUUU

No, I will not be picking up the Lumia 830 on Telus.

Wanting a phone that is faster than my 1020 (the camera is great, but the laggyness is driving me crazy!!) Do you guys think this would be a good option?

From what I understand, especially if you like the camera, you may want to see what Lumia Camera + Denim bring to the table. I believe that was meant to decrease the time between load up and first shot as well as shot to shot considerably.

The 1520 works with LTE on Telus. But they don't sell it so had to buy one on Ebay. Even the MS store in Toronto doesn't carry it.

But it's honestly only around $50 more (including shipping and customs) to get the 1520. Represents a way better deal than paying $500 for this one.

But wheeeere's the 930 :/

Not going to sell well on Telus. The sales people steer you away from Windows phone and are not knowledgable about it. Very few peopke will sign a contract to get it for 0$. As for buying off contract, the fanboys will buy from Rogers since it's $50less. Disappointed by off contract price. The 1020 is only $550 at the microsoft store and i don't think it sells well. If Microsoft wants to break through in the Canadian market (not sure if they do), they need to get some good lower priced phones out there for people such as the 735/730. My teenager is dying to get that selfie phone, which should be more in her price range (off contract), but I've heard that like many Lumias, it likely won't be coming to Canada. The 635, with no front-facing camera and no flash, is not very appealing and sells for $200 here. The BLU phones are a good option here, but my daughter loves the Nokia apps. Decisions, decisions.

Expansys.ca is your friend

Just checked, and I can apparently get the 830 for $0 and keep my current Telus $55 plan on a 2 y. contract... This is very, very interesting, but Telus only offers the black 830. Damit. GIMME THE GREEN ONE AND TAKE MY MONEY !!!! AAAARG!

I think the boxes come with both green and black? Maybe ask a Telus rep in store

Look at the contents list on the Telus site it doesn't show any back plates. I was hoping for the green one too.

I have the same plan and if that is the case, awesome!!

Well its just a backplate, so you can i always buy it separately

My phone and my life Will suck until the day i got the denim firmware

Take a pair of jeans and dip them in some glue

YES!!! Will be picking it up to replace my unlocked 820 that came from Canadagsm.com (At&T version 275$).

I'm sure the 830 is nice, but every story about it just reminds me that there don't even appear to be plans for a high-end device from Redmond. And in the era of evleaks if there were plans we'd know something at least a few months in advance. Troubling.

Wow, free on contract. Hope that's the price point for it when it hits the US!

Just talked to Telus and got my plan renewed ($55 with 1GB data). To get the phone for $0, your plan must be at least $45, so it isnt costing me anything up front (except for maybe a sim card if its different from the one I currently have in my Lumia 520). They also called around for me, found one and put it on hold for me (apparently there isnt much stock in the stores). Well done Telus.

$500??? Wow... Still wondering what the price will be down south. I'm very much betting that AT&T will want no less than $399 for this phone. Possibly more since they're including two backplates.

Picked this up today in Toronto! Replaced an aging Samsung ativ S. Im very impressed with the build quality, camera, speed and screen. WP 8.1 shines on this and very snappy too for the mid range processor. Feels amazing in hand, feels light and thin.

I'm very tempted to pick this up on Telus. It would be my first WinMo device and I do like Windows 8 on my laptop. It would replace a BB Z10, which has a good OS but almost zero app support. Is there a site where I can check the app store for WP8 before I decide to invest into a new ecosystem?