Telstra: Lumia 920 Windows Phone demand smashes expectations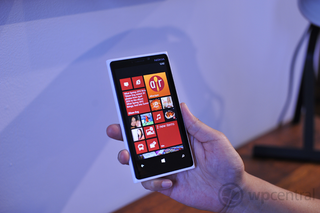 We've been publishing a number of reports covering multiple retailers and carriers where initial stock of Lumia 920 Windows Phones has sold out. It appears this is a global issue right now, but who would have thought that Nokia would have a problem of getting enough Windows Phones into the market to meet demand?
As many have correctly pointed out, we're not entirely sure just how much stock was initially provided to select partners, but the fact we're seeing said companies reveal how the handset has surpassed expectations, we'd like to believe it can only be a positive result and demand is high. We've also seen this in the US with the amount of people waiting on (and complaining to) AT&T to start shipping Lumia 920s.
Australian carrier Telstra has publicly announced their stock has exhausted. Not only that, but the network also sent a tweet that read, "we did our best but demand was beyond amazing and stock has been limited globally from Nokia." I don't believe even Nokia planned for such a reception.
It was only yesterday when we covered Telstra's stock running out after just going online. This was coupled with UK retailer Clove who has also ran out of the Windows Phones. We contacted Clove and were informed the company is really pleased with demand shown for the handset (and Windows Phone in general).
We're certainly looking forward to Nokia's financial reports to see how the new Lumia Windows Phone family fares in the competitive market.
Source: @Telstra_News (Twitter), via: WMPU
Windows Central Newsletter
Get the best of Windows Central in your inbox, every day!
Rich Edmonds was formerly a Senior Editor of PC hardware at Windows Central, covering everything related to PC components and NAS. He's been involved in technology for more than a decade and knows a thing or two about the magic inside a PC chassis. You can follow him on Twitter at @RichEdmonds.
Wish i was one of those lucky guys to get a Lumia! This is expected. The Lumia is a premium device. Most consumers' "iproduct" goggles are too foggy to see.

HTC 8X's are even harder to find then Lumia 920's here in NYC. I know because I'm trying to return my 920 and get an 8x but the 8X's have not been available in any NYC att store since they sold out Friday.

Any reason for this ludicrous-sounding move? Returning 920 to get 8X?

I use my phone one handed a lot and have found the 920's screen to big to use with one hand. I was hoping I'd get used to it but haven't. Its a matter of personal preference.

I can understand that for sure.

Did you try the 820 or are the specs keeping you away from that one?

The 820 is inferior to the 8X. I wouldn't recomennd that phone to anyone looking for a premium device.

True, plus cgold1 is looking for a phone that's narrower than the 920. The 820 appears to be as wide or near as wide as the 920. If you want a narrow phone, the 8X is the way to go.

What makes the 8X superior? Does it come with a ClearBlack OLED display with super-sensitive touch? And wireless charging? Besides the FFC all other components seem to be equal.

And yes, I know that the 8X may be more comfortable to use cause it's narrow, but we already established that's a matter of preference. And I'm seriously considering switching to a blue 8X from my red brick of 820.

The 8X also has a higher res screen. The 820 does also have the removable battery and an SD card slot though. Both phones are really good phones, but definitely go with what feels good to you! Love choice!

dude have you seen the superlcd2 screen on the 8x? it is far superior to any OLED you've seen trust me. it is still known as the best display to be out on any handset right now HTC takes that crown and they just manufactured the superlcd3 screen at 1080p so they will hold that crown again in 2013.

The screen is amazing. I have had this one on VZW for a week now and it is the best phone I have ever held. It is so comfortable and feels so small with the curved edges. Goes nicely in a pocket as well. The 822 on VZW sucks. Feels like a bulky brick.

Is 920 more like "hard to use with one hand" or more like impossible for you?

Weird I have pretty small hands and don't seem to have a problem. My wife has bigger hands then me and hers aren't bigger than normal.

I wouldn't get the HTC 8X; I had the chance to play with a pre-release version of the 8X at MS event. Don't get me wrong the 8x is a great phone, it feels very good in your hands, light as a feather, looks great BUT it lacks the kick @ss Nokia apps and it doesn't have the amazing Nokia lenses; the camera on the 8X is average at best. I sold my 8X on ebay a few weeks ago and got me the Lumia. A lot of people complain about the weight of the Lumia, indeed, it is a bit heavier than most phones but you get used to it; as far as some people experience short battery life, you have just to tweak a couple of quick settings in disable Nokia maps in the background. WITHOUT exaggeration, there are days that I spend as much as 4 on my cell phone, while sending/receiving texts and facebook, email, light browsing and other apps running on the background and at the end of the day I usually still have about 1/3 of the power left.

I wouldn't get the HTC 8X; I had the chance to play with a pre-release version of the 8X at MS event. Don't get me wrong the 8x is a great phone, it feels very good in your hands, light as a feather, looks great BUT it lacks the kick @ss Nokia apps and it doesn't have the amazing Nokia lenses; the camera on the 8X is average at best. I sold my 8X on ebay a few weeks ago and got me the Lumia. A lot of people complain about the weight of the Lumia, indeed, it is a bit heavier than most phones but you get used to it; as far as some people experience short battery life, you have just to tweak a couple of quick settings in disable Nokia maps in the background. WITHOUT exaggeration, there are days that I spend as much as 4 on my cell phone, while sending/receiving texts and facebook, email, light browsing and other apps running on the background and at the end of the day I usually still have about 1/3 of the power left.

The funny thing is that Telstra would have easily sold out even without the pre-order bonus. Not that I'm complaining, I can't wait to get my new Lumia 920 and JBL PlayUp speaker in a few short weeks!

Yeah, that's an incredible bonus for you! Lucky...

Her is hoping we are still talking about demand like this in February and March. This is the hit Nokia needs to keep it WP only. Even if you prefer other manufacturers, a WP exclusive Nokia is good for our favorite OS. Hope the 820 series is also a run away hit for the same reason.

Lumia 920 preorders also sold out in Dubai...damn it...i need to get my hands on one...really fast

how so ? I can still see it on axiom website :/
https://online.axiomtelecom.com/hot-mobile-deals/preorder-nokia.html

It says 920 will be available on Nov 15, which means they don't have it in stock now.

isn't that when they start selling them? that's tomorrow. usually when you run out of stock it takes longer to get more in

Please fix this demand issue soon, Nokia! Damn. And please send me a yellow one. LOL

Hopefully, they'll just fix the supply issue...

Haha! I don't necessarily see the lack of supply as an issue quite yet:
Less supply ► more press ► public interest ► increased demand ► increased sales long term

At last. Long pending good news!

Many people on EE's Community forums are also complaining on the shortage of the 920.... Luckily enough I got mine through Phones4U and got the Nokia NFC Speaker and Charger for free and had my phone last Saturday

Looks like I have to be swift when Singapore launch it. Haven't really worry about this but after so many shortage report...

Wow, there's gonna be a lot of regret people on the forthcoming months...

I got my white Nokia Lumia 920 yesterday and I'm loving it .

Nokia can thank Samsung. I was one of the ones that wanted the ativ but because of the delay in getting the 920

Samsung might end up thanking Nokia if Nokia keeps running out of stock and people end up buying the ATIVs, LOL!

What if the Ativ have no bugs...

Great news? I fail to see how this is good news. Telstra and Clove probably ordered 50+ something devices, and now they are pleased that they sold them. Not good for Windows Phone and not good for Nokia. I remember this being the case with Lumia 800/900. They were sold out in lots of places around the world for a long periods. But in the end Lumia 800/900 sales was a big failure.

I agree. This is $hitty news all over. I know there is demand for this phone but how big was that initial availability, eh? Doesn't sound like they pushed that many phones to retailers.

Telstra and other carriers/retailers underestimated the demand for Lumia 920 big time. The fact that they add JBL PlayUp speakers as a pre-order bonus, kinda proves that. They didn't expect it to sell because its 'Nokia', and because its 'Windows Phone'(2-3% marketshare.. maybe) and not Android/iPhone(96.5% install base in Au, if you trust statcounter). In a way I can understand the retailers. Many people consider Nokia phones to be ancient history. Nokia might have been very careful with the production line, because they didn't see very big demand for Lumia 920 from the retailers/carriers around the world. That is why they might have been careful with the small production line for Lumia 920.

Wp may just break(or get close to) double digits this year then. Honestly, that's all it takes. Once it hits 10% of market share it'll keep going up at a steady rate if the product is good enough. Our biggest issue is word of mouth about how easy the phone is to use and how well it does the things it does.As long as you don't look at apps which you shouldn't since that's a vicious circle. ("we won't buy your phone cause there is no apps" "we won't develop apps for your phone cause no one buys them")

The internet is adding a good amount of hype with the nostagia over the old 33XX devices though for durability, so that is timely and working in its favor, especially with the 900/920 holding it's own in torture tests. I think that, plus the underwhelming iphone 5, plus some good and favorable review coverage is starting to pay off.

Lovely news,I love mine. This is the best phone I have ever owned and I had Android and Iphone. This is also the best OS.

Think it's gonna be the 8X for me. The only 920 I like is the white one and that's an EE exclusive in the UK and I refuse to pay EE's extortionate prices for a 4G signal I can't even get.

The white was available unlocked in Clove UK.. that was unlocked and not linked to EE.. Isnt that true?

Yes, its true. Those Lumia 920's were probably grey market imports from EU/somehwre else, since Nokia is not allowed to sell outside EE. I'm sure there will more 'truly unlocked' 920's coming to Uk, before the 3 month EE exclusitivity ends.

My white Lumia 920 honestly makes my iPhone look as outdated as my iPhone made my PPC6700 Pocket PC did when I first got that. ;)

as an ardent WP supporter, I still have to be skeptical about all these 'sell outs" and "incredible demand" stories. It seems to me Nokia has no concept of channel management. Sure they have deep channels throughout the world, but they have never done an iPhone like release scale. I think they have production ramped up at the same slow and steady levels as their Asha phones and that simply isn't gonna cut it.

Eh. I will just leave it at that. Please check where iPhone 4S is :)

i played with the phone a few days ago and agree its worlds above the 900...i will be watching to see if they can maintain this momentum long enough to dent the markets. its a good year for all smartphone platforms! (except RIM)

I hope they get out more devices soon

The crazy thing is, you will have alot of people that see all this advertising and get excited about WP, only to walk into an at&t store or best buy and hear that nothing will be avail for a few more weeks then say forget that... Walk out with a galaxy s3. We were sooo close!

Ppls had to wait a month to get IPhone 5. If pple really want they will wait. It is not like pple just coming andif they dont have it in stock buy the next one a go.. I think both nokia and HTC underestimated the Demand. I am sure they will ramp up.
It depends on the product. If it is a great product it will continue selling month after launch. If it is somehting which is just vapor ware then yes you need to get it on pple hands soon before they get to know about the vapor ware. Either way, there will be new products being launched along with the 808 pure view i think in Feb. so pple will get more interested.. lets see.

Nokia is launching else where too.. I think they would ramp up demand.

Yeah, I would agree with this (if I may say so myself!). I know buddies who were iPhoniacs waiting to jump ship for a while but were waiting until availability of the 920. Additionally, there are other WP users I know that are waiting for availability on their carriers. Whatever the cause of the "limited availability" it is a positive thing and people who are really interested in it and not purchasing at-a-whim will wait. People were so angry ATT waited until the virtual last minute to announce availability, pricing, etc. as it is!

I don't think its an incredible demand, more like a limited supply. We all know that 920 supply is limited in US and many other countries.

So glad I bought Nokia stock when it bottomed out.

Thought this would be interesting on how fast pre-orders sold out as well - https://twitter.com/Telstra/status/268721946013868033

I think their financial report is going to look bad. They slowed their adoption rate to a crawl. I hold shares, and I'm ready to cancel my order. One Rule Of Sells. Never let a buyer work out empty handed.

Hmm so you need to loan them some weights to work out with, then sell to them later? :P :P :P

It's no wonder. This is an exceptional phone. If it weren't for the fact that it is WP8 and designed to be at-a-glance-now-live, I would want to be fiddling with it all the time.

Here are this week's WP sales rankings on bestbuy.com:

AT&T (93 phones offered)
17. Nokia Lumia 920 Black (not available a week ago, not available a month ago)
36. Nokia Lumia 920 White (not available a week ago, not available a month ago)
37. HTC 8X Blue 8GB (not available a week ago, not available a month ago)
38. Nokia Lumia 900 Cyan (58. a week ago, 45. a month ago)
39. Nokia Lumia 900 Black (28. a week ago, 59. a month ago)
48. Nokia Lumia 920 Yellow (not available a week ago, not available a month ago)
53. Nokia Lumia 920 Red (not available a week ago, not available a month ago)
56. Nokia Lumia 920 Cyan (not available a week ago, not available a month ago)
59. Samsung Focus 2 (49. a week ago, 44. a month ago)
63. Samsung Focus Flash (72. a week ago, 69. a month ago)
70. HTC 8X Blue 16GB (not available a week ago, not available a month ago)
71. HTC 8X Yellow 8GB (not available a week ago, not available a month ago)
72. Nokia Lumia 820 (not available a week ago, not available a month ago)
74. Nokia Lumia 900 White (35. a week ago, 56. a month ago)
84. HTC Titan (69. a week ago, 67. a month ago)
85. Samsung Focus S (71. a week ago, 68. a month ago)
HTC Titan II is not offered
Nokia Lumia 900 Pink is not offered
HTC 8X Yellow 16GB is not offered

T-Mobile (31 phones offered)
19. HTC Radar (20. a week ago, 19. a month ago)
22. Nokia Lumia 810 (not available a week ago, not available a month ago)
23. HTC 8X (not available a week ago, not available a month ago)
30. Nokia Lumia 710 Black (26. a week ago, 25. a month ago)
31. Nokia Lumia 710 White (27. a week ago, 18. a month ago)

Verizon (76 phones offered)
54. HTC Trophy (71. a week ago, 65. a month ago)
58. Nokia Lumia 822 White (not available a week ago, not available a month ago)
59. HTC 8X Blue (not available a week ago, not available a month ago)
60. Nokia Lumia 822 Black (not available a week ago, not available a month ago)
HTC 8X Red is not offered
HTC 8X Black is not offered
Nokia Lumia 822 Grey is not offered

Sprint (49 phones offered)
None offered

Absolutely a bit off topic, but the gray 920; ive been seeing it (and loving it) on a bunch of official launch graphics/photos from Nokia. But i havent seen it available for preorder anywhere here in Norway, where i live. Anyone know if it will launch alongside the others?

Nokia Australia appears to have very limited supply and delay here in Australia. Harvey Norman have confirmed to me that there will be a delay on pre-orders of the 920, due to Nokia Australia. These were due to ship this week but have been pushed out until next week.


Im not really surprised by this. I mean Telstra has the exclusives on this handset and they arent rolling it out until the 27th - so I would expect between the 3 there were some discussions going on.

Guess this means dates for launch in other countries (India for me) are pushed back -.-