Nokia Lumia 920 sold out at both Telstra and Clove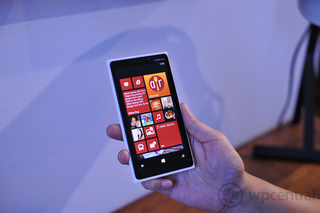 If news of the Lumia 920 selling out in China, but then being withheld due to incorrect pricing, wasn't enough then we've also got word that both Telstra and Clove have both sold out in the first day of going live. It appears (depending on how many units were stocked in the first batch) demand is high for the handsets - even at full / the correct price.
The Australian carrier opened up pre-orders earlier today with a variety of colours available on plans starting from $65 a month. With a launch date sitting at the end of the month - November 29th - we were expecting a number of orders to go through with the high level of interest displayed through the registration period. It seems as though this is the case with each colour of the Lumia 920 being sold out in no time at all.
Telstra had a trick up their sleeve to further incentivise consumers in choosing the Lumia 920 with the carrier by offering a free portable JBL Playup speaker (valued at $199) with any order placed before November 26th. There's no word on when more stock will be available and pre-orders opened up again.
UK retailer Clove announced today as the day of availability for the Lumia 920 and when the company would start shipping orders, so (as one can imagine) everyone jumped on-board. It's a strong position Clove (and other supporting retailers) find themselves in as EE currently holds exclusivity on the Lumia 920 (thanks, Nokia!).
This leaves other carriers out of the race until the exclusivity deal ends (we're still unsure when this may occur). Those who can't bare to fork out on EE's plans or simply despise both T-Mobile and Orange can at least get the Windows Phone unlocked and insert a different SIM into the device. Thus Clove has also sold out its first batch of stock, with a notice on the product listing:
It's looking like a strong start for Windows Phone and Nokia. Shall we toast to the momentum building and continuing with further announcements?
Source: Telstra (opens in new tab) (Lumia 920), Clove (opens in new tab); thanks to everyone who tipped us!
Windows Central Newsletter
Get the best of Windows Central in in your inbox, every day!
Rich Edmonds was formerly a Senior Editor of PC hardware at Windows Central, covering everything related to PC components and NAS. He's been involved in technology for more than a decade and knows a thing or two about the magic inside a PC chassis. You can follow him on Twitter at @RichEdmonds.
Some ATT stores had 1-5 units only, not surprised if clove had 10-50 too

No surprise who wouldn't buy the best phone on earth like I did lumia920

First batch is usually small in my experience.

Any yellow 920s seen in the wild yet? Mine is due to arrive by the end of this week.

Saw a bunch of them tonight in Sydney, and picked up my 820 in the process...

Wish someone from inside Telstra can give a total of how many units they sold.

Preorders are set to open up again at midnight DST on Telstra

Have a source for that info? I was not expecting them to sell out so fast and obviously I need my 920 lol

It is back up for midnight, can confirm - just ordered mine.

yep, just ordered 2 as well...lots of interest this will be gone by morning I reakon

Please, for the love of smartphones, HURRY UP and end EE's exclusivity.

Open the flood gates Nokia and get this beast in everyone's hands. Love mine

i preordered the Yellow with telstra. Thankgod i was in the forums and someone had started a thread, otherwise i would have missed oit like a lot of people.

Got mine yesterday. Love it. Black :/

i got mine in black also on launch day in the usa its so awesome :D the best phone ive ever bought so far!

I ordered a red 920 from at&t online on Friday. I chatted with a support agent last night and she told me that my device was sold out and my not ship for a week. I then called all the stores within 50 miles to look for a red device and there was only one store that had two 920s in stock. Luckily one was red so I went a snagged it up. Awesome phone, but I hope the delay doesn't cause some to cancel their orders and go with an available iJunk or lagdroid.

Haha I like it..i junk lagdroid

I asked Clove about more stock:
Me: Do you have any kind of estimation, in magnitude, at least (days, weeks, before December)?
Clove:At the moment we have had no indication, but it is more likely to be weeks than days or months. We'll provide an update by email and on our blog and website as soon as we have the information.

:(

Bummer, I'm all ready to get one. Might have to import from France or Germany.

I can't find stock there as well, this phone is nowhere to be found :|

I saw it at Media Markt in germany (electronic retail chain ) the were selling it carrier unlocked for 578€ (not sure about the price since i ordered mine online with contract) but they didnt have the yellow one though just red, black and white

Damn....thats it..i can't take it no more...yellow or red??

Yellow does look nice to me.

I will be buying this door stop as soon as the wife is over me buying a surface.

I wouldn't write articles about Lumia 920 selling out in place X, since the initial batches they send are in the magnitude of "few" devices. So ofcourse its selling out extremely quickly everywhere. Rather an article about where Lumia 920 is available, so WPcentral readers are able to quickly order/fetch one, before it sells out again.

Great. Thank you for your opinion. It matters to me a lot. Care to enlighten me, the_Enlightened? I don't feel very enlightened atm :(


I agree maybe where you can pick one up, also as others have pointed out the initial batches for retailers like Clove may well be small and of course the Chinese sell out was a mistake and pulled.

For those of you ordering from Telstra - They sold out only of the first days stock, they said as of midnight it would be up for pre-order again. True to their word, it is back up for pre-order and can confirm it will allow you to order one.

Also those after the free JBL speakers - you have to pre-order before the 20th online, not the 26th. Apparently if you pre-order in store you wont get the speakers, but have the option of getting the wireless charger for $29 (down from $129).

For those who do order online - dont expect to receive it that day, Telstra right now are saying they will ship it on the 27th and will take 2-5 buisness days. If you MUST have it that day, order in store.

More evidence that the att launch was just an abysmal failure...

Sooooo, if Nokia want to sell a few million in the first day/weekend like Apple always seem to accomplish, where exactly do we assume all those phones actually are, right now?

I hypothesise, going by my phone calls and drop-ins to UK Phones4U shops, that the entire county of Somerset, England can account for about 12. Southampton might have had 20-30.

So when the iPhone and GS3 sells 3 million in one weekend, are those mostly on contract, or sim-free? I've gotta assume sim-free, as surely there aren't that many people wanting to start new contracts on any given launch date - you'd expect those to be staggered throughout the year but with a small rush of conveniently timed prev-gen owners.

I was under the impression P4U was the exclusive retailer, so I've no idea why Clove and Expansys have even got them at all. But if they've not got the bulk should I be hopeful that my P4U online order will be fulfilled within the stated 48 hours, or will I be told i have to wait a couple of weeks for mine, too?

Suspect Clove etc are getting them from European distributors in countries like Germany where phones by law have to be sold unlocked.

Since when do cellphones in Germany all have to be unlocked ? I never heard about it and actualy there are quite a lot sim locked on the market on prepaid (pay-as-you-go contracts) it is just not common practice for phones on contract since they are getting your money anyway (you have a 24-month contract that you cant opt out of earlier) but if I rember correctly the first Iphones where sim locked since T-mobile had exclusive rights to sell it but people where buying it from the Netherlands i think since there they have to be sold unlocked (im not sure if it was netherlands or some other country)

Expansys have just got the white sim free unlocked handset in today! 100+ stock items too. Its got free delivery but is still rather steep... £554 (inc VAT!

I keep hearing all this talk about 'there weren't that many phones out there, that's why they are all sold out so soon'. Really? I ordered mine (pre-order) on 11/08. Today they tell me MAYBE they'll have some in another week (ie, 11/20), but they are unable to promise me. So, we're sold out all across the USA (I've checked dozens and dozens of ATT retail in-store stock, multiple colors), and we're sold out in on-line orders, and we're sold out in China, and in Italy, and in France. I hear if I drive to a small burrow 12 miles out of Boston there is a Black 920. I'm headed for a gas station (kidding).

There are two ways too look at it;
1. There's high demand and Nokia is selling a boat load of these devices or
2. Nokia is having supply chain issues that's deterring them from manufacturing enough devices to satisfy demand.

Telstra's out of stock again, damn it I knew I should have logged on before going to bed last night

Id suggest staying up to midnight and keep trying. About 1210am the orders went live again allowing you to order, figured by this morning they would be sold out again so its what I chose to do.
Windows Central Newsletter
Thank you for signing up to Windows Central. You will receive a verification email shortly.
There was a problem. Please refresh the page and try again.