Lumia 950 XL hits the track with Ferrari's Formula One team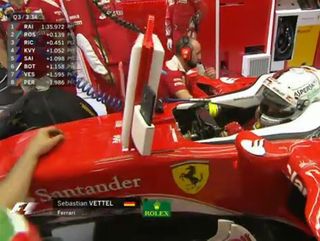 It looks like Microsoft Lumia 950-xl smartphone with Windows 10 Mobie is being quietly used by Ferrari's Formula One racing team. The team have apparently modified the top screens to use the small smartphone
According to Windows Central reader "Kellzea", who sent us screenshots of the Ferrari F1 team during the recent Chinese Grand Prix, the top screens are used during qualifying runs to offer team members and the driver more info on the car. It would appear that the screens have been created to accept the Lumia 950 XL as the source of the information.
Thanks again to Kellzea for the tip!
That's a 950XL... Confirmed by a friend that works in the Ferrari pit lane Look at the pic in the link below.. you can see it better http://www.gsmdome.com/wp-content/uploads/2016/03/formula-1-lumia-950-XL...

Awesome you have a friend that works on the pits. I wonder if it uses continuum to power the larger display.

and yet the price is dropping fast... today only 510euros even Ferrari cant stop this

Ferrari and Apple had significantly longer dry spells then MS evre did and look where they are, for now...

Can you tell me where it is 510 Euros?

Looking at the Ferrari F1 web page, Microsoft is not listed as a a sponsor or partner.

No Ferrari is just a customer....

If I were a betting man, I would guess that Microsoft is a technology partner providing Azure cloud services and computing time. It would make sense that as part of the bigger deal, the services like storage, virtual machines, development of software, Office and collaboration, the devices would be the freebie thrown in. ...and it would be more thna likely that a universal app for all their windows machines would make great sense.

I'm too lazy too look it up to confirm, but if I'm not mistaken Microsoft helped develop the microprocessor that manages the F1 car electronics. For all F1 cars I believe.

Watching the race i also so the team members sitting around a couple of Surface Pros..

it looks to be the 950 xl

Missed that during the weekend.

Don't be upset about not noticing a smartphone stapled to a high performance super car going 200+ MPH. It could happen to anybody. Windows Central for Windows 10-Microsoft Lumia 640

I did see it (though I could not make out the make for obvious reasons). But it is not a part of the car when it driving. It is used when the car is in the pit to display the information to the driver. They normally use a big screen, and I won't be surprised, if they have plugged it via continuum to 950 XL.

Why this phone? Seriously, of everything they could have used, why this phone?

Because of remote desktop through continuum

And the ability for them to write and maintain one universal app that runs on their full sized PCs and their mobile devices. People don't realize just how useful that is yet but in Formula 1 you have to take advantage of every possible edge.

I bet the verge told the tech bloggers and readers not to root for continuum and so they listen. Only because apple and google hasn't copied it yet. Once they do you'll see. "apple invented this new tech that just change the game. again. iContinue allows you to turn your iPhone into a laptop."

Because they ain't half bad! Have you used one? They are great devices. They just look and feel like cr@p

and according to many ppl they are not crap :P
plus many ppl like me love the look :3

My wife has commented on how much she likes my 950 including the stock back cover (she's got an iPhone 6 with "premium" materials). She also commented my photos from Sydney recently were of a higher quality than the ones from her phone. That's coming from somebody who doesn't give a crap which company made the products, no bias. She doesn't like the Tile UI which is fair enough, but the 950 and XL certainly aren't crap at all

most tile haters like your wife (no offence) dont realise how highly customisable is windows 10 mobile startscreen. You hate tiles? make them smaller an you have plain icons, or leave one or two larger to display some info. need space between tiles? rhere are apps for that,..need round tiles, there are apps for that. in fact i think is more customisable than android. look at my currently start screen and show it to sombody hwo hate tiles:

I agree, and its a shame when people try Windows Phones and don't make use of them. I've had friends who had WP handsets and as soon as the small tile size came out they made every single one small - a waste of one of the best features. In my wife's case she also wants all the same apps that her friends and family use (for my personal use W10M has pretty much everything I need). She doesn't really care too much about what phone she has but an iPhone was her first phone after leaving Blackberry and she got used to it, so many "normal" people will just be happy to stick with what they know. I've stuck with WP/Mobile since WP7 but not blindly, just because it's by far my favourite for things like tiles. People sometimes underestimate how good secondary tiles can be. She asked me if she could put a shortcut to a specific section of an app the other week (can't remember the details) and as far as I know iOS has no such concept - you get a sea of icons and one icon per app. No chance I'm personally going to move away from W10M anytime soon because for me it's the best.

I've stuck with WP/Mobile since WP7 No chance I'm personally going to move away from W10M anytime soon because for me it's the best. so you didnt try iOS9 or Android 5/6/N but you think you have the BEST system? Haha... you are as any other user in the world, give a chance for another system, try them, feel them, customize them and if you still LOVE WM10 then come back and write a new comment

I sold a Nvidia Shield the second week I got it, and iPhone UI logic is just not my thing. Can I write a comment here? I mean, all stock apps that iOS comes with are worse than those come with W10M. I use OneNote a lot, and no body I knew actually make use of the Note on iOS... True that W10M has a long way to go on the app front, and as a system it is less complete and coherent than iOS, it's the one with the most potential, and I do enjoy watching the platform grows.

I use Android 6.0.1 on the Galaxy S6 Edge daily for my work device. I am able.to install games, run music apps, and productivity apps just like my personal phone so it's not like I'm getting some gimped experience because it isn't my main device. My experience has been that the little things... not the apps popular among millennials have been the things I miss the most while my phone is away for 9 hours or so. Things like making a word ALL CAPS by highlighting and tapping the case/shift key twice, or even capitalizing the First Letter of Each Word by tapping once, or even just precision selection using the little doohickey on the bottom left or right of the keyboard have shown themselves to be far and away more efficient and convenient than Samsung or Google's keyboard. Sure Android is fast and feature-rich, but if the main thing I interact with everyday... They keyboard is subpar(compared to my Lumia) then I don't know... It's not going to be the best time. And by the way, Android and I go way back, G1 way back... HTC incredible, Nexus, Moto Droid and Turbo, then S3, S5, and now S6 Edge, so I've seen most iterations. It's great. But I like iOS more and Windows Phone even more. The design language spoke to me with Zune and then WP 8, and I'm liking 10 so far but wish for more pivots over 'burgers but whatever. When it comes to smartphones, so many salespeople laugh off WP but they don't even know why. They haven't lived with it. They turn users off of it when those users might actually be the perfect fit for it. It's powerful yet simple and this one OS thing is simply way ahead of it's time as Microsoft usually is. So your phone takes the best pictures the fastest and has oodles of RAM and runs apps? That's funny, so did my first smartphone, a Blackberry ($hit)Storm. What has Android done since it first became an OS that was groundbreaking and revolutionary? It copied iOS, it upped requirements for mobile processors and memory so I suppose that counts, but really, what has it done or does it do that is so great? Snapchat? Ok, you got me on that one. Just saying, don't act like Android is the best because it has quantity. MS has created the OS of the future. Can run anywhere and everywhere with a little modification just like devs can write once and run everywhere with a little modification. We might be fans of it in it's early stages but you're puffing up your chest like what's true today will be true tomorrow and for all time. Let us enjoy the beginnings of an awesome OS and deal with it's growing pangs. I know they've rebooted a few times but it's been getting closer and closer to fruition since 8.0. 7 was great but it was doomed from the beginning. TL;DR: Dude, just cause you like Android better and lots of other people bought it because they were told to, doesn't mean this OS doesn't have merit. I do use others on a daily basis and I still choose Windows.

Whoa... I just came to... I didn't type al of that. Not sure what happened. Dizzy...

There are way more keyboards on Android that can give you the features you mentioned. The stock keyboard on my LG phones can act as cursors and the keyboard can even be resized. That's something windows phone can't do. Posted via the Windows Central App for Android

Read it again slowly. "...for me it's the best".

Sorry dude, you're reading way too slowly. Let me catch you up on the bottom paragraph where after multiple "reading slowly" I and others still came to the conclusion he was being a pr*ck. +640 on Windows10Mobile

I work with ios and android daily, in fact its my job to fix the **** customers do to them. I have to use the phones, daily for hours on end more than possibly my own phone at times. I go home loving my device. Most people don't even know why they hate it, I have caught many sales people in lies.

Didnt try android n yet but a5 / a6 and ios 8 and 9 and win10m has the nicest ui. I do not like tiles for the pc but live tiles for the phone are really a good choice and the customizable interface is really more flexible than most stock uis i have seen till now. Some custom starters are nice too but that is nothing many normal users will ever use and they often lag flexibility too or are being left behind with the next update.

Why are you even here? I haven't tried iOS 9, but with all the ****** with the other attempts of iOS I've tried, I wouldn't want to try iOS. Waste of time and money. (but hey people, fan boy here's probably gunna argue with me now on "how could I hate iOS" Well truth is, just how locked down it is is a huge loss for them in my eyes. Another is I hate the small icons, however I can push that aside as I've got used to it when i used android, I had suffered multiple problems with the OS, and also each and every new phone is the damn same, but apple die hard fans seem to revalate over "new original features" apple has introduced. "Living images? Of course we made them... No one else... Not like we stole it from MS... But you wouldn't know that because you follow us blindly... (for example)). I've tried Android and i do like it. I will admit that. Just like a lot of people, I don't follow a certain brand of phone. If the phone suits my needs, and I like the OS, I will jump. However the fact that even though I like android and I'm still on Win10Mobile (I started off with wp8, and experimented with multiple phones, but jumped back to winphone8.1 2 years ago) (I bought the Lumia640 not so long ago, after owning the Lumia 535 for a few years) shows that despite the fact I have tried all the OS's, I had to go back to Windows. It suits my needs and i prefer the OS. The fact you don't like Win10Mobile DOES NOT mean that no one else should. Just because YOU DON'T like win10mobile, does not mean you should belittle and be hostile to someone for saying they do like it. Go back to whatever hole you hide in here on the internet but please don't come back here. Because it is obvs you're just trying to start trouble. +640 on Windows10Mobile

Just make the tiles transparent like I do and add some blank ones with the Start Perfect app to space things out. Looks great.

You can also remove all tiles...if that be your thing. Posted from PornHub

I have a windows phone. Its very customizable now but still is no where on Android's level yet. The only OS that came close and probably surpassed Android was Maemo. Posted via the Windows Central App for Android

I still don't understand how majority of people prefer icons to tiles

Hey.. How did you do that? Is it your lock screen or start screen.. If it is the lock screen, is it possible to go to WhatsApp by clicking that icon??

I have white and black 950xls and the same in 950. I love them, but they could have been so much more if they had the chassis of the 650. Great phones, just a bit meh / bland.

Their first idea was to put a phone on the hood? Is he supposed to be looking at it while driving? There are no other specializes telemetry devices for this sport? Let's bolt a cell phone to the hood. That's like something out of the Dukes of Hazard.

If you're not being sarcastic, that's a unit they sit on the car for the driver to view while it's parked in the garage in the pits. It's not on the car when it's on the track.

Or perhaps educate yourself instead of making stupid assumptions.

Oh wow. Have to refrain from laughing here. You really thing he DRIVES with the screen on his hood?? He's parked in the garage with his team around him as they monitor the car XD +640 on Windows10Mobile

Maybe because it was easy for them to make a custom app, showing both camera views of every phone to a centralized pc using a network... As far as I remember, Ferrari was also using Surface hub. So maybe they're into it for sometime now. Sent from a black hole.

Exactly, valid reasons. They won't have given a crap about whether it has Snapchat or is made of metal for this specific use case

And don't forget. Italy likes windows phones. Sent from an alien space ship with a Lumia 950

Italians have more taste for design. Sent from an alien space ship with a Lumia 950

Shame the design of the 950 series is so incipid

Me too over here in Australia.

They could have used an iPhone, but the proprietary cable was more expensive than the car.

Maybeeee becauseee... hummm.... this lumia is the Ferrari of mobile smartphones? Hahah, can't believe no one saw that coming :p

What else could they use beside a tablet?

They are using this phone because Microsoft made a deal with them, just like the NFL.

Because, 1. Apple is useless, and 2. android is useless. Continuum works in this situation. Simple...

I want that app running on there!

It's only remote desktop to show telemetry from a computer.

How do you know Ferrari hasn't written a custom app for reviewing telemetry?

You don't need a phone for Magneti Marelli's telemetry and can see the spiral cord off to the side. Anyways, the diver would be watching timing while idling in the pits and not what the engineers would watch while Vettle was on the track. In all likely hood, this is Sebastian's personal phone. An Interesting side note. It was Mercedes-Benz, Continental and Magneti Marelli who * partnered with Here and Nokia.

Meanwhile I sit here and pray for a UWP OBD2 diagnostic tool with a Usb adapter...

Didn't see any branding on the cars though. Lotus had Lumia on the side for the previous two seasons. I'll have to keep my eyes peeled. The device appears to sit in a modified display dock driving the screens in front of the driver. Do you think I could grab that system to put my 950xl's into my taxis?

its because Haas, Haas is sponsored by Microsoft and Haas is a "Ferrari 2" with Haas logo on it. They dont show a logo or dont have a place on the car but have a mobile phone near the monitor for the driver. Clever idea, cheap and effective Get it? :)

Saw one shot of the team with a number of Surfaces. Looked good, hopefully there'll be some branding on the cars later on as well.

A number? Fellas might as well bought half the Microsoft Store's stock! That, Renault's Office Sponsorship and Grosjean's Lumia sponsorship make me wonder why Haas hasn't jumped on the Microsoft train yet as well! Fun to see Lumias in motorsport regardless, given how most drivers are always rocking iPhones...

iPhones are for less serious stuff. When it comes to business, you just have to use Windows to be productive, and competitive in this case.

Agreed. Reasonably makes sense, although most of my racing buddies all have Galaxy devices and occasionally eye up my Lumias.

I've been seeing this on the Lumia UK Instagram page for a while now, if I'd known this hadn't been already reported I would have tipped! Nice bit of promotion for these great phones (950XL user, here)

Now the Ferrari team will lose.

I just wish that McLaren performs to is reputation.

MS cancelled McLaren because Ferrari was coming soon™ Nokia Lumia 1520
~The Power of Windows 10~

Actually Ferrari did very well.

They got a podium there, so they did fine considering the circumstances during the start. The fact that they have secured podiums in all the first three races confirm this. Grosjean with the Lumia sticker on his helmet visor has been a surprise this year with 6th and 5th finish in the opening two races. So yeah, good air time for Microsoft.

I'm sure they're not on an insider build. Be a different flaky story if they were.

Why would they be? TH2 is rock solid.

Not for me. Latest insider 14322 is worst I've used on the XL. Lots of flaky stuff; keyboard not reacting, glance not working (night mode is a jittery mess, no peek), power button not working to wake up (have to long press to turn off most of time), some apps not opening, Cortana crashes, random graphic effect weirdness, voice dictation is either slow to react or stays on. Like I say, this is my experience but everyone's varies for many reasons.

TH2 would be 10586 so he means the current production build is rock solid (it is) Your point are valid about the current insider build though, I've seen most of those issues at time, a lot around lock screen and glance but they just moved the glance stuff to settings and they've tinkered with the lock screen in this build so it's early days and I think they'll fix the issues within a few weeks. I can't get night mode at all since the option isn't available to me anymore.

Ferrari also had a whole row of Surface Pro 4 being used in the pits. Definitely a formal tie up with Microsoft (who incidentally also sponsor Renauly F1 team).

They're using Surface Pro 4's as well

If you noticed the table in the garage had surface devices I think they had 4 of them Joeyndlovu

If you watched the race you would have also noticed that the Ferrari crew and bosses all were using Surface 4.

Funny, I almost made a forum post earlier mentioning the incresing use of MS products/branding in F1, but beaten to it, it seems. The ones I've seen so far (including the ones mentioned above by others) -The 950XL as per the article - Ferrari - The line of Surface Pro 4's as mentioned by others.- Ferrari (5 I think in a line!) - Romain Grosjean's cap has Microsoft Lumia on both sides - a personal sponsor, wonder if he uses a Lumia personally? - Renaut still have MS branding, but appears to be more business stuff like MS Dynamics as opposed to things like Lumia - when previously Lotus, the Lumia branding must have been connected to Grosjean, not Lotus. Any more?

Regarding the third question - at least on Instagram, this is confirmed. Black Lumia 950XL. His personal instagram shows it every so often and he has appeared on the Microsoft Lumia Instagrams. Lotus team did have a few events where they showed off some love for both Lumia and Xbox, and given Haas is an American team making waves, I wouldn't say no to this sponsorship growing on their end as well.

Ferrari used a Surface Hub at their 2016 unveiling

Ok, that's all I needed to hear... I'm gonna go trade in my Prius and buy a Ferrari.

Already ahead of you... neighbor is trying to sell off an old Fiero ;) that counts, right?

I know that was meant to be a joke but if that Fiero is in good shape, it may be worth something!

Ambitious. Im sticking to just owning a 950xl. Can barely afford a Prius :-D Posted from my Lumia 950XL

Yeah, I'm picking up the XL from my AT&T 950 this week. HYPE.

Its being used as a rearview mirror. Hence the positioning. /s Posted from my Lumia 950XL

I wonder if he had to unlock it with Windows Hello from that position? Oh crap the screen locked! Can you see my iris!!!!??? At 200mph....

I wonder if we will get a special edition Ferrari back cover :-p

Pretty sure that was the Red Mozo ;) agreed though!

Lol. I thought the red gold mozo is the ironman version. Looking forward to a prancing horse cover

You don't need a phone for Magneti Marelli's telemetry and can see the spiral cord off to the side. Anyways, the diver would be watching timing while idling in the pits and not what the engineers would watch while Vettle was on the track. In all likely hood, this is Sebastian's personal phone. An Interesting side note. It was Mercedes-Benz, Continental and Magneti Marelli who partnered with Here and Nokia.

Oh wow!!! Now watch the low IQ diks in MS marketing dept fail to capitalize!!!!

You guys have it all wrong! They were using the 950XL to stream the latest episodes of Daredevil on Netflix.

Cool Posted via the Windows Central App for Android

That's why Ferraris crashed with each other. Thanks Nadella.

I thought that was a 950XL. I mentioned to my friends that it was a Windows phone. They were like, right...Ferrari wouldn't use that type of phone. I said why not! #I'mthe2%

During the GP you could also spot a lot of Surface inside of the box.

For me by far one of the best experiences on wp10 is finding well made new and third party apps. You just have to be comfortable with exploring the OS, I get that some people aren't fans of that. WP is a trend not everyone is up on yet.

I thought that's what I saw when I watched qualifying, but didn't post about it anywhere. Cool... ☺

Nice! Fun to see something like this after the dissapointing start of W10 mobile.

Well MS has a thing for Ferrari..first the surface hub at the Ferrari f1 car launch and now the Lumia 950xl in the garage next to the display. This is awesome Posted from Windows Central for Windows 10

Or maybe Ferrari finds MS products solid and useful :)

I hope so. Maybe other f1 teams will start using Ms products too. The enstone team which is now Renault used to use Microsoft dynamics not too long ago, and we even saw Lumia and Xbox logos on it towards the end of last year. This is great exposure. I just wish they'd announce things like this more and make ads with Ferrari or something

I regularly see MS products such as Surface and Lumia staring prominently in the American TV shows that I love such as Hawaii Five-0 and NCIS: Los Angeles, is this Ferrari sighting just an extension of their marketing/product placement/sponsorship efforts?

I've noticed on "House of Cards" that everyone's laptops are Apples, but every person has a WIndows phone! They prominently show the characters using the WP screen, texting, etc.

I love F1, saw a Surface Pro 4 on tv in their garage too. Some teams 'sell' product placement slot, hope that's not what they did.

They used the Hub with the car presentation and during last race there was a shot of the pitbox showing 4 surface pro 4 devices in a row

Here is the pic of 5 Surface 4 pro in Ferrari's pit... http://postimg.org/image/5u5dlk2b9/

And here is the video of 5 Surface 4 pro... https://www.youtube.com/watch?v=V4SYeww2aOc

i like the idea of continuum but for me as far as phone ui goes nokia Z Launcher is the best. simple and fastest way to find any app. no need to make phone emulate a desktop. but i agree windows has the best keyboard and i miss using it. lumia 1020, nvidia shield tablet, Oneplus One
Windows Central Newsletter
Get the best of Windows Central in in your inbox, every day!
Thank you for signing up to Windows Central. You will receive a verification email shortly.
There was a problem. Please refresh the page and try again.