Big phone showdown: Lumia 950 XL versus iPhone 6s Plus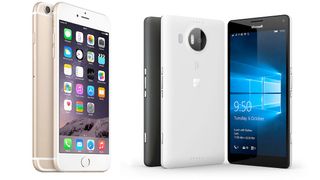 It's been a while since the last huge Windows flagship phone, but Microsoft is back in a big fashion with the Lumia 950 XL. It's the first truly big Windows phone since the Nokia Lumia 1520 of two years ago. In the time since, the competition's also gone huge, including Apple with their iPhone 6s Plus. So how do these two giant phones compare? That's what we're here to find out.
| Category | Lumia 950 XL | iPhone 6s Plus |
| --- | --- | --- |
| OS | Windows 10 Mobile | iOS 9 |
| Screen Size | 5.7 inches | 5.5 inches |
| Screen Resolution | 1440x2560 (564ppi) | 1080x1920 (401ppi) |
| Screen Type | OLED | IPS LCD |
| Processor | Snapdragon 810 64-bit octa-core | Apple A9 64-bit dual-core |
| RAM | 3GB | 2GB |
| Internal Storage | 32GB | 16GB/64GB/128GB |
| External Storage | microSD | — |
| Security | Windows Hello iris scanner | Touch ID fingerprint scanner |
| Rear Camera | 20MP ƒ/1.9 PureView camera, triple-LED flash | 12MP ƒ/2.2 iSight camera, dual-LED flash |
| Front Camera | 5MP, wide-angle lens | 5MP, screen flash |
| Battery | 3340mAh removable | 2750mAh non-removable |
| Charging | Qi wireless, USB Type-C port, Quick Charge | Lightning port |
| Height | 151.9mm | 158.2mm |
| Width | 78.4mm | 77.9mm |
| Thickness | 8.3mm | 7.2mm |
| Weight | 165g | 192g |
As with the Lumia 950 vs. iPhone 6s comparison, the Lumia 950 XL and iPhone 6s Plus are seriously different phones (iMore's review of the iPhone 6s Plus tells you just as much), with Apple's flagship seemingly lagging behind on the battery, camera, screen resolution, and more. But Apple has a knack for making less do more and few iPhone 6s Plus owners are complaining about the quality of the display or the longevity of that battery. It's a closer comparison with the two big phones than it is between the smaller ones, that's for sure.
Still, there are areas where the Lumia 950 XL stands out even on paper. The rear camera will take significantly larger photos, for sure, and Lumia phones have always rivaled the iPhone for the quality of their photos. And with USB Type-C, Qi wireless charging, and Qualcomm Quick Charge all built in, you've got more and faster options for getting that large battery pack topped off. And the screen, oh the screen — a larger screen with 75% more pixels in a body roughly the same size.
And that's not even mentioning the software differences here. Windows 10 Mobile and iOS 9 have never been more alike and more different at the same time. It's an odd dichotomy — Live Tiles and home screen icon grids couldn't be more different, yet they both have a rather traditional notification drawer and in-app navigation schemes. But those difference go further than skin-deep — Windows 10's coming to the table with things that iOS doesn't even dream of offering, like Continuum docking support where your phone essentially turns into a miniature desktop computer, complete with monitor and external input support.
All of that, however, only matters if you buy the phone, and that's historically been the weak point in Microsoft's strategy — Windows 10 Mobile is powerful and elegant and robust, but they just can't seem to convince customers to actually buy devices that run it. Overcoming that customer sentiment deficit is a tall order, but if there's any company with the expertise and resources to do it, it's Microsoft.
Lumia 950
Surface Pro 4
Surface XL
Microsoft Band 2
Derek Kessler is Special Projects Manager for Mobile Nations. He's been writing about tech since 2009, has far more phones than is considered humane, still carries a torch for Palm, and got a Tesla because it was the biggest gadget he could find. You can follow him on Twitter at @derekakessler.
Performance
and hardware Features Lumia Software,Design and Ecosystem IPhone

App only. I can't stand to 6 body.


iPhones always appear to me more like feminine. Suite with earrings, necklace, bracelet, iPhone, nose rings and other jewelries.... But I do respect everyone's phone orientations!!!!!

Iol ! I do feel the same !

I agree. iPhones are women phones to me. They all have it and believe it's the best thing there is. Posted via the Windows Central App for Android

I dont like the grout lines on the iPhone, either. I wonder how well the adaptive antennae will work. Thats a difference too, right?

So how much longer for some hand-ons? Verge already posted like an hour ago. Eager to read WCs take on the hardware.

Lumia stands better than iPhone

One of the things I like about my ICON is that it stands up on edge for taking timed photos. Glad to see they kept those sharp edges in the 950/xl.

Lumia 950xl battery is 3340 right?

from -> https://www.windowscentral.com/e?link=https2F%2Fclick.linksynergy.co... Dimensions 5.98 x 3.09 x .33 inches (151.9 x 78.4 x 8.3 mm) (L x W x H11) Weight 5.82 ounces (165 grams)

It's coming any 650 or 750? And rumored release date?

Lol a comparison holly shit Microsoft did it

It would make more sense to compare it to the Nexus 6P.

The Nexus is now a niche market where the iPhone is much more popular that l than those so I guess that's where the real competition will be.

On paper, the only thing the iPhone has that really stands out against the 950 XL is the option for 128GB of internal storage.

Yeah that's a lot of internal storage but o bet that cost at least $100 for the upgrade. SD cards are not bad at all these days. I can find some on sale from time to time. For storing photos and videos it worked great not too mention preferred when you like to try preview operating system as a lot of us do with windows phone. When you do a reset oh your phone it doesn't wipe the memory oh the SD card unless you want it to.

I just don't know why people don't buy Windows Phone. They are really good phones. I don't know whats the problem!?

Apps is why people want iphone apps and play store apps. That is what is killing the windows phone. Love all 4 of my windows phones.

App and lack of proper marketing from Microsoft ! Nokia (now msft) has always best hardware but lack of apps or lack of as par feature of app is a big deal for many

Apps is the main thing and also Android friendly people don't get into Windows phone ecosystem so easily. They try and try ... And give up praising how easy Android are. Thing is people are dumb to try this new OS. I love my L1320. Best thing happened to me. Right decision I have ever took.

Its 2GHz fr the processor.. Its given in Microsoft India's website... Height weight every details are given..

I can't wait for the lumias to kick the iPhones asses!!

The true competition now begins , the Flagship is here , as before you couldn't compare , because there was not a flagship to compare or compete with, now we'll see, let the games begin. It's Game Time!

Well done microsoft,i've waiting to see these two giants go head to head,it is clear MS got it

Wow apple really living up to its value for money philosophy. So lumia has better screen, more ram, more storage, better camera, better battery, micro sd and wireless charging and the iphone is 100 quid more expensive. Have to say microsoft have really nailed the pricing. Lumia is also 30 quid cheaper than nexus 6P for same spec.

The Lumia 950 XL squashes' it

Can the 950XL handle the Note5,WCentral,we would love to see the battle

564ppi or 518ppi you guys are contradicting each other

Can't wait to see them in the stores. Any news on when W10 is gonna hit? I assume it is when these launch, which could well be the end of November.

Lumia 950XL Winner........

What..?is this true..?microsoft just drop a shit on iPhones head..?haha the game has just begun... PS: Please bring more apps Mr. Microsoft...

Yup. Posted via the Windows Central App for Android

Only applications problem

If you can side load them to your phone, problem solved

Not everyone will do that, and the app gap problem will still be there

SHUT UP AND TAKE MY MONEY!!!!!

One of these is definitely going to be my next phone. After the Lumia 1520, which I still love, this one will be my favorite phone I am sure! Keep it up Microsoft! Posted via the Windows Central App for Android

On paper a LOT of windows phones (and even windows mobile) in the past have kicked iphone's ass. The problem that still remains is apps but that should really get a boost with Astoria.

Use of polycarbonate saves weight. No doubt the 6s+ is a quality phone, but it's hard to beat PureView camera with all it's specs, USB-C, wireless charging and expandable storage.

It's sad to see that Apple is still only putting a 1080p display in their big phones, and IPS LCD at that. Lumia flagships have had 1080p in either IPS or AMOLED for years now, the boat has sailed. The big elephant in the room for me is whether or not they will work on Verizon, which seems unlikely at the moment. So I guess I'm looking at switching to ATT, which has pretty horrid coverage in my area compared to Verizon (southeast South Dakota/Northeast Nebraska).

Those quality apps win again for the iPhone sorry to say
Both powerful phones with good specs and users could honestly careless but the app and superior ecosystem on ios wins Posted via the Windows Central App for Android

Just blew away to the iPhone first time Microsoft release an decent up to date device Posted via the Windows Central App for Android

I love the continuum feature as I have always wanted a phone that can be used as a PC. However for the amount of times that I will actually use this feature, I can make do with mirroring the screen on my HTC phone or my lumia 735. Although the office apps do not upscale to the desktop version , they are still capable of being used to create and edit documents. Although I do not own an iPhone that supports screen mirroring I think the the iPhone 6S Plus will perform this task easily and will probably outperform the new lumias in speed tests. Posted via the Windows Central App for Android

Never cared for iPhones. Never will. They were never meant for Indians anyways.

Why is there no 64 or 128 GB option of the Lumia 950XL???

i feel if microsoft only had to provide one model of in terms of internal storage...it should have been 64 gb instead of 32 gb.


The reason I don't like iPhone 5 to 6s plus The Screen Size of iPhone 6S Plus (5.5 inch ) < 950 XL (5.7 inch) but Height of iPhone 6S Plus(158.2mm) > 950 XL(151.2mm)

I don't see why people are happy with Continuum like people just buy monitors keyboard and mice just to use a phone and how long can this setup last with phone calls coming in texts going out and video conferencing well nobody uses the last feature but you see where im going

i am following windows central comments and authors who have done the articles it is almost Daniel Rubino and some others for games ,other stuff but what i am observing is the mobile nations managing editor Derek Kessler . I have been following windows central for like 3 years and i didnt notice a single article from this guy ,he is more active in imore than other sites. I think windows 10 has tempted him much or whatever reason he likes windows 10

Fuck the iPhone 950 ftw. Posted via the Windows Central App for Android
Windows Central Newsletter
Get the best of Windows Central in in your inbox, every day!
Thank you for signing up to Windows Central. You will receive a verification email shortly.
There was a problem. Please refresh the page and try again.