Battle of the flagships: Lumia 950 versus iPhone 6s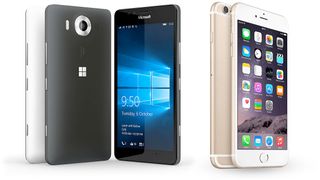 So how does the new Microsoft Lumia 950 compare to the Apple iPhone 6s? On the surface they're very different phones, built in different ways and running radically different operating systems. So let's get down and compare: iPhone 6s versus Lumia 950.
Swipe to scroll horizontally
| Category | Lumia 950 | iPhone 6s |
| --- | --- | --- |
| OS | Windows 10 Mobile | iOS 9 |
| Screen Size | 5.2 inches | 4.7 inches |
| Screen Resolution | 1440x2560 (564ppi) | 750x1334 (326ppi) |
| Screen Type | AMOLED | IPS LCD |
| Processor | 1.8GHz Snapdragon 808 64-bit hexa-core | Apple A9 64-bit dual-core |
| RAM | 3GB | 2GB |
| Internal Storage | 32GB | 16GB/64GB/128GB |
| External Storage | microSD | — |
| Security | Windows Hello iris scanner | Touch ID fingerprint scanner |
| Rear Camera | 20MP ƒ/1.9 PureView camera, triple-LED flash | 12MP ƒ/2.2 iSight camera, dual-LED flash |
| Front Camera | 5MP, wide-angle lens | 5MP, screen flash |
| Battery | 3000mAh removable | 1715mAh non-removable |
| Charging | Qi wireless, USB Type-C port, Quick Charge | Lightning port |
| Height | 145mm | 138.3mm |
| Width | 73.2mm | 67.1mm |
| Thickness | 8.2mm | 7.1mm |
| Weight | — | 143g |
It's an interesting comparison, to be sure. On paper the iPhone 6s seems like it ought be a lesser phone, but Apple's historically made due with lower specs. But in 2015, some of the specs that Apple's offering are starting to fall short — just over half the battery capacity, a camera that just got upgraded to 12MP (from a mere 8MP for years prior), a screen with a comparatively low resolution, and so forth.
And all of that's before we get to the differences between iOS 9 and Windows 10 Mobile. Microsoft's OS offers a lot that iOS simply doesn't (or can't), including a unified app store with desktop Windows with apps that work across the entire Windows ecosystem. Live Tiles? Nothing like that in the simple grid-of-apps launcher that iPhones get. And Continuum, where you can plug a Lumia 950 into a dock and suddenly have the whole thing broadcast onto a big screen with a keyboard, mouse, and more-or-less full Windows at your disposal. It's the long unfulfilled promise of a real honest-to-goodness computer in your pocket (even if we aren't sure that's a thing we need). Of course, there's also the difference in the breadth of the app stores — Apple does hold a considerable lead there and it's going to take a concerted effort from Microsoft to ease the difference. Not to mention the mindshare gap that Microsoft needs to overcome.
Perhaps a device like the Lumia 950 is what's needed to take on the iPhone 6s. Overcoming the juggernaut that is Apple won't happen overnight, but maybe it can take the reigning champ down a peg or two.
Lumia 950
Surface Pro 4
Surface XL
Microsoft Band 2
Windows Central Newsletter
Get the best of Windows Central in in your inbox, every day!
Derek Kessler is Special Projects Manager for Mobile Nations. He's been writing about tech since 2009, has far more phones than is considered humane, still carries a torch for Palm, and got a Tesla because it was the biggest gadget he could find. You can follow him on Twitter at @derekakessler.
Absolutely annihilated the iphone

Yeah, for the price, fuck the iphone

Why is it that the 950 got AMOLED while 950 XL just OLED? Oh! LED

They both have AMOLED. OLED is another term of AMOLED.

Do the 950 and 950xl have usb 2.0 or 3.0 type c? All the recent android phones only have had 2.0 Posted via the Windows Central App for Android on my Oneplus One

They have USB Type C, that's higher than 3.0 IIRC

But it can be usb 2.0 speed or usb 3.0 speed
Then there's 3.1, I'm confused Posted via the Windows Central App for Android on my Oneplus One

New Android and Windows Phones with USB Type-C uses the USB3.0 Standard

No new Android phones with USB Type-C use the USB 3.0. They're all USB 2.0 (OP2 and new nexii)

I believe the normal spec for Type-C is that it is USB 3.1, but runs at about the speed of USB 3.0. 5 Gigabit connection speeds were mentioned, so I believe that the 950 and XL run at Type-C's 3.1 spec.

Not the new Nexus models Posted via the Windows Central App for Android

And the battle is on, lumia vs iphone.

The one thing missing from these specs is the comparison of the industrial design. The Lumias are just plain boring, bordering on fugly, versus the iPhone. They practically look like prototype devices. I get that Microsoft isn't exactly targeting the conspicuous consumption crowd with these devices, but it certainly wouldn't have hurt them to put more than a token amount of effort into making them look vaguely stylish. Especially at the price point they're hitting.

To me the iphones are downright ugly and extremely cheap looking. The 950 XL are beautiful. I guess as they say beauty is in the eye of the beholder.

exactly especially the Apple Phone 6 / 6s look like copy-cats of phones from Huawei and Xiaomi

Wrong again.
You mean Huwaei and Xi look like iPhone clones because they do Posted via the Windows Central App for Android

You're wrong. What I stated is what I meant - Apple Phone 6 / 6s are copy-cats of phones from Huawei and Xiaomi

To me iPhone looks like a cheap Chinese phone, whereas Lumia 950 looks more cool, pretty nice. I use Lumia 730 and i find myself absolutely satisfied. I am using Windows for last 3 years. And no problem.i hate the Android and iPhones look

If you think that ugly antenna strip on iphone looks good, you must be kiding yourself.

Boring? Yeah, could be. But iphone is the same since, well, ever! So? Boooooooring!!! Just cause is thinner and stole the curvy glass from lumia designs, does not make it better then it's previous releases;). But well, sheeps are sheeps! Feed them good but market bad. They will take the bad anydays cause.... They are sheeeps:)!

Apps other store might have in millions but what's the use, coz the majority apps downloaded in the phone will be 15-20, u cannot install all the useless apps in store.

lets not forget Apple introduced 3D touch which Microsoft has no answer to...

Microsoft was already developing a phone with 3D touch that was scrapped. Probably because it's a dumb feature.

How is it dumb? You technically dont have to open up an app.

Why would you need that if you have a live tile? :)

the capability to preview other app when within one app cant be fulfilled from live tiles.. as i mentioned in one of my comments below.. previewing maps from mail and deciding whther you want to switch to maps or not.. live tiles cant do that..

I'm not writing off the concept of force touch, since in theory it can be used for good effect, but I'm not so keen on how Apple has utilised it. When toying around with the 6s in store the other day it didn't seem like anything a long press couldn't achieve. Posted via the Windows Central App for Android

Well, everything you can do with force touch could might as well have been done with a long press. but force touch brings a third way of interacting with your screen, instead of just using touch and long touch. It is also faster than a long press.

It isn't. Apple was addressing the poor user interface that ios was. WP is much better at getting things done between apps and more elegantly. 3d touch is a marketing term to use as a highlight, but if you used a WP you know this feature as the long press. But because Apple is the master marketer, they got people to believe they created something new...in reality they finally address a nagging UX problem in ios. Posted via the Windows Central App for Android

They introduced more features than just long press, preview from other apps.. thats great connectivity within the ecosystem(such as preview of other apps from within an app)...... something Windows has, but not to that extend i feel

There are some key differences, though, between the 3D (or Force) touch on the iPhone and the Long Press on a Windows Phone. #1: Only a few core apps currently take advantage of the Force Touch on the iPhone. It is their version of doing a right click on a desktop, or a long press on a Windows Tablet or Phone. #2: App developers will have to choose to take advantage of it in iOS9, and rewrite their apps accordingly. #3: If Microsoft decides to use it, it will probably "co-exist" with the Long Press, and just be a quicker shortcut as an alternative to the Long Press. That means every app will support it on the get-go in the Microsoft eco-System. Personally, I would love for that to happen just so Microsoft can show Apple how to do it right. They have a cross-licensing agreement on patents, take advantage. I'm not sure who really holds the legitimate patent for the force touch tech, seeing as how it was in use back in the mid-70s on some systems that used frosted glass and cameras behind the glass to determine the force being used. Current patents might could be challenged on that basis.

3d touch is cool. But you know it's apple they know how to market. My friend shows his 6s and showing unique feature live photo ...but it has been in wp for long time how many people know. And even media is praising it ! Msft should learn how to cheat people bribing media which is often believed to exist in case of apple

I had someone best about live photos... I said, yeah, that feature was pretty cool in my wp. Posted via the Windows Central App for Android

Yeah, i feel you. Those people are so closed into one company, is already starting to become their religion. Sad... But true. Till this verry days, besides this so called, finger print unlock, i haven't seen something new in smartphones that Nokia hasn't, or didn't have. Some are even bragging about futures that nokia had a loooong time ago. Usb OTG one of them. Real multitasking the second. Great cameras, the third. I am tired of this so called innovation. I need Nokia back. They are the only ones who trully INVESTED in creating devices and not into creating sheeps to give them money... And that's a proven FACT!

Apple "invented" force touch so they didn't have to do it the easy way and copy everyone else with long press :)

Microsoft Developing an app which is capable of 3D scanning.. it is about to release

Live Tiles anyone? Been doing that for years now.

Microsoft has super sensitive touch, even works with gloves.

Microsoft has continuum which lets you use your phone as a computer which Apple would just steal 5 years down the line and call it "innovative". Let's not forget that Apple was not the first to reveal the Force touch. Another company beat them to it. So...

3D touch, while it has some cool tech behind it, is no more than a right click/press and hold. From what I can tell, everything it does can be accomplished with a press and hold. Please correct me if i am wrong though. As well, if we are playing tit for tat, then where is Apple's answer to continuum?

I am all thumbs up for continuum, but 3D touch has got really good reviews. And I am not sure how many people will practically use continuum, we'll have to wait and watch for it.

Seriously though, what does 3D touch do that could not be done with a press and hold? I am asking an honest question, not trying to troll.

Its not about what it can do.. but what it does.. Microsoft doesn't connect automatically to other apps as iPhone right now does... For eg. you cant preview a map from your mail and directly decide whether to jumo in it or not.. Once again I am not saying long press can't do it... it prbably can.. but currently it doesnt. (P.S I am not a Apple or Android fanboy)

Again, not trying to troll. I want to stress that. Honestly trying to understand. So, based on what you said, that is all software and not hardware dependent. Not saying MS will or should do it, but it is nothing a press and hold can't accomplish.

when someone is choosing a new phone they'll look into all the aspects and it is where Microsoft will loose... In the end it doesn't matter whether it is software or hardware.. I agree Win10 is an always updating OS, but it'll again be playing catching up in the race(with this regards, obviously it is way ahead in continuum)

No, I got ya on the marketing side of it. I was trying to understand if the tech is different than what I though. That's all. Thanks for the chat!

Nice talking to you too! By the way.. some-one pointed out up.. 3D touch is much faster than long press..

Haha, is just long press stuffed with some futures, 3d touch my ass!!!

Microsoft is on the right way towards success with continuum feature Lumia will rock ahead then all smartphones

3D touch adds another option. On an iPhone 6S you can still long press on the icons on the home screen and make them "wiggle" and then move them around the screen, but if you press harder it triggers 3D touch. So you can do long press (softly) to do one action, and hard press to do a different action. So it's like having 3 mouse buttons instead of two, in a way.

Oh that's cool. Thanks for the info!

Or Android action launcher's icon swipe. Posted via the Windows Central App for Android

When Microsoft will bring 3d touch it would be a knockout.

I don't find the 3D touch feature too different from the long-tap contextual menu feature that's been around WP since forever

And Microsoft included removable storage and battery which iphone has no answer to too..Also no OIS for the camera? It's 2015 ffs

Most Windows apps are abandoned and lack of

From next year I reckon were gonna start seeing an all new iPhone design every year rather than the S models, hence Apples new lease system. Apples hardware is seriously lacking now more than ever, even MK on his huge YouTube channel criticized and laughed at Apple for starting their flagship with a 16GB model in 2015!!!

Lol only thing I like more about the 6s is the smaller size. Other than that, it loses

Specs won't matter as long as apps are missing. Posted via the Windows Central App for Android

Apps are a plenty on windows. I don't want a lot of useless apps like apple and android. . You could half survive on Microsoft apps alone and they are the best apps and most used on all OS platforms. So its looking good to be honest

That is not true. I love my windows phone but there are ton of apps that it is missing and that 3rd party devs haven't worked on (fantasy football, loyalty programs, etc.). I don't mind using the browser for most sites but I have many apps on my iPad that I wish I could download to my WP.

There's ESPN and NFL Fantasy apps. The NFL app is admittedly terrible, though. There are definitely a lot of things missing, espoecially to the casual consumer who is going to look for apps for things like banking and communication first.

Just because YOU have all the apps doesn't mean every1 does. Not to mention that iOS official apps quality > WP.

Where are the banking apps, store loyalty card apps, Starbucks, Amazon Prime Video and Amazon Prime Music, Google Apps? Posted via the Windows Central App for Android

Microsoft are still missing Snapchat which now has about the same active monthly users as Twitter. So it has actually a huge damaging impact it being missing. But most over-30 year olds don't care about Snapchat (its for kids/immature adults see their own stats) but businesses are starting to take note and want to market towards these users. So having Snapchat missing is damaging even for productive business users. Off my head, Clash of Clans & Gear of War are two other big games apps missing...

Snapchat doesn't seem to be anything MS can do something about... Snapchat's CEO is a douche-canoe who has outwardly and openly opposed Windows Phone. Even when Rudy offered to practically give Snapchat the source code for 6snap, they refused. They're not doing it for userbase reasons... Snapchat owners are just asshats trying to stick it to WP because they don't like it, and that's about it. There doesn't seem to be anything that Microsoft can do to resolve that, because they can't force anyone to write any app if they don't want to, let alone maintain it.

If that presentation didn't get developers a little bit interested then something is wrong with them.


I love how light/thin but yet powerful this phones are, the XL excel in every aspect I require for a phone (pun intended) and give us even more. I wish I could have the money to preorder it right now... But I know for sure that I will have that phone.

The thing is the support of apps

3D touch killed in 950...y?

i am actually waiting for hands on videos of these devices. hope dan upload lumias first

Hands on are uploaded on the verge.. Though I am waiting for Dan's video... He is cool!

It's all about the apps. If the Windows app offerings are seen as not up to Apples', then it won't matter the specs.

Is everyone forgetting about project islandwood? :)

It's that Microsoft's plan to blow-up a volcano if the UN didn't pay them $1,000,000,000??

Iphone is vert ugly but compared to 950 is a top model

Dont forget Ios9 is better than Windows 10 so it doesn't lose

Its not in beta and it is a mature OS and has a very strong developer ecosystem

To each his own but: It wont be a beta in November and this is windows not just a mobile OS so the dev count goes through the roof. The dev ecosystem size argument about wp7/8/8.1 no longer holds water.

Trust me I been on this ride long enough its not even going to ready even without the beta tag

Ios 9 is mature os , I think you read different dictionary. Even wp8.1 beat your mature os in every way except app store

Actually have HTC One M8 for windows on 8.1 love it needs better developer support tho

I still can't understand what you wrote. Siri must suck at translating; try Cortana next time.

Yeah, how did iOS 8 work out for them? Sounded to me like it was a mobile OS version of Windows ME.

Why are you comparing it with iPhone 6s? The hardware is very inferior. A more like-for-like would be with Samsung Edge, Sony Z5, LG G4 etc. The iPhone is popular due to marketing, but it's technology is poor and articles like this give it credit. Dear oh dear

Exactly. iJUNK is about 4 years behind technology. The ONLY reason its selling, is due to """FAD""". If tomorrow XYZ becomes a FAD, all those iSHEEP will forget who CrApple was/is, and move to XYZ brand. For Exp: my wife's friend buys iJUNK phns for her kids, cuz she thinks and says""you are not cool in school if you don't have an iJUNK phn""". I would love to ask her, WHO decided or pass this FAD thing in her kids school, and made her think this way. She spends all that money for a useless device so her kids can be cool in their school. Same person will switch, if FAD shifts to another brand, like on the next day, so her kids remain cool at their school.(most lamest thing i've ever heard, talk about iSHEEP, but it's my wife's freind so,...............).

Lol, you're on point there :-) Let's hope the 950 lives up to it's promise. I think I'll pre-order the 950XL :-)

That's true...the media gives all favour to Apple products even though they are old and few modified functions they call it as innovation.. Eg: living images on lumia 2 years old function which Apple renames as Live Image..

To defeat the iPhone you need alot of high quality apps a high amount support from developers

Ok soooo where is this project islandwood you speak off?

I'm happy that Ms is trying to learn from their past downfall, and which has made them unveil exceptional devices.

Lumia is killing the iphone, but the lumia is still ugly as hell and has lack of vital apps:/

In sweden? Blocket.se( it's doesn't even work on explorer/edge browser), Swedbank, Viaplay,HBO, snapchat, tinder, Instagram (Yes, know about 6tag and 6tin), Cortana and more!

Lumia is never ugly, yeah ios and iPhone are ugly like their ikid fans

You're a Windows Phone fan, I get it! But let's face it, iPhone is far better looking than Lumia 950.

To each his own. I like the look and feel of the Lumias. Also, everyone is judging the 950 based on a picture. I'll reserve judgment for when I see them and hold them. Actually I won't. I'll be pre-ordering the 950XL as soon as it becomes available.

The iPhone 6S look is copied from Lumia 925

So are these comparisons based on actual hands on use of the 950 or just on paper?

Dolby support there or not in the phone?

Global release can make a difference!

Agreed they should have gone for exploding tiles bcoz it would be the best feature on flat screen OS.

Apps shmapps, that's just extra stuff to me, I wanna know how it does.

Not well in the market share

yup. You're right. the Lumia 950 marketshare is 0.0, zilch, nil. I have no expectations of it overtaking the iPhone, and I don't really care. As long as Microsoft continues to support the Windows Phone, I will continue to use one.

$550 will more than likely turn into 650 if not 700 euros. At this price point, no one will buy it. I doubt it will outperform other devices. It's true though, Microsoft doesn't bother with devices atm.

I know you all want this to kill the iPhone but come on its the iPhone companies have been trying for years the only person who got it right was Samsung

Apps are not vital, productivity of the phone is. Think about it, you take away both app stores from the phones which one wins?...... Exactly 950/xl

Without apps all of those specs are useless though. Why would you even spend 500+$ on a phone if there are no apps? In fact apps are what makes a smartphone productive.

Ha ha .. 950XL all the way..

I will go with the 950. There so much more in it, better battery, screen, camera (may be, lets wait), non boring customizable live tiles, continuum,...

Quick summary: Get the iPhone 6S if you want a great app ecosystem now and a great camera and available regardless of carrier. Get the Lumia 950 if you can hold out on apps and games, would like to be able to get a laptop experience on a big display monitor from your phone, have extras like removable battery and expandable storage and a great camera all at a lower price.

How is he blind & dumb? He is perfectly right. I see nothing wrong with that statement, unless you failed to understand him.

Man I swear we're like only true fans the rest are blind lol

Apps apps blah blah its comparison between phones not apps duhhh...and by the way project islandwood is on the way ios apps converted to wp so shut up

You sound so butthurt lmao

Microsoft was on the right path with Windows Phone 7-8.1 all they had to do was add on and change a few things

Really? why are we comparing Lumia with an overrated iJUNK phn that is about 4 years behind technology as usual???????????? Would you compare a Ferrari (Lumia), with Geo Metro (iJUNK)?????? Come on ppl. Lets compare 950/950XL with a REAL device and NOT a FAD Toy.

iPhone 6s is actually a premium device. It looks much better than 950, is very powerful and has a great camera, not to mention a much better app store (and hence better productivity) Not saying it I better than 950/950XL, but it's not a toy by any means.

I hope we get some entertaining VS commercials to stir interest. Then transition to highlighting what makes Windows 10 Mobile great commercials a few weeks later.

Apple has Apple Pay. Windwos has nothing right now. That is a game changer for a few people out there.

Windows Fans are as blind as iPhone and android fanboys

Exactly. They are no better than those iSheeps.

And they always talk crap about them, like WM fans are any better, everybody's just a fan boy these days, either A or B, so close minded really smh

Ios is going down for real

@apple now this called new innovation and new technology. When did Microsoft become Apple fans love.

Project island project Astoria how about project bullcrapp

Going to take 80 years for them to do it?

Plz dnt cry its k u r right

Ikr? Still haven't heard any news on them, also I don't think it will make much difference. Most Android/iOS devs simply don't create apps/games for WP because the market share is too low, not because they are too lazy to port it. AFAIK, Project Islanwood & Astoria are going to make porting easier, it won't actually get them more market share or anything. But let's see how it goes.

The waiting game continues lol

DIdn't even mention the price. $649 for the iPhone 6s (16 GB) $549 for the Lumia 950 (32GB).

The windows fans that say we dont need alot of apps are not helping the platform at all that's one of the core strengths we dont have integration and Hubs anymore those days are over

Weight 150 grams for Lumia 950. (from fact sheet)

Spec wise from just the hardware side the 950 easily beats the iPhone 6s. That said, I plan to buy the 6s. (currently have a 925) Iphone/iOS has far more apps, and useful apps. I don't see those coming over any time soon, and we've had islandwood announced for a few months now. In fact the best Microsoft apps are on on iOS. Microsoft Garage isn't even in the Windows Phone store, but is on iOS. I found about 18 apps that I would use today in the Apple Store, not in the Windows Phone store. That's before you get to the fact that many of the window phone apps may never be converted to Win10 Universal apps which means the app-gap could become far worse, not better. Apples just work. Yes their camera is crap, their display no where close, their layout way outdated visually. But with their apps and Apple Pay, the phones just do more. Apple also will work on every carrier in the US (we have no clue if the 950's will work with in the US) So if you want a funtional tool....6s wins. Apps makes the phone a tool that works.

Nokia was going to release a phone with 3D touch. But, Microsoft stoped them to do so because that was'nt the right time and right OS to completly integrate that tech. Now, things are different thay have windows 10 mobile built from ground and they have nokia's technology in hand. I believe 3D touch and Interactive live tiles are coming together. Windows Mobile have the ability to do true Justice with this tech.

Ok, so after a few weeks with iPad I say iOS is shit. As you mentioned, only grid of icons and that's it. BUT there's more into that. APIs! Apple just does it right! And win10? Still no GATT on Bluetooth and many many other flaws or unfinished functionalities. So yes, iOS is shit and it's just a platform for apps, the best there is! I'm a bit disappointed about Lumia presentation. Especially, no official date for a release of win10m!

This new flagship has specs that can destroy the iPhone. But IOS9 destroys WIN10m its sad but true. MS have the body and engine of a flagship right this time. But the OS plays a big role. Nobody wants to have the low quality apps on a flagship. And what about a store thats still average for the past 2-3years

Let's wait until more OEMs jump in and MS releases more flagship phones. Hope these two aren't the only flagships to be released by MS.

Windows 10 mobile is already a success bahahaha maybe the surface line has potential but phone you smokin crack buddy

Guys plesase get real apps will come windows 10 is already a success

110 millions install in 8 weeks is success tcros stop acting like a kid

The Iphone is Trendy and Hollywood while the Lumia is more tech geeky and enterprise like

Ugh, made do, not made due.

I really rate WP but Not wanting to waste an upgrade I got An S6 (an amazing phone) In 10 months I will use my partners upgrade and hopefully return to the fold. The only thing that may make me think twice is the apps! Apart from a few notable exceptions the apps on WP are a backwater! What WP needs is a Calamity Jane to go to the windy city and bring back a snap chat to deadwood Posted via the Windows Central App for Android

Wow that's murder look at the battery

The only thing that was worth watching was the Surface line

110 millions install in 8 weeks is success tcros stop acting like a kid

You know, I'm not crazy about the looks of the new 950's. I find them passable but disappointing. However, am I the only one who thinks the iPhone and iPad are ugly as hell now? I thought the 4s was beautiful, one of the sharpest pieces of tech I had ever seen. But starting with the 5 and now the 6's, I think they are plain ugly. I think the iPad is ugly too, the white version especially. They use a tone of white that looks like it's already used and dirty and something about their design does not lend itself to bigger devices. The bigger the iPhones get and the ipads, the uglier they are.

Show me the apps. I prefer the 950 hardware, but all I gotta say now is show me the apps.

I get it that apps are important. I hear Snapchat tossed around a lot. Remember when it was Angry Birds? Remember when it was Instagram? Yeah we have all that. That's not what brings people. It's a slow and steady progression and trial and error and most importantly, persistance. MS finally decided it'd make more sense to have a unified OS. One developer, one app, any device that runs Windows 10. How simple is that? It should be a no brainer. So, no one single app will give MS the marketshare. MS needs the mindshare and the support of developers. If hundreds of millions of devices are running the OS, that should get their attention. Those devices look real nice.

Snap chat is one of many though. Then you have the apps that were on WP but decided to stop supporting the platform. Like banking apps. I must say that it is a pain in the ass to not have a TD bank app and have to rely on my Ipad to do remote deposits.

How did that unification work out in 8.1?

Actually, universal apps on WP 8.1, did improve the app gap a bit & ultimately we got to see better quality apps.

The phone can compete with Android and IOS on specs, but not on the wow factor or on apps. There is still a huge lack of apps on Windows Phones. Its not all about hardware, its what can you do with it.

Exactly and it doesn't keep up with latest trendy apps

It's not about the hardware, which both devices have plenty of power, with plenty to spare, it's all about the app store, and sorry to say it, WP is seriously lacking in that department, until they get up to speed, they will be irrelevant in today's mobile space. Posted via the Windows Central App for Android

Apps or no apps. Only apps I use is for productivity, reading and games.. Yah I don't need to carry my laptop to school any more.. Can use just my phone as my presentation tool. 950xl all the way.. Sweet.....

If you want a 'lifestyle' device, with specs that are way behind even the lesser droid phones, and your life is so shallow that what your mates say, bothers you, I give you the iPhone. If you want the same thing rehashed every five minutes, Android is for you. If you want a device that is a (virtual) laptop in your hand, and can live with the ( lets be honest here ) lack of gaming content in the store ( roll on Astoria), then the 950 has massive potential!! Rock up at a meeting, phone out of your pocket, plug it in, and viola!!!

You can't judge a phone purely on specs. Apple, like Microsoft/Nokia, make bespoke hardware and software so the hardware is only as powerful as needed for the software to run efficiently. Iphones have proven this time and time again, people moan about the lower specs compared to the competition, but no one can say that Apple devices are laggy and slow. There's no point throwing in 3gb of ram or an octocore processor if most of it isn't going to be fully utilized.

iPhone why its simple. Superior apps and support.
And that alone wins hands down. Specs don't matter
Both are powerful. It's the apps and ecosystem that matter Posted via the Windows Central App for Android

Still no tap-to-pay, and apple's version of living images is better...just tap the photo to play, instead of having to go into the camera app and play them there, and you can only access photos from the camera roll, not OneDrive or another folder, and other color options are important to a lot of people. I love the fluidity of the Window OS, live tiles, the organization of the screen and much more but not having the abovementioned items is not wise.

still got a loooong way to go!

One thing that matters to me: Plenty of recent smartphones keep talking about their camera got image , but none of them emphesize on stereo sound recording. It's so dump when you playback a 4K video with mono sound.... Still love my Lumia icon, will go for 950XL for sure~

I love my Lumia 930. I will buy the 950XL. My kindle will then be dust and now all of my electronic needs will be in my 950XL. I hope that Mircosoft is doing something on improve app selection. There are still popular apps missing in the Windows phone ecosystem. It's unfortunate but consumers are going to buy phones that they know can run the apps they use. Overall it was a good day for Microsoft. They have some pretty compelling products going into the hoilday season and on towards 2016. Well Done Microsoft...

i am following windows central comments and authors who have done the articles it is almost Daniel Rubino and some others for games ,other stuff but what i am observing is the mobile nations managing editor Derek Kessler . I have been following windows central for like 3 years and i didnt notice a single article from this guy ,he is more active in imore than other sites. I think windows 10 has tempted him much or whatever reason he likes windows 10

Re this: "plug a Lumia 950 into a dock and suddenly have the whole thing broadcast onto a big screen with a keyboard, mouse, and more-or-less full Windows at your disposal." What do you mean by "more or less full windows?"
Windows Central Newsletter
Thank you for signing up to Windows Central. You will receive a verification email shortly.
There was a problem. Please refresh the page and try again.