Lumia Black now available for the Lumia 620 in India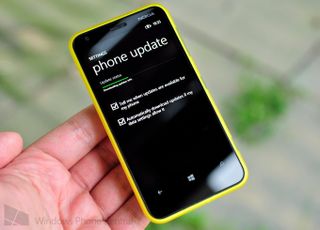 Head to India and you'll see that the Nokia Lumia 520, Lumia 720 and Lumia 620 are the most popular Windows Phone handsets. You'll also find that the Lumia Black firmware update is already out for the Lumia 520 and Lumia 720, but not the Lumia 620. However, that changes today. Reports are coming in that the update is available.
Lumia Black is probably the last big update your Lumia 620 will see before getting Windows Phone 8.1 in the near future. Your Lumia 620 will gain a few new features thanks to Lumia Black. Look forward to a ton of new improvements to the Glance screen including new colors, notifications and custom text.
Want Lumia Black on your Lumia 620 in India? Head to your settings, scroll down to phone update and tap 'check for update'. Good luck and welcome to Black!
Be sure to head into the Lumia 620 Forums if you run into any troubles or need to talk to fellow Lumia 620 owners.
Thanks for the tips everyone!
Windows Central Newsletter
Get the best of Windows Central in in your inbox, every day!
Lumia Black is supposed to be available in Mexico, but nobody can download it!!!! Very frustrated ;S

Ni siquiera utilizando NSU o Nokia software recovery tool. Yo tengo un 920 en iusacell y no puedo actualizar aún. / not even using NSU o NSRT. i have a iusacell 920 and cannot upgrade. nokia page says not even amber is available for me.

Para el 625 sí se puede, y el 925 y 1020 ya lo traen, pero los demás no :'(

Con el Nokia recovery tool si encuentra la actualización más reciente, pero no quiero perder mi configuración :( Yo también tengo un 920... pero el 1020 de mi hermana, tiene Amber, y desde hace 3 semanas que dice la página de nokia que ya debe estar disponible... pero nada!!! :/

Black ha estado disponible hace un rato ya para la ROM de Movistar de Chile, Lumia 720,

You guys didn't mention that Lumia black became available in NZ from about a month ago on the 820 :)

Well they also didn't mention when the update became available for Lumia 720 here in Lithuania! Being more serious, it all depends on the market - to my knowledge, WP is super popular in India (compared to the rest of the world) and thus WPC has many followers from that country.

You bet!But its a tough competition here becoz of the cheap Android phones like Micromax and Carbonn.Still its surprising that WP is growing silently becoz more and more people are moving to a Simple Wp Os than a complicated Droid one.

At least you guys got it tho, tmo still has not released it for the 521!!!

Lumia Black available for 620 on O2 in UK

I can second that! Black is available but not listed on Nokias website!

Was just about to message the same thing! Just installed on my girlfriends 620 - great little phone just got better!

On the Nokia site the status still shows as Waiting for approval. :P I don't own a 620 to double confirm though. I checked out the status here : http://www.nokia.com/global/support/software-update/wp8-software-update/...

That site is sometimes behind once the rollout begins.

Hey Sam this is not original pic for 620, it is screenshot from some other phone and posted over this 620.
See battery icon its showing phone is on charging but no charger is connected

wow ...what observation :)

available, downloading now:)

How about the Lumia 521 for T-Mobile? We're still waiting IMpatiently.

Same here, getting frustrating the closer Build gets.

Now waiting for 8.1 preview :)

Sabr ka fal meetha zaroor hoga...

M afraid no wil be able to understnad dos wrds excpt us.. !!

It's an English forum. Please stick to English. That's the difference it makes.

Kisike baap ka raaj hai kya ki game English mai he baat karni hogi :D

Lol bhai log.. :P (lol brothers)

I think we should have wpcentral India too

And here goes your trophy for reading my mind!
\__/
..||
===

After 2 months this is not good from Nokia. I have many Lumia users who are still on amber and acting dumb saying wp is not that good. Such dumbfucks

Yes.. Its Done.. Updated to LumiaBlack - Lumia 620 India Lumia620 - India

Is double tap to wake working?

r u sure sir? have u realy updated to black?

Spread the word developer preview 8.1 all over India.

Congratulations to India!

Thanks brother!
Last but not the least....

On the bright side, it's actually not last. Lumia Black for 521 on T-Mobile isn't out yet, and people are still telling me to stop criticizing T-Mobile... I sense some T-Mobile employees.

Still no update for Pakistan.

still not available in most European countries . That is a very strange update

Lumia 620, Lumia Black also released in Brazil for Country Variant devices... My friend told me that :D

Lumia 920 get Black in Puerto Rico (Claro)

This update route is pretty lame. I'm still waiting for release in the Dominican Republic.

I had completely forgotten about this update for Lumia and have just checked my wife's 620. Low and behold, the Black update is available for it (UK unbranded, SIM free). I'm now in the process of updating her phone.
To be honest though, I didn't find the Black update for my 1020 or the wife's 920 to be anything special or groundbreaking so neither of us could care less about the Black update for her 620.

Glance is a must. Double tap to unlock, too. Saves the power button.

Now imagine how long will take to most of the users, the "normal" people, to receive the WP8.1.
I think Nokia don't need to add anything new to those phones. Just release WP8.1 the way it is.

I'm not a fan of the way Nokia are doing their updates. They are too slow like Android. They own 90% + of the Windows Phone market share so why not put there crappy software in line with all Windows Phones so updated are released quicker.

They have to check that the firmware is received perfectly. I know it has been very slow from them but it happens with android phones to as google releases their latest os only for few new devices and it takes 1 year more by everyone to upgrade the operating system due to firmware updates. Many Android users are still on 4.1 and 4.4 is also getting old. So chuck it bro

Just finish update from malaysia L620 vietnam model..demn!! I like it!!!

And the wait continues for all the 521 users...

Lumia Black available in France too ! Finally !

waiting for latest whatsapp and 8.1

I recently talked my sister-in-law to dump AT&T, switch to Aio Wireless and get the L620 since she's on a really limited budget. So far she likes the 620 and doesn't know that Lumia Black is not yet available. Hopefully it won't be long, so that I can give her a nice surprise.

Got it on my 2 620's last week on giffgaff and o2 in the UK

You guys make the phones look extra sexy when you take pics of them, just putting it out there.

Meanwhile I have a Lumia 810... stupid T-Mobile!

Lumias 620 updated (Brazil).

Lumia Black for 620 also in Brazil!!!

Lumia black finally available in South Africa for Lumia 620! OMG I almost gave up; busy downloading it now.

Black available in Ukraine too :)

Finally for all Scandinavian countries, now all Lumia's for Norway, Denmark and Sweden have the Black update.

Used to check daily that may be it would have arrived,today it really arrived but that's too late

Received GDR3 Update For L620
In India,Kerala.

Can anyone pls predict d size f black update???

Received and Installing update . I am from AP, India.

Hear that T-mobile? India is now beating you on updates!!

HEY...I GOT LUMIA BLACK UPDATE IN MY LUMIA 620 ALMOST 2 WEEKS AGO. I am from India.

Dude update came out yesterday night then how u got it 2 weeks before

i don't know. Installed preview when it released. And got the lumia black update two weeks ago. earlier there was news about black update.. i think you missed it

Where's black for 521?????

Nokia site says coming soon now

Didnt bother anymore for the update but as I got up in the morning alert "update available" came so just installed. I do not find much difference except double tap to wake.. Anyway better late than never...

Downloading lumia black :)

Yes, its available in india, however not listed on NOKIA'S website!!!! great NEWS!!!!! Cant wait to download it!!!

Downloading..... So exciteddd

Yes! It is available now :)

My touch option not working after update :(

Lumia Black is probably the last big update your Lumia 620 will see before getting Windows Phone 8.1 in the near future. Your Lumia 620 will gain a few new features thanks to Lumia Black. Look forward to a ton of new improvements to the Glance screen including new colors, notifications and custom text.

Black update not required for this, Glance 2 can be installed without this.

Not necessarily. You can get these by installing the Glance Background app. My 620's on developer preview GDR3 without Black and yet after installing Glance background I got all the new colors, notifications and custom text.

Not available in Hong Kong. I wish I get it before the Windows Phone 8.1 Developer Preview becomes available. I live in India, but bought the phone from Hong Kong. So those saying "Got it two weeks ago" must have purchased it from UAE, Finland or Netherlands.

black update for 625 is already released in january in india.but i cannot see update on my lumia 625 .its just showing up to date when checking.plz help

At last, happy..!! Thank You! Thought Nokia might have forgotten about us...

Updated black successfully L620-India(Hyderabad)

Vimal are u able to use touch setting after update ? Plz let me know

Its working properly in my L620 after update

Yea its working fine ,touch sensitivity is also improved

this is really available i have downloaded this update now , double tap to wake has come but double tap to unlock didn't came yet

LOL there is no such thing as double tap to unlock

Double tap to wake up is available on L620 & its working fine.

I said double tap to unlock. Like when you double tap and it takes you straight to the start screen without needing to unlock the phone at the lock screen. I know dttw works fine.

There is no feature called DOUBLE TAP TO UNLOCK we have only DOUBLE TAP TO AWAKE to awake d screen

Read the OP and all the comments carefully dude

What about Lumia 625 in INDIA???????

L625 black update is available frm last month

No i hvnt got it yet ...its still showing software release- lumia black

Yes, Just Updated the my Nokia Lumia 620 to Black update. It does not support Beam as its 512MB ram

Don't worry it is gng to arrive for 512 mb ram devices soon as we already got Nokia Refocus :) but it takes some time

got the black update yesterday,its download size is 211mb n only downloadable via WiFi n took some 30+minutes to install n reboot,it now supports new glance,double tap,win keys vibration off screen rotation lock n close option for running apps..oh yeaaaaah...now i am starting to like winphone----sending this from my 620

The Lumia 620 still waiting for the black update in South Africa and it is the only phone missing an update in Africa. Honestly, feeling frustrated!
Windows Central Newsletter
Thank you for signing up to Windows Central. You will receive a verification email shortly.
There was a problem. Please refresh the page and try again.