Lumia Black now available for the Nokia Lumia 920 on AT&T (Update: Lumia 820 too!)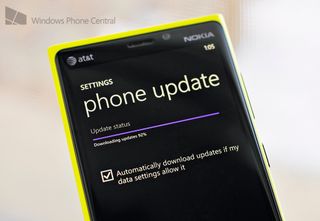 It's finally here. Lumia Black is now available for the Nokia Lumia 920 on AT&T. It's no secret how much love there is out there for the Lumia 920. Just the other day we asked you guys and gals how it's holding up. The response was overwhelming, there's just so much right about the Lumia 920. Well now it gets even better with the Lumia Black update.
Lumia Black is a firmware update for Nokia Lumia smartphones that brings a host of new features. Things like new colors on the glance screen for night mode, new notifications in glance screen, Bluetooth 4.0 LE and much more. In addition, you get Microsoft's latest version of Windows Phone 8, with Update 3 (full changelog).
Reports are pouring in that the upgrade is ready for you. On AT&T here in the United States with a Lumia 920 and you want to check if you've got the update? Head to:
Settings
Phone update
Check for update. (It should begin downloading momentarily.)
We've seen Lumia Black rolling out globally across various handsets and carriers. To check your individual status go to the support page Nokia set up. There you can narrow down your search by region and carrier to see the status of the rollout for your handset.
Enjoy everyone! Don't forget to head to the forums for the Lumia 920 to talk amongst each other if you run into any issues.
Update: Our friends at Nokia Care (US) tweeted out that the Lumia 820 on AT&T is also getting the Lumia Black update! Enjoy!
Now people can stop randomly mentioning it in unrelated topics. Whoo! Congrats to 920 owners! I hope att doesn't screw us 1520 owners over too bad for WP 8.1...who am I kidding, of course they will haha.

Us 928 users will still bring it up randomly :)

Where's my 928 Black update VZ!?

According to this link, everyone should have it by tomorrow.
http://conversations.nokia.com/2014/01/29/nokia-black-update-questions-a...

http://youtu.be/pAgnJDJN4VA

They should notify Verizon of this...lol. Ours still says waiting for approval so I don't expect it tomorrow. Oh well.

"Nearly all will have it..."

So certainly possible (and probably likely) that it won't be out for 928 users. Good thing I have my 1020 with me as well, so not a total loss.

I'm like Verizon, I forgot about the 928 users. Jk :P

You are using the 1520 on Verizon?

Let us start...... Verizon, where's my Black Update?!?!

UK users on EE are now getting it too...

EE (or as I believe it stands for Eurgah Eeumbpt). At last, hooray, about time and all that blah blah etc etc

You just randomly mentioned another unrelated Lumia woohoo!!!

What about the 820 my bro has an 820? For black update?

Still nothing on 3UK 920 :(

3UK Dragging it's feet again! Now the12th Feb and still nothing!

I asked them on twitter last Friday and I got this reply - we are still testing this on the network. It shouldn't be much longer :) >CC
- not sure how much testing is required???!!!

Come on AT&T... where is 8.1? I'm sick of this BS Waiting!!!

You do realize WP8.1 hasn't even been officially annouced by Microsoft right?

What about 925 for T-mobile??

What difference does that make? It's our right as tech blog readers to bitch about anything and everything!

Just a little hasty with the complaints.

What about 520 on T-Mobile?

Come on Rogers, now it's your turn!

effin Rogers, taking their sweet time, even AT&T beat us!

I don't think att got amber but Rogers did so they didn't really beat us lol

pretty sure they got amber

Hmm, maybe it was GDR2 that skipped them, I seem to remember everyone on ATT complaining about not getting one of the updates and then WPCentral mentioning something on the lines of it being rolled into the next update?

Yeah, I flashed my 920 with Rogers' firmware as they were some of the first to amber this side of the world, but now they're too slow :'(

Didn't realize there were so many of us on Robbers :) Hurry up!

Lol, I see what you did there! :D

I'm in the US with a Rogers 920 on T-Mobile. It feels weird to wait on a Canadian carrier I've never used in my life for a phone update. They pushed out Amber pretty quick though. Wonder why Black is taking so long.

cause they released it for 1020 and no longer care about 920 that much?

You can debrand your phone so you get global updates rather than carrier specific. You will have to reformat everything though, but after you get Black it should made the restore process easier. http://windowsphoneupdate.com/debrand-nokia-lumia-920/

Its been "Waiting for approval" forever on the Nokia updates page. I think they're just ignoring 920 users since they got the 1020. They dont even sell the 920 anymore! Comon Rogers, support the early adopters of this wonderful piece of tech!

Yet STILL nothing for the 925 on T-Mobile

T-Mobile employee here. I asked someone in my internal community about this and they said it's currently being tested and is planned to be available. How true this is or the time frame, I don't know. I'm staying hopeful.

Do you have anything to say about the Lumia 810?

I'd like to know, too, considering I'm still paying off two of these.

Ur best bet is to do what I did and trade n your 810 for a 925 (or upgrade) cause there not getting the black update says so on the Nokia website

It won't happen for the 810. Personally I think it should, but it won't. My advice would be to upgrade to a 925 or see what comes our way in the future (which at a retail level we have no idea of just yet).

I bet neither the 810 nor the HTC 8X will get GDR 3 OTA on T-Mobile. I left T-Mobile and got a AT&T 920 two weeks ago for the simple reason that I expected the 920 would get GDR 3 and Black whereas neither my 810 or 8X would ever get GDR 3 with firmware on T-Mobile. ANYONE WHO HAS BEEN WITH T-MOBILE FOR ANY LENGTH OF TIME KNOWS THEY ABANDON THEIR WINDOWS PHONES DEVICES LEFT AND RIGHT. I was tired of that.... Yes the 925 and the 521 will get updates, but only because T-Mobile is still selling the phone and HAVENT YET SCREWED YOU. But later, they will...... (P.S. my 920 is now migrating my data to GDR 3/Black!!)

to be fair, it is not only their WP devices that get left behind. T-Mo is in the game for providing cheap service, not supporting phones. If you are on T-Mo it is probably better to get an unlocked device that will get support from the manufacturer rather than getting a branded T-Mo device. Either way you are paying full price for the phone, but at least with one you get some support.

That's not "fair" in any sense of the word, that is simply rationalizing away shitty support of phones that they sold to their customers. Two, the updating of Android devices is widely known to be an issue across all carriers. Three, that "cheap service" they are providing is slipping away beneath their feet and T-Mobile is no longer alone in offering good prices for service. I am not just talking about MVNO's but rather AT&T itself. The plan I am on now is five dollars less than T-Mobile's equivalent plan, and the only difference is 200mb less data per month. I reject the idea that poor phone support can be excused via "lower" costs and I have voted with my dollars and moved to AT&T. And you know what, I have been rewarded for my move. Thank you AT&T for GDR 3 and Black on my 920!!! Thank you AT&T for supporting a phone that came out in late 2012, while T-Mobile has abandoned their phones which came out at the same time. I also expect that AT&T will release 8.1 in a few months time. I have no hesitation about my move and I will support with my cash those companies that give their customers the support that is reasonably due them.

The Nokia website says "not available" instead of "waiting for approval" like the others so the 810 will never get Lumia Black officially.

Hopefully TMo will be on the ball with the 8.1 update, like they were for the Amber update.

Thanks for the glimmer of hope friend :) The next wait is 8.1, I just hope by then it doesn't take this long for T-Mo to relase it like they are with Black.

We traded in our 920 for tmo 925s. Hope it comes soon.

Rogers better pick up the pace!

Yea it popped for me too (also Orlando) but no WiFi until 5pm :(

Yay, Orlando! Downloading when I get home.

Installing in Orlando here... Stuck on the gears for quite a while though, I'm worried it's going to stay this way.


Mine won't work either. It stops at approximately 10% on the stays bar. No movement for an hour. Did a hard reset, same thing. I'm getting worried!

That was pretty fast for AT&T

*decorates table and sets chairs*

*Pulls table cloth out, leaving everything else untouched.*

@NokiaCareUS tweeted that it is available for the AT&T Lumia 820 also.

Yep, saw the tweet too. I will have to charge my 820 when I get home.

Rad! I almost got the 820. Then the 1020 came along...

EE UK is officially the worst :(.

I am Downloading it now on my nokia lumia 920 on EE ;) Look for updates now!

So it is! Well, I should take that comment back, but I have many other reasons to let that statement stand! ;)

Yes same here EE UK update downloading (at last)

Update for 820 on EE as well. Who'dathunkit?

Sorry Simon but this time 3UK is the worst one, only operator left now for NL920 :(

Installing now.... Oh hey... is this the update that allows for custom notification (SMS, email) tones?

I think custom email tones were available in the past Amber update.

Yes custom tones for everything but its all categorized as ringtones.

Yep... my install finsished, sure enough I can set custom tones to the SMS. Excellent. NO, that was not available in Amber. Its new for GDR3/Black.

*downloading* while I jam to beats music

Poor you Xbox music here :-)

Noooooooo, its the end of the world!!!!!!! :)

Available for Lumia 720 in India too. So much happy.

U got it? Its still showing coming soon. And it shows my phone is up to date

Just check for updates again...

Come on Verizon with the 928 love

Does it bring custom tones for SMS and emails?

L920 on EE in the UK too. Feeling awesome right now.

Lumia 820 on ATT, downloading now!

Wow so so late, ... At&t (The rest of this comment has been deleted due to low level language usage)... It has been transcribed to say "Better late than never."

Not as late as Rogers... gosh.

Eventually I get my updates

Damn! I have to wait until I get home to update. No WiFi at work. :(

Update available for my at&t 820!

Yeah, It's for the 820 too. Just updated mine. Ya know us 820 owners always get left out of the big headlines cuz we're not important like the 920 people :)

Still don't have 8.1 on the AT&T 920 though, what the heck!?

Because that does not officially exist yet.

No one has 8.1. It isn't out yet...

Good lord guys I think unstoppable is the only person who even MIGHT have caught it. I'm not even on AT&T :p

Your joke was really funny by the way, I actually did LOL.

I still didn't get it on t mobile

Now for Lumia burgundy and WP 8.1 "that's pungent" !!

I can't believe how long it took for that to come. Pretty much when you but a phone buy it for what it is, not what it's going to be. Especially windows. . .

Do you have any grounds for windows specifically, or are you just ignoring the time it takes for android phones on any carrier bar the nexus line to be updated?

Worst comment ever! So when I buy a motherboard for my computer I should not expect firmware updates to resolve problems and bugs. My Sony Blu-Ray player was still getting firmware updates for probably about three years after I bought it. So the XBox 360 or Xbox One, or PS 3/4 should not expect updates.... Wrong, wrong, wrong. It is one of the strengths of iOS and Windows Phone that they receive updates. It is a weakness of the Android system that their OS is fragmented between versions.

At&t 920 Downloading in Puerto Rico!

YES! FINALLY! Downloading in Ann Arbor

Yaaaaayyy hopefully my Tiles will come back alive!!!

This is most likely an app issue rather than an OS issue...

Downloading Black on my Brazilian 920 CV, unlocked and unbranded. Nice!

Hopefully this means Rogers will get any moment now.

Sam do you still have your 920 from build? Did those receive the update yet?

I too have a /Build// 920, is there an update?

I miss my Black 1020, Tmobile is taking their sweet ass time with the 925 update :/

You got that right! I'm sure that Nokia gave them Black update long time ago.


Anybody know how long it takes to Download and Install?

I started at 1:10PM EST, and it just finished now (1:48PM).

I started mine when I left that comment and I'm still going. We'll see when it finishes.

Done. Wow! That took over an hour and fifteen mins. Glad it's done though. Looks great so far.

I can confirm is available for the att lumia 820 too

Finally ATT decided to let 920 users to have fun. I Have been waiting for this update for a long time. Glance screen is the main reason for me :) Edit: did anyone notice the status bar, while installing black update. Never saw this while installing amber. Now i can know the progress of the installation. :)

I noticed that too...much better than just spinning gears not knowing the status. although my bar is hardly moving. My updates normally take a couple of hours, so I just have to be patient. I have a lot of apps installed.

Didn't Nokia say black would be available by the end of the month for most handsets? Isn't that tomorrow? My TMo 925 is waiting patiently......

Yay, finally! I just need to be home to install it, as WiFi doesn't work here on my phone...

How to download over cellular? I'm a noob.

Tap the screen 3 times while covering up the USB port and headset opening with your middle finger and thumb. This should start the download.

Confirmed working. Thanks!

I hope you were not serious about thanking that absurd comment. I you were serious I have some fascinating investing opportunities for you to consider....

Ahhhhh, 928...too early to drink?

Installing now. This better fix the reception issue I've been having (some claimed it's due to GDR3 beta).

Downloading Lumia Black update for my Lumia 720 in India :)

I knew, I knew it. I was looking at my backup L920 This morning, thinking that I should bring it to work just in case the update is released. I'll have my backup phone and my wife's 920 to do tonight, when I get home. Yee Haa

Does this add the improved image quality also or it is just for the 1020 and 1520?

Lumia Black on 820 now live. I just downloaded and installed it. AT&T 820...

Anyone know what happened with the reported update released by Verizon... what it was and why some never got it?

Buehler? Is that Ferris Bueller's 2x removed cousin from Finland?

Thanks for a thread full of your smartass responses. Where we be without them?

Jealous much? You mad bro?

It seems like it was just yesterday that us 920 user's received the Amber update...well I guess it was actually the day before yesterday. Lol Good to see at&t didn't forget about us this time around.

Verizon is doing with this update what ATT did with gdr2. This is a disgrace. Maybe they think we have no idea what the update is and would be happy with their bug fix update for the 928 that they pushed through -_-

AT&T is on top of it for a first. Now TMO needs to get the stick out of there *** and give my 925 the update.

Im from South Africa and the update is available for every Lumia besides the L620. Anyone know how and why is the 620 being jumped?

wwwoow, I am not even excited. I guess I already have windows phone 8.1 in my mind and a new device. Don't get me wrong, it is great that we are getting it that early but I have mmy eyes on bigger stuff aka WP8.1 and shinning new device.

Now 15 minutes in still in gears mode. Task bar us barely moving. Have feeling this going to be all day thing. :/

omg same here. and as soon as i wrote this the progress bar started to go. cant wait to try this.

Mine won't move past approximately 10%. Worried!

I downloaded the Black update a few weeks ago now, and trust me everyone, you won't regret a thing. It's definitely a small but equally great step forward!

suh-weeeeeeeeeeeet downloading in LA

How much free space should I have available before I install the update? I'm running low on space, and don't want the update to fail in the middle because of low space.

As long as you have enough space to plug in the charger and lay the phone on a flat surface, you should be fine. I'd say a few sq feet should do it. Your welcome.

I'll have to download that when I'm home from work. Hopefully it's worth the wait. Between this and 8.1, Microsoft better impress me, because I'm fairly set on going back to android after over a year of frustration with windows phone.

L928. Guess its coming soon then. Tmo, att, now Verizon your turn.. I hope sprint doesn't have WP, so we don't have to wait for another carrier first)))

sprint really needs WP though. A lot of businesses would like to switch over who are on sprint

Dammit where's Rogers?!?!

You and James8561 should get together.

Wow! that was quick! Currently downloading it to my unlocked 920at&t from the Philippines!

Took 25 minutes. Now migrating data phase.

Awesome, the update came as soon as my 1520 arrived. I'll still be using the 920 tho.

You and ivankan should get together.

Took all of 20 minutes from get to go. Working like a champ. Liking the glance screen notifications. Good update.

This is a good day. First Beats Music, now this...

Oh man... I just opened an app, held the back button and closed the app from the multitask screen with the little "x." This is awesome:)

Update just showed for lumia 920 on EE here in the uk

Can't wait to update when I get home. 920 ftw!

So, does this allow RAW shooting in the 92x?

Finally official GDR3. Now I can go to MSFT store and have them fix my proximity sensor.

I had 90% battery and tossed the phone on the wireless charger before hitting the update. When the phone restarted it flashed the battery symbal on the lock screen as if the phone did not have enough battery to power on. KNowing this could not be the case, I held the volume down and power button at the same time to force a reset. This restarted the phone and the update started immediately. Just a tip for everyone as I am sure I am not the only one on the planet experiencing this. Although how cool would it be if I was!?

took almost 45 mins for me to complete the update.

Done. Now check the 520 I'm now.

Verizon, you reading this news? Where are my L822's updates?

Here come all the cogs issues...

Downloading 920 in Brazil... No carrier

So far AT&T is the only one in the US to get Black?

The Stars must have aligned since AT&T is the first US carrier to Push the Black update on all its Nokia Lumia (except 520)

anybody having problems downloading Storyteller? It says app not available...

I've went into glance and can't get access to notifications where do I go for,this?

+920 Bout time AT&T! Just checked mine and shows an update is ready to download. Sadly will wait for Wi-Fi later. Now where is my WP 8.1 update? LOL.

Yes, my 920 is updated. Liking Nokia Beamer and the ability to take a picture with Nokia Camera without having to type in a password on the lock screen.

Downloading now! 920 AT&T

Must be nice! T-Mobile suck!

Getting hard to stay patient and positive

Now for Rogers to push out the update.

Now if only they didn't strip out Data Sense again...wouldn't that have been nice!

Come on Rogers get with it!

Rogers.....where art thou?

Hmmm. Amber update bricked my L920. I may let this one slide for a bit.

Just installed, but I can't install Nokia Storyteller? It says it's not availabl for my device.

Well...there is always tomorrow... Verizon.

I've had the spinning gears for about 2 hours. I am guessing my update isn't going correctly?

Bricked phone :( Sorry dude

Same. So, how do we address a bricked phone?

Where's the notification center??

That's in April right? Do we know the exact date?

Of course it is on a day when I'm not using my 920! Posted via the WPC App for Android!

Currently at the Gears... Oh god oh god please don't brick my phone...

I'm bricked! Someone tell me what to do to resolve/get fixed please.

When it happened (Also while doing an update) to me with my Samsung Focus in the WP7 days, I had to visit a ATT repair depot and they gave me another phone.

I have never had this happen, focus, 900, 920,...never. I'm glad I bought the 520 cheap, as my backup. Off to ATT this weekend I guess.

How did you figure out it was bricked?

Mine took a while at the cogs.

If you have a lot of apps and data, it takes quite a long time.

Downloaded in Seatte. LOVE IT! :D

Is the local scout tile a live tile now, or have I just not noticed it being live before?

Anyone know if this update fixes the REALLY ANNOYING bug that causes the Lumia 920 to bing randomly when sitting on a wireless charger?

920+ cannot charge overnight due to it now. But it only happens on one of the chargers. It does not happen on the JBL speaker charger.

What the hell is tmobile doing that is taking so long. 2 lumias I can think of that are getting black.

So far, 3 NL920 updated successfully.

Is it just me or have they added more space between the live tiles? Maybe just a few pixels worth?

Downloading at work as we speak! Kudos to AT$T for not dragging their feet like last time.

And it figures! My free tethering via the Rodgers ROM is no longer working. Hopefully someone will figure that out in the coming weeks.

It appears to also be available for the unlocked Lumia 920 developer phones from Build 2012!!!! Woo Hoo!

What version should we be seeing after the update? I forgot to take a screenshot before the update. I want to make sure I'm no longer running developer preview Update 3

+920 thanks AT&T! This is why I left T-Mobile....

They are still running their $200 bonus for people switching from T-Mobile. I don't know how long they will continue to run it. The bonus will end up paying for 2/3 of my $299 920, so I am good with that.

Anyone have any luck getting storyteller on their att Lumia 920 yet?

I haven't downloaded the black update yet (no WiFi) but I downloaded storyteller a few days ago .. Not sure why it let me ...but a few weeks ago it didn't

Installed here in Costa Rica! NICE it has GD3! Repeat, it has GD3!
Was waiting for multitasking X close apps, so i have NOW! YEAH!

Just finished updating my Lumia 920

What?! What?! What?! Yeah!!!!!!!

Thought Id chime in for the unlocked developer 920 owners out there, check for updates! Im updating as I type this. On T-Mobile no less! (sorry poster directly above me :-\)

Woohoo done installing! I'm surprised by ATT.

That was surprisingly fast.

Updating both L920's. Wife said why do you have to do mine, I don't care about new features. I told her that hers has the developers gdr3 on it now, so YES I'm updating it. She said "I don't even know what that means".

When do we get storyteller? :(

it's weird.. i had it, uninstalled it, and now can't reinstall it.

BOOYA! Now, let's get on the stick with 8.1.

920 done. AT&T got it done with dispatch. Thanks to the people of the globe.

Fi ally, multitasking made easier!

Got it like 3 hours ago. Minor nuisance, but now while slow scrolling with my thumb on the screen, it will fidget up and down slightly in some spots.

Wow. Guess I will have to grab my 920 when I get home. Posted via the WPC App for Android!

The best part...closing apps is now available as a "x" in the multi task menu.

It is great. But the X still does not stop music. I don't even want to know their reasoning. I just want them to start making logical decisions when designing stuff.

DAMN IT T-MOBILE!!! IM ABOUT TO LOSE IT!! ........ I feel ...leftout.


Lumia Black for my 920 is amazing - So happy for Glance notifications now! Always a happy WP8 user! Great job, Nokia!

Finally got around to installing it on my 920. Total update time was around 25 minutes. No issues. Just got a toast that said Welcome to Lumia Black! Testing it out now. First thing I noticed is the clock showing on the Glance screen is a smaller size. Prefer the old size better.

I'm really enjoying the notifications on the Glance screen and the new colors for night time. Only issue I saw this morning is that Battery will not show on either lock screen or glance screen when at 100% but will come back starting at 99%. Anyone else notice this?

Just updated my 820 to Black/GDR3. Could swear I had a "glance" choice in phone settings before, but not there anymore. I did reset phone after update, but does that matter? Is there another update to do after initial update maybe? Phone sees no additional update avail...

I don't know if it's just me but the update my internet slow, especially watching videos on YouTube, takes forever to load even 30sec. And I can't watch videos that used to watch before the update, saying doesn't support file or whatever.

Still no sign for lumia 620

Downloading Now!!! -Washington DC- My 920 just got EVEN better!!

ATT 920 Unlocked using TMo Sim here... download COMPLETE!!! HAHAHA... i like the minor changes it brought.. i think they really did a good job of that part when you can now close the apps individually.. kudos!..

Excited for the update... but my MMS has stopped working ever since... :(

Well late to the party was on a Caribbean cruise no wifi except very hi pri(ce). Off the ship thus morning checked in here downloaded in the airport and installed. Cool

No update for me still on my att 920...

Hey!!! Update available in Dominican Republic!!! 820!! Yeaahh
Windows Central Newsletter
Get the best of Windows Central in in your inbox, every day!
Thank you for signing up to Windows Central. You will receive a verification email shortly.
There was a problem. Please refresh the page and try again.