Owned a Nokia Lumia 920 since the beginning? Tell us how it's holding up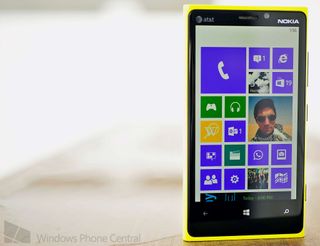 The Nokia Lumia 920 launched in early November in 2012. That's over a year ago. The phone was heralded as the flagship phone to showcase Windows Phone 8, which launched alongside the Lumia 920. It's an awesome phone and laid the foundation for devices like the Lumia 925, Lumia 928 and Lumia 1020. Let's talk about the Lumia 920 and see how it's holding up.
The device
The Lumia 920 was a pretty groundbreaking device. Not just for Windows Phone or Nokia, but for the smartphone space as a whole. It was a smartphone that really helped elevate mobile photography. Sure, the iPhone 4 helped mobile photography gain a little more credibility, but that's mostly because of what app developers were able to do with those photos.
The Lumia 920 really made a lot of us think seriously about mobile photography. It wasn't afraid of low-light situations. In fact, it was quite the opposite. The Lumia 920 performed excellent (and still does) when there aren't a lot of photons around thanks to the optical-image stabilization found inside the camera module. You'll also find an 8.7 MP BSI sensor with f/2.0 Carl Zeiss optics.
Outside of photography the Lumia 920 had some other impressive specs for a smartphone. It was one of the first smartphones to embrace wireless charging with its support for the Qi standard. We were also big fans of the NFC support, Super Sensitive Touch, display and build quality. At the time it was definitely the pinnacle of Nokia engineering.
Since launch
A lot has happened since the Lumia 920 launched. Believe it or not, I wasn't yet with Windows Phone Central when Windows Phone 8 or the Lumia 920 were released. In fact, it was at Build 2012 at Microsoft where I met Daniel. The rest, as they say, is history.
Quite a bit has transpired with Windows Phone since the Lumia 920 launched.
First was Update 1, also known as either GDR1 or Portico that was a minor update that came in December 2012. It gave us more efficient Bluetooth connections and an option for Wi-Fi to stay on even when the screen was off. Next was Update 2 (GDR2) that addressed the other storage bug, brought FM radio back, Driving Mode was introduced, bug fixes for Xbox Music, and more. Update 3 was the most recent change for Windows Phone and introduced 1080p support, an extra column of Live tiles, Snapdragon 800 support, rotation lock and more.
We've also seen numerous Windows Phone handsets released. Most were companions to the Lumia 920 and not direct replacements. We've seen eleven new Windows Phone handsets from Nokia and six from other OEMs since the launch of the Lumia 920.
Apps! 2013 was the biggest year ever for the Windows Phone Store. A large number of high quality apps from both indie developers and large publishing houses came to Windows Phone. We gained Instagram, Mint.com, Digitally Imported, Wells Fargo, and many more. The app situation on your Lumia 920 is much better today than it was when you first picked it up.
Long story short. A lot has happened since the Lumia 920 was released. So we want to know your Lumia 920 is holding up? Still snappy? Still loving it? Upgraded to something else? Let us know below in the comments how the Lumia 920 has treated you since launch.
Get the Windows Central Newsletter
All the latest news, reviews, and guides for Windows and Xbox diehards.