Lumia Camera Classic received a small update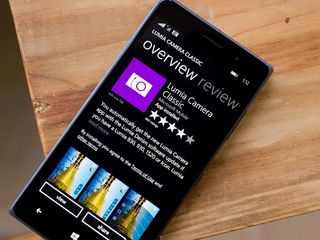 Microsoft has pushed out new updates for Lumia Camera Classic apps for Windows Phone Lumia users today, but there's no changelog for the app. This likely means just bug fixes.
The new version number of the app is 4.9.4.1.
Keep in mind that the Lumia Camera Classic app is made for Lumia devices that don't have the Demim firmware update. This app is also different from the Lumia Camera 5.0 app that's made just for the Lumia 830, Lumia 930, Lumia Icon and Lumia 1520 running on Denim.
If you notice any changes or improvements, let us know in the comments.
Update: An earlier version of this story erroneously reported that Lumia Camera was also updated. However, only Lumia Camera Classic received an update. We apologize for the confusion.
Thanks to everyone for the tips!
Download Lumia Camera Classic from the Windows Phone Store
Windows Central Newsletter
Get the best of Windows Central in your inbox, every day!
Lumia camera not available in store. 1 for 2

still don't get why Lumia camera 5.0 won't work with Lumia 730.
it's got the minimum megapixel count for same rich capture as the 830 and same processing power too.

Same RAM as the 830, next excuse....

There is a video on Youtube showing a 735 running Lumia Camera 5.0...
So I dare say if you have a scout around XDA, you'll find some means of installing it to your phone.

Considering how it has ruined the 930's images and made them grainy, you should be glad you didnt get the new camera ...they seemed to have sacrificed quality for speed. I was advised in the forums to switch the camera back to classic and that's what I've done, im happy to take photos without worrying about the quality.

I m more bugged by the fact that iPhone 4 has hdr in its default camera app... But my awesome Lumia 920 still doesn't...

4Blend HDR, Camera360 Sight and ProShot... i the meantime 4Blend HDR work better in low light than the 2 others !!

Lumia camera 4.9 - perfect for missing shots :P

At least the pictures don't have people looking like cooked oranges.

Lol which camera app does that?

What camera im I using cos its definitely not Camera 5.0 or classic #L730 running update2

Yea whatever its called, denim update something something
...
I don't know how big it was but the download process lasted no more than 5mins

What was the size of the update 2??

My 735 also got two updates and WCentral had no article about it. So I have no idea what was that about :) not "update 2" tho

L730 is probably the least featured Lumia on this site. #WCneverLovedUs

Last Update: 5/3/2015 and I have Lumia 1520 running Lumia denim

You'll never get this update because it is for phones running older/unloved hardware!

The update is not showing up.. Refreshing every second :P

When I put picture from pc to phone yesterday in album, was empty grey tile, can't delete and didn't disapere, after this update now its gone :)

Not getting update latest denim + tp #Lumia830

If you've Lumia Camera 5.0 then that's not updated. This article talks about Lumia Camera and Lumia Camera Classic

Hopefully this fixes the infinity focus problem on the 1020

The infinity focus problem is actually a hardware issue. I thought it may have been software to begin with but figured out it was hardware after comparing my older 1020 to a brand new one both running the same latest os and lumia camera version. I sent my 1020 for repair and the camera module was replaced fixing the infinity focus issues I experienced. If you still have warranty I suggest you contact Microsoft for repair.

But...but... Proshot does the infinity focus very well :/

Does it fix the horrendous rotation bug on the 1520?

Read it was a firmware issue with the sensor. Its bad in browser and MyTube, as well. Probably anything that rotates...

It's the stupid app, because they updated it a little while ago and it helped it big time, but it could be faster. My other apps doesn't rotate that slow.

I don't know why I can't install the Lumia Camera Classic on my L520 :/

May be you are having Denim

Lumia Camera Classic is for the 830, 930/Icon and 1520.

Lumia Camera Classic on all phones except the 830/930/Icon and 1520 is just called Lumia Camera

Not true 830 uses camera classic

That's what he said bro, other than 830,930, 1520, other apps use Lumia camera.
As 830,930and 1520 have Lumia camera 5.0, which is actually called Lumia camera, the Lumia camera app on other low end device is called Lumia camera classic on high end devices.

But I'm seeing the review many user don't used high end phone, like me

How can I get the Lumia camera classic L920 with denim

Read the article. Classic version not available for phones with Denim

It is available bro. But Lumia camera app on 830,930,1520 is better than Lumia camera classic.
Its like, for low end phones, there is one app called Lumia camera.
There is this app Lumia camera for high end phones too. (which we know as Lumia camera 5.0, but its name is Lumia camera only.)
Now, as you see, there is a low end Lumia camera and a high end Lumia camera.
The low end phones don't have high end Lumia camera.
While, the high end phones have high end Lumia camera, also the low end Lumia camera, which is called as Lumia camera classic. Got it? :)

Are you able to download classic app?

See my reply to rzruzz123 above

Updated. No new changes though

Lumia camera is not available

Hi there. I also got an update on One Drive today. Cheers

App not available in store (Lumia camera) what that mean ...?! just thay announced updates n thay will pull the app out of store ha...

Pulling out apps is the new trend of MS.

No update not available for my country

This update actually upped the launch speed a bit., so it seems faster.

What device are you using?

The colour production of Lumia camera 5 is not good.

Tooo many "official" camera apps!! Give us ONE app across ALL phones that has ALL features! (device dependent obviously) come on man! This has gone on long enough.. ffs

This is OEM camera app.
Htc, samsung all has its own camera app.

He means that Lumias will have either Lumia Camera, Lumia Camera Classic, or Lumia Camera 5.0...other OEMs usually have one camera app. So I kind of agree, they really should pare down the camera apps. It's a tad confusing

Agreed, to many camera apps

Great news for me, there are fascinating views here in Jordan

In Jordan for the spring break? Have fun :)

;)
Follow me on instagram:
Fmukbil

Cool, you can find me at IceDree ;)

It'd be nice if they updated the camera 5.0 to actually work for the Lumia 830. Got denim and it asks for denim and doesn't let ya do anything. It is plagued with recent reviews saying this and they've done nothing. My gf missed so many great shots at the Pierce the veil concert because of this.

You know that you need an update to get LC5, have you received any update after getting your 830?

I got the denim update and maybe another after that but the problem remains. It is set to automatically update in the background at 3am.

Do u have the att 830? Because we need a certain denim update to use the Lumia camera 5. And they haven't released it yet. Orig they said it was gonna ship, then they said later in the year, then early next year, here it is damn near April and they haven't even said when or if its coming, I've been talking to them for months about.

No. The unlocked one from the Microsoft Stores

Wow. Just bought windows central app... Worth my money. Sorry for commenting or of topic

I hope the screen freezing issue is resolved in this update....

Release the news carefully pls. Revise is not a solution.

Seems faster..... No serious loads quicker on my 830 even when locked, and shot to shot

What Lumia in the pic? (:

It becomes slow after updating

weird, my #1020 received an update for Lumia Camera: 4.9.4.1

Lumia Camera was also updated

Just got the update. I hope it fixed GREEN SCREEN bug with 1020s on Denim...

How to get this app i cant download it need the phone update error im using 520

Lumia Camera also got update just now. False update according to this article?

What is the diff between Lumia camera nd classic

It appears that "Lumia Classic Camera" is for the ICON / 830 / 930 / 1520, "Lumia Camera" for all the other models.

I received an update for Lumia Camera (not Classic) this morning on my 635. Now v4.9.4.1

Same here. The classic version isn't available for my 635 it says. Everyone is saying the version we're running is only for a select few higher end devices though... I'm on the Win10 preview, so that might be why

Yellow tint is still there, lumia 925 :(

I uninstalled Lumia Camera 5.0 on my L1520 w/denim. It breaks rotation function, proximity, and light sensor. I had to restart the phone almost everytime I used the camera. So if you don't have LC 5.0, you aren't missing much.

As a person who follows tech. I am so confused why there are so many microsoft owned camera apps. Microsoft Camera, Lumia Camera, Lumia Camera Classic. I assume they dont want to kill one off and piss off the people who use it?

The stock "Microsoft Camera" is way quicker then the Lumia. I think Ill stick with it until my 830 is updated to the real denim.

Seems faster on my 1020. Opend and saves the pictures faster than before.

Lumia Camera updated in my country 4.9.4.1

What the difference between Lumia Camera and Lumia Camera 5.0, if any?

Wow, this is super fast now on L1520 in the Netherlands. Gotta be better than denim right? Cyan ftw!!!!

Lumia camera also got updated

I couldn't download the app!

Update: An earlier version of this story erroneously reported that Lumia Camera was also updated. However, only Lumia Camera Classic received an update. We apologize for the confusion. Lumia Camera was updated on my phone a few minutes ago, to 4.9.4.1. Change log states: - New name; Lumia Camera, - Bug Fixes I do not have Denim. Running Lumia 635 on AT&T USA with PfD. Seems faster. Opening slightly faster, saves slightly faster. Not fast enough for my tastes, but can't complain for a budget phone. Definitely saves a few seconds over what it was.