Lumia Camera app likely to be expanded to all Windows Phones for Windows 10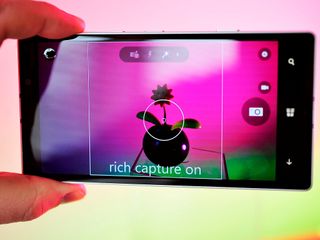 As the Windows 10 event next week rapidly approaches, more information is slowly trickling out. A new Camera beta app has been found at the Store for internal use by Microsoft. Late last night, Jesse Leskinen managed to strip down the AppX file and side load it onto a Samsung ATIV S.
Images for the app provided to Windows Central by Leskinen reveal the familiar Lumia Camera app design, although it appears that some features unique to Lumia Denim like Rich Capture are not present.
Interestingly, the camera app lists HID (Human Interface Devices) Bluetooth support, although it is not clear in what context that would be useful for this app. Advanced Bluetooth format support is rumored for Windows Phone 8.1 GDR2 and likely for Windows 10 as well.
Leskinen shares more about the Camera experience:
The app appears to not have been updated since October of last year according to its Store listing, meaning there is likely a newer version included in internal builds of Windows 10 for phones.
Currently, Lumia phones have at least two main camera apps, including the Microsoft default and Nokia's Lumia Camera. Combined with the numerous other Lumia camera apps like panorama, cinemagraph, etc. and it makes sense that Microsoft would want to consolidate things for Windows 10, especially since they now own the Lumia Camera app code.
Finally, Leskinen reveals that the Windows Previewer app that was recently found allows phones with 8.1 GDR1 and GDR2 configured for preview updates. That is a good sign for those with current Windows Phone devices, as the barrier to entry to the Windows 10 for Mobile preview appears to be quite low.
Microsoft is expected to announce a Phone Insider program this week for Windows 10 on mobile. Windows Central will be live in Redmond to cover the event, which happens Wednesday at 9 AM PT.
Thanks, Jesse Leskinen, for the information!
Windows Central Newsletter
Get the best of Windows Central in in your inbox, every day!
Daniel Rubino is the Editor-in-chief of Windows Central, head reviewer, podcast co-host, and analyst. He has been covering Microsoft since 2007 when this site was called WMExperts (and later Windows Phone Central). His interests include Windows, laptops, next-gen computing, and for some reason, watches. Before all this tech stuff, he worked on a Ph.D. in linguistics, watched people sleep (for medical purposes!), and ran the projectors at movie theaters because it was fun.
Who uses a Samesung? Lumias are the best :/

True, but Samsung devices can be interop unlocked, letting people sideload system apps. Very hard to do that with a Lumia ;)

Sideload?
Is this WC or WPH?

WPH ? Windows Phone headquarters ?

http://windowsphonehacker.com/
windows phone hacker, a site about, well, hacking windows phones,jailbreaking,sideloading apps etc.

I mean http://windowsphonehub.in/

Its means Samsung phones can download it but not the other lumias which are not eligible for Lumia camera 5

Don't understand why they wouldn't allow Window Phone OEM to take advantage of the camera? They made The MSN suite of apps (News, Sports, Health & Fitness, Food & Drink and Money), Microsoft Office, Skype, Health and Fitness app, OneDrive, etc. for iphone and android <--these apps are even BETTER than their own Windows Phone.

There is at least one cool Samsung WP device....

That's only thing which I jealous

i just sideloaded modified lumia camera on my 920. instructions in this link: http://www.wincentral.com.br/2015/01/confira-como-instalar-o-novo-lumia-camera-em-qualquer-aparelho/ app is really fast and has no rich capture. main problem is that it says there is no free memory to save photos. it crashes when i click ok when this info appears. clicking back instead solves this issue.

To side load an app do we need to developer unlock our phone ?

u need phone with preview for developers app and visual studio 2013 to install apps from computer.

If I'm not mistaken, that only applies when the app isn't signed with a code validation certificate. Side loading apps that can be validated against a trusted CA do not require that it is developer or interop unlocked. You can side load apps that are signed appropriately by putting the source files on removable media and inserting it into your device.

You only need the tools that come with the SDK to dev unlock a phone for sideloading.

I told you in other your posts comments that's true Denim + Windows 10

Bluetooth HID support would allow for Bluetooth remote controls (which do work with iOS and Android).
Good to see confirmation of HID support though - it'll be great to use my wedge travel keyboard with my 1020 (/1030?!)

And at least one HTC (android) can take pictures with Bluetooth earphoneS. Maybe this will be enabled in this app too http://www.phonearena.com/news/HTC-One-X-camera-controlled-with-a-Blueto...

I recall seeing an article somewhere that Treasure Tag can be used for taking photo's however overall is a great feature.

Yeah I remember that. I think it was also about this same app. Anyway it doesn't have that rich* features on my 928. So not so excited anyway :)

And crack apps per se. I think. Used to sideload apps in the days of my Samsung Focus where even a screenshot was a missing feature.

They are guessing this as tge startscreen of Win10Phone https://m.facebook.com/phonesoldier/photos/a.530164933769977.1073741827....

Yes, ATIV S can be interop unlocked, mine is :)

I've heard that the Ativ S is a very good device. If Samsung was more involved in supporting and marketing it, it would have seen its share of glory.

Agreed. Samsung never launched the ativ s in India

i have one here in Canada and yes was a good device when released, unfortunatly now though is no support for the device.

GgThe HTC One is pretty good, I just wish that they would have put a normal camera on it, hell even 8-12mp would have been nice. Amazing speakers and sound quality for a mobile device, though. Front facing stereo speakers are the best

That was also my issue with it. I would have moved from HTC 8X to HTC One but that Ultrapixel or whatever just didn't convince me. I'm going with Microsoft hardware next time. I want a "Lumia Surface" phone LOL. A Lumia with the design language of the Surface and I really hope they build in a plastic back(or at least a panel) to support wireless charging.

Until a proper flagship is released, I'm losing faith in anything Lumia. Give me an LG G3 or G4 running Windows 10 mobile with Qi and not PMA, and I'd be happy!

wait for MWC, im sure a new phone or two will be shown off then.

I use Samsung :) My Samsung ATIV S i8750 runs on the latest WP8.1.1 (OS+Samsung official firmware).

Same here, it's interesting that the very first comment is bashing Samsung simply because it's mentioned in the article.

I m waiting for windows 10 on my phone!! Come on 21st.

Let us wait for 21 Jan...for windows 10...

I'd like to have the preview by Jan 21st but, this is the only phone I have and it's gonna be very limited as the apps I normally use won't be compatible. And also it's gonna be packed full of bugs. I'll wait at least until we have whatsapp and facebook for windows 10.

All current WP8 apps will be compatible with W10. You don't have to worry about losing Facebook or WhatsApp. Enjoy the preview!

They are guessing this to be a screenshot of Windows 10 for phone :-
https://m.facebook.com/phonesoldier/photos/a.530164933769977.1073741827....

Is the Windows 10 phone preview supposed to be as "Not for the super technically inclined" as the PC release was, or is going to be more akin to "almost ready for prime-time" like the WP 8.1 Preview?

Nobody outside of Microsoft really knows.

Bluetooth support would be great for remote shutter control as in the treasure tag function.

Oh god! Give us preview builds m so hungry! Already drunk too much ! Saturday night! ;)

https://m.facebook.com/phonesoldier/photos/a.530164933769977.1073741827.... Windows 10 startmenu??

Has already been prooven as a fake.

Now this is what 1020 users were waiting for.. Who cares of denim :P

Yes now I don't want to brags "hardware does not support it"

https://m.facebook.com/phonesoldier/photos/a.530164933769977.1073741827....

That's super interesting.
I still don't get the point of the Previewer though, I guess we'll find out on Wednesday

Everything is up in the air right now lol and i hope it remains that way until the event :) its exciting to not know lol But relieved we'll know come Wednesday

I agree. For most events, there's so many leaks you already know everything before the event. It's more fun this way. Surprise us Microsoft! :D

I wonder if it would be worthwhile for Microsoft to make the whole Lumia suite available to all Windows Phones. Sure, it would make other Windows Phones more appealing and remove some of the reasons for people to get a Lumia, but it might also draw people to the platform more if they can get the phone that looks the best to them with no missing features. What Microsoft Mobile needs more than anything right now is market share, and most people agree that Lumias are still the superior devices.

Yes and no. Different Android OEMs have different functionality or different functions. But it could be good for market share if all Lumia apps are available for all wp oems and users. But unique features are a selling point.

That works when all OEMs are kind of forced to do that, in the case of android market. Competition is crazy there. In our market, we are not there yet, i think its a good idea to have some of the lumia features platform wide. Specifically features that offer functionality more than gimmick. The gimmicks can stay Lumia only :) thats what us nerds like lol gimmicks

Hoping for some UI changes but leaked screenshots in some websites hardly show much UI changes.

Plz give the website name :(

Are there screenshot's? I thought only of windows 10 for desktop/laptop.

Yes there are. Just google windows phone 10. It's in top news.

Ehm all I found where just renders not leaked screen shots. Or article by people who want windows 10 for phones to have a certain look.

Did you read the article? They are fake screen shots and renders.

If the Lumia camera app is available on all Windows phones, and oem's make new Windows phones, people will have a choice other than just lumia's. I hope this increases the market share, literally anything to increase the market share. :P Windows 10, can't wait! :)

You are planning to Kill Nokia ...... Brother Nokia will be back after some years . Nokia has brilliant camera app , while Ativ and Htc One M8 for windows also have very good camera app. Lumia camera says its only for Lumia Nokia is doing business in favour of it , not in favour of developing Windowsphone

Microsoft owns Nokia devices and services. So yes, Microsoft/Nokia is in favor of increasing WP market share.

Its good news, and kinda off topic question, how much time they will take to share windows 10s 21st event video on their site, as I can't watch it live? Will it be after a day or with in few hours? Someone can answer this?

Windows central will update us, as they will be present there live updating us right from there.

Just after the event is over!

Thanks bro, I have my final year exams so after finishing my preparation only I want to watch it, will be good if they share it by 12pm indian time.

Live coverage would start from 10:30 PM IST.

I hope Samsung release regular Galaxies models and Notes models with Windows Phone. That would be very interesting. I just don't like the Windows button, it looks awful in the Ativs.

So you want a great os on cheap, easy to break, awfully designed plastic phones?

You have to realize that Samsung sell phones based on name and marketing, so having them make good windows phones and advertising them will help with awareness and market share.

I agree so much. The Windows button does look terrible on the Ativs. Maybe it looks better in person? Lol. I've considered getting the Ativ SE, but seeing as how it hasn't been updated yet... I don't know.

Lol :D who would buy a windows phone by Samsung? I don't like to waste money on cheap plastic phones. Nokia low end/mid range phones look much attractive and bright to Samsung's high end notes and galaxies.

I love the Windows button. It is unique, practical and beautiful.

I apologize if this has been covered elsewhere, but I'm still not clear on if all Lumias are getting the Rich Capture feature? I have a 920.

No, we don't THINK it will. No one knows for sure.

HID is probably so it supports external shutter found in things like "selfie sticks."
And this was kinda expected, the "Camera" app in Windows 10 preview is a direct copy of Lumia Camera. I'd hope most Nokia features (like Hey Cortana and sensorcore on supported hardware) will find their way to all OEMs in Windows 10 as well.

If Lumia Camera can use on all Windows Phone then this result is one injustice too large for vs. those who use mobile phones Lumia . That is the line of Nokia Lumia. I do not endorse this approach -_-

... To all phones getting W10... I bet they'll make excuses to leave out older W8 phones. They don't care about promises, they care about profit. Upgrading older phones means less new phone sales.

Ahem, the app seems to work on an ATIV S. Stop ranting about non exisiting issues (but please do so when you're proved right lol) ;)

I think your logic there is incorrect. Releasing a wp10 preview to all phones will only enhance the older phones. It will do a little more also, it will show you have a newer phone will make the experience that much better. I am a lumia 920 user. Best phone I have bought, but it is now showing its age. I welcome betas because I like being able to try new things. This will make me "use" my phone again in new ways, make it feel like a new fresh experience, and then I will upgrade to a flagship when they release new ones later this year.

That's too far fetched. Its like saying you need a new laptop for every Windows version that's launched. Yeah, a few new features might require new/updated hardware but there's nothing in older phones which would cripple them when they update. And in the majority of the world, phones are not replaced every two years. For many its a pretty long term investment.

No thanks...my Ativ S Neo likes Proshot just fine

Daniel You seem to wonder how a HID capability would help a camera app. I would suggest use of any or select BT devices as a remote shutter ;)

Thats sounds too cool :) :)

Hopefully the bluetooth support is for the remote shutter as for the selfie stick and stuff.

Does that mean 1020 will get HDR & 4K?

Surely we'll get Denim by the announcement or day after,,lets not worry ,Microsoft will deliver as always

Ugh this is so ridiculous. Devaluing Lumia so the other non Lumia phones can be more relevant. I hope this is a joke.

They were already relevant. They've already been "devaluing" Lumia. Look at the 435 and every other cheap piece of plastic they've released in the past year! Somehow it seems like they're intentionally passing flagship status for other OEMs to compete over

I mean, if the UI of the camera app was the value of a Lumia and not the camera quality, build quality, and support...

So I can expect it for my lumia 730??? Hehe

Honestly, why are so many WP users so dumb? Jan 21st is the announcement of W10/WP10 nothing more. We are not getting any upgrade just a look at what we will be getting and many here talking about WP10 as if .

well windows 10 insiders will be getting a new build of windows 10, which is nice because it will include more consumer features than previous builds. We will see windows 10 for mobile for the first time and probably an announcement of the mobile insider program and a preview version to follow shortly after. So all in all not a bad day.

Maybe insiders authority not available for us but insiders of certain people.

All I want is the new UI. Everything else would be nice but I'm gonna be really disappointed if I can't get a damn ff camera button that's available under the lock screen

at this point in time if the insider program for mobile does start it will be a very basic preview with a lot of features missing or not working, dont expect the final product on the 21st.

Are you kidding me !! What will microsoft gain ????

Not much, but it seems like they might be giving up on flagships. Maybe they're encouraging HTC or Samsung to fight for it by eliminating Lumia exclusive apps. Though they already have their own exclusive camera apps

Which is too much of weird non.reasonable thinking -_- Microsoft is weird

Internet explorer on WP8.1 is a piece of sh*t.

right ... it was better on wp8

HID Bluetooth support will probably be for remote shutters. Great for people with selfie sticks!

Yep... for all those selfie crazy people with their sticks, they will now be able to take pretty pictures of themselves with a bluetooth remote!

Great news.. Just one Q.. Apps file extension is going to change in wp 10 again..?like in 8.1appx n previous.xap ..?

I am wondering.
Will my Lumia 730 get the Lumia Camera 5.0 update?
I mean, c'mon, I bought this phone because of its latest firmware (+all of its other awesomeness). But then, it would all be pointless without the Camera 5.0 update.

it's a matter of time, the same as Nokia Camera pro, it was for pureview only, but now it's on every lumia

But not Lumia 830. F...... MS

What????... The 830 will be getting Lumia Camera 5 if you haven't got it already. The update is still rolling out to all 830's so it won't be long before you get it on your phone.

Also exciting about windows 10 for phones I'm on Lumia 920 dp Microsoft! Bring it on and give me reason to keep using this OS. After more than a year with WP don't want go back to Android!

That's very good news for HTC phones.

They already have their own camera app. Works just fine

I have a question.... Why 920 ...pureView "monster" MEGA phone....will be out of 4k!?!?!?!?!?!

the new 830 does't has this, it's a limitation of hardware :)

Maa faa :D 920 > 830 :D 920 RULZ all the time...and all the phones..... 920 must have ALL upgrades :D

because the hardware does not support 4k.

This is nice but I hope they're not looking to completely replace the default camera app like when they tried to replace the default maps app.

What's funny is that I might get Windows 10 preview before Denim on my 930.

in my opinion this is a BS, we are the only who have the pro cams + bring the new UI to all lumia's first!

Realize as Microsoft keeps releasing cheaper phones, they have to cut the better cameras. Like the 435 with a 2MP camera. My old flip phone did better than that. The app will likely come with W10 so it doesn't matter who gets it first. And HTC one m8 has a great camera, look at the specs. The Lumia purist argument is getting old

The HTC one m8 is still irrelevant and even with this camera app the camera is still going to suck.

Sorry, expanded to what?!
With Microsoft rebranding the (general) Windows Phone websites and social media accounts to "Microsoft Lumia" there is nothing Windows Phone besides Lumia.

I would bet it's iOS & Android only. WP 'in coming months'.

Since I got my M8 I've found the HTC camera to be a lot better than the old version of Lumia camera. Can anyone who's used it and LC5 say how they compare with each other (maybe a feature *hint hint*). I kind of like the idea of having both available in 10.

Wondering who is the guy who rated the app. And I must say, I prefer they show the app with this logo instead of give to us a hope that an app like PhoneInsider (is that the name?) and Windows Previewer would work just after the download. I mean, I know those direct links were leaked but if the logo inform upfront that you should have not download this app would be a better approach with no hard feelings.

Just to separate the topic but my Lumia 920 shows"resuming..." and "loading..." for almost everything. Some times even for Calendar. Since they promise 36 months of updates Lumia 920 is far from stop receiving updates. Just thinking of it will survive until there.

what is interesting is that when you install the Lumia 930 rom with denim direct from navifirm, you no longer have the default camera app that ship with wp, all you have is lumia camera.

this app will be a replacement for the default camera app that comes with the OS.

At least we have the right to have a fast camera

I hope it's true. Lumia apps are mature enough for becoming a part of the OS.

HID/Bluetooth for shutter trigger!

I sure hope it works better than the 5.0 version I currently have on my 1520. I have Denim -- well, depending on whether or not I switch Preview for Developers on or off (could Denim be anymore confusing??) -- and yet the app just doesn't work properly. On launch it sometimes tells me to update to Denim and other times it doesn't. When the app actually launches, many of the features described -- 4K video, Rich Capture, etc. -- are simply missing. Photos are terrible quality and videos won't record at all. In fact, once I enter video mode there's not going back to photos -- the button completely disappears. When attempting to shoot a video the screen freezes, the app crashes and then shuts itself down, with no actual video ever being recorded. Very disappointing. I hope Windows Phone 10 or whatever Microsoft decides to call it knocks my socks off because -- and it pains me to say this, having been with Windows Phone from the beginning -- I am dangerously close to abandoning the platform entirely.

You are having these issues because you probably don't have denim. I'd you are on the dev preview you get a glitch that make it look like you have denim. If you don't have home screen app folders and can't access those new features in Lumia camera 5 then you don't have denim yet

HID Bluetooth support, sounds like we will finally be getting Bluetooth shutter remote compatibility. Thank goodness for that, Lumia selfie allows this with the treasure tag but I want this feature for the lumia camera app for when I'm out on my own at night doing long exposure steel wool spinning and light painting

Can we actually get the updated app for the Lumia 830 before Microsoft talks about bringing it to all phones?

Great!!!!!!!!!!!!!!!!!!!!!!!!

The default camera will be replaced by new camera covered with Lumia camera features.
This offer shall not be open for other OEM.

When is denim released in India ??

When you side load apps using Mini SDK does the actual app have to be patched or crakced version or can it be any app direct from the store?
Windows Central Newsletter
Thank you for signing up to Windows Central. You will receive a verification email shortly.
There was a problem. Please refresh the page and try again.