New Windows Previewer app reveals details about Windows 10 Insider program for Phones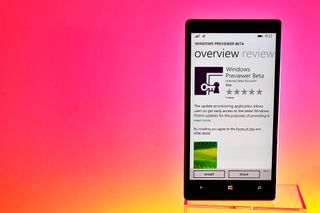 A few days ago, an app called Phone Insider was found in the Store. Not too long after, Microsoft's Gabriel Aul even confirmed on Twitter that the app will be discussed at next week's January 21 event in Redmond.
The focus of that event is Windows 10, and many believe how it will work on Windows Phone devices will also be detailed.
Now, a new version of the app – with a different name – has been found in the Store. Dubbed Windows Previewer Beta , the app appears to be an internal test version of the app. Windows Phone app developer and XDA forum moderator Jeremy Sinclair has also managed to pull out a few screenshots and details from the app.
It should be noted that this app cannot be downloaded by the public like Phone Insider as the app is marked private.
According to the app's description:
Sinclair broke down the app and learned a few new things about this version, which he has kindly shared with Windows Central. Additionally, he provided exclusive screenshots taken from the app itself and seen above.
It should be interesting to see if the app (and program) remains Phone Insider or if it will be called Windows Previewer upon its public release. Regardless, all of this heavily suggests that Microsoft is on the cusp of releasing Windows 10 for Phone very soon to the public, albeit in early preview form via the Windows Insider Program.
You can see the Windows Previewer Beta app here on the Store, but note that you cannot download it due to it being a private app.
Thanks, Jeremy, for the info and Jesse Leskinen for additional screenshots!
Windows Central Newsletter
Get the best of Windows Central in in your inbox, every day!
Daniel Rubino is the Editor-in-chief of Windows Central, head reviewer, podcast co-host, and analyst. He has been covering Microsoft since 2007 when this site was called WMExperts (and later Windows Phone Central). His interests include Windows, laptops, next-gen computing, and for some reason, watches. Before all this tech stuff, he worked on a Ph.D. in linguistics, watched people sleep (for medical purposes!), and ran the projectors at movie theaters because it was fun.
Looks fake. Not saying it is. Just looks fake.

It is definitely not fake. But I am curious, seeing as you did not break down the APPX bundle to peak in the app, how can you tell me it is fake? Sinclair actually broke down the APPX to see the manifest, pull out images and see which servers it points to.

Also... This comment was no better than those YouTube comments of a few years ago that went something like this: "FAKE!" How does it "look fake"? Wait the week...

This site has an upvote button you know.

honestly i have a little reservation as well, but i will at least explain my reasoning... the company is listed as "internal beta account" and the name of the app of Windows Previewer, just sounds wrong, maybe this is just how they are setting things up internally to try and hide thigns while they test them...

The same developer made this app: "Urnsel Reuel" - http://www.windowsphone.com/s?appid=d02a5d19-c0b5-4020-8ce7-962c5aa930fa

Which I downloaded and the same app is here: http://www.windowsphone.com/en-us/store/app/microsoft-health/d14452dd-1c70-415c-9769-dfef2ee50422 While I was able to download "urnsel reuel" trying to download the one at the link I posted gives me the same error of the Previewer app about not having credentials. Basically it is a Beta version of MS Health and the Version # is 99.2.117.2

Urnsel Reuel seems to be a copy of Microsoft Health... It has the same logo and looks almost the same. Also, my band had a firmware update (First time iv ever seen that) when I opens the Urnsel app... Odd... I updated my band and iv never seen it update... Don't know if anyone else has but it had two little arrows shifting back and forth on my band while it loaded on my phone. Don't know what changed though.

Yeah, it isn't fake... And it looks like windows 10 for phone's preview has been confirmed by MS as I've jst received an email abt it, giving a hint abt it, I've also post a thread abt it in detail in windows 10 forums.....

Yeah.... I got the mail too..... :)

i received an email reminding me of the terms for using unfinished software through the insider program... Something is definitely coming on Jan 21St.

Can't Windows Central write a code to have the comments sorted by "Recent", "Oldest", and/or "Highest rating"? It seems so many times there are not so articulate comments hijacking the comments section with the first comment. That's an enhancement worth thinking about. :)

Daniel, while you have my full respect for all the work you did so far, I can't fail to notice that you are failing to notice the obvious here. If Sinclair could break down the APPX, anyone could. The Insider app is the same format. So what stops someone from grabbing that APPX, modifying it slightly to allow MS account logins (apart from MS domain accounts), and re-uploading it? I'm not saying it is a fake, but it seems to be. Badly named, possibly hype-hunter, and even so possibly, collecting user data. Not to mention the name of the account the app comes from is highly suspicious, and also their signing keys are a bit off. Just to be sure, I'm breaking down the app, and will check the code ASAP. Not saying I do not trust your analysis, but more eyes see more.

You DO realize that it's quite possible for Microsoft to use a separate account to host betas for internal use right? Another thing, this Windows Previewer app that was just updated yesterday used to be named... Phone Insider. A friend actually found this beta version first and I tried to sideload, etc but then decided to open it up and analyze it. After a while, I decided that I should actually search Bing (Since Bing seems to index EVERYTHING and is the reason why it was found in the first place) and happened to find the production Phone Insider app. By the way, pretty much any beta or app that has at least been downloaded enough times to be indexed is searchable from Bing if you throw it the right search queries ;). I went through the appx and found all the relevant data needed to know that it was restricted to MS internal accounts via ADFS. That friend decided to post it on XDA-Developers, while I commented on it to note the restrictions and oddly the day after that, news reports about the Phone Insider app started appearing on the internet. I was bored yesterday and decided to see if anything updated and found that the internal beta account version had a name change. I did the same analysis and then realized that this version changed the WCF Endpoint to another server that ISNT running on Azure. Also saw code that uses your Microsoft Account (Live Account) to access it. You can doubt it all you want, but until you do your own analysis outside of scrutizing the metadata instead of the actual app then I don't know what to tell you other than... wait and see :). As Daniel said, we don't know whether the production app will remain Phone Insider or use the name from the beta account. If you search through other apps by the publisher, you'll find that it is indeed legit. EDIT: Here's another app for verification. http://www.windowsphone.com/en-us/store/app/onedrive-beta/b92d2044-e0cb-...

Indeed Sinclair, you're correct. I myself have disassembled the app and came to the same conclusion. Although interesting thing is, the signature is not Microsoft's - it is simply referred to as "Windows Phone", same on all available packages from this author. However, I do not think there will be a name change. MS just came to the conclusion that the two platforms will be united, and so should be the testing - then why change an already existing and good name? I believe the name change was just to throw people off on the first sight - seemingly fake, but if you look hard enough you'll find all the evidence you need. Also, what's up with APPX files being non-encrypted? One would think MS wants to have some pirating increase...

The unencrypted appx thing is something I brought up a while back. It's supposedly by design for now? I don't know why they haven't put out updates to support encryption, but... it's amazing how easily it is to download /repackage/sideload to your phone (If the appx doesn't contain any 1st party caps). Ironically, I found this all out by using their own technology.

I worry about why the publisher is not the MS, but another one.

I reported your comment Daniel. You can't fry your members like that, lmao.

WHY CAN'T I DOWNLOAD THIS >.< *reads article Oh....

Now what about preview for developers app? Why MS has to make things so confusing -_-'

My suspicion is preview for developer will still get the WP8.1 updates and the "previewer" will get Windows 10 updates until 10 is ready for stable public beta. Maybe a slow ring, fast ring kind of thing.

Nah, pfd and phone insider are after 2 different markets and have 2 different purposes. Pfd will remain

Can't download, no permission

This could be the most downvoted comment on this site of all time.

Can't wait!! JUST 6 MORE DAYS!! Super excited..

U w8, m8. Then give 8/8, no b8.

The caliber of people who come on here, my word!

2 different apps for a single program! Guess the upcoming event would be great for consumers.

Actually I would think its either, two apps for two different programs, gdr2 and w10 or two apps so they can test the apps.

What's the third one? The only two for early previews are the Windows Previewer and Phone Insider.

There's also Preview for Developers

But that just gets you current software prior to carriers, not beta software.

PFD -> "not beta software" Really????

Well technically PfD is the RTM of Windows Phone - feature-fixed, and provides possibility of testing the new APIs and changes coming in the release, strictly for developers. The Insider Program is different, it lets the everyday user help with the development by reporting bugs en masse - think of it as a distributed quality assurance department.

Exactly, it has been said countless time and...well... It is demonstrated

Wow..got me so excited...

For some reason I can download the app

Can? Or can't? Because it is private right now.

He meant to say "can't" I guess

lol we do not have permission to download the app! :D

I'm beginning to think that commentors write things like this just to mess around with Rubino, knowing full well it drives him mad. edit: I was replying to ssalman, but this comment section is so buggy it moved it to it's own original comment.

I subscribe to this theory as well :P

At last my post is placed in the 'reply' section

I agree... Drives me nuts too!!
On a related note, it DOES seem faster.

I'm not in here that often and see it enough to agree.

In some cases sure but I think most of the time they're just incredibly stupid.

2 billion years of evolution to get faster and fake comments. Perhaps these people came down from the trees later than most lol

Dani, did you laughed hard as I did reading the comments? I finished reading the article and just couldn't stop laughing.

Sorry, can't reply, too busy drinking ;)

Click on the publisher, and you will find another app

Yeah, it's an early release of Microsoft Health. Cool stuff.

Search for: site:windowsphone.com/en-us/store +"Internal Beta Account"
On Bing and you'll find plenty of apps (including a version of Health updated today.). However almost everything cannot be installed. Still cool though. Throw in a +2015 for newer results.

Crap, that is weird. Why are some of the apps named 'dogfood'? http://www.windowsphone.com/en-us/store/app/video-dogfood/f7369684-7c2f-... http://www.windowsphone.com/en-us/store/app/office-lens-dogfood/6b24830e... http://www.windowsphone.com/en-us/store/app/soy-dogfood/5a4cc94e-0ab2-42...

I am on the edge of my seat for Windows Phone 10.

OK. be careful not to fall.

Could be a sudden swerve by MS. Leading us up the garden path so to speak.

Yeah these users are really an asshole

Another app published by the same account that published the Windows Previewer app is called "Urnsel Reuel". The store icon is a grey K but the icon after installation is the same as the MS Health. Any ideas on what it could be?

And it let me install it. I'm afraid to open it until I know what it is.

Early build of MS health.

So its a new beta app to download a new beta windows phone... As I understand. How much beta can MS go?

Back in Windows Mobile 5 days, Microsoft launched an app for bing. That was the first beta app by Microsoft for their mobile platform I can remember. That app never got a final release. Still I have that app on my Samsung SPH i325. /Sorry for my English. English isn't my primary language though.

It's good. Perfectly understandable for most if not all.

if it last more than 4 hours you should see your doctor

Then go and fap somewhere instead of crying here

You should go to 9gag NSFW

I actually don't know if I am scared or excited about how Windows 10 will be on my phone, I love how everything works now and really don't want to start from scratch with periodic roll outs of core facilities/applications, I need my phone to work as it does now.....or better

Lol... The finished software will be ok.

Just ok!!?? AAAARRRRGGGHHHHH :D

Personally, I can't wait until XBox music is stripped down to nothing again!

Lmao +1520, new update, no more music lol

The insiders app prompts for a Microsoft domain account, so it is getting close :)

KONTI NA LANG WINDOWS 10 NA!

Owh fuck
I hear Windows 10 knocking on the door.

Just waiting for the announcement that " sorry your phone isn't compatible with windows phone 10 "

Anything below a 1520 in size will not be getting further updates.....syke!

any wp8.x device will be able to get the update, at least the lumia devices

He's just being Sarcastic. Take a chill pill.

In the image we can see: "Please make sure your phone meet the system requirements" Perhaps the Beta will come just to 1GB of RAM, but the final version it will come for everyone?

Daniel, did you delete a bunch of comments or something? A lot of people are sounding angry, but I don't see what they're mad at...

Daniel doesn't usually delete comments, though quite often people will delete their own comments after being hit with a Rubino Burn ;-)

Oh how they do burn *Sssssssss* :D

Probably those people who, ya know, don't read the words in a post and just go straight to the comments section whining about not being able to install this... ;-)

Lol.. Total 3 different apps for 1 update! That's gonna be cool ;)

well, preview for developers is for 8.x, phone insider could be for 10 and this beta app could be a beta version of phone insider

Stop wasting your time speculating!Do something for God and country and come back at 21st

A bit disappointed this wasn't a surprise. All signs pointed to us getting our first sign of windows 10 for mobile in the summer. I adjusted my expectations. Would have been one hell of a surprise 1/21. Now it's pretty much been revealed we are getting an early user test preview in 6 days. Well im not complaining. Can't wait for the beta. Just disappointed from the enterprise POV of things

Lol... People really need to complain for everything...

I literally just said I wasn't complaining in my post -__-

Nothing really important has been leaked/announced yet. We don't even know what is WIndows 10 for PC going to look like. The screenshots we have are most likely not final or fake.

Not my point. Its the fact that we didn't have a "oh there's one more thing" moment. Im more so feeling for Microsoft. They can't keep anything under wraps. Poor things

You can't stop the signal.

after all these apps we will still use preview for dev app :D

Let me be the first to say it: If you are not tolerant of the bugs that will be present in the preview, please dont participate. If you are not and do so anyway, please don't post your complaints here!

This should be posted as a warning thread so no losers complain about their phones being buggy or even getting bricked.

Oh hell no. I run betas just so I can RANT AND RAVE!!!!

Just like the users who are in Windows 10 Insider Program

Pretty sure we'll post something similar. And pretty sure that 75% of people will ignore it.

I think it is fake because it is not from Microsoft

Yes it is, MSFT uses many different names on the store like Microsoft Corp., Microsoft research, Microsoft garage, Skype, etc

Stop stressing yourself people and stop stressing our author Daniel Rubino! And just wait until the official announcement by Microsoft. For me i think its better if we will just don't read something about Windows 10 until January 21st. It will make time fly faster

Hello Daniel sir ...sory to say I am not able to download the app pls get me a solution for this..
With regards

This app is private it's not for public...read dan's article first...

The next time read the article.

aand another one won't, and another one won't, another one will not read (another one bites the dust :) )

Yeah this is getting annoying. Do they even have brains?? Stupid comments with: Can't download please help or can't login can someone please explain why??? XD

Solution: Get a job at MS

So Is there any use with preview for developers app those who are up to date with OS version?

Yes for those who don't want to toast their phone with 10 or those who have phones not compatible with 10 ;)

How dare you say that ? And scare people in such manner W10 will be compatible with all phones. Period

All phones really. We will see.

Except windows 7-7.5 phones!

ok heres my point of view, i downloaded the appxbundle file opened each folder and only found icons and the files for the app. those screenshots show that someone at windows central actually has the app as there is no way to install the bundle on a emulator or a device that has been unlocked

Believe me, it is possible!

I'm thinking we are about to have a convergence ... Windows 10, the end of Microsoft's deference to providers, perhaps the end of provider exclusives, meaning the implementation of OS updates over the air without provider interference or approval. Screw you, Verizon. I'm a dreamer...sue me.

All we have is Hope and it os possible.

I'm guessing the endgame for Microsoft at this point is to have just one early access program for both phone/tablet and PC. Seems a bit redundant having the PFD and Insider program running alongside each other...

If u update your phone to W10 u wont be needing PFDs simple.

Why? The Preview for Developer's program was created so that devs and enthusiasts interested in trying out preview versions of Windows Phone could do so with official sanction from Microsoft. The Insider program is essentially the same thing: it enables enthusiasts to test out preview versions of Windows 10 and, additionally, provide feedback; however it launched back in september with the tech preview. That's why I'm asking: They're essentially the same thing. What makes you think that Microsoft won't iterate with newer versions of Windows 10? You make it sound like once you update to Windows 10 the PFD will cease to exist, or have a reason not to at the very least.

Awesome, I'm so excited for 6 days from now.

When will we be able to edit our emails when we forward them???

So, is it pretty much a given now that we'll receive a W10 for phones preview next week, or am I wrong in thinking that?

I to think so... Wish if someone gives a confirmation

You know that event that's happening on the 21st, the one Dan's flying out to? That's when someone will give you any confirmation. Wouldn't be much point in having an event if they gave everything away before then, right?

No problem, if it works, i dont care if we need to use a beta from beta to beta program. Waiting so hard next week.

Not a fan of the name, I hope it stays as Windows Insider. Even the word Phone is superfluous now -- it's been removed from the OS name, and I know I'm on a phone, so why should it be in the Insider name?

What are those "system requirements"?

Why this app is not from microsoft?

It is. Just because it doesn't say Microsoft doesn't mean it isn't Microsoft.

Just asking not whining about that. So, this app and there are another and the old one?, or the other change name?.

They maybe wanted to keep it hidden. Plastering their name over it defeats the purpose :)

Well, it's there so, finger crossed for something that can be good.

Ahh hahaha good I read it completely

I'd say it's definitely good for them to rename their application. Calling it "Developer Preview," made it sound like it was only for developers, or that there was some kind of complexity to it beyond just getting updates. The rename should be "Windows Previewer," in my opinion, as it is logically more-transparent as to what the user is doing, and it doesn't make it sound like anything fancier than what it is. Regardless of the name, I'll throw it right onto my 920. Well, I might wait a day to see how many (if any) devices get bricked or severely afected by it in a negative way.

I hope not to get disappointed of the announcements on the 21st

Denim isn't gonna bring much to the table for 920, reason why I'm not even waiting for it. Hoping W10 doesn't do the same. If so, I'm kissing my 920 goodbye.

Lol you build your own expectations. Wr have almost zero knowledge of windows phone 10 so I can't really be disappointed

I think this app is jst for MS internals, and the app downloaded by us is for general public (perhaps)....

This "internal beta account" company also makes another app called "urnsel reuel" that you can download and install and it turns out to be the Microsoft health app. Wtf is that about?

A Beta version of MS Health.

I feel like it'll be risky installing the first build of Windows 10 for phone. I mean cmon, it's my phone. it needs to reliably make calls and send and receive texts and stuff. I wonder how stable the first release will be. This should get interesting, can't wait for Wednesday!

Hmm I agree but then again I have 2 WPs to try it on.

That's why I have a spare to try it on. Not going to use on my work phone.

Cool. I'm so worried. Actually this is what it is. Lets wait untill the 22nd and not get our hopes all tied up in an idea that may or nay not be true. Windows 10 will come in time. Not necessarily now.

If u search on Bing, u can find the same Store link with a different Name of the App. This internal Beta was called "Phone Insider" before and just renamed a few days ago. So it seems like "Windows Previewer" will be the new (or final?) name of the App we are getting later public,

I am unable to download. Still private.. How many apps there gonna be ? Microsoft really don't know how to handle it. Windows preview for developers, Phone insider and now this.

That green leaf screenshot ;)

With windows 10 shit Droid an Icrap will finally get a run for there money.

Not with you misusing there, their, they're

Even though it's a preview version, I hope it would be more stable than the Technical Preview of Windows 10 for desktop, so I can update my phone since I only have one Windows Phone which I use as my daily driver :)

Goodness gracious people just wait until the 21st. We will find out the exact details from the horses mouth. Go enjoy the next 6 days instead of getting all worked up on rumors

Hahahaha well said raiinman! Well said!

I want to go on vacation for six days I can't take if anymore, I need to distract my self.

I can sere it in the store and download it

After all the mess which happened with the 8.1 preview, im thinking of staying away this time

Satya Nadella in our chat! Lol :D
But 10is worth trying. On PC, its awesome. Just some bugs which are fixed fequently

How to download beta apps??

Very soon?? Here still doesn't receive a denim update..

As much as windows 10 for our phones im looking forward two still wanting that Lumia camera its odd how it downloaded on my 1520 and 930 but still needs denim yet the 830 has denim and cant download it weird

Off topic: Last night I was viewing all the Hitler Rants video about Windows Phone, WP7.8, Halo and some other MS stuff. LOL!

Interesting, maybe the two apps are for the different rings?
Previewer for slow and insider for the fast ring. 5 days to go, can't wait!

I'm not sure why people can't download phone insider app, it downloaded on my phone fine. 1520 UK.

I think windows 10 release wud b d day when all the enthus will go home sad, Frankly I am nt expecting anything spectacular. I think it will be more in terms of internal development of platform and nothing very visible or affecting the normal phone users.

I've also checked the contents of the appxbundle and one of the xaml contains the ID CAP INTEROP which tells that this is MS legit app. No 3rdparty developer can build apps with interop access request unless approved by MS.

renamed the application to "Phone Insider" http://www.windowsphone.com/en-us/store/app/phone-insider/317dd8c0-047e-...

I'm not install this app
Show message "Sorry,you don't have permission to download this app"
I'm install app phone insider

Waiting a few days after maybe a phone preview Is out next Wednesday. I am sure people are going to complain "w10 bricked my phone"

I love having the dev preview - as noted in earlier WPC piece, this has near finished builds. I wouldn't want to mess with 'proper' betas though. Wonder if we'll have two streams so we can still get the current 'alpha' - if we shud call them that - type builds that the current dev preview provides..?

This app can only be downloaded by selected people. If you can't download it then sorry, no WP10 for you. Ever.

Especially since the newest budget phones have 1 GB of memory...
Cross your fingers, 512 crew.

What is Urnsel Reuel? It's made by the internal beta account that makes the Windows previewer app...?

Correction after opening the app it looks like the Microsoft Health app

Microsoft Band app that is

Hey man @RoccoH do you really mean that?

Can't download I don't have permission

My 1520 is still waiting for denim

Denim...Coming soon....2015....2016......2017...

I will throw my phone out of window, if windows 10 is not going to available for 512mb devices. And never ever go back to it...

Most of the windows phone market is of affordable smartphone. MS can not afford to raise minimum hardware requirement to 1 GB. So just sit back and relax

Except Microsoft is doing just that with their own latest phones.

its not about excepting or not. I am not sentimental about the 512 or 1 GB thing. it just it will be a stragetical blunder. Performance wise the experience may lag on 512MB device but not allowing these phones to run win10 it will be sure shot death for microsoft.

Remember how Windows Phone 8 couldn't be installed by anyone who'd already bought a Windows Phone? Don't presume anything until we know what's happening. I don't see why it would be a "shot death" for Microsoft. It'd require a group of people to buy more phones, which honestly, would be better for Microsoft's business. Microsoft is, after all, a business.

Do you know Windows phone 7 was on windows ce kernel and that is completely different architecture as comapred to current one? I know you don't know it. I think you have hardly any idea what kernel is. but for your lame mind the basic architechure of kernel used in wn10 is not going to change this time and hence old phones running winodws phone 8 can run windows phone 10. Its just it may be resource hungry and may perform poor on them. but it will run. And yeah "sure shot death" WP has 2-3% of market share, we 2-3% were the only people who choose this new enivronment despite its app-gap. With all the effort microsoft could olny find these 2-3% of the people to buy their phone. Now if they loose these 2-3% may be 80% of them ( coz most of them are having affordable phones) then their share will reduce to less than 1%. Now developer were not intrested in investing time for 3% people then why the hell they will invest their time for less than 1% people and that too when they have to write their App from scract ( I doubt if wp8 app will work that much better in wp10). And by the way you won't get the point ... just leave it... you are right :)

Do you know Richard Devine is one of the members of Mobile Nations? Just like Daniel Rubino is. Richard is more active on iMore. It's a sister site of windowscentral. I'm sure you don't know.
I can bet he knows more about kernel than you.
*Just saying*

can anybody tell me what it suggest- <OSMinVersion>6.3.1

this application is old----dated-10Dec2014,6:11:13AM

I don't have a Windows Phone YET (getting a lumia 930) so I can't test this: Click on the link in this post that says" here on the store" and you will be directed to the windows phone store. scroll all the way down and click on the: "Download and install manually" to download the .appbundle file. GOOD LUCK!

@Fire 29, just another zip container like Silverlight XAPs are, but this is the same format that Windows 8/8.1 Store apps use. In this case, these apps are Windows Phone 8.1 Store Apps running with the Windows Runtime foundation

What app makes the phone to access the new update? Phone Insider or the Windows Previewer BETA?

Downloading now and got Denim on lumia 620 yesterday Vodafone. NL

I can't find the phone insider app in the store.

Check out "Phone Insider" for Windows Phone http://www.windowsphone.com/s?appid=ed2b1421-6414-4544-bd8d-06d58ee402a5

I am confused, why can't Microsoft release a single App to do all three jobs ? I guess it is just more junket apps to inflate the Apps store count. But really we should only need a single App for develper previews, W10 previews, and special MS account holder access to their own previews. Software can be designed to have different options and branches.

just wondering, if.... lets say windows 10 preview was available on the 21st, will we wtill be needing Denim? i know that this is the core os and denim is the icing on the cake, but i have this feeling that windows 10 is more than a cake, maybe a pie or something, where the icing wont make sense anymore. lol

I don't know that I am saying true or not but I have heard that people who had denim installed after installing phone insider they got an update which made their preview for developer aap hidden. So that's who I am thinking that people with denim would get wp10 faster than is. Because that didn't happened with me. I had denim but by pfd app. So maybe not first.

The question of the week is, Will the ICON/929 get Denim before it gets WP10 ? The quest goes on...

Today (The 16th) is my birthday! :) so much is happening. Xbox One dropping in price, we found this, and now in 5 more days we will k ow more about Win10 and it for phones!

Then happy birthday dear. And hope you will get Windows phone 10 next week as birthday gift

Interesting....So, do we think we will get Windows Phone 10 next week (21st) ? With this app being available now (I bet in a few days you will be able to download it).

@DavidinCT I'm hoping so. This update does support logging in with Live/Microsoft accounts, so they're all prepped for it. The Web Service endpoints are ready also. It just doesn't work for us because they haven't made enrollments available to the public.

isn't every windows phone user an insider? because clearly nobody outside of ms fans use it.

இது வஞ்சப்புகழ்ச்சி அணி (Irony)தானே!

Aenna daa,i didn't understand

Learn classical language Tamil to understand that or search it in bing

but but but i want to test nooooowwwwwww!!!!!!!!!!!!!!

Is this the new preview for
developers?
Is it going to go live for us?

I get an error that I dont have permission to download

Ok, so time to d double check my backups are being done and ensure everything relevant is being uploaded to OneDrive, ok Win10 beta, lemme' at em'

I'm so excited I just can't hide it lol

beta \o/
beta ???
beta !!!!!!!!
WTF

hai i press the install, it say "sorry you don't have permission to download this app" pls tell the reason, it not avilable for public? replay pls
Windows Central Newsletter
Thank you for signing up to Windows Central. You will receive a verification email shortly.
There was a problem. Please refresh the page and try again.