Lumia Camera updated for Windows Phone 8.1 users with video bug fixes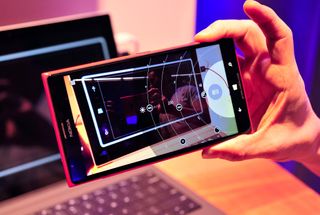 Earlier this year, Microsoft released an update to Lumia Camera for Windows 10 Mobile, which highly recommended that users ditch the app in favor of the built-in Windows Camera app in the new operating system. Now the Lumia Camera app has been updated again, and this time it is redirecting users to use the built-in Camera app.
This is basically a new reminder from Microsoft that they are ending support for Lumia Camera in Windows 10 Mobile. While the various versions of the app will likely continue for Windows Phone 8.1, it's clear that the company is moving forward and consolidating its mobile camera app plans around the one included with all Windows 10 Mobile devices.
We're assuming many of you are running the Insider build and with a hard-reset may have had Lumia Camera install by default. Going forward, that is likely to change as the new Lumia 950 and 950 XL will only have Microsoft Camera going forward. Likewise, if you try to download the Lumia Camera app on Windows 10 Mobile, you'll be greeted with a message that this app is not compatible with your phone.
Lumia Camera does live on for Windows Phone 8.1 users, however. In that sense, the app is going from build 5.0.2.54 to 5.0.2.56 with a changelog of 'bug fixes for video recording'. No other new features were spotted yet.
Thanks to Dean for the tip!
Get the Windows Central Newsletter
All the latest news, reviews, and guides for Windows and Xbox diehards.
Great, now fix lense support on W10 mobile Camera App.....

They should consider giving panorama and hdr mode to all Lumias. And integrate the lumia imaging apps to the camera app.

"consider giving panorama (...) to all Lumias" So panorama is not avaible for all Lumias? This is new for me, on 520, 530 and 735 it is avaible

Is panorama available for Lumia 735? I missed out on that (running W10M)

On 8.1 it loads forever (noticed it now), but it came preinstalled it Lumia Panorama

Tell me how to get it in the native camera app please.

On 8.1 it is only avaible as the Lumia Panorama app

My 1020 is still waiting for the promised aurum update to enjoy hires photos again.

Is the 1020 high res update going to come by the Dec release? The 1020 was included in the list of Dec devices, so I do hope so.

The Lumia 1020 is not included in the list of Dec devices.

I don't think they will give slow mo on WP8.1 given the W10M is close to release (supposedly)

They are working on Windows Phone 8.1, 8.1 Update 2 0r WP 10?

They don't know what they are doing seriously..

MS are working on Windows 10 Mobile. This is just a bug-fixing update for 8.1 users, who - as some people seem to forget - still make up the majority of the userbase and won't be receiving W10 until next month at the earliest. It's about maintaining customer satisfaction until everyone gets moved over to W10 and probably required very little work to fix.

How will this affect us 1020 users, since the camera app doesn't yet fully utilize our hardware in W10M?

Great that MS remembers that most of us use wp8.1 and will keep using it for a long time.

And why do want to use 8.1 for a long time? Bad blood with wm10?

people that don't like going sideways

Lol I heard the 950 is coming out with 8.1 on it. True story

Lol chill out. One picture at a time -- LG V10

Nokia dual boot phone is coming(rumoured)

I dont know if it's only me but I feel that Lumia camera takes better pictures than the Microsoft camera..

Actually on my 640, Microsoft Camera takes better and faster pictures than Lumia Camera. It also has some better things, like on Microsoft Camera you can zoom in on the selfie cam, while on Lumia Camera you cant.

Is not about which one is faster is about quality, it looks over exposure on my Lumia icon if I take the photo using Microsoft camera.. Also the details when zooming looks better on Lumia camera as well.. :/

On either Nokia Pro Cam or Lumia Camera Classic on my Icon, I can definitely zoom in with just a finger swipe when using the FFC. Not sure about the later versions though.

Microsoft camera clicks a photo when you tap the screen which is lot convenient for me to focus and capture

So does Lumia if the option is chosen under settings.

for me ProShot does better job than both Lumia camera and Microsoft camera

I've seen that comment many times, but I've never seen superior results from proshot on either of my 1020s.

Paul i know, my friend has a 1020 and it looks good but not amazing.. Is like it loose quality after the update that's what I feel.. They must fix that before releasing the main reason why I love Lumia is because of the camera

Is not about which one is faster is about the quality of the pictures you take.

Very true. Lumia camera bags a lots of pro like quality and features that Microsoft camera still don't have. I used it on my Lumia 525. And found a significant difference between them both.

But on my Lumia 540, there isn't Microsoft camera but only Lumia camera with uninstall option. What will happen If I uninstall that?

I use it only for recording video when I need zoom in/out. Too bad built in can only zoom in, and even that before I start recording.. Basically useless

Fortunately, the 10 version of camera does include zooming in and out during video recording :)

also it has bass filter which works wonders in my experience

Damn its available in win10 store bt cnt use the lumia camera app wtf

You may want to read the article again.

I would like to know when Microsoft will enable a pause button when recording a vídeo...

Exactly!...i was thinking the same..old Sony Ericsson phones had it and I loved it. Pause is a must have feature for Lumias since these babies are famous for their camera.

I read Lumia Camera is better than Microsoft Camera. Is it true? Luckly both is available on W10m.

There are lots of things still broken with Windows Camera. Also the post processing algorithms are not as good, which makes photos look over-sharpened with odd colours. Photos look much better quality from Lumia Camera.

But they consider those to be "improvements".

Downloaded. Open the app.. Just to say goodbye actually. No more lumia camera.. Used camera instead...

Error trying to install on windows 10m

It's mentioned in the article....

I would say it opens slightly faster on my Lumia 925 running WP8.1 Update 1, Cyan firmware. Will see in other conditions, though.

Plis fix Windows Camera W10 audio recording in Lumia 930!!! there is no way to record audio in videos after last update. I know L930 has issues with speakerphone Mic, but we still have other 3 mic, please software redirect recording to the other mics, or let us change audio recording to sorround, to activate the other mics and record sound in videos!!! Same Fix is requiered for speakerphone mic during calls, audio recording in Whatsapp, etc. Me and many people cant take L930 to service, because we got the phone from other country, so please give us a software fix to redirect th mic usage to other of the three remaining mics!!!

It's messed up on L930 on wp 8.1 since the last firmware update anyhow... must be something firmware that needs fixing beyond OS


I have similar defect on Lumia 830, it's not recording video on surround

I have the same issue regarding audio recording. Hope Microsoft fixes this ASAP.

Windows Cámara don't record video on sound round in Lumia 830

Showing update for WP10. Errors put when trying to install. Now Glance has a friend.

Just got a Lumia Camera update for 581

Ok, motion data has a new friend, Lumia Camera

well i love the new app it is i believe the same with the lumia app now at least at what i did. but i can use front camera from 1 app and that is comfortable :)

Did they remove the app from the w10 store? Got an update but it fails and I cannot find it in the store...

One side some critics warn to not to use w10m till stable release.& the other side MS promoting their official apps upgrade...!! This makes a confusion for newbies Lumia users..

When updating on a 1020 I keep getting an error code 80004004. Retried many times but get same error. Can't even uninstall Lumia Camera as it no longer shows up in the app list. Soft reset was no help. Looks like I'm being forced to used MS Camera.

The rich capture editing still not fixed.... Also what's deal with Photos plug-in updated 2-3 in a day????

I been using the lates camera app from MS on my WPP 10 and I can only say that is garbage. It doesn't out focus and when it does it goes ro blurry vision the second you let go of the shutter button. In video mode you have to hold the shutter button so it stay focused on what you are recording. This is a big example of MS screwing around with an App that was perfect before and now is poo.

Camera app does not take advantage of web camera on pc not to mention Lumia 1020!

Parhaps OneDrive mess wasn't enough..

Hi guys im new here ..
Any news on when windows 10 wil b available for the non insiders
And does windows camera app has all the features which Lumia camera has ?

No thanks for the update. MS camera is a joke in front of Lumia camera in WP8.1 ... LOL!