Lumia Camera Classic and MX Player apps get small updates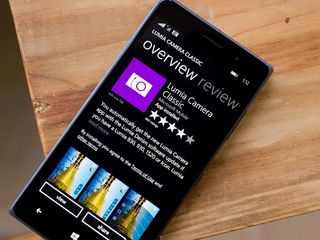 The popular Lumia Camera Classic photo app and the MX Player media player for Windows Phone both received updates today via the Windows Phone Store, but there's no word on what's been changed in these new versions.
Yes, that means there's no changelog available for either app, so your guess is as good as ours on what's been added, changed, and/or improved. If you do notice any big differences in these apps after you install these updates, please let us know about them.
Thanks to everyone for the tips!
Get the Windows Central Newsletter
All the latest news, reviews, and guides for Windows and Xbox diehards.
The difference to lumia camera 5 if you have denim is quite substancial. - Focusing is much faster - Some issues with lag and tearing when filming in 4k have been fixed - When manually focusing the animation is now different, with a small ring that grows once the target is in focus - There is now a tutorial showing how rich capture works the first time you open the app This is what I have noticed so far. I have Denim on a lumia 1520

Lumia Camera is now available for my 830.

It has always been available

Yes it is now available but..we still have to wait for final Lumia Denim update..for complete Features of Lumia camera like rich capture.... Flagship phone should have latest software pre-loaded :-/ but MS is rolling update for that?!! Wait MS should give 830 users it first!:/

It says its not available yet.
It sucks to have an 830 and no denim/lumia camera features. :/

I know, which is disheartening and makes me feel received from the start. I was under the impression that my brand new 830 was ready for the v5 and had the complete Denim. Now, there is no telling how long we must wait for an update.

I'm with you, still waiting for MS to roll out the Demin update for 930. Was hoping to get it before the holiday seasons (Christmas / New Years Day), but nothing... So much for holding on to their flagship device.

The difference is, the 830 came preloaded with what was call Denim... apparently it is just a pre-Denim or beta or something.

Yay, I can finally download it! But actually using it? It says I need Denim. What a joke. My phone has Denim!

Launch it with camera button, press back on Denim warning, launch again with camera shutter button.

But we have to this every first time when we launch camera..that is triple of time compared to Lumia camera "classic" !!

Great, got it to work using that trick. But I'm disappointed there's no Rich Capture.

They're saying Another update will rollout for us:|

Are you able to launch it without getting a popup saying that you need Denim?

I still can't get Lumia Camera v5 for my 830 here in the U.S. What country are you in?

In the US. The link should work, try again later.

I have a US ATT N830 with Dev Preview, Denim, and Lumia Camera Classic 4.9.3. Lumia Camera 5 is not available in the Store. Maybe I unistalled the Lumiia Camera version that came on the phone and that is why Lumia Camera 5 is not available?

Many more types of framing grids are there now in settings on my 925

This app is not available for my Lumia 925...

I also use Lumia 925 and got the update. (Europe > Belgium)

Lumia Camera is updated too..!!

Yes i got that one, not the Classic. I don't have denim either.

Image save time is indeed much faster!

I guess the update was pulled down because the latest update as I saw on Store now was on November

No word on what updated? Then its just bug fixes. I'm all about squashing bugs when they become pesky.

Hey I am not able to download Lumia camera 5 in my Lumia 520??
Why??

Because the 520 is a low-end, old phone.

It is available for only Lumia 830, 930, 1520

Wrong. First of all, if the Lumia 520 didn't exist, Windows Phone would be long dead by now. Show some respect to MS's most popular and successful phone. Which by the way is not old since it's still running the latest version of WP8.1. Second, my friend has a L620, like me, and he got Lumia camera classic while i can't.

Yeah I agree WP would of died.
Lumia 520 Savior Of WP

Show some respect to Nokia's most popular and successful phone.*

Still an old legacy device. Doesn't change it. Even showing 'respect for a phone Posted via the Windows Central App for Android

What I notice on my 830 without the Lumia Camera Denim Update on Dev Preview:
-Faster startup speed
-Faster image saving
-Possibly faster image capture, don't remember the old time

What is the difference between Lumia Camera and Lumia Camera Classic?

Lumia Camera Classic is only available to phones that will support the new Lumia Camera 5. The classic version gives the same camera experience as the regular Lumia Camera app on non-denim phones.

Lumia Camera for first gen is the app we all know, where as for second gen devices, like Lumia 1520/930/830/icon that original app becomes Lumia Camera Classic - and Lumia Camera is the new one that works after the denim update, with rich capture etc - Lumia Camera 5

Lumia Camera = L1520, L930 and L830 with Denim

First I need Demin on my 930, so much for holding on to thier flagship device...

I think Lumia Camera Classic is the old Nokia Camera Beta while the Lumia Camera is the old Nokia Camera

First I need denim for my 625

Faster on my Lumia 820 :D

dare I say.... seems faster.

Tip to open lumia camera v5 ( Not classic version ) for 1520 , 930 with cyan update . Set the app as default camera button , press the button and it should tell you need update your phone , press back button and press the camera button again and will it work ... Doesn't change anything much but new UI , you can quick record video by hold camera button ( 1080p max of course) , new ability in timer setting ;)

Not sure what you mean. It doesnt tell me to update my phone when i click camera button. It just opens Lumia Camera Classic App

You have to set lumia camera app ( not classic version ) as default launch app for camera button ( go to setting => application => camera & photo ) you will see three choices: Micro camera, Lumia camera classic and Lumia camera

It worked ! But its laggy, and I can't record video by holding the camera button ! It show the milliseconds, but doesn't save anything !
Sorry for my bad English !

no PFD, i have both Lumia Camera and Lumia Camera Classic on my 1520.1 with Cyan ! just did as he said and Lumia Camera v5 with UI started up! i can take photos but no video capture, nor normal or by holding the camera button ! it'll just stuck ! guess it needs denim no matter what ! :)

Saves faster but no changes on picture quality. Camera360sight captures better.

New changelog:
LooooOooooooOoooo...oO0diiiingggggg.........

Umm can't seem to get that on my Lumia 928.... :-(

So the Lumia camera app gets updated, we don't have denim yet so we can't update

Hopefully it fixes the quality, because I was taking pictures last night and they sucked eggs. I knew something was wrong because it never looked like that before.

Updates for both versions. Lets see if it starts faster. Edit: No faster loading, still takes 3 seconds, reverting back to inbuilt one.

I think Lumia 928 just got discontinued :O

MX player shows the last update was on 17/12/2014 o.O

I'm confused which one is for high-end Lumia devices? Lumia camera or Lumia camera classic?

Lumia Camera w/o the Classic.

Lumia Camera are meant for high end devices, thus w/o the Classic...

How come I have the Lumia camera? And when I try to download Lumia camera classic it says not available for my device ? BTW I have a 1320

So then Lumia camera isn't for high end.. ;)

What's the easiest way for editing pictures taken with denim L1520 and use all the L1520 goodies? Feels a bit unintuitive..

Launch time on my Lumia 830 camera improved greatly!! :-).

Waiting for denim on my 630

I got it on my 830 and much faster to load!

Reported that this app had pinch to zoom, and not it has swype to zoom

Hey I am not able to download Lumia camera 5 in my Lumia 535 and I'm in denim

Lumia camera classic is only for high end devices. (1520 , 930 ,830 )

Says it's not available for my device, but has VIEW button underneath, when I click view, it takes me to Nokia/Lumia Camera Beta

im on a lumia 820 in the uk and got the upgrade for the camera..... just waiting for denim to arrive

Can now zoom in with from facing camera

But on my Lumia 520 I got a new update for Lumia Camera.

If you hold the camera button down it take shot after shot in 1 sec. intervals, lot faster using a Icon.

It seems a little faster on startup on my 1020 but it looks like the oversampling had been turned off because now my photos have just as much noise as other smartphones. When I zoom in they are blurry now and have a marked increase in noise. Frustrating. So now my camera on my 1020 which was thr primary reason for not upgrading seems to suck. :-S

Great. I just found out now my flash always fires no matter the lighting on auto. Just took a picture outside and it still fired the flash. A few times now the focus struggled causing a lag too. I bet my battery life will suffer from this update.

So confusing...on my Lumia 830, the default camera app is "Nokia Camera". So is it better or not than Lumia Camera Classic? How to check an app version?

Same! I don't understand myself, why haven't we got the Lumia Camera app? I uninstalled Nokia Camera (silly mistake) and installed Lumia Camera classic. When I type Lumia Camera in the store it says its not available. :-(

I think I'm in the same siutation as you. Because I uninstalling the version of Nokia Camera (or whatever it was called), the Store is not offering my ATT N830 Lumia Cemera V5.

I wouldn't really uninstall it because I'm stuck with the cyan version now and you won't be able to install Nokia/Lumia camera again.

Available for 830 but not for 730. This sux

Where is the denim update for att?

Maybe the spontaneous camera launches have been fixed.

No update here in India fo MX Player, yet.

Why is there Lumia camera classic in Lumia 530 ?

I mailed you a til, for my on l1520 the front camera did not work before this update. This update fixed it for now

please is there any news about lumia denim for lumia 1520 in egypt ? lumia 520 and lumia 630 already got lumia denim in egypt

I have lumia 1020, lumia camera takes 4 seconds to open, Microsoft camera takes 1 second!!! Holy s*it! I Newer use lumia camera anymore, before they make this same speed like Microsoft camera.

I am still using Nokia Camera Beta on my 1020 - Is Lumia Camera Classic the latest one that I should switch to using? Performance and images seem good in the beta camera app

The latest update for Lumia camera downloads successfully but doesn't install on my L920. Failure message says that I need to check for updates. On checking for updates, I find none available. I've tried checking for updates with/without PFD on and I've tried installing with /without PFD on. Doesn't work. And now the Lumia camera on my phone is broken as the update didn't install. Anyone else facing the same problem and any solutions?