Lumia Cinemagraph gets updated for Windows 10 Mobile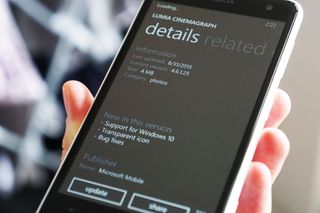 Microsoft has released an update for Lumia Cinemagraph. This latest release adds support for Windows 10 Mobile, as well as implementing a new transparent icon and some fixes/minor improvements.
Lumia Cinemagraph allows you to record a short video on your phone and create a shareable animated GIF with little effort. The company previously ended the beta program for the app as the year kicked off, and now we're looking at implemented support for Redmond's upcoming mobile OS.
Download Lumia Cinemagraph for Windows Phone
Thanks, Jesica M., for the tip!
Rich Edmonds is Senior Editor of PC hardware at Windows Central, covering everything related to PC components and NAS. He's been involved in technology for more than a decade and knows a thing or two about the magic inside a PC chassis. You can follow him over on Twitter at @RichEdmonds.
Lumia? So this will be replaced by a rewritten Microsoft version soon.....

Unavailable in the windows 10 mobile store

Cinemagraph not available in store

Store reports the app unavailable, I'll try again later

No longer available it says in the store

Then why does it say not available in windows 10 store??

We're too fast and your phone is too slow.

Actually I contacted support and they said that Lumia exclusive apps wont show up in the new store yet!

Well, now, THAT'S a shitty answer right there!
Perhaps the folks over at WC forums should send a mod to smack the back of Rubino's head befote he hits "Send" on an answer like that. Sheesh.

We've been doing some editing, haven't we?

When I search, I cant find it. I went to downloads and updates, hit check for updates, and now it started downloading.

Is Lumia Moments available? I've tried to find it on W10M but it never comes up.

It's now call "Movie Moments".

No, the one that can take a frame out of a 2K-4K video. Movie Moments takes a 60 sec video and let's you add music and captions and stuff.

I found a link online to download it and it says "it is no longer available" :(

I think its not available yet on win 10, just like what happened with lara croft go

Movie moments is different. Why post this if its not accurate?

Not the movie moments comment.... I was meaning the whole article.

Dan didn't ask us not to call people trolls? #AskDanWindows

Give me a sec to decipher what you wrote... It seems you contradicted yourself, weird.

He meant, didn't "you" ask... But I'm sure you already figured that out.

They need to integrate these photo apps with the camera. I have like 10 photo apps and only a few of them are recognized with the "Lenses" thing.

Agreed. Also I think lenses should be a pull down from the camera screen, make it faster to switch.

i gave this feedback few days ago but noone is voting up!! i am very dissapointed with our insiders, all they do is complain about problems(i get it it's good to point out the bugs) but they dont give any new ideas for improvment

Now app can only be download on phone memory instead of SD Card, as I am using Lumia 720 with wp8.1 update 1 in India.
Microsoft why?

I wondered this myself. I think the WindowsCentral team should link back to article on how to move apps between sd and phone. Rich?

Yeah whoever tipped this clearly doesn't have windows 10 mobile. It's not available to Download

Your phone is broken. Downloaded it here on Windows 10 Mobile just fine.

Nor mine. Maybe it hasn't rolled out properly yet, I'd give it a few more hours.

Wow. That's a lot of broken phones. Apparently including mine.

All three of my Lumias are broken. /s

No. It's not daniel. Windows 10 is broken.

Daniel, while I enjoy your snarky replies, this is fairly widespread among Windows 10 mobile users and affects lots of apps. Maybe you could get to the bottom of it?

Yeah, not available here for my W10M either.

I've made some nice gifs with this app. My favourite was a fountain in Versailles.

Is there any page on wp uservoice on an update for the panorama app?

Btw how can I still use the smartcam features, which launched with lumia 820, 920 and 925?

I miss the original SmartCam features for face-replacement and object removal. Those were much more useful than the smart sequence thing where you show a moving object in multiple positions.

I just downloaded on w10m... Try the app link here...

I did. Store says not available (Lumia 930). It's a joke. And my phone is not broken as Daniel seems to think is the answer for everything that doesn't happen to him and his phone.

I'm a bit confused. I have Lumia Cinemagraph (originally installed on my Nokia 928) and Lumia Cinemagraph Beta (downloaded when Nokia was sold). How can I tell which one was updated? Which one is the one to keep? The beta version says "Beta" on the tile and icon. Can I ditch the beta version?

I just figured it out. In the changelog it says "Transparent Tile". If you pin both versions to your Start screen, The original version now has a transparent tile. By the way, I love this app.

This app is not available.................. This post is wrong

Where is Lumia Camera? Crappy Windows Camera is all we got?

Microsoft replaced the default Camera app with Lumia Camera some time ago.

I just updated it today in my 640xl running on windows 8.1

Odd to have an app that makes gif's but if anybody send you one it does not move shit crazy how far outdated windows is

Use store check for update option!

Yes, this app hasn't been available in Windows 10, I was hoping it'll work by now :/

It's not available in UK, Dan....

I can't download it either.

Lumia 930 with wn10 no longer available in UK

Just updated.
BTY . i can't download lumia selfie for win10.

I want Lumia Storyteller back and Movie Creator.

Early this morning a received a "Serever Error", now it says its no longer available. Perhaps it's only available for a few countries.

L930 with W10M in APAC, "Sorry, Lumia Cinemagraph is not available."

Just updated my app and works fine...

Almost every app I get an update for, who lists "upgraded for Windows 10" in the change log, fault out to "attention required" and never finish downloading. Anyone else noticing this?

Uninstall then reinstall instead of updating

They should focus on fixing Windows Camera image quality since they dropped Lumia Camera and not prioritize these "lesser" apps. I've been spoiled by 8.1 with denim photography prowess, it's painful when I want to take a photo :( RTM can't come soon enough!

Windows camera still gives me great quality. I had deleted Lumia camera then went on a hike and used windows camera the entire time. It works great.

Not one of the Lumia apps work on my phone with Windows 10. Bloody hate it. Because it clearly works for some people. Several hard resets haven't fixed this.

I had this app installed on my SD card, but the new update won't allow it. So I have to move the app to my phone in order for the update to work. I don't know why I did that since I've never used this app.

Not available on my Lumia 1520 running build 10512

Update available in W10M.
But MS should update its Microsoft camera app for better support for 512MB phones..:Irritating:

Do they have a web service for storing and showcasing Cinemagraphs? Last time I check, they didn't. I'd really love to share a link to such web that shows the glory of Cinemagraphs on Facebook instead of having to convert it to video and share on Facebook.

Now! Unable to install in SD Card. :(

Off topic... Anyone able to find the Lumia Panorama app? I'm thinking most photo apps are just being slow to Win10 but thought I'd ask anyway.

And if you have it you can't download the update....?

Mine says not available as well

Install flashes, then greys out. Windows 10 mobile store says no longer available
Windows Central Newsletter
Get the best of Windows Central in in your inbox, every day!
Thank you for signing up to Windows Central. You will receive a verification email shortly.
There was a problem. Please refresh the page and try again.